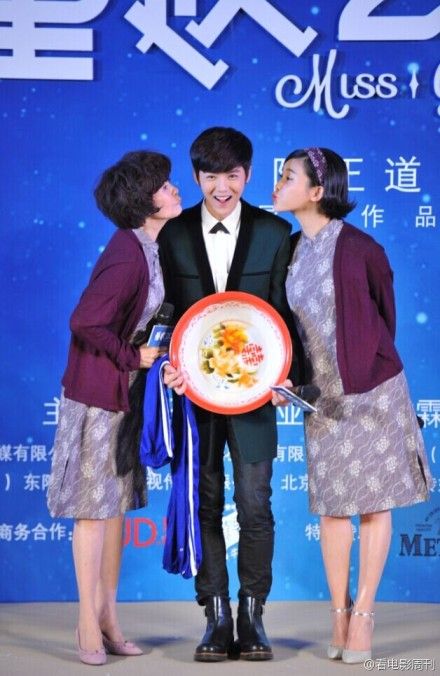 I may have first impression opinions from casting onward about movies or dramas, but opinions are just that, fluid and mutable depending on context. Not thinking something would work doesn't mean wishing it would fail or being unable to accept a successful result. Which is why I'm happy to be pleasantly surprised with the upcoming Chinese version of the hit Korean movie Miss Granny. It's properly licensed from the original script and is actually co-produced by Korean entertainment conglomerate CJ E&M which distributed the original movie.
The Chinese version has been getting all the early buzz from casting now former EXO member Luhan in the supporting role of the grandson character, and rather than having a problem with that, buzz is buzz and it's silly to ask fangirls not to get excited their oppa is going to be in this movie and ask that the focus remain on the two excellent female leads. All the publicity means nothing if the movie sucks but to my surprise the first trailer is really good. It's got all the energy and charm of the original but with a very distinct Chinese flavor that makes it feel different enough for the urge to watch the same story again.
Veteran TW-actress Gui Ya Lei plays the grandmother role while C-actress Yang Zhi Shan tackles the reverse-aged young woman character that won Shim Eun Kyung a Best Actress Baeksang. Bolin Chen is scene-stealing with just one glimpse of him in the trailer, but mostly I'm floored by how charming and spot on Yang Zhi Shan is as the woman who looks young with a granny's soul inside of her. She plays the character more feminine than Shim Eun Kyung did but with the same salty side, which makes sense because Gui Ya Lei exhibits a softer classier grandma than Na Moon Hee's style. This makes the whole vibe feel different and I totally dig it!
Trailer for C-movie Miss Granny: