When the biggest selling point is the collective pretty of the two leads, no one can fault the production of the upcoming C-movie The Third Way of Love for trotting out leads Song Seung Heon and Crystal Liu at every opportunity. The movie doesn't open until the early spring movie season but the early promos are underway starting with a media press conference this week in Beijing. With the limitation on K-dramas airing online in China until a series is complete, more and more K-stars are likely to join the recent migration to Chinese movies and dramas to keep building their exposure and fanbase in the largest Asian market.
Song Seung Heon is pretty familiar to C-viewers due to the Hallyu success of Autumn in My Heart over a decade ago but this movie marks his first foray into a collaborative C-production. The movie is based on a C-novel called The Third Kind of Love and curious me wonders exactly what that entails, assuming the first two kinds are romantic love and familial love. I also keep jumping around to "third" oddities such as third nipples and third legs and third wheels what with the title engendering free association fun LOL.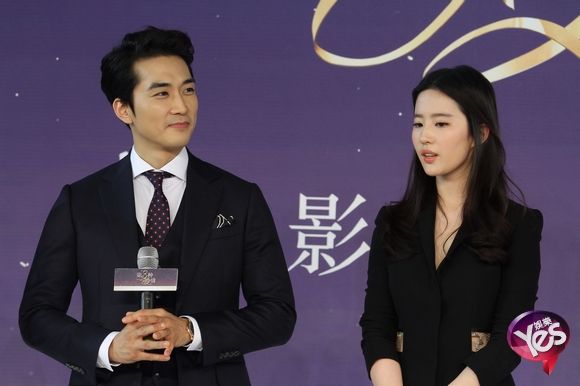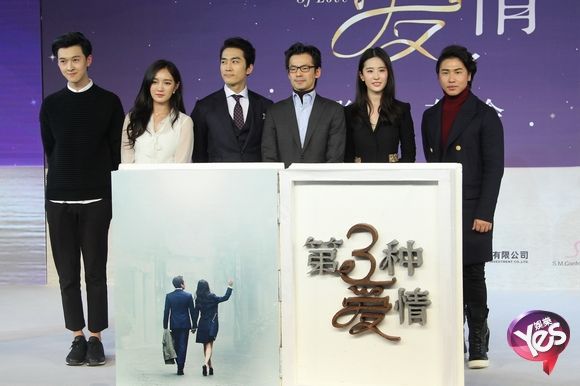 A teaser behind-the-scenes video was released during the press conference that delves into the two leads impressions upon working together – Song Seung Heon complimented Crystal on being a goddess who takes the craft of acting very very seriously and feels like a sunbae to him despite her being much younger in age, while Crystal still remembers Song Seung Heon from watching AIMH and feels the real him is even more handsome and shoots charismatic electric sparks from his eyes when he acts. I sure hope their great chemistry offscreen translates onscreen.
Teaser for Third Way of Love: