There's likely going to be whiplash reactions of yay and nay with this casting decision for upcoming tvN supernatural drama Bring it On, Ghost, and it's funny how the news came first with the sweet and then with the salty. Growing up fast teen actress Kim So Hyun is in talks to headline the K-drama adaptation of a webtoon about the cohabitation hijinks of a high school girl ghost and the high school human boy exorcist. It's got all the elements of teen manhwa cuteness what with bickering and living together and the inevitable angst of human-ghost romance to come.
Kim So Hyun played older last year as a high school senior in Who Are You: School 2015, but now she's 17 going on 18 years old (Korean age) so this casting hit the sweet spot in character appropriate along with mega talented. Her costar is not nearly as age appropriate or acting talented as Kim So Hyun – 28 year old idol-actor Taecyeon has been offered the leading man role to reverse age himself to play a high school boy. I like Taecyeon for his earnestness but quite a few excellent younger actors around I'm a bit perplexed by his selection by the production team.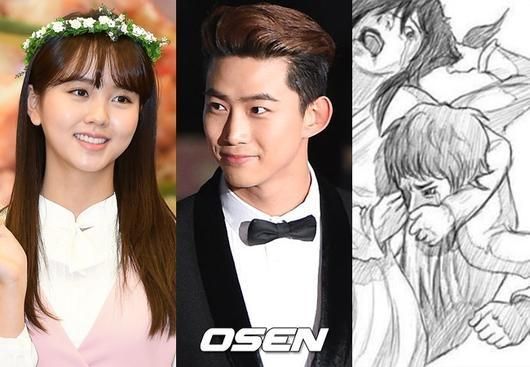 Bring It On, Ghost is written by one of the writers on I Live in Cheongdamdong and Producer, this time paired with the PD from the Let's Eat dramas. It will air during July which is ghost month in the lunar calendar, making it a chilly yet funny offering on tvN Mon-Tues following Oh Hae Young Again.