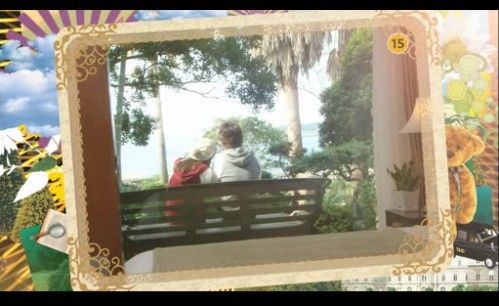 I feel like the spoiler fairy these days. The dialogue from this scene supposedly in Playful Kiss episode 16 comes from the same source that dropped the wedding night tidbits.
Not even going to bother guessing its veracity – even if its fan-fiction I find it adorable and makes me happy reading it. If the scene happens, I'm happy. If the scene doesn't happen, I'm still happy. I'm so easy to please.
I titled this sequence – How to teach a snail wife to do life-saving techniques:
SJ: *laying flat on a surface" Do it at the rate of one hundred presses per minute. Like this. *laces hands together and presses into the air* One, two, three….at this rate.
HN: I understand. Let me try it. But first…. *Ha Ni sticks her nose right up against Seung Jo's nose* I must confirm whether there is any indication of breathing. *Ha Ni feels rather shy all of a sudden* If there is no breathing, I must give mouth-to-mouth at least two times.
*Ha Ni puts her mouth whisper close to Seung Jo's and pretends to give him CPR. She breathes twice and stops, very embarrassed.*
SH: What? What are you doing?
HN: Huh? Uhm, no, well….
SJ: Yah, this is a serious emergency situation. Don't you feel it?
HN: That's not it. Feeling what are you talking about?
SJ: Hurry up and do the next step!
HN: I know, okay, the next step is to do thirty chest compressions.
*Ha Ni laces her fingers, puts it on Seung Jo's chest above his heart, and gently presses down. One, two, three…*
SJ: Yah, yah! Are you giving a massage? Or just touching me?
HN: Huh? I should just use more strength? But won't that hurt? *Increases strength a little* One, two, three. This level of pressure? How's this?
*Seung Jo looks at Ha Ni and thinks what she's doing is really adorable*
SJ: …….want to take a break?
HN: Huh?
SJ: That was a lot of homework done. Let's take a short rest.
HN: *pretending to be very calm and lays down [leads to me assume they are practicing on their bed at home]* Ah…..yes, there is still a lot (of homework) to be done.
SJ: This is homework, too……*grabs Ha Ni and looms over her*
[Credit: spoiler posted on Baidu Playful Kiss Bar, translated into English by me]