On October 18, 2010, a group of Chinese and Taiwanese singers and entertainers hit the stage in Tokyo, Japan, to perform for the Asia Music Summit. I'm not even going to pretend I know any of the performers, or identify them for you, other than Joe Cheng and Ariel Lin. [Edit: I added two more pictures, including one where the wings on Joe's sneakers are mocking me]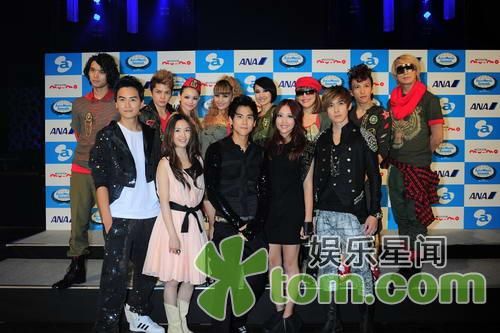 Both Joe and Ariel released an album in the last two years, and are clearly quite active in the entertainment world once again. Not digging Ariel's orange-shaded hair, or her short-heeled cowboy-esque boots paired with the flowy dress combo. Both style and color coordination are seriously lacking there.
Also not digging Joe's sparkly ensemble that includes Hammer pants. But what takes the cake as the worst offending item on him are those high-top sneakers with wings on them! WTF, Joe? Are you Hermes now? Hey, what's new, Joe shows up with a questionable wardrobe.
Regardless, anytime ArJoe is together in a public setting is cause for celebration. They are so adorable together – if they made babies I would abscond with said baby, just sayin'. Don't go call the police on me, you hear? Merely making a hypothetical statement.