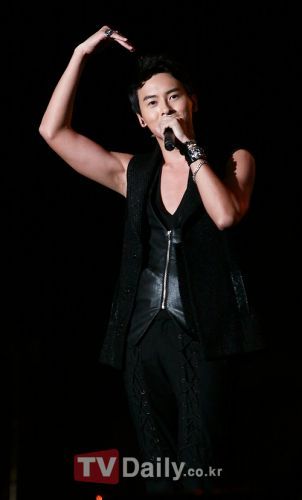 Joe Cheng was invited to represent Taiwan at the G20 Let's Go Concert in Seoul this past weekend. It was a star-packed affair, with the Korean performers including Rain, BoA, Beast, et. al., plus a host of fabulous singers from various other Asian countries. Of all the singers in Taiwan, they invited Joe. Let that sink in for a minute. Of course, the real reason is that Joe is actually quite well known in Korea because of his acting, namely It Started With a Kiss.
You all know I think Joe is an abominable singer. And now he has convinced me he simply must never sing or dance on stage ever again. Or wear a sleeveless vest shirt combo. No. Just no. But part of me wanted Kim Hyun Joong to suddenly show up and the two Irie Naokis could make my fangirly dreams come true on stage with a duet.
Joe Cheng Performing Sing a Song at G20:
[youtube=http://www.youtube.com/watch?v=2A0HMAM4TIU]
Once I finished LOLing over this video, I promptly went and cued up another episode of the wonderful That Love Comes. Sigh, Joe, if I could ban you from singing I would. You know I love you, but you and singing are not meant to be. God made you that hot and talented at acting for a reason. Let's leave the singing to the professionals, shall we?