For the past two and a half months, a fervent group of viewers of a certain little drama called Playful Kiss have followed it through the highs (the pre-release fanfare), the lows (the post-release ratings disappointment), and the moments big and small. The same viewers even experienced the novel phenomenon of following this drama from the small screen (TV) to an even smaller screen (Youtube). Today, this journey comes to an end. And what a glorious ride it was.
Episode 7 of Playful Kiss Youtube Special Edition has all the hallmarks of a PK interlude – Seung Jo acting cold to Ha Ni, Ha Ni enduring the treatment but secretly hoping for some signs of affection, slapstick humor in the form of a pregnant lady, and finally, a warm and genuine moment of love that wraps our little lovers in the gentle embrace of a young marriage well on its way to lasting until old age.
It's too bad we won't be there to accompany them any further than today. But what we have seen, will be etched in our memory, as an experience that will be hard to forget. Recapping PK was a fulfilling and enriching experience, made all the more fun and joyful because of all the readers who gave me encouragement, shared their stories and jokes with everyone here, and made the PKisser posts brimming with laughter and cheer. Thank you all, and this last recap of PK is dedicated to all the PK-lovers who've been with me through thick and thin, boat or no boat, steam or no steam.
Youtube Episode 7 Recap:
The camera opens on a bouquet of crimson roses, its petals glistening with dew and just-snipped freshness. Seung Jo leans in to smell the roses, literally, and hands the bouquet back to his sunbae doctor. Turns out the sunbae has amassed a veritable teeming motorbike of romantic gifts for his wife. Seung Jo asks why there is a need for frivolities like a hundred roses or balloons?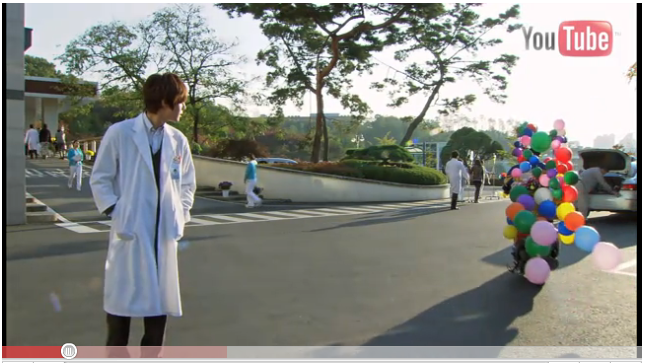 Doctor sunbae schools Seung Jo on the ways to a woman's heart – she loves these seemingly childish displays of affection, because it feels romantic. Seung Jo takes this lesson to heart, even though you can tell his old robot self would have self-destructed in its pre-Ha Ni incarnation. This version of Seung Jo does things he can't fathom for the woman he loves.
The other nurses note that Ha Ni's birthday is coming up, and ask her what Dr. Baek did for her on her previous birthdays. Ha Ni stumbles at bit to come up with romantic birthday gestures (a birthday boat would be beyond romantic but clearly no one is listening to me on this issue), and all she can think of was that Seung Jo chauffeured her around last year.
The other nurses remark that Dr. Baek is sure unromantic, and Ha Ni covers for him by saying that romantic gestures are embarrassing for her Seung Jo to do. During this exchange, Seung Jo is standing by and hears everything. When Ha Ni sees Seung Jo, she blurts out "Seung Jo-ya" before correcting herself and calling him Dr. Baek.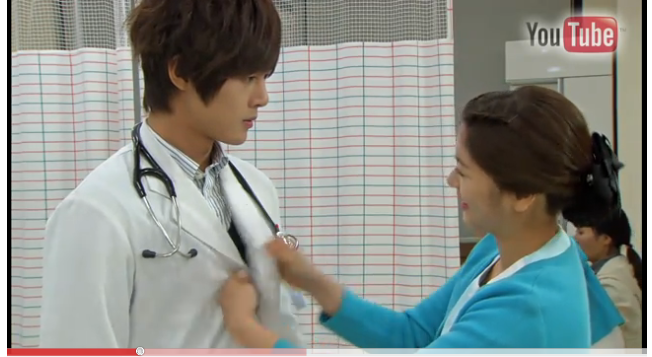 A patient is thanking Dr. Baek profusely for his medical care, and Ha Ni smiles ever so broadly at hearing her husband complimented and appreciated. She walks by and fixes his white coat, which causes Seung Jo to be a tad embarrassed. I feel like Seung Jo should be inured to all of his wife's antics, but I guess there is no way to be immunized to the whirling dervish of love that is Oh Ha Ni.
Seung Jo tells Ha Ni to stop paying attention to him, and start paying attention to her nursing duties. Ha Ni quickly agrees, then changes the subject and asks Seung Jo about his plans on the 16th (which is her birthday). Seung Jo pretends not to recognize the significance of the date, and tells Ha Ni that he has to work that day. Ha Ni is disappointment but doesn't press any further.
On their way home that night, they see a couple hand-in-hand crossing the intersection, and the woman is carrying a bouquet of flowers. Seung Jo asks her whether she wants to receive flowers from him, and Ha Ni says of course! Every woman wants to receive flowers from the man she loves. Seung Jo quietly digests this nugget of information that every human boy over the age of 5 knows except for him.
Back at home, Mom asks Ha Ni whether Seung Jo is planning anything for her birthday. Ha Ni confesses that Seung Jo is working. Mom gets upset with her son, and Seung Jo comes by and further defends himself, saying that a birthday needn't be celebrated the day of. Mom is clearly regretting the day she gave birth to her cold-blooded son.
Back in the bedroom that gets no boating (that we can see), Ha Ni comes in from the shower and Seung Jo asks her whether she really wants to have a birthday party. Ha Ni says that the birthday party is all Mom's idea, and she doesn't really care.
Seung Jo asks her what she does want as an ideal birthday celebration – Ha Ni says that she wants to receive 100 roses from her husband, have dinner at a fancy restaurant, drink champagne, blow out candles on a birthday cake……(have some steamy boating). Ha Ni goes to bed after sharing her perfect birthday, and Seung Jo smiles and searches the internet for restaurant options.
At the hospital, Seung Jo seeks out his colleagues to change shifts with them so that he can spend Ha Ni's birthday with her. Seung Jo finally finds a doctor who can switch, but said doctor is junior to Seung Jo and has to prepare for an upcoming exam.
Seung Jo spends the entire night helping the doctor prepare his exam study materials, while the junior doctor sleeps. With that done, Seung Jo frees up his schedule on Ha Ni's birthday.
Seung Jo goes to buy roses, and is embarrassed but ultimately selects 100 red roses for his wife. Back at the house of sad Baeks, the entire family minus Seung Jo is celebrating Ha Ni's birthday with a cake.
Everyone is happy for Ha Ni and disappointed Seung Jo isn't there as well. Ha Ni receives a call from Seung Jo asking her to walk outside for a minute.
The non-romantic husband has prepared a car full of roses, balloons, and a birthday cake all ready and waiting for his uber-romantic wife. At this very moment, an extremely pregnant lady stumbles down the lane and Seung Jo goes to assist her.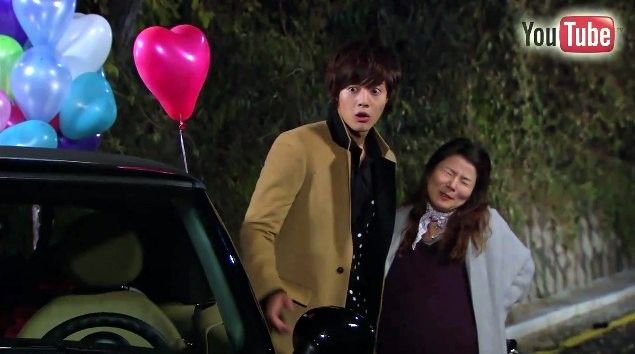 She is close to delivering, and once Ha Ni comes out, together they take her to the hospital. Ha Ni is pleased to see all the romantic gestures Seung Jo prepared, but neither have a chance to celebrate when the screeching pregnant lady is hollering and grabbing at them both during the ride to the hospital.
After they deposit her at the hospital, both come out to see that everything has been pretty much ruined. The flowers are crushed, balloons have popped, and the cake is smushed. Seung Jo has bought Ha Ni a skirt as her present, and she clutches it in her hands. Seung Jo reminds Ha Ni that they still have a few minutes until midnight, so its technically still her birthday.
He lights some crooked candles for the smushed cake (so. cute.) and Ha Ni's face lights up seeing this heartfelt gesture. Ha Ni notes that its still so hard to understand how Seung Jo feels about her, which is when he leans down to kiss her.
After he breaks the kiss, she's now all smiles, and asks her husband for a song. Omo, squeeeeeee, Kim Hyun Joong singing definitely goes a long way to make up for the lack of boating!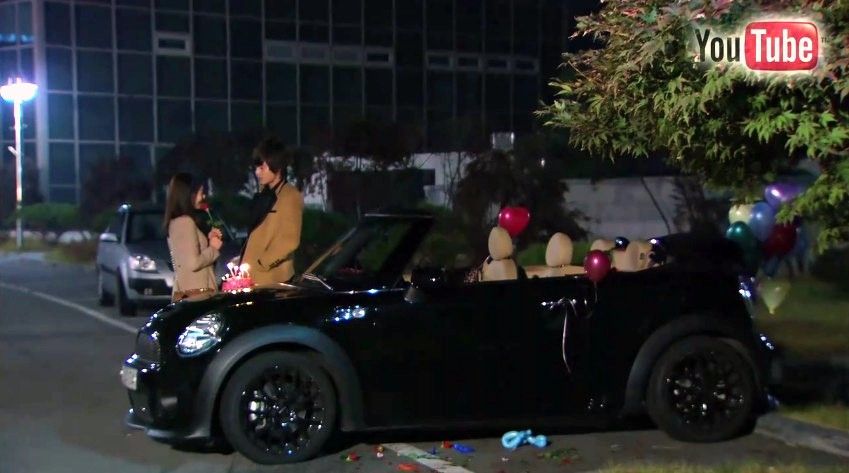 Seung Jo sings Happy Birthday to his Ha Ni, and when he gets to the verse about "to my beloved Ha Ni" she goes all giddy and asks him to sing that verse again! He laughs and complies, and Ha Ni asks him to do it again and again, and OPW's her beloved husband. Seung Jo complies with her request to keep singing the same verse, and changes it "to my beloved wifey."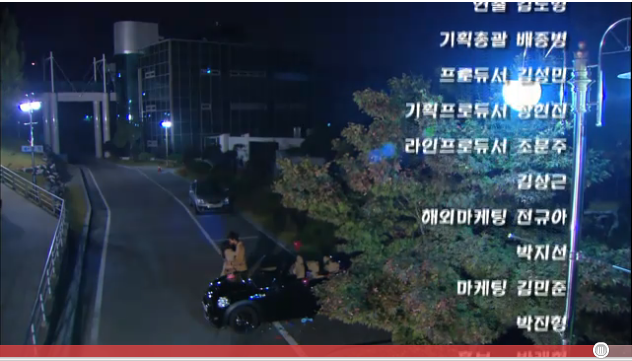 The camera pulls back and we end with balloons drifting away in the background, Ha Ni blowing out the candles, leaning in to kiss Seung Jo on the cheek, and finally, hugging him tightly as our voyeuristic peek into the love and life of Seung Jo and Ha Ni winds to a close.
Thoughts of Mine:
I will miss PK, but I don't think any drama addiction of mine has ever had such a gentle let down (i.e. drama addiction withdrawal). The YT episodes accomplished everything I wanted of it (with the exception of a certain nautical mode of transportation that wasn't shown) and then some.
I wanted to spend more time with Ha Ni and Seung Jo – done. I wanted to laugh at their foibles – done. I wanted to aww at their cuteness – done. I wanted to see their professional development – done. I wanted to see their maturation as a couple – done. I wanted to feel like their story reached an organic closure – done. These two make me laugh like a loon with their crazy yet simple life. Even a birthday isn't complete without an in-labor pregnant lady in their backseat.
As you know, my objective drama rating for PK is quite low, but my subjective love for it is quite high. At the end of the day, I'd rather spend time with a drama that I love for ephemeral reasons than slog through a qualitatively better drama that doesn't connect with me for whatever reason. I don't regret a single second spent with PK, whether watching or blogging.
I think AKP has irrevocably become more than just my blog, but a welcoming community for drama lovers around the world to connect and share their thoughts on the things that happen to interest me. I was planning to surprise you all with a Farewell-to-PK post on Thursday, but @yeisha read my mind and suggested a going away party as well. I won't be recapping the BTS episodes tomorrow and Thursday, but I'll be back to open a thread for everyone to share all their PK thoughts, from the drama to the YT episodes and anything and everything in between.
By the way, I counted the kisses. There were a total of 10 real lip locks, 4 cheek kisses, and 2 fantasy kisses in this drama. That's a heck of a lot of kissing for Kim Hyun Joong and Jung So Min. 😀 I think they did a great job and I was most pleased with their performance and blown away by their chemistry with each other. PK goes down as a successful drama in my book.
[Credit: all screencaps from Baidu Playful Kiss bar]