Information is traveling at lightning speed, and already the first stills have dropped from Naver of the Basic House shoot with Won Bin. I'm keeping an eye out for Moon Geun Young's pics, and well as the couples shots which are sure to be glorious.
I've also unearthed a picture of Won Bin and Moon Guen Young on the set of Autumn in my Heart. They had no scenes together, but it was cool they managed to interact behind the scenes and take a picture together. Moon Geun Young was so….young, but Won Bin looks exactly the same, only even hotter.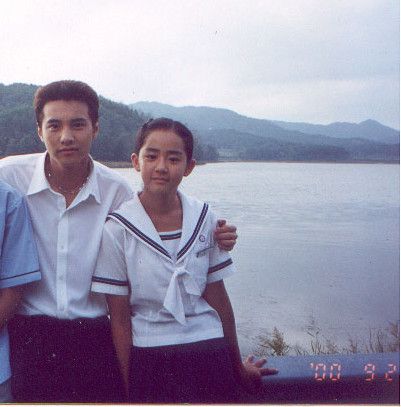 The clothes Won Bin are modeling makes it clear that this will be for Basic House' Spring 2011 Collection. It's very cute, I approve.
For those of you who have never watched Won Bon on screen, I've embedded the official MV from the movie Ahjusshi/The Man From Nowhere, which was the box office champion in Korea last year. The song is called "Dear", and is sung by a three-person group called Mad Soul Child. I fan-freaking love this song, love the movie, and <3 Won Bin so badly. He is utterly mesmerizing as the man with a single-minded mission – find the girl who calls him ahjusshi.
MV For Ahjusshi:
[youtube=http://www.youtube.com/watch?v=0vsxBDx3tq0]