MBC's current weekend drama Flames of Desire is burning up the screens with its epic pathos, but its successor looks to do an about-turn and go the cheerful, upbeat route. Earlier in January, rising actress Hwang Jung Eum was cast as the lead of Can You Hear My Heart, and this week her leading man was selected – fresh out of the military Mr. Smiley Dimples himself, Kim Jae Won. If I watch this drama, it will be for neither leads, but because Nam Goong Min also just got cast as the second male lead. Commence second-lead shipping countdown!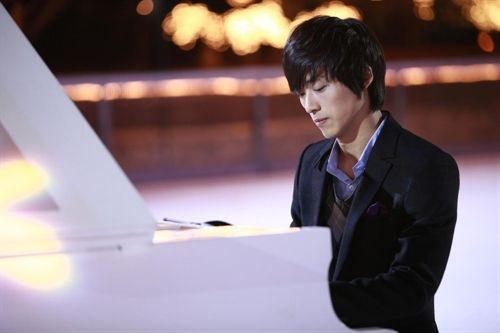 Hhmmm, Nam Goong Min *drooling…..* On a less fangirly note, I thought Hwang Jung Eum acquitted herself admirably in Giant, her performance getting better and better as the drama progressed. It was like she was soaking up all the collective awesome from her amazing co-stars. Her first leading role here should show whether she's the real deal.
I've less impressed with her leading man. I've watched so many Kim Jae Won dramas and movies, and not a single time was it for Kim Jae Won. He seems like one of the THE nicest guys in the entertainment business, but his screen presence and acting nuance is close to zero for me. He melts into the scenery, and if there is another guy in the same drama, I end up rooting for the other guy no matter what.
In this case, it's a given I'm going to root for Nam Goong Min, who I know is due for a breakout role. C'mon people, he singlehandedly made me not want to commit drama genocide on every single character in One Fine Day. He's gorgeous and his block-of-wood-ness is slowly wearing away. He's No Min Woo before No Min Woo become Dong Joo Teacher and lured women in with his emo-pretty-boy ways. Oops, did I put a shirtless picture of Nam Goong Min up there? I guess everyone will have to endure looking at his chest that was carved out of marble. 🙂
Can You Hear My Heart will be helmed by the PD who did Fantasy Couple, and written by the screenwriter who did Smile, You. I rather enjoyed the former, but the latter drama didn't resonate with me. Can You Hear My Heart is scheduled to be a fifty-episode weekend series, with an uplifting story about the love between a cheerful woman and a man who is hearing-impaired.