Get ready world, singer Jang Geun Seok is about to make his grand debut on the Japanese stage. I don't know how he does it time and again, but Jang Geun Seok has this way of turning various elements that normally wouldn't go together, and making it work.
For the cover art of his new album Let Me Cry (which is also the name of the first single), Jang Geun Seok mixes the perfectly tailored suit, with the guyliner, plus the swept back long hair, replete with his fiercest expression. I hope the song is as good as he looks on the cover art.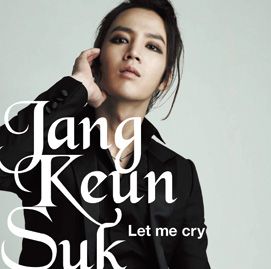 Judging by the title, I'm guessing that this first single will be a ballad. I hope he cries a lot in the MV, because afterwards he'll need some comforting by going out for a drink, and I know which lovely lady he owes a drink date with. The album drops on March 23, 2011.
I've gotten so used to seeing the mix-matched indie rocker look on Jang Geun Seok, I almost (but not quite) forgot how he looks drop-dead beautiful in an all black tailored suit. Rawr.