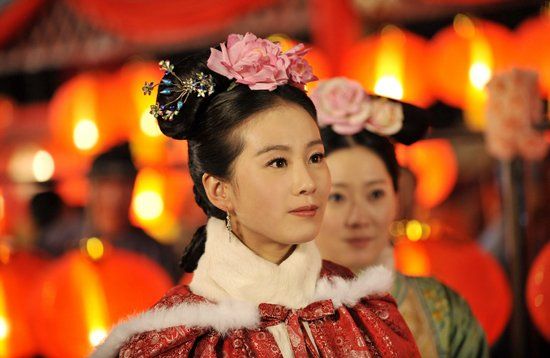 The upcoming C-drama Bu Bu Jin Xin 步步惊心 (English translation being Every Step is Fraught With Anxiety) is about to wrap up its filming in the next few days, with most of the cast members having already completed all their scenes. The drama looks to premiere in the Summer, and the production company has just released two official MVs to go along with the trailers that dropped a few weeks ago.
I love love love the MVs, which based on C-dramas track record means nothing about whether I will like the drama itself. C-dramas almost have an inverse effect on me – if I like the trailer I end up disliking the drama. I hope BBJX breaks that trend, because I'm just dying for a good period drama, the time-travel fantasy element not withstanding.
I read an interview with the writer of the novel BBJX, who said that the inspiration for BBJX and the entire girl time-travels to the past and gets involved with a Prince/future Emperor concept was based on THE grandmommy of all time-travel mangas Crest of the Royal Family (also known as the Daughter of the Nile or Ouke no Monshu).
I started reading Crest when I was a wee lass, and 25 years later that damn manga is still not finished! But Crest did spawn legions of time-travel mangas, some good (Red River or Anatolia Story), some middling (Fushigi Yuugi), and some extraordinary (Inuyasha).
So BBJX is inspired by Crest, which tells the story of an American girl who gets transported by the Nile back to ancient Egypt, where she falls in love and eventually marries the hottest Pharoah in all of Egyptian history (my assessment), and becomes a pawn and prize amongst the rival kings and princes.
With that said, I'm probably going to cave to my curiosity and read the BBJX novel. Even if you have no interest in watching the drama, the MVs are gorgeous and lots of fun to watch, so check it out. MV 1 is adorable and lighthearted. MV 2 is…..not so much that.
Official BBJX MV 1:
http://www.youtube.com/watch?v=dBDqUb6BPJI