It looks like 49 Days might take the crown from City Hall as the drama which takes the longest time to get going. And if 49 Days takes off like City Hall did, then I forgive all the earlier mishaps, oh yes I will. Four episodes into 49 Days, and I'm only starting to get curious about the story and finding the faint stirrings of my emotional heart strings. There are quite a lot of questions that remain unanswered about the whys of it all, but at least the story is moving forward at an increasingly brisk pace.
I'm not quite sure why the writer keeps the story solely focused on Ji Hyun and the back-stabbity-swindler pair of Min Ho and In Jung, when I am totally curious about Yi Kyung and would love to see Han Kang developed more. I remained convinced that the theoretical concept of 49 Days remains it most compelling element, and the execution (directing, writing, and OST) remains its weakest link. Luckily, I find recapping this drama rather breezy and relaxing, so I'm happy to continue in the hopes that the drama will turn the corner at some point and grab me by the guts, making me weep with joy and sorrow.
Episode 4 Recap: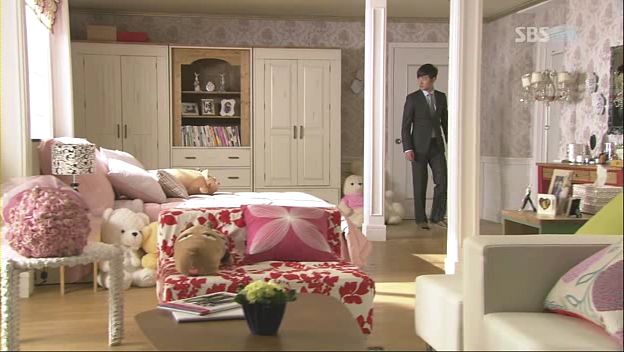 After the most suspense-filled and interminable walk to Ji Hyun's room, Min Ho opens the door and walks inside. He looks tense, and of course it's because he's doing something sneaky and wrong, not because he spotted Ji Kyung in the room. While the camera work made it seem like Ji Kyung was still rifling through her things when Min Ho walked in, in reality she's hightailed it out of her room via the window sill.
Ji Kyung dangles on the windowsill and finally can't hold on any longer and drops to the ground, slightly hurting her ankle. She scrambles along the side of the house and hides outside the gate. Min Ho looks through Ji Hyun's drawers but cannot find the seal. He does manage to take a few of Ji Hyun's personal effects so that he can show Ji Hyun's mom that he finished what he came here to do. Min Ho leaves the house, and Ji Kyung watches him go with anger and sadness. She is bitter that she believed a scum like Min Ho loved her. She turns and apologizes to her parents and tells them that she misses them.
In Jung goes to see an older woman, whom she calls "mom" (not necessarily her own mother, could be the mother of a good friend). The woman does not recognize In Jung and appears to be rather mentally unstable. In Jung brings food for her to eat and is very patient when the woman starts to yell at her. We find out later in this episode that the woman is Min Ho's mom. There is definitely more to Min Ho's swindling of Ji Hyun than meets the eye.
Ji Kyung talks to herself as she walks away from the house, wondering what's going to happen if she can't find her own seal. She hits Yi Kyung's head, and Scheduler pops up to yell at her for harming Yi Kyung's body, which is against the rules. First Ji Hyun sprained Yi Kyung's ankle, and now she's thumping her head, too. Ji Kyung promises to buy a heat pack for Yi Kyung's ankle, and Scheduler continues his tirade when suddenly Ji Kyung grabs his hand.
Ji Kyung says that at least she has Scheduler (by her side), which alarms him as he doesn't believe they have the kind of relationship where she can just grab his hand and confide in him. Ji Kyung unloads are her worries on Schedule (about looking for the seal, what to do about those why betrayed her, what to do about her task at hand), but he stops her and tells her that he's not a human being either and doesn't want to be involved with these things.
He came become she violated a rule with her cellphone use. He doesn't have much time himself, and doesn't want to keep chasing after her with the time he has left. She wants to know what the hint he gave her earlier was about, but Scheduler takes off without further clarification. He turns and looks at Ji Kyung, remarking that she's not very bright, which is what landed her in this situation in the first place.
Min Ho goes to the hospital to drop off Ji Hyun's things. He sees Ji Hyun's dad talking with her, promising that he will wait until she returns to him. Ji Kyung is walking and sees her other friend Seo Woo, who works at a bakery. Ji Kyung talks to Seo Woo through the window, confessing that she misses her and is really lonely and needs a friend to talk to.
Seo Woo walks outside and recognizes Ji Kyung as the person who works at Han Kang's restaurant. Ji Kyung goes inside the bakery with Seo Woo and buys some bread, thinking that she could come buy bread and have an excuse to talk with Seo Woo. The restaurant employees wonder where Ji Kyung went. Because she's not back yet, the manager's wife helps out with the restaurant duties.
Han Kang hears that Ji Kyung is not back yet and he walks outside with his usual irritated annoyance. He sees Ji Kyung munching on some bread and staggering back to the restaurant. It turns out that she ate two pieces of bread while coming back. He asks if she thinks he's an idiot or a philanthropist? Why does she come and go as she please, and never keeps her promise to return in the allotted time?
Ji Kyung tries to explain herself but starts to choke on the bread. The employees rush outside to give her a drink of water. Ji Kyung looks around and realizes that everyone is staring at her with worry. She gets up and hurries into the restaurant, which is when Han Kang notices that she is limping. Ji Kyung goes to throw up and wash her face. She looks in the mirror and starts to cry again.
Ji Kyung leaves the restroom and finds Han Kang waiting for her. He asks that she follow him, and she nervously clicks her fingernails in his office wondering if he's going to fire her. Turns out he got her an ice bucket for her sprained ankle. Dude, you are so into her its adorable. Ji Kyung tells him that she already put a medicine patch on.
Han Kang gives her the purse that she left behind, and a muscle spray for her sprained ankle. She thinks to herself – is this the Han Kang I know? He asks her why a grown woman would carry a whistle around, and Ji Kyung tells him that the whistle was given to her by someone who told her to blow it whenever she needed help.
Ji Kyung blows the whistle and Han Kang flashes back to his first meeting with Ji Hyun. He helped her get her bike up the hill but instead they both tumbled down the hill. He ended up underneath her, and he remembers her brilliant smile asking if they both survived the fall. Ji Hyun blew her whistle that day, telling him that her dad gave her the whistle to blow if she was ever in trouble.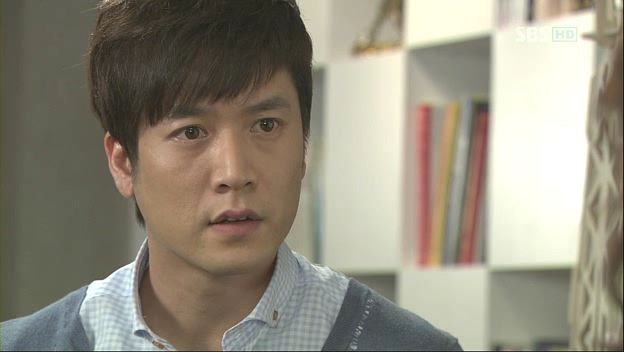 Han Kang looks at Ji Kyung tending to her sprained ankle. When she's done, he tells her that he has something to talk to her about. He hands her fifty days worth of salary and tells her he doesn't want to keep looking out for her. He only gave her the job because he felt sorry about her, not that they needed another worker.
Ji Kyung is furious at him, and says that she wants to earn her own money, she is not a beggar. He tells her that he can't handle her around anymore because he keeps worrying about her and losing his temper around her. Ji Hyun thinks to herself that if Kang kicks her out, she will have no one left. She gets up to leave, and Han Kang yells at her, asking what the hell she wants from him.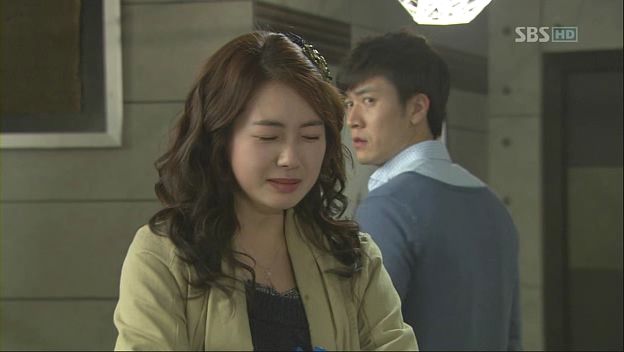 She tells him that she just wants a job, and he relents and tells her to go upstairs to get something to eat. Ji Kyung starts to bawl, telling him that she is crying because she is so grateful that he is letting her stay. Ji Hyun's dad asks In Jung to stay by Ji Hyun's bed tonight, as he has to spend more time with Ji Hyun's mother.
In Jung find out from the bridal salon manager (whom she asks if Ji Hyun had left her seal there) that Ji Hyun had specifically requested that her friend In Jung be dressed beautifully for the wedding. In Jung looks heartbroken. Min Ho is meeting with a man, who tells Min Ho that they can proceed even without Ji Hyun's seal. Min Ho refuses, telling him to wait a bit longer. Ji Hyun's land is worth a lot and the company will not go bankrupt that easily.
Min Ho goes to Heaven and Ji Kyung reluctantly brings him a menu when the other waitress won't serve him on her behalf. Min Ho sees her hands shaking when she brings him the menu, and he tells her that she can see through her and she should just stop now. He can tell a person's intention. He hands her the menu and tells her to get Han Kang and to bring him the usual. She tells him Kang is not here, and whether she needs to bring him the strongest alcohol on hand.
Min Ho gets a call from a crying In Jung, where he tells her to stop crying and to remember that they have been planning this for 2 years. Ji Kyung overhears and realizes that he and In Jung have known each other for longer than she has been dating Min Ho. Min Ho hangs up the phone and finds Ji Kyung lurking by the door. He tells her that he knows her tactics, and he's not interested in her.
Ji Kyung retorts that she's not interested in him, but Min Ho thinks that she's playing hot and then cold to arouse his interest. To Ji Kyung, he's the best actor around, pretending to be very solicitous but actually lacking in sincerity. Even his smiles are false. She is about to call him a liar when suddenly her necklace glows red hot and burns her.
Scheduler suddenly appears and warns her never to reveal her true identity and feelings. If the necklace shatters, then the 49 days is immediately up and she loses her one chance. Ji Kyung nods her understanding and tries to smooth things over with Min Ho. Han Kang walks up the steps back to the restaurant and sees Ji Kyung talking with Min Ho.
Ji Kyung tries to tell Min Ho that she is angry because he wrongly assumed that she was trying to entice him. Ji Kyung runs away with Min Ho looking on. Yi Kyung is at the convenience store and she touches her hair again. She looks in the mirror and touches her hair when the guy comes back and calls out that this is the first time he's seen her look into a mirror.
She wants him to leave her alone, but he says that he can't. He wants her to remember him, and what they used to talk about. He knows why she went to the accident site, and why she has a scar on her arm. She flashes back and we see that the guy is a psychiatrist and used to treat Yi Kyung. She tells him to leave, because she doesn't want to remember.
In Jung and Min Ho are sitting in Ji Hyun's hospital room, and he asks if In Jung went to see his mom today. She tells him that his mom has been waiting for him, and he needs to go see her before its too late. Min Ho refuses, saying that his mom will keep waiting for him until he comes to get her. In Jung says that Min Ho has enough money now, they should take the money and his mom and go abroad together.
In Jung doesn't want to destroy Ji Hyun's father's company now that Ji Hyun is in the state that she is in. Min Ho reminds her of all they went through just to get to this point, and we see that all the coincidences that led to Min Ho meeting Ji Hyun on the mountain top and later at the movie theater were all orchestrated by In Jung and Min Ho deliberately.
Ji Hyun hears all of this, and she is even more devastated. Min Ho says that had the plan gone accordingly, he would not be family to Ji Hyun's dad. Min Ho presses In Jung about how she wanted to do this, and they both apologize for what they are saying and doing, with the full understanding that it's going to continue until they achieve their objective.
Ji Hyun goes outside to sob, until she finally gets a grip and goes inside where In Jung is sitting by Ji Hyun's bedside. In Jung thinks to herself that she doesn't want Ji Hyun to forgive her, but she became like this because of Ji Hyun's fault as well. In Jung says out loud that Ji Hyun will remain innocently blissful in the condition she is in. Ji Hyun yells at her that she knows everything, and tries to strike her but she cannot touch anything.
Ji Hyun suddenly sees the kangaroo toy sitting by her bedside and she remembers that she put the seal in her kangaroo pocket. She can't get the seal back (yet), so she stands and watches In Jung sleeping in the chair with a determined look on her face. Ji Hyun takes over Yi Kyung's body and rushes out. Scheduler is swimming at a pool and Ji Kyung goes to see him.
Ji Kyung sees him teaching a girl how to swim, and she's shocked that he will be touching a human being. Ji Kyung wants to get her seal back and tell her dad about Min Ho and In Jung's plot. Scheduler tells her that in doing so she will violate two rules and it's immediately up the elevator to heaven she goes.
Scheduler rushes off when his cell phone beeps that he has only five minutes left. He changes into his suit and walks towards a couple, who slips on the wet floor and the girl strikes her head on the concrete. She dies and her spirit is welcomed by Scheduler. She tries to run away but two black cloaked beings prevent her departure and takes her forcibly into the elevator.
Ji Kyung asks Scheduler to give her an hour before taking her up the elevator when the time arrives, and wonders if she can meet with him once she arrives in heaven? It appears Ji Kyung is going to break the rules and lose her chance to resurrect in order to expose In Jung and Min Ho to her father. Ji Kyung arrives at the restaurant and finds that its closed.
In Jung goes to Ji Hyun's house again and tells the ahjumma that she wants to thoroughly clean Ji Hyun's room. She searches again but cannot find the seal. Everyone is gathered by Ji Hyun's bedside, since today was supposed to be her wedding day. Ji Hyun's mother cries over her daughter's condition. A nurse tells her that keeping a stuffed animal in a hospital room is bad for the patient's breathing.
Ji Kyung arrives at the hospital and runs into Han Kang, who happens to be leaving. He wants to know why she's here, and he mistakenly thinks back to her earlier statement that she doesn't have much time left as indicating that Yi Kyung is sick. Ji Kyung goes up to the hospital room but has to hide when everyone walks out of the room.
Ji Kyung notices that Min Ho has her kangaroo stuffed animal in a bag that he is carrying. The bag is taken back to the house by Ji Hyun's mom. Ji Kyung sees Min Ho talking with In Jung, who confirms that she cannot find the seal. Han Kang sees Min Ho upset and frustrated after his conversation with In Jung, but Kang doesn't know the reason why.
Min Ho tells In Jung to leave the house quickly since the parents have just left and are headed back home. In Jung suddenly remembers that Ji Hyun liked to keep her treasures inside her stuffed kangaroo, and she heads to the hospital. Once she arrives, she's told it's been taken back home. She calls Min Ho, who doesn't pick up the phone since he's turned the music up to distract himself.
In Jung heads back to Ji Hyun's house and Ji Kyung gets into a taxi to follow In Jung. Ji Kyung arrives at the house, and she rings the doorbell. Ji Hyun's mother voice asks who is it through the intercom, and Ji Kyung leans down to respond with an "I……"
Thoughts of Mine:
I'm glad it turned out the whistle in Ji Kyung's bag was not the exact same whistle Ji Hyun had in high school, but was a whistle nonetheless that Ji Kyung uses in the same way – to summon help when she's in trouble. That's one less inexplicable inconsistency I don't need to rationalize.
I've come to accept that I can't parse the details and critically analyze all the fantasy elements of this drama, including the myriad of coincidences. In doing so, I will drive myself insane, because this drama doesn't make much sense if you think real hard about it. Even in accepting the magic and fantasy afterlife, there are so many details that don't quite fit together and the painfully bad editing makes it worse to try to figure out transitions between scenes.
To enjoy the story, I have to step back from my natural inclination to be a DSI (drama scene investigator), and simply accept that things are set up that way in this story and try to go with the flow. I'm cool with that. But the directing and music are still horrific, and is truly something I don't think I can ever accept. This PD needs to go back to go back to directing school and learn the basics of scene presentation and editing.
On the plot developments in this episode, which were not all that surprising. Ji Hyun was set up by In Jung and Min Ho from the get go, and like a clueless little sheep she fell for the swindle. I like how Ji Kyung is dealing with all the revelations and her current situation. She's getting smarter, emotionally stronger, and a great deal less annoying. As I predicted, there is more to Min Ho and In Jung's reasons for swindling Ji Hyun and her family, such as Min Ho having a crazy mother.
I'm not kidding when I say I really want to know what the hell happened to Yi Kyung. Perhaps the writer is purposely delaying the big reveal on Yi Kyung, and continuing to give her minimal screen time (though Lee Yo Won gets maximum screen time as Ji Kyung). Am I weird in hoping that Han Kang and Yi Kyung are the end game, not some variation of Kang ending up with the resurrected Ji Hyun or falling for Ji Kyung.
The ratings for 49 Days have been mired in the high single digits, and just barely broke 10% for today's episode. I'm not surprised by the ratings, because honestly the story isn't very compelling (yet) and the poor execution is dragging down the drama. 49 Days is neither whimsically light nor atmospherically dark. It's presented like this office drama when its subject matter would naturally lean towards breathtaking visuals. I would have loved to see the PD from Bad Guy take on 49 Days, now that would be a match made in Heaven. A koala can hope, right?