The just wrapped K-movie Chilling Romance, with Lee Min Ki and Son Ye Jin, released a few new stills as the movie enters post-production. Lee Min Ki has a slew of movies either just finished or lined up, so I don't think we'll see him back in dramas anytime soon. Neither does it look like Son Ye Jin will leave movies in the near future as well.
I don't blame either of them – both of them gave it their all in their last dramas, which were absolutely stinkers of a plot and/or execution. I plowed through all of Personal Taste and I Really, Really Like You for Ye Jin and Min Ki (okay, LMHMG was also another reason I stuck with PT), and afterwards I wanted to go bleach my brain. Chilling Romance, however, sounds totally intruiging.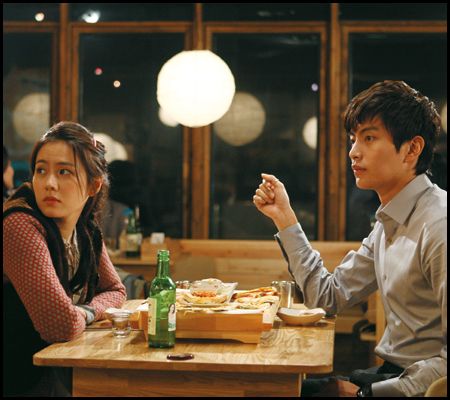 Chilling Romance tells the story of a woman (Son Ye Jin) who begins to see spirits after a car accident (a twist on what happened to the lead character in the HK-horror movie The Eye). Her new founded ability finds herself intersecting with a magician (Lee Min Ki) who uses spirits as part of his spectacle of a magic show. CR is a rom-com of sorts, so I expect cuddlier spirits than the ones which pervaded The Eye. This movie and coupling definitely looks promising for me.