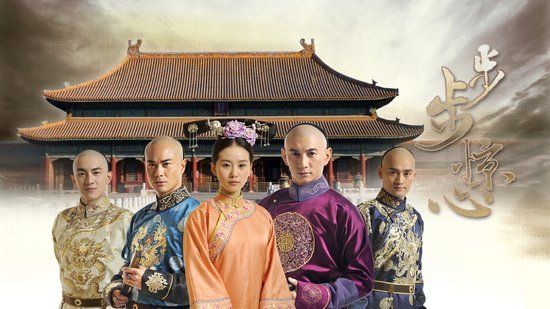 I finished Bu Bu Jing Xin today. All 35 episodes. Despite reading the novel beforehand, nothing can prepare a person to watch this story unfolding perfectly onscreen. The last ten episodes basically destroyed me. I've cried so much I need new tear ducts, I feel like my heart has been grinded into a pulp, and that pit in my stomach extends somewhere to infinity. BBJX officially has my vote for best drama of 2011 thus far. I'll see it before I believe it that another drama this year can top this masterpiece.
This drama is unbelievable. Indescribably perfect in storytelling, acting, directing, scoring, everything, except it did not come with the proper ratings warning. I need to warn everyone who has a weak constitution to pretty much stop watching the drama at the middle part of episode 25 and just leave it at that. For those of you who want to soldier on (and it's worth it, be strong and you will be rewarded), you will not regret it. I've decided write about the last three episodes and just release all that feeling bottled up inside of me. Let's discuss the drama here, shall we?
I don't think I have the energy to rewatch this drama anytime soon. But part of me longs to start from the beginning again, watching young Ruo Xi land in the Qing Dynasty, make friends with the princes, and gradually assimilate into life in that era and under those conditions. It was an idyllic time, full of mischief, laughter, and some tears. But Ruo Xi couldn't stay 14 years old forever, so she grew up, and entered the walls of the Forbidden Palace to serve as the Emperor's tea maiden.
From that moment forth, every step she took was fraught with tension and anxiety. She knew history, so she tread lightly around all the key players in that princely battle for the throne. She stood out as different to all the princes – her stubborn streak, her independence, her pensiveness, her indominable spirit. All of those things made prince after prince adore her and fall in love with her. Ruo Xi's hesitation and worry about affecting history governs every decision she makes, but she inadvertently set into motion the tragedy to come.
First and foremost, there are really no bad people in this drama. 9th Prince comes close, but really all the characters merely have different interests which find them antagonists due to principle and motive. I ended up loving almost every single character in this drama, which is insane considering most historical dramas are populated with conniving and evil characters. Bearing that in mind, the tragedy of BBJX lays squarely in Emperor Kangxi's hands, even before Ruo Xi gets involved unwittingly.
Emperor Kangxi goes down in history as one of the best emperors in Chinese history, but his strength at governing a country did not extend to running a household. He decided early on to install 2nd Prince as the Crown Prince because he was the son from Kangxi's favorite concubine. Kangxi personally oversaw the Crown Prince's education, but chose to ignore that son's moral turpitude and incompetence. But everyone else saw it, which create the moral outrage for the other princes to vy for the throne. Because they saw how horrible the Crown Prince was, some of the other princes felt rightfully they were better suited to run the country. Had Kangxi picked a worthy Crown Prince, this would never had happened. His other sons were not trying to steal the throne via nefarious deeds, they were looking for a way to get rid of a wholly unsuitable Crown Prince. After that it would be a battle for the throne on equal terms.
Operating on that principle, what happens is truly unavoidable, for the princes to find the right opportunity to take each other out of the picture. 8th Prince suffers disfavor early on because he's the most well-respected and well-socialized prince amongst the court officials, and that makes him a threat to the Emperor. 8th Prince never really recovers from this first misstep, but when he falls in love with Ruo Xi and she finally reciprocates but asks him to choose between her and pursuing the throne, he nevertheless cannot give up the throne. He doesn't understand why Ruo Xi is making him choose between two things he shouldn't have to give up on either one. Ruo Xi cannot tell him that she sees the future, and knows he'll ultimately be the loser.
So Ruo Xi and 8th Prince break up bitterly and she continues serving the Emperor in the palace. During that time, she slowly opens her heart to 4th Prince, who is the most aloof and hard to get to know. But once 4th Prince and Ruo Xi fall in love, they fall for each other hard. One of my favorite sequences is watching Ruo Xi and 4th Prince's every interaction in the palace. But everything goes to pot when 8th Prince and his gang set up 4th Prince to look like he was plotting to get rid of the Crown Prince. To protect his beloved older brother, 13th Prince steps forward and takes responsibility, claiming that he plotted everything in the name of 4th Prince without his knowledge or involvement. This nets 13th Prince house arrest in a tiny shack in the outskirts of town.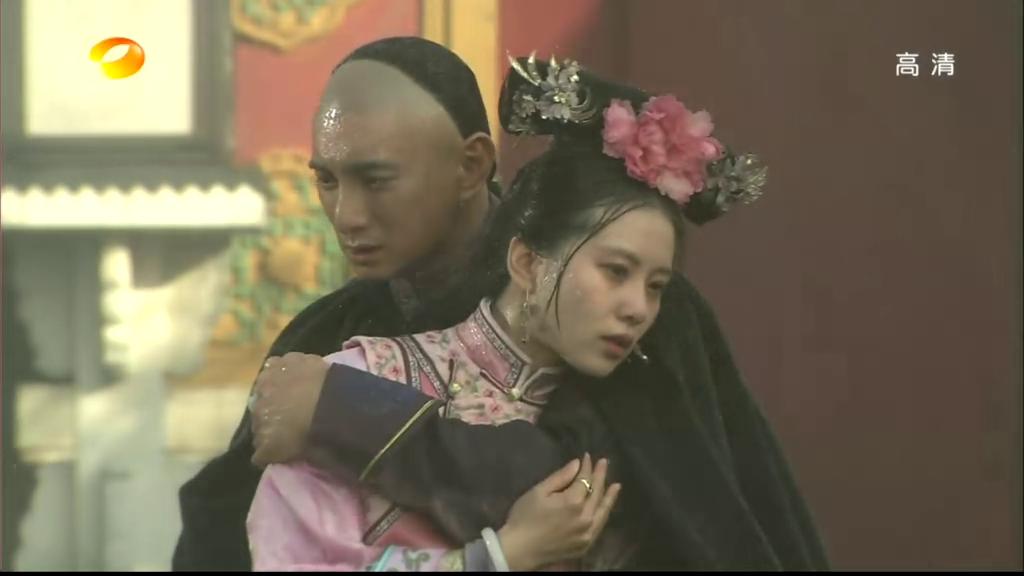 To beg for 13th Prince's good friend Lu Wu to be allowed to join him in house arrest, Ruo Xi dares to beg the Emperor and is punished with kneeling outside. Her kneeling turns into three days and three nights, including under the pouring rain. 4th Prince comes to see her, and she knows how much he's suffering that the two people he loves the most in the world (Ruo Xi and 13th Prince) are suffering greatly and there is nothing he can do to protect them. This feeling of rage and hopelessness is what flips the switch for 4th Prince, turning him into a dedicated and focused machine who is determined to win the throne.
14th Prince sees Ruo Xi begging for 13th Prince and he goes to beg the Emperor, and soon many of the other princes also join in kneeling outside in the rain. In the end the Emperor relents, but only Ruo Xi knows how important this is to 13th Prince. Others assume he might be released at anytime, only she knows this house arrest will last 10 years until the death of the Emperor and 4th Prince ascends the throne. 4th Prince is still persona non grata with the Emperor and at court because of the suspicion that 13th Prince took the fall for him, so he leaves politics and becomes a gentleman farmer in his estate for many years. 4th Prince understands that patience and restraint is the key to winning, and by stepping back he's actually moving his chess pieces into place. But this also means he cannot ask for Ruo Xi's hand, because he has fallen out of favor with the Emperor. Ruo Xi is willing to wait for him but cries about how cruel fate can be.
The Emperor loves Ruo Xi so much he decides to marry her off to his favorite prince at that time, 14th Prince. But Ruo Xi, who loves 4th Prince, refuses the marriage decree. In anger the Emperor punishes her by making her a washerwoman. 4th Prince sees her suffering at years of this backbreaking labor and further strengthens his resolve to win the throne, otherwise he can not keep safe and protect those he cares for. 14th Prince is sent to protect the boundaries and becomes a general of great reknown. To save Ruo Xi, he asks the Emperor for her hand, only to be rebuked twice. The third time he returns victorious from another battle, he asks the Emperor for Ruo Xi's hand and finally the Emperor tells him the truth – he already wanted to marry Ruo Xi off to 14th Prince years ago, but it was Ruo Xi's refusal that sent her to wash clothes. When pressed, Ruo Xi tells 14th Prince that he's wonderful, but she can't marry him. 14th Prince realizes Ruo Xi is in love with 4th Prince.
As the Emperor grows weaker, he longs for the simple snacks and the wonderful tea Ruo Xi use to make for him. She's brought back to serve him in his final days, after having spent 6 years washing clothes. The Emperor's passing was sudden, and supposedly he left a will designating 4th Prince as the next Emperor. 4th Prince immediately enters the palace and orders everyone locked down. The country goes into mourning, and by the time the other princes arrive, 4th Prince has ascended throne. 4th Prince releases 13th Prince and brings Ruo Xi back to the palace.
During the subsequent transition period, 4th Prince is mindful of people questioning his legitimacy on the throne and seeking to remove him. He treats his enemies harshly, including killing people who are close to Ruo Xi for valid reasons that nevertheless she cannot accept. Though they are madly in love with each other, and Ruo Xi becomes pregnant with his child, it is not enough for her to pretend she is not aware of what is going on. When Ruo Xi discovers that the reason 8th Prince originally targeted 4th Prince was because of her warning to him, the shock causes her to miscarry their child and become barren.
Without a baby to tie her to the palace, and after living in anxiety and fear for twenty years, Ruo Xi cannot breath anymore as her spirit has wilted. She asked 4th Prince to let her go but he refuses, how could he let the love of his life leave him? Ruo Xi wants him to stop seeking revenge against the other princes who set him up years ago, telling him the truth that it was her warning to 8th Prince which set everything into motion. She tells him to hate her, and punish her, but please stop hurting others.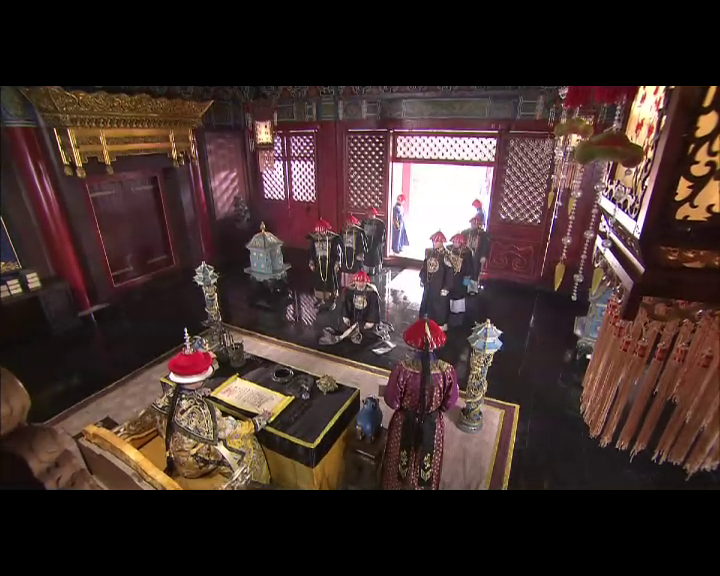 Ruo Xi accepts 14th Prince's marriage proposal, and 14th Prince arrives at the palace bearing Emperor Kangxi's marriage decree. Seeing that 4th Prince would be willing to negate that decree rather than let Ruo Xi go, 8th Prince reveals to 4th Prince the story of how he and Ruo Xi were in love many years ago and pledged their troth to each other. 4th Prince never knew about this, and his jealousy and hurt that Ruo Xi loved his most bitter enemy, creates impetus for 4th Prince to allow Ruo Xi to leave the palace.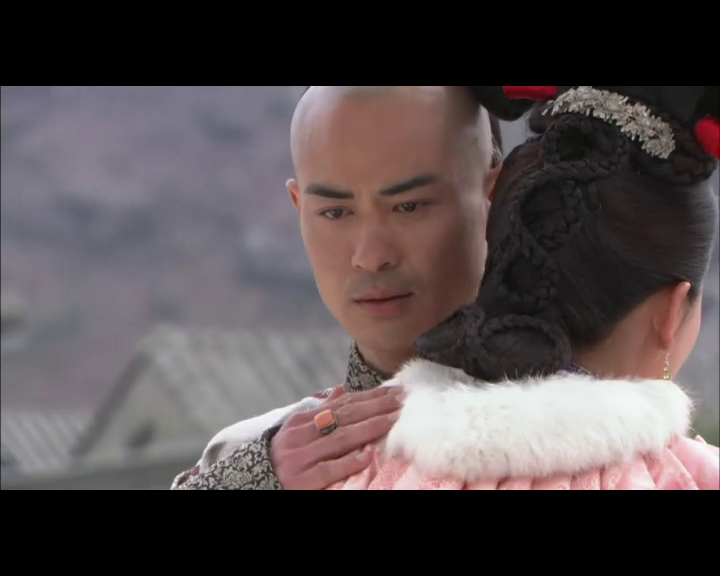 En route, 8th Prince arrives to bid Ruo Xi a farewell, the first time they have seen each other since 8th Prince lost both his first wives. 8th Prince knows he's a marked man and 4th Prince is just biding his time to take him out once and for all. He doesn't regret the choice he made to pursue the throne over picking Ruo Xi – as a man one must be willing to accept the consequences of defeat. He tells Ruo Xi that since they are not fated in this lifetime, he will leave it to the next lifetime for them to continue their destiny.
8th Prince tells Ruo Xi to forget the Forbidden Palace, forget all of them. Knowing this might be the last time she ever sees him, Ruo Xi turns back and runs to give 8th Prince a hug. He tells her to smile because she's going to be a bride, how can she cry on a day like this. Ruo Xi knows that 8th Prince revealed their love story to 4th Prince just to allow Ruo Xi to leave the palace, and she explains that to 13th Prince, who confirms that 8th Prince remains ever the one who is deeply affectionate and courageous even now, despite everything that has happened to them all.
13th Prince takes Ruo Xi away, their friendship as strong as it ever was. They say their farewells via a poem to each other, about how neither can claim to never have known another person in this world, because they have found a soul mate in each other. He lets her go as she rushes into the sedan, sobbing as she leaves the confines of the city that has kept her inside for what feels like multiple lifetimes.
Ruo Xi marries 14th Prince, who is truly a good man who loves her without reservation and asking nothing in return. On their wedding day, 4th Prince forbade any wedding celebrations, but 14th Prince nevertheless chose to decorate the estate with flashes of color so Ruo Xi would feel the happy mood. The Emperor gets updates on their life together, but finally chooses not to hear anymore once he hears that the couple appear to be getting close.
Ruo Xi's health is deteriorating rapidly (a combination of heartbreak, her miscarriage, the three days and nights she knelt in the rain for 13th Prince, and her six years as a washerwoman) and she knows her end is near. She writes a letter to the Emperor and asks 14th Prince to deliver it. He realizes her handwriting is almost identical to that of the Emperor so hides her letter inside an envelope he addresses to 4th Prince, who promptly ignores it thinking it's another taunting letter from 14th Prince.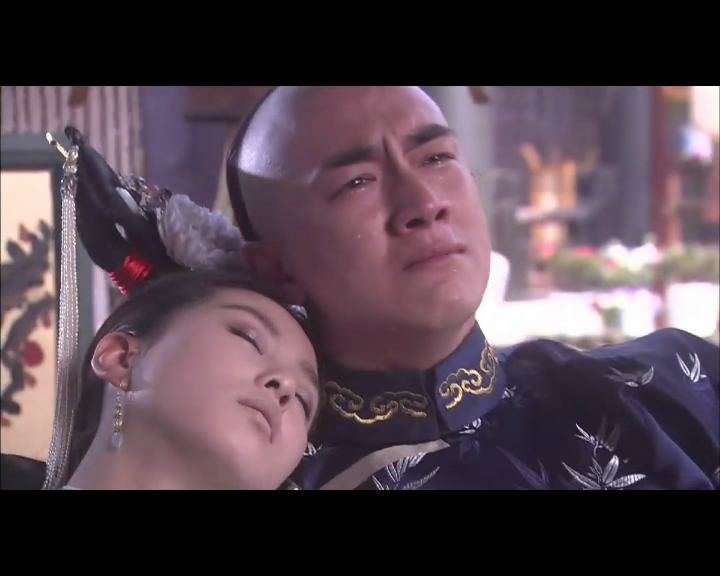 Ruo Xi dresses up every day waiting for 4th Prince to come see her. On her last day, she puts on the outfit he loves the most. 14th Prince asks her if she wants to go sit under the cherry blossoms and listen to a musician she used to love that he had brought here to play for her. She agrees, and as she lays in his arms, she says that once she goes into the afterlife, she will ask for more water from river of forgotten memories so that she can forget all of this. She asks to be cremated, and tells 14th Prince to live well, and please forget her. She dies in his arms.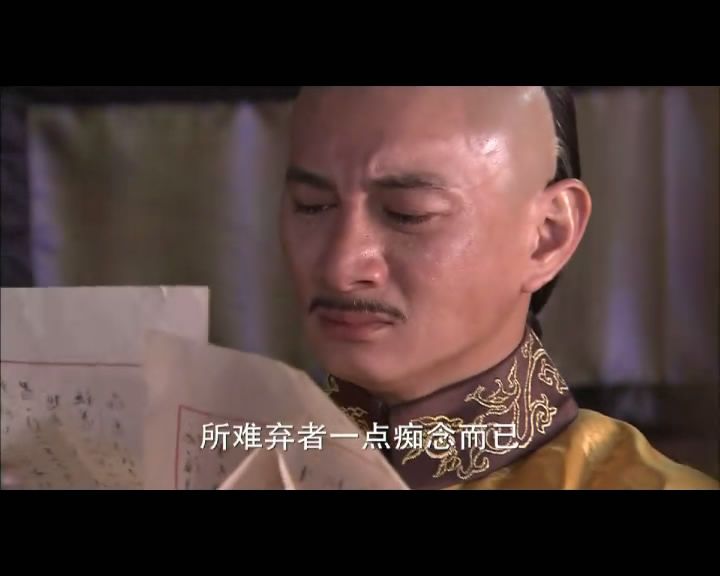 4th Prince doesn't find out about Ruo Xi's death until 7 days later via an official announcement. 4th Prince basically loses it in court and scrambles around until he finds the letter from 14th Prince. He opens it and reads Ruo Xi's last words to him – when he came to her in the rain, she already gave her entire heart to him. Does he even care about what happened in the past between her and 8th Prince, when he knows who she has only ever truly loved. She will never be able to forget him in this lifetime, and is waiting every day now for him to come see her.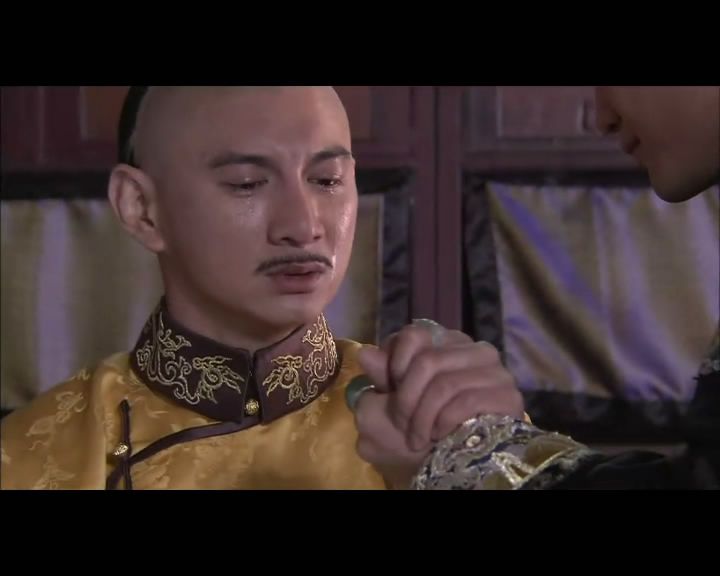 4th prince is pretty much completely broken after reading this letter and hearing of her death, and asks 13th Prince to take him to see Ruo Xi. 13th Prince, forever the most loving and loyal brother to 4th Prince, grips his brother's hand at this moment when his brother has an entire nation, but lost the only woman he's ever loved.
They arrive at the estate of 14th Prince. They don't see Ruo Xi's body or coffin, only to discover that 14th Prince cremated her, which is only what happens to criminals, as a whole body being buried is considered the only way for a person to rest in peace. 4th Prince is furious until he learns Ruo Xi asked to be cremated and her ashes scattered on a windy day.
14th Prince asks why 4th Prince is finally here, and finds out from 13th Prince the reasons for the letter not being read. 4th Prince wants to take Ruo Xi's ashes but 14th Prince says Ruo Xi is his wife so should stay with him. 4th Prince reveals he never added Ruo Xi to the Aisin Gioro family registry so she is not officially his wife. He never really allowed her to marry 14th Prince.
Ruo Xi's devoted maid takes 4th Prince to Ruo Xi's room and shows him her most treasured belongings, including the flower pin he gave her, the little snuff bottle with the cute dogs, and finally, the arrow he took in the shoulder to protect her. 4th Prince holds those items and basically sobs his guts out. [What Nicky said about crying a lot playing 4th Prince is pretty much true, and the man sure can cry.]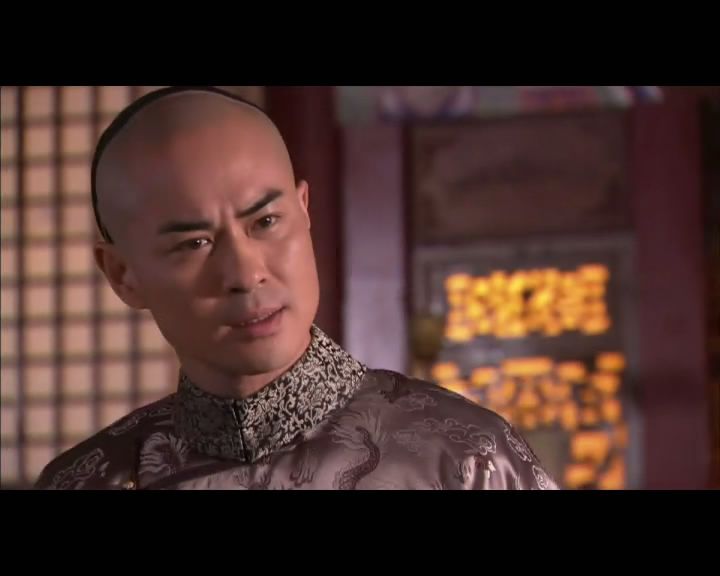 8th Prince hears of Ruo Xi's death and enters to palace, asking to see her body. He finally tells 4th Prince that while 4th Prince is the Emperor and he lost, they both had Ruo Xi and lost her in the end. 8th Prince lost her when he refused to give up the battle for the throne. 4th Prince lost her when he was more intent on protecting his throne than spending a lifetime with Ruo Xi. 8th Prince tells 4th Prince that while the latter has become the Emperor, 8th Prince remains the man he always was.
4th Prince and 13th Prince take Ruo Xi's ashes to the mountain top and scatter it per her final wishes.
Ruo Xi's wakes up in the present as herself again, Zhang Xiao. She retains the memories of her years in the Qing Dynasty, so she goes online to see if she can get any confirmation as to what happened to her. She researches on what happened to all the princes. 9th Prince was under house arrest and 13th Prince gave him poison to end his suffering, at the request of Ruo Xi.
10th Prince is happily married to Ming Yu and expecting a child. Ming Yu's older sister, the first wife of 8th Prince, was a truly remarkable woman who lived her life being the best wife to 8th Prince as could be. She held up his family when the Emperor severed ties with the 8th Prince, and she made the 8th Prince divorce her when 4th Prince decreed it, then killing herself so that he would not be burdened with her. It's reassuring that the two people who got some happiness were happy-go-lucky 10th Prince and spoiled but ultimately good-hearted Ming Yu, who's sister Ming Hui never got her happy ending with 8th Prince.
8th Prince is in prison and receives the poison from 13th Prince. 8th Prince tells 13th Prince that he owes so much to his wife Ming Hui, and hopes that in death he can accompany her. The two brothers kneel and bow to each other, saying their final goodbyes. 8th Prince sits down and looks towards the sky with a smile, thanking Ruo Xi now, even at the very end.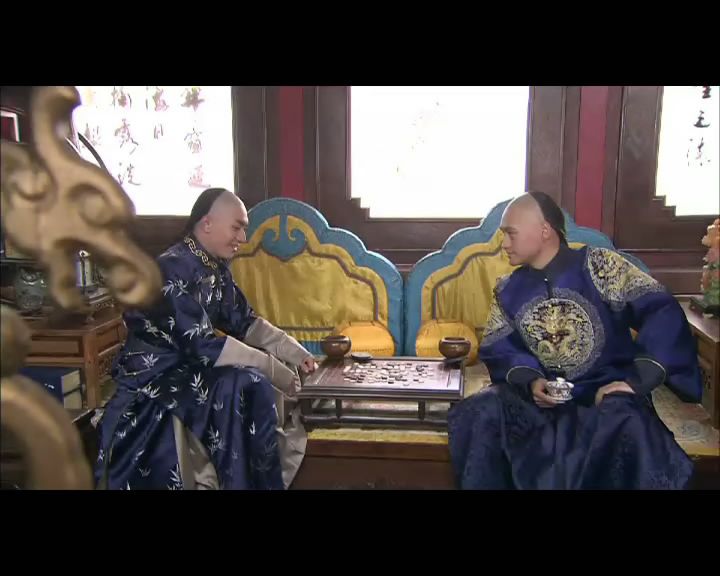 14th Prince remains in the palace tending to his deceased mother's grave and living a peaceful and calm life. He tells 13th Prince that all the fighting seems so long ago, and he's finally found a measure of happiness in such simple of ways.
13th Prince dies young, the 10 years house arrest having taken a toll on his spirit and his physical health. His passing leaves 4th Prince all alone, to pass only after serving a short 12 year reign as Emperor. Though 4th Prince's wife is an intelligent and gracious woman who understood her husband love was only ever given to Ruo Xi, she was never able to mend that hole in his heart after Ruo Xi's death.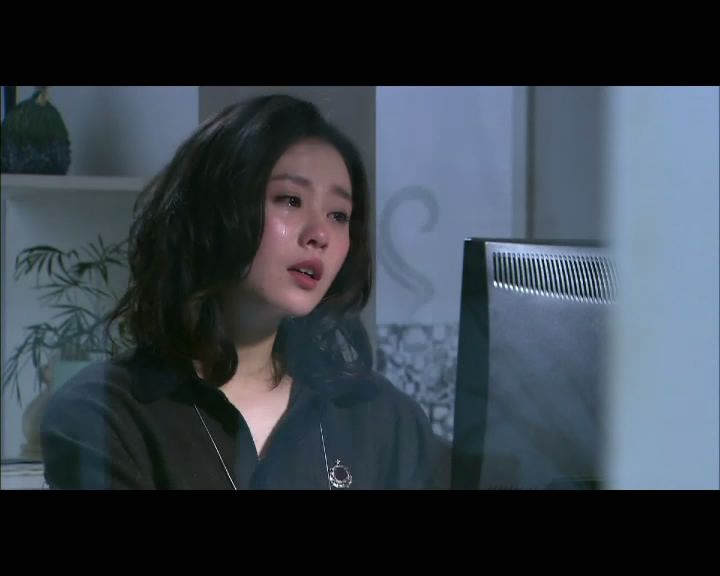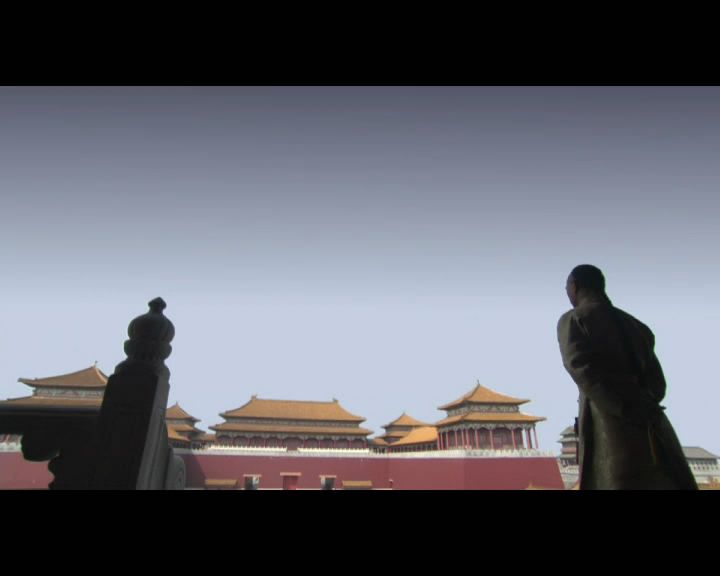 After reading all this, Zhang Xiao chokes back her tears and wonders if it was all a dream, her living as Maertai Ruo Xi and loving the 4th Prince. As she's out walking, she sees a flyer for a Qing Dynasty exhibit and she goes to see it.
At the exhibit, she sees a portrait of the 9 Princes enjoying tea with the Emperor. She recognizes all the princes and finally her eyes settle on 4th Prince and the tea maiden standing behind him. It is clearly Ruo Xi, herself, and wearing the flower pin 4th Prince gave her. Zhang Xiao confirms she existed as Ruo Xi, and it was all real.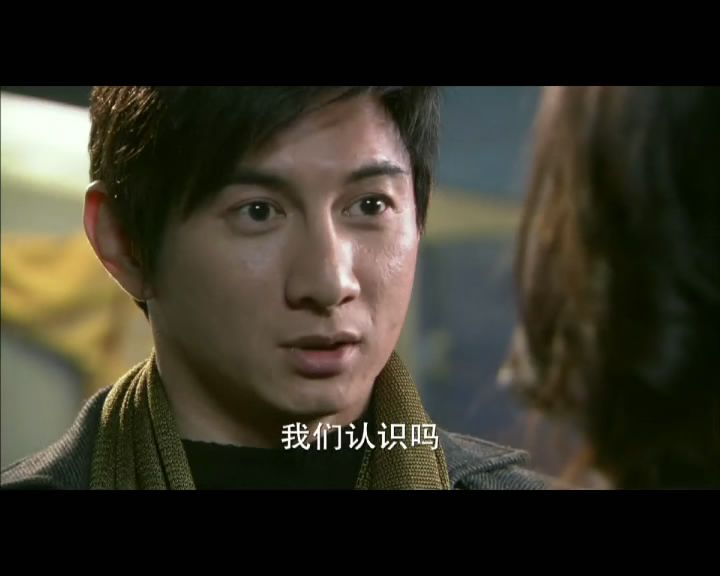 She hears footsteps and turns around to see a man who looks just like the 4th Prince standing before her. He looks at her curiously. She starts to cry, causing him to walk up and ask her "do we know each other?"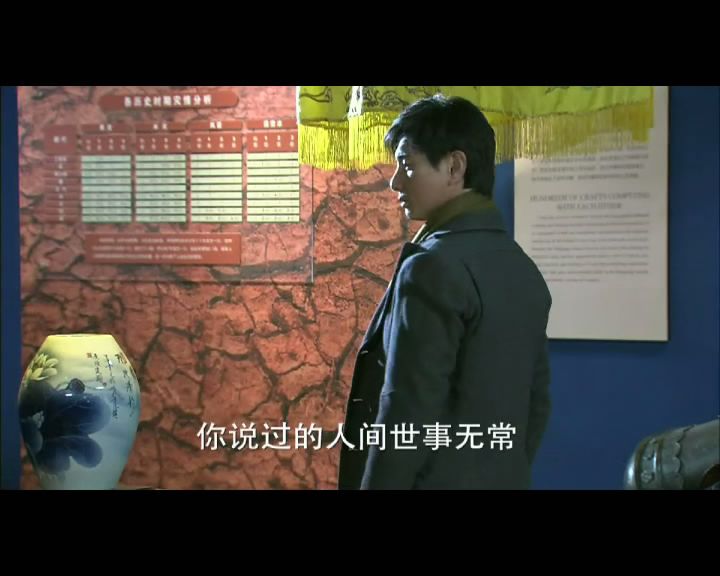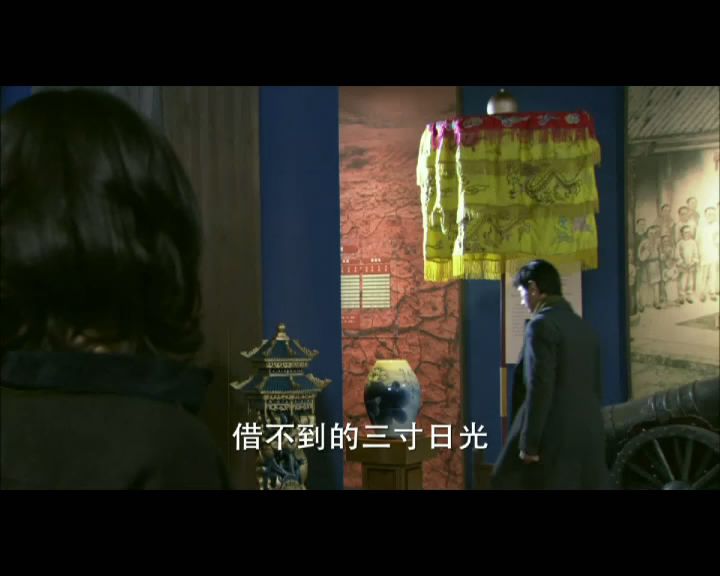 He can't find a hankerchief for her, so he looks a bit uncomfortable before turning and walking away. When Ruo Xi once asked 4th Prince what he was most afraid of in the world, he answered "a woman's tears", which makes his discomfort at this moment so utterly devastating and poignant, further confirming it's him. As he turns the corner, Zhang Xiao takes off her glasses as she sees him becoming blurry through her tears and the lens of her glasses.
My Thoughts:
The irony of Ruo Xi and 4th Prince's love story was that the more they loved each other, the more they hurt each other. The main impetus for 4th Prince to seek the throne was so he could protect Ruo Xi, but by becoming the Emperor he needs to maintain his power so he is forced to act in ways that end up hurting the people Ruo Xi cares about. He's damned if you do, damned if you don't. And caught between all of this is Ruo Xi, like a canary in a cage, slowly dying within the walls of the Forbidden Palace. Her final escape was for naught, because she had long left her heart with her 4th Prince.
I'm having a hard time writing through my tears. More than almost any drama in recent memory, BBJX has made me feel both broken and hopeful. The story was so beautiful, made especially moreso by its bittersweet realization that history is a force that cannot be reckoned with. I like to think that Ruo Xi was Zhang Xiao's past life and the accident caused her to regain the memories of her past life. Meeting with the man who looked like the 4th Prince when she remembers their love but he doesn't feels in some ways even worse than if they never saw each other again.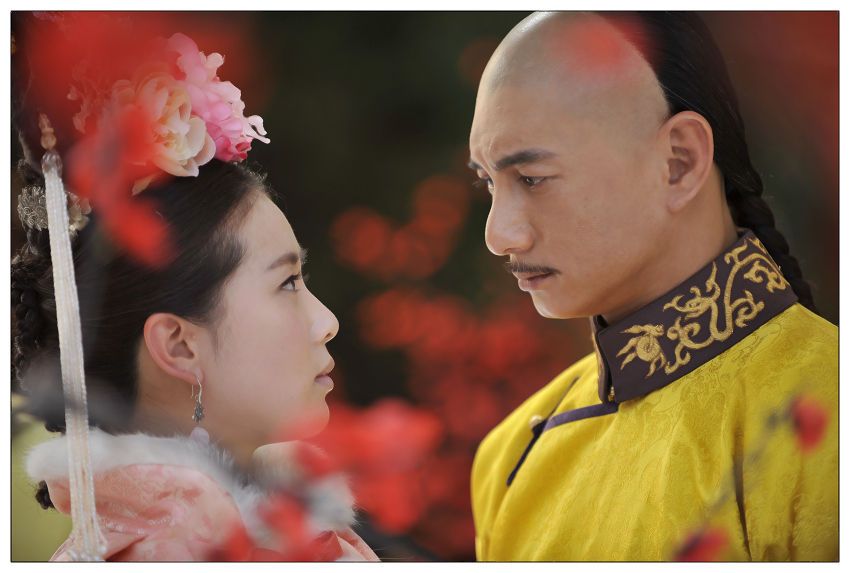 But what if her remembering her past life was just so she could remember him, and perhaps they could get another chance in this lifetime? I like to think Zhang Xiao ran after the modern 4th Prince as he turned the corner, before he walked out of her life. Or perhaps he won't, because they were always destined to meet. But this time she has the memory of their love with her, but a clean slate ahead of them. I'm so optimistic on this ending, because I need them to have a happy ending desperately. I can't write anymore now because I need to go curl up into a ball and cry some more.