Bu Bu Jing Xin is dramatic in ways that can only exist in fiction, yet it remains true to emotions that feel human and understandable. Not just about love, but about pride and loyalty, fear and courage. The characters lives may be extraordinary, but their feelings touch my heart in all the right ways. I still have so many scenes I'm dying to revisit, so my scenes recaps may end up jumping around chronologically. For now, I continue onward with the story, which finds 13th Prince under house arrest, 4th Prince in seclusion planning his moves with the upmost patient, and Ruo Xi demoted to washing clothes in the harshest of physical labor in the Forbidden Palace.
In a blink of an eye, another 10 years pass, and finally Emperor Kangxi reaches the end of his glorious life and reign. His passing allows 4th Prince to claim the throne as the next Emperor, with the drama positing that he stole it from 14th Prince. Even if that debunked myth is true within the context of this drama, 4th Prince has been fleshed out so well that I side with him on this move. He is poised to run a country with his capable efficiency, but first he must right the wrongs done to the two people he loves the most. In the process, he finally fulfills the promise he made to Ruo Xi many years ago, that he will find a way to be with her.
Emperor Kangxi dies and 4th Prince becomes the next Emperor. He orders everyone locked down so that no one can pass word, i.e. conspire against him. This includes Ruo Xi, of course. The other princes rush to the Forbidden Palace but it is too late to do anything other than question the legitimacy of their father's will claiming to pass the throne to 4th Prince. The officials who 4th Prince has cultivated over the years are present by his side and create a formidable presence. Plus 4th Prince (I'm going to keep referring to him as 4th Prince rather than Emperor Yongzheng) immediately makes 8th Prince a Grand Duke again, leading his faction to find it harder to oppose him. 4th Prince's mother, the Imperial Consort De, refuses to accept her eldest son's claim to the throne.
After seven days, Ruo Xi is finally released, during which time she realizes that she can barely make it through being locked up for 7 days, so how could 13th Prince endure being locked up for 10 years. As Ruo Xi is brought back to the Forbidden Palace, she asks about what has happened in the interim. She's told Emperor Yongzheng has officially been coronated, and 8th Prince and 13th Prince are now Grand Dukes and assisting 4th Prince in handling the transition. In addition, while all the other princes immediately changed their given name so as to not have the same name as the Emperor, 4th Prince decreed that 13th Prince need not change his name. But 13th Prince insisting on changing it regardless.
Ruo Xi looks out from the horse cart as she drives into the Forbidden Palace. She realizes that in the short span of 7 days, the Palace has a new owner now. Everything has changed. For those who have finished the drama, this scene is such a stark parallel to the scene much later when Ruo Xi leaves the Palace that I'm weeping as I type even though this return to the palace is supposedly a joyous one for Ruo Xi.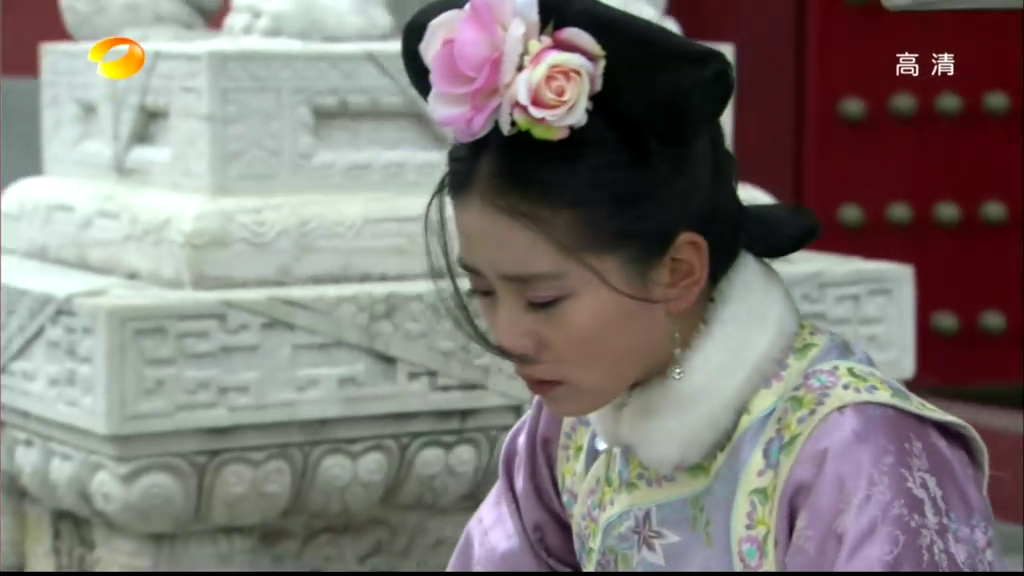 As Ruo Xi gets out from the cart, she looks at the entrance and then walks over to the side to sit down instead of walking in. She thinks to herself: the former Emperor treated her so well for many years, yet she betrayed him for 4th Prince, does she really covet this Forbidden Palace that much? She realizes that this dream belongs only to 4th Prince, but to her it's her cage.
Suddenly we see someone walk out, and that person walks over to the sitting Ruo Xi and crouches down to face her. Ruo Xi looks up, and she sees the aged face of 13th Prince looking back at her. He tells her to get up now, 4th Prince has asked him to come bring Ruo Xi back inside. Ruo Xi cannot take her eyes off him and all she can do is nod her yes. He helps her stand up, but Ruo Xi halts and asks for a chance to wash up first since she hasn't cleaned herself in 7 days.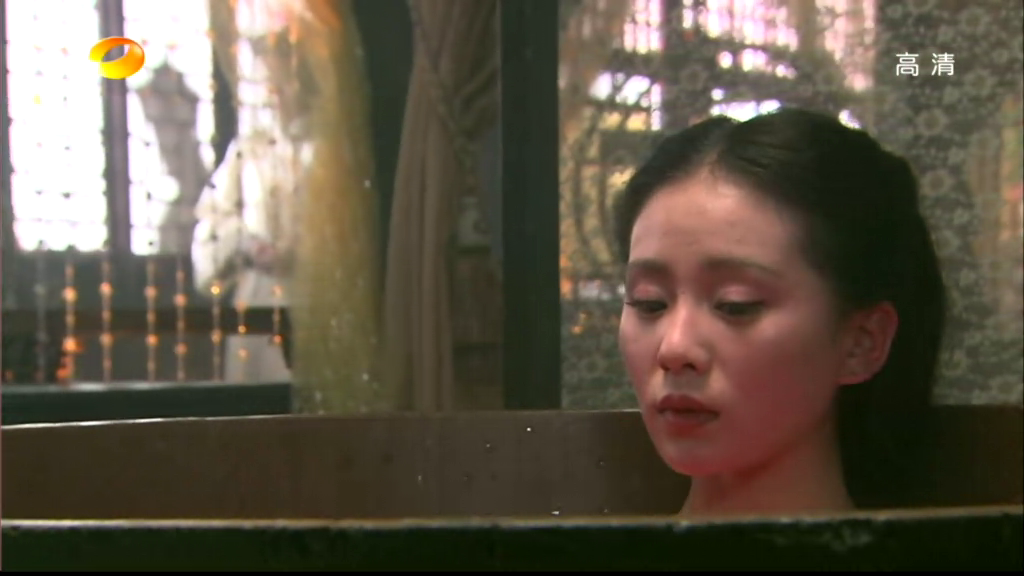 Ruo Xi is led to her chambers where she meets two new serving girls. She asks for Yu Tan, and then Wang Gong Gong. She finds out Wang Gong Gong has been assigned to serve the new Empress. Ruo Xi washes up, and this time her bath is very subdued as compared to her giddiness when she took a bath in Mongolian with the anticipation of seeing 8th Prince soon. She asks Wang Gong Gong for Yu Tan again, and is told Yu Tan is past the age for ladies to leave the Palace, and 4th Prince has decreed that she be released forthwith.
After bathing, Ruo Xi is changed into her sleeping attire. She dismisses her servant girls and walks over to her bed. She sits down and releases her hair. You can tell how exhausted she is, an exhaustion borne of years of work and mental and emotional strain. She asks herself what she is afraid of? When she can't see him, she missed him terribly. Now that she is about to see him, she's tempted to run away.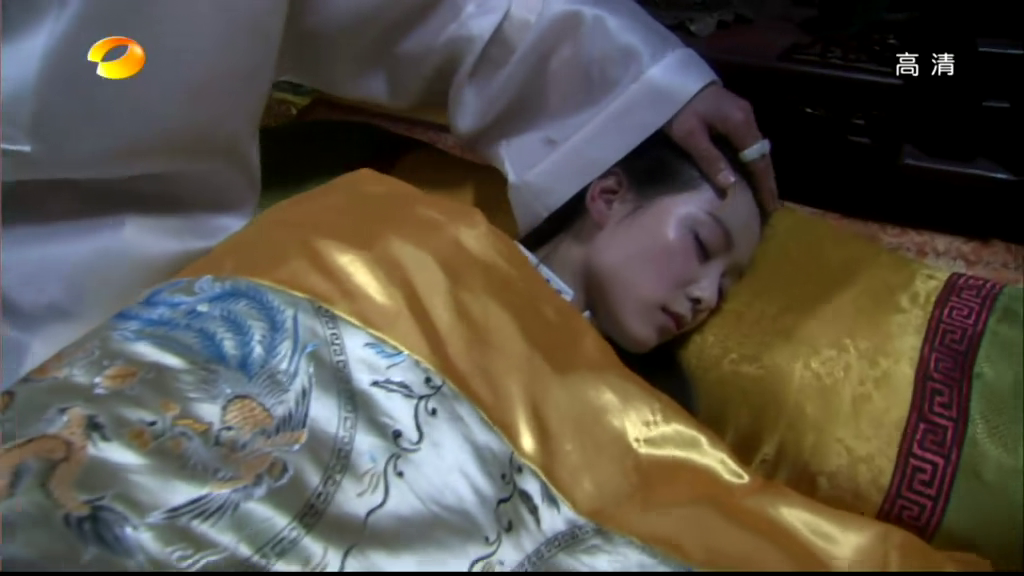 Ruo Xi turns over and closes her eyes, finally succumbing to her exhaustion. Day turns into night as she sleeps, until we see 4th Prince walk towards her bed and sit down next to her. He reaches out a hand and lightly strokes her forehead. Ruo Xi opens her eyes knowing that he's finally come to see her.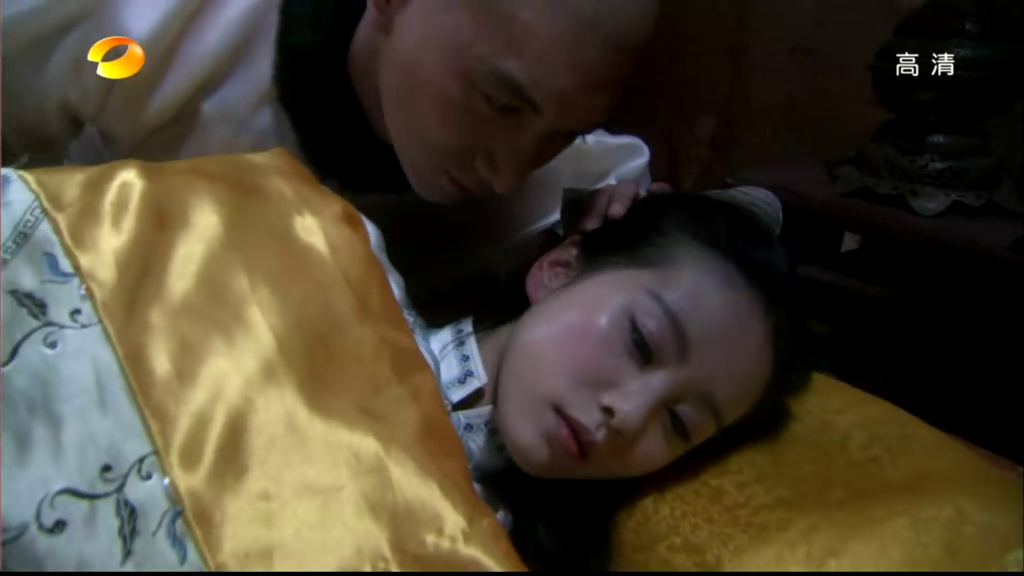 4th Prince leans down and asks her why she's pretending to be asleep when she's already woken up. Ruo Xi turns to look at 4th Prince, who lays down next to her, causing her to sit up in shock. He recognizes her hesitation and tells her not to be afraid. He really is very tired, and just wants to lay down and rest for a little bit. Is that alright with her?
4th Prince closes his eyes, and Ruo Xi covers him with her blanket before laying back down next to him. He puts his arm around her and pulls her closer towards him. Ruo Xi thinks to herself that this is the moment she's been waiting for, just the two of them, belonging to each other. Everything else is in the past now.
Suddenly 4th Prince startles and calls out for Ruo Xi. She tells him that she's right here beside him. He confessed that he thought it was a dream that he was holding her. He touches her cheek and smiles, repeating to himself that everything is fine now. Even 13th Prince has returned to his side.
Ruo Xi strokes his arm to reassure him that they have both returned to him. 4th Prince smiles at her as they stare at each other in silence and peace. At long last. God, these two suffer from so much PTSD it's not even funny. 4th Prince says he shouldn't nap because there really are too much official matters for him to attend to.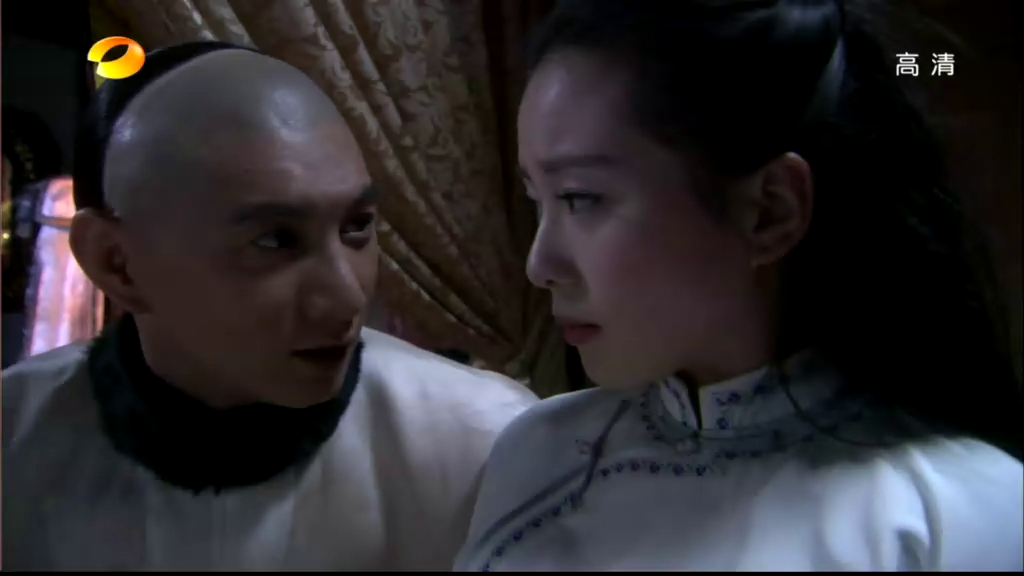 As 4th Prince sits up to put on his shoes, Ruo Xi also sits up and quietly asks if she can see Yu Tan. In all her years at the Palace, Yu Tan was like a real sister to her. They took care of each other, and Yu Tan even tried to take care of Ruo Xi while she was off washing clothes for many years. 4th Prince leans towards her and says he'll do as she wishes. Ruo Xi asks if she can see her real sister Ruo Lan as well.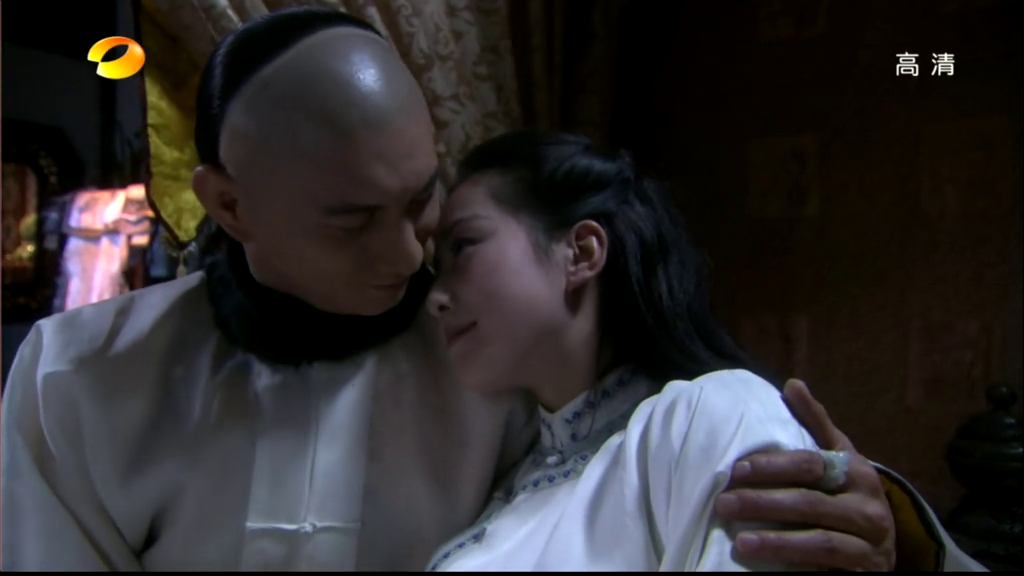 4th Prince's face falls a little, and then he pulls Ruo Xi into his arms and sighs. He tells her that now is not the time, and when things settle down, he'll bring Ruo Lan in to see her. Ruo Xi smiles and thanks him. He pokes her on the cheek and says he wants her to smile like this every single day from now on.
Ruo Xi kisses him on the cheek, and then tells him that he should get going on. ROFL, lady, you are crazy! 4th Prince gives her a heated look, before pressing her back down on the bed. Ruo Xi asks if he didn't intend to leave earlier? To go look at official documents. Mwahahaha, even 4th Prince is staring at her like she's the craziest little oddball he's ever seen.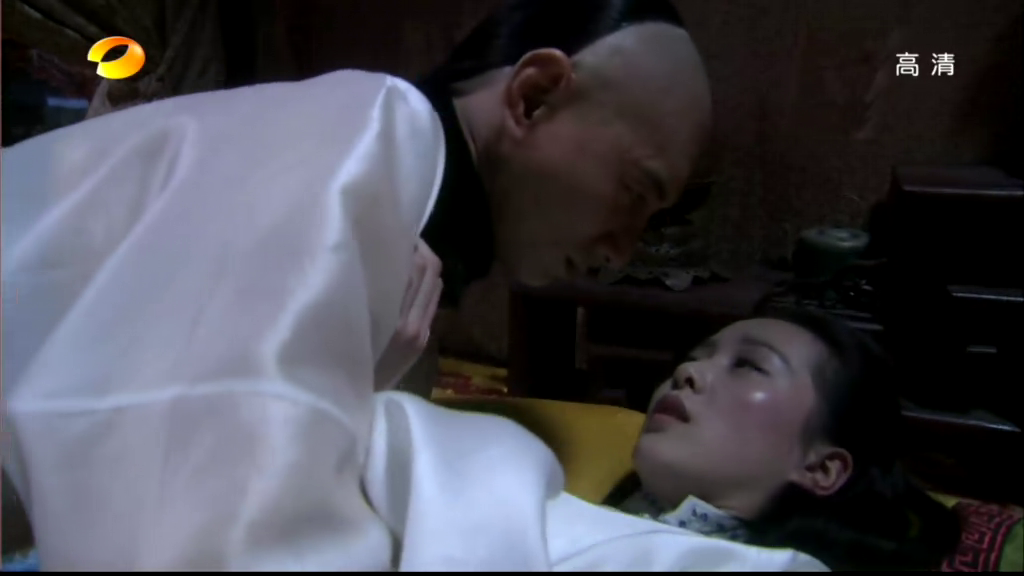 He smiles at her and says that she sure can try a man's patience. He flicks her on the forehead before leaving. He calls for snacks as he heads to pull an all-nighter at work. Ruo Xi lays in bed and smiles, finally at ease. Neither can really know what the future brings, but finally the wrongs have been righted, with 13th Prince back and Ruo Xi no longer suffering harsh physical labor.
It's a few days later when 4th Prince finally has a chance to sit down for a meal with 13th Prince and Ruo Xi. He looks at them and says "10 years, and finally we have a chance to get together". 13th Prince sets his bowl down and thanks his now Royal Brother for his grace. 4th Prince puts some food in 13th Prince's bowl, still treating his beloved younger brother with the same affection he did before he became the Emperor.
But 13th Prince looks uncomfortable with 4th Prince, the Emperor, putting food in his bowl, and stands up on ceremony to thank his Royal Brother. 4th Prince smiles and tells him to sit down and eat. 13th Prince sits down and they begin to eat.
Ruo Xi looks between the two men and thinks to herself that 10 years of separation, now that they are together, it's not so easy to just shoot the breeze and catch up on things that has happened. She realizes 4th Prince is making extra effort to be affectionate to 13th Prince, who is conversely making a concerted move to be polite and perform all the proper courtesies towards his Emperor brother.
13th Prince quickly finishes and asks to be excused, citing work he still needs to do. 4th Prince smiles and excuses him. Ruo Xi sets her food down and says she is also done. 4th Prince asks the food to be taken away as they get up from the table. He asks Ruo Xi if she feels the situation is odd? She does, and asks what happened?
4th Prince says that since 13th Prince returned, he has been treating his elder brother with excessive courtesy and polite distance. While 4th Prince may want others to respect and even fear him, but he doesn't want that from 13th Prince! He just wants to be 13th Prince's beloved elder 4th brother, not the Emperor to him.
Ruo Xi grabs his hand and reassures him to be patient. 13th Prince was just released from 10 years of confinement, having endured so much in captivity. He needs some time to adjust to all the changes that has happened since he was locked up. 4th Princes squeezes Ruo Xi's hand and hopes what she says is true. For Ruo Xi and 13th Prince are the only two people he trusts in this world now.