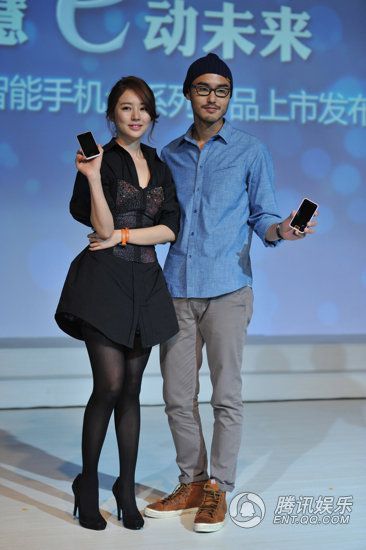 Pretty baby Yoon Eun Hye was in China yesterday for the press conference on behalf of the mobile device maker Gionee since she's endorsing the brand in China along with Ethan Ruan. Strangely enough, Ethan was replaced by a random hobo for the press conference. What? The hobo is Ethan? I would have never guessed. The hobo that is Ethan looks like he just rolled off the street after pulling three all nighters. The filming for The Guillotines must be killer. Har har, forgive my stupid pun.
Eun Hye looks radiant, but her outfit is pretty fugly. It's bland and the shirt/skirt thingie makes her look like she's wearing a mini-crinoline. But hey, I take what I can find, and I've not seen her much lately since she's still not selected her next project after finishing up Lie to Me back in early July. K-actors are mass migrating to China these days for one-off projects, so it's conceivable she also has her eyes set on something over there. As for Ethan, The Guillotines will be his last project before he enlists for mandatory service in Taiwan.
© 2011, ockoala. All rights reserved.