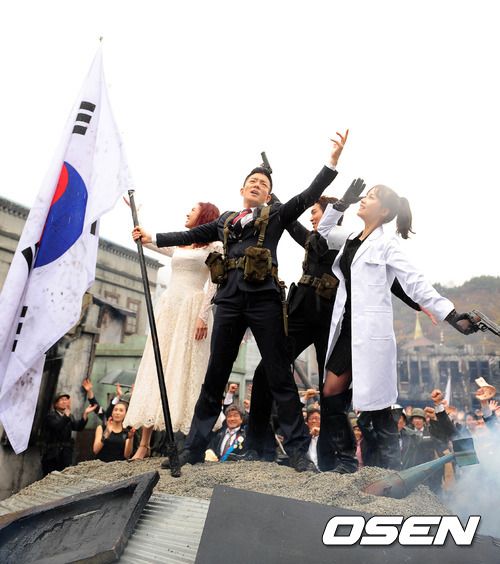 In all my drama watching years, I have never ever (NEVER EVER EVER) seen anything like the official MV released by the production for the upcoming SBS drama History of the Salaryman. O.M.F.G. Whomever conceived of this was smoking more weed than the entire generation of the 70s. Stills were released last week of the cast filming in what appeared to be a war zone. But the men were dressed in suits while carrying guns, Jung Ryeo Won looked like the daughter of the Bride of Frankenstein, and Hong Soo Hyun appeared to be a dominatrix nurse.
I love Lee Bum Soo, who can do no wrong in my eyes because he's great at picking dramas and roles (Giant, Surgeon Bong Dal Hee), so I need to remind myself to trust him on this one. But it's hard when I almost peed my pants watching the MV, and had to muffle my hands over my mouth to stifle my repeated shouts of "what the fuck is going on" in between giant snarfles of laughter. If you ever need a random pick me up, please watch this. RIGHT NOW. Jung Kyeo Woon is handsome as can be, but this shiz is honestly the most insane thing I have seen in ages.
Before we get to the crazy ass MV, have some picture of the cast during the filming. The existence of this MV leads me to wonder if the South Korean television industry has in fact lost its mind.
How did the cast maintain a straight face when shooting this? Seriously? What was the point? And how does it relate to the drama itself? I suppose it works to make you morbidly interested in watching the drama, only to see if the actual production is as LOLtastic as this MV.
How did Lee Bum Soo get shot by Jung Kyeo Woon and then come back to life, only to do the zombie dance? And why was Jung Ryeo Won dressed like a bride and then playing the keyboard? Why did the guy in the neckbrace hand a golf club to the golfer, and why did she take off one sock before stepping into a puddle of stagnant water to swing? Why did Lee Duk Hwa try to kill himself, and was carrying around some award like it was his baby? Why the the poor guys trying to eat ramyun have to suffer the loss of their delicious food?
Why am I asking so many questions, when the answer really is "because this shit makes no sense so shut up and just laugh." I guess the only sense I gather is that SBS never got its money's worth out of the set for Road #1 so decided to re-use it, despite this drama being about salarymen. Heck, office politics is akin to war, no? If all these asinine questions confuse you, then you must watch the MV to understand.
Official MV for History of a Salaryman:
http://www.youtube.com/watch?v=n8p23RpGOQo&feature=related
This hurts my soul, what they are doing to my Lee Bum Soo. Even if he's still hella awesome despite being forced to perform freaky dances like a trained monkey doing tricks. Give me back my Gang Mo, SBS! History of the Salaryman will air in the first week of January on SBS on Mon-Tues, taking over the time slot vacated by Thousand Day Promise. Maybe we'll all want early onset dementia after watch HotS. Wait a minute….this drama's acronym is HotS. I have no more words.