OMG, these two are friends? Okay, just kidding, I knew they were friends. Jo Hyun Jae took time out of his busy drama filming schedule in China to jet to Japan and be a part of his hyung Song Seung Heon's fan meeting. It's a case of fandoms colliding, and an AU story could be written called "When Han Kang met Park Hae Young." I'd totally be all over that. I suppose my Heon oppa's BFF So Ji Sub is busy gearing up for Ghost to attend, though its such a shame because the thought of Ji Sub doing his so-called "rap" routine on stage for the obasans has me in stitches. I'm wondering how oppa took time out of filming Time Slip Dr Jin to….well, slip away to Japan to entertain his Japanese fans. Perhaps he has in fact learned how to time-travel, or find a way to be in two places at once. Show me how, oppa! By the way, these two are way too cute to be pictured together. My heart, be still.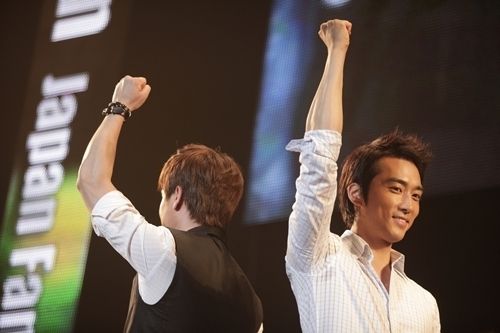 [Credit: all pictures as marked via Baidu Song Seung Heon bar]
© 2012, ockoala. All rights reserved.