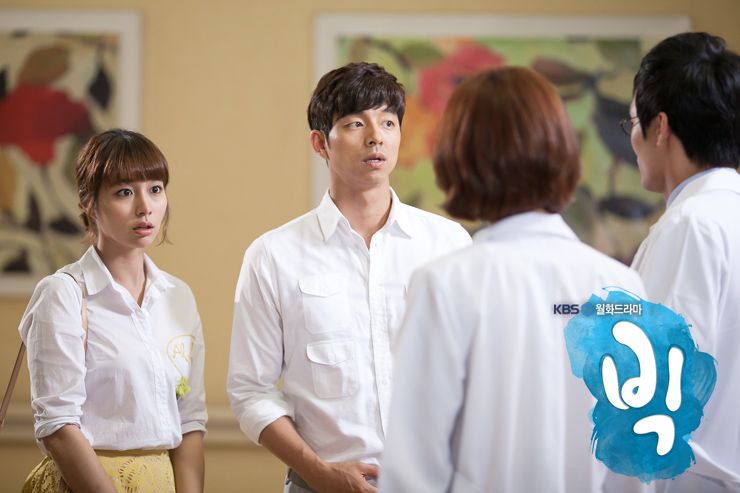 Lee Min Jung and Gong Yoo held a live chat on Me2Day with the fans of Big yesterday, though the conversation ended up being more about food than the drama. Both of them appear to have very lively and playful personalities when chatting online, and I can just imagine the fun all around on the set of the drama. Despite the chat centering about what Lee Min Jung likes to eat and whether Gong Yoo is a dinosaur, there was two rather big (har har, pun intended) reveals. One was accidentally dropped by Lee Min Jung, and the other was a question asked of Min Jung but which Gong Yoo jumped in to answer. Check it out, and you will either squee, or squeeeee.
When asked where they were currently, since they were doing the Me2Day chat in a break between filming, Lee Min Jung replied that they were in a wedding studio in Cheongdamdong (a ritzy neighborhood in Seoul) preparing to take wedding pictures. WHAT?!? Omo omo omo, I'm hyperventilating here. Cuz I'm 99.999% sure we're still dealing with Kyung Jae (Kyung Joon in Yoon Jae's body). The next spoiler is even doozier. When Lee Ming Jung was asked who Gil Teacher likes, Kyung Joon or Yoon Jae, Gong Yoo interjected and said that she likes Kyung Joon. Wahhhhh, I'm soooo happy here. But both of them revealed that they have no clue what's going to happen in the drama beyond the scripts they have been handed, so the ending is as much an unknown to them as it is to the viewers at this point.
Fans have also found the Hong Sisters Facebook page, and on it they wrote something really illuminating about Big. It makes it clear that the pairings aren't going to drive this story, but it's about maturation, which I pointed out in my last post. And it's not just Kyung Joon that needs to grow up, Da Ran does as well.
"BIG is not just a love story, it's about how to be mature. The drama talks about maturity of the characters. Just like My Girlfriend is a Gumiho, it's about how to become a real human. And becoming a real human is to be a hard working and be responsible."
It appears that Gong Yoo doesn't associate himself with the Yoon Jae character like some viewers have. He is both Kyung Joon and Yoon Jae, so my impression is that he wouldn't be wedded to an ending where Yoon Jae gets the girl because that is the character played by him. My Koala instinct tells me the Hong Sisters will surely have some major twists lined up, so I shouldn't get too attached to any one assumption of how this story will go. Right now I am loving the journey of Kyung Joon's soul that is at times hilarious but always poignant, a teenager who has lost his only support finding another one unexpectedly. BEAST's song off the Big OST "Hateful Person" has just been released as well, so enjoy an MV set to the song as we wait for Monday to arrive.
Hateful Person MV:
http://www.youtube.com/watch?v=kO3jBhjAVlk