Jaw. Drop. The third teaser for Arang and the Magistrate is out and before I could deal with my excitement over the upcoming fantasy sageuk drama, I felt like I had my expectations upended. He can touch her. I repeat – Eun Oh the magistrate not only can see Arang, he can touch her. WHAT THE WHAT? Isn't she a ghost? OMG this is so amazing and crazy I don't know what to think. Now we can all be assured the romance side of things won't be all pining only, though I'm curious as to why Arang has a physical form. This trailer contains some footage already shown, but also gives us a look at some of the other side characters as well a LOL moment of Arang and Eun Oh interacting. I thought it was ambitious for this drama to claim to be so many different genres, but this trailer manages to mix in fantasy, sageuk, comedy, thriller, and romance all in one 40 second snippet. Whatever MBC is drinking, keeping chugging it and give me my Arang as soon as possible.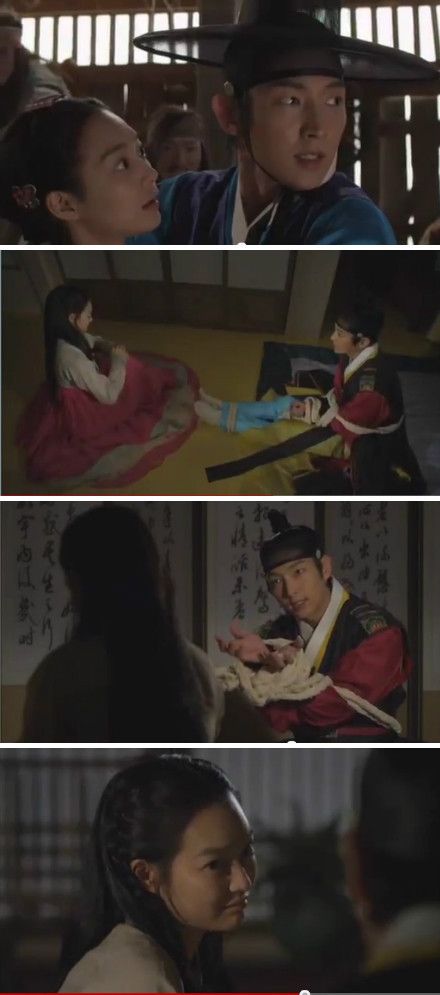 Hahaha, Arang trusses Eun Oh up like a chicken about to be roasted. I love it. She probably thinks he's dangerous, and he thinks she's dead and crazy. Seriously, these two will be the death of me. Lee Jun Ki and Shin Mina = I think I see perfection.
Third teaser for Arang and the Magistrate:
http://www.youtube.com/watch?v=_SBzrihTb_E
© 2012, ockoala. All rights reserved.