Is it me, or does Nice Guy feel like its take forever to arrive? Every time I check, Gaksital is still on and we're still weeks away from NG. This is probably due to the drama starting to film so early, then getting delayed due to Gaksital's extension. Perhaps for a drama I was less interested, I'd probably check out by now after asking one too many times "is it here yet?" Funny how NG and Dr. Jin appears to be like the tortoise and the hare, the former taking forever to arrive but each step is confident and sure, whereas the latter went from finalizing casting to premiere in less than a month, and look what resulted from that haphazard rush to the screens. I really do like all the dribbles coming out of the NG production, and the latest set of stills might be the best yet since it shows the OTP of Song Joong Ki and Moon Chae Won on a matsuri date in Aomori Prefecture in Japan. They look amazing together, as to be expected, and I hope their characters spark like you wouldn't believe so that I can enjoy the sure-to-be pretty scenery of the location shoot to Japan as well as the story line.
The production released new stills of the four leads intensely studying their scripts. Now if the art of acting could be determined by effort, these four will surely put on the show of their lives. Sadly studying a script intensely doesn't mean actually acting well, but I give it kudos nonetheless.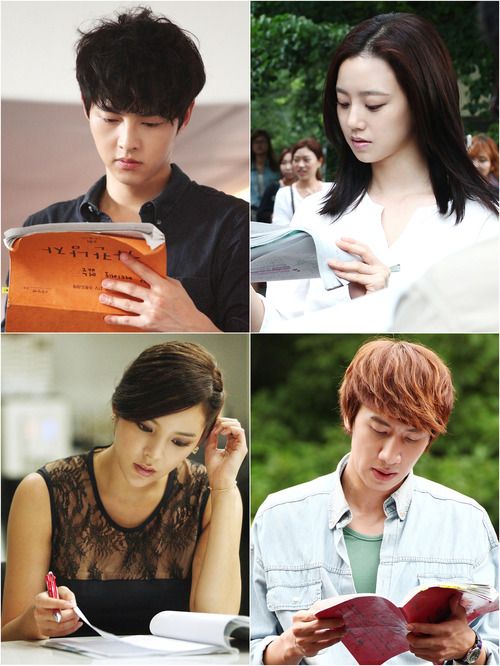 © 2012, ockoala. All rights reserved.