Another Monday, another lovely episode of Flower Boy Next Door. While the second half of this drama doesn't suddenly change the tone of the story from humorous and introspective to angst-filled and romance-driven, it does start to increase the stakes for the leads to the point where things are clear if remain unsaid. I'm banking money on Enrique and Dok Mi liking each other, to varying degrees and with different triggers. He likes her for her, she likes him for how he affects her. Does that make sense? His everyone-is-my-friend outlook is clearly not one she buys into, having been cruelly betrayed by her closest friend and experienced the worst the social cliques have to offer. So while Dok Mi doesn't like Enrique because he's bubbly and outgoing, she is starting to feel a sense of connection with how he pushes her to confront her scars. But for Enrique, I can see that he likes her for who she is, lonely prickly Dok Mi with all her hidden pain and secret likes.
I feel terrible for Jin Rok, not only being first at the party but losing out on the girl already, but he also has to deal with evil seductress Do Hwi. I like that he's firm with her, but I wish he would literally pick her up on her furry ass and toss her into the freezing Han River. Do Hwi has stepped up her evil schemes by multiple levels of witchery in this episode, all culminating in a scene where I wish I could zap myself into the drama and shield Dok Mi from her machinations. It's wonderful to see Enrique isn't so clueless anymore about Do Hwi's true nature and intentions, but at the same time, I want him to be more honest about his feelings for Dok Mi. It's so weird that he can be so honest with people he cares for, encouraging them to pursue their own desires, but when it comes to himself, there is this inertia that sets in. It's always easier to offer advice to others than to live the adage ourselves.
Episode 9 recap:
Seo Young tells Tae Joon that she's returning to Spain with Enrique, which is news to Enrique as well. Dok Mi looks upset but says nothing. Tae Joon, ever the poker face, tells Seo Young to have a safe trip and then gets into his car and drives off with Hippo.
Seo Young, still living in her own me-first world, asks Enrique if she did well sending off her first love. I don't know, but why don't you stick a stamp on your forehead and send mail yourself back to Spain? That will be swell for everyone here.
Seo Young leaves and Enrique turns to Dok Mi, who encourages him to accompany Seo Young in her time of need. Enrique points out Seo Young's body language fairly screams out "leave me alone". Dok Mi counters that Seo Young wanting to return to Spain with him means she wants him beside her. Enrique latches on to that and asks Dok Mi if she's ever said the same to another person, to stay beside her because she needs him.
Enrique suggests she say it and make another person happy. Dok Mi isn't ready and merely thanks him for allowing her to say farewell to Hippo. She uses the same words she just said to Tae Joon and wishes him safe travels. Enrique wonders if she's not even a tiny bit sad he's leaving, perhaps asking him to stay a bit or missing him if he left.
All Dok Mi can say is that she will probably think of him sometime and then turns and leaves. Enrique also turns and shuffles off.
Dok Mi returns to her apartment and sees Enrique enter Tae Joon's.
In closing her curtains to avoid looking at him, she puts a safety pin on and cuts her finger on a needle and cries out in pain. Dok Mi huddles on the ground and cries. I love the symbolism of this entire sequence – how she peeks despite knowing Tae Joon is gone but who she wants to see is Enrique, but then she forces herself not to peek at him and even safety pins the curtains closed as if she doesn't trust herself, and then she pricks her finger on the needle which reveals that it hurts her to do so. Brilliant bit.
Enrique is looking at Dok Mi's closed windows while Seo Young astutely points out that there was something in the air between Dok Mi and Enrique back there. Enrique plays it off and says there is always an odd scent in this air around him. Enrique is annoyed and mutters to himself about Dok Mi being perfectly fine he's leaving. Seo Young asks if he's fine leaving with here and Enrique says they ought to leave as soon as possible.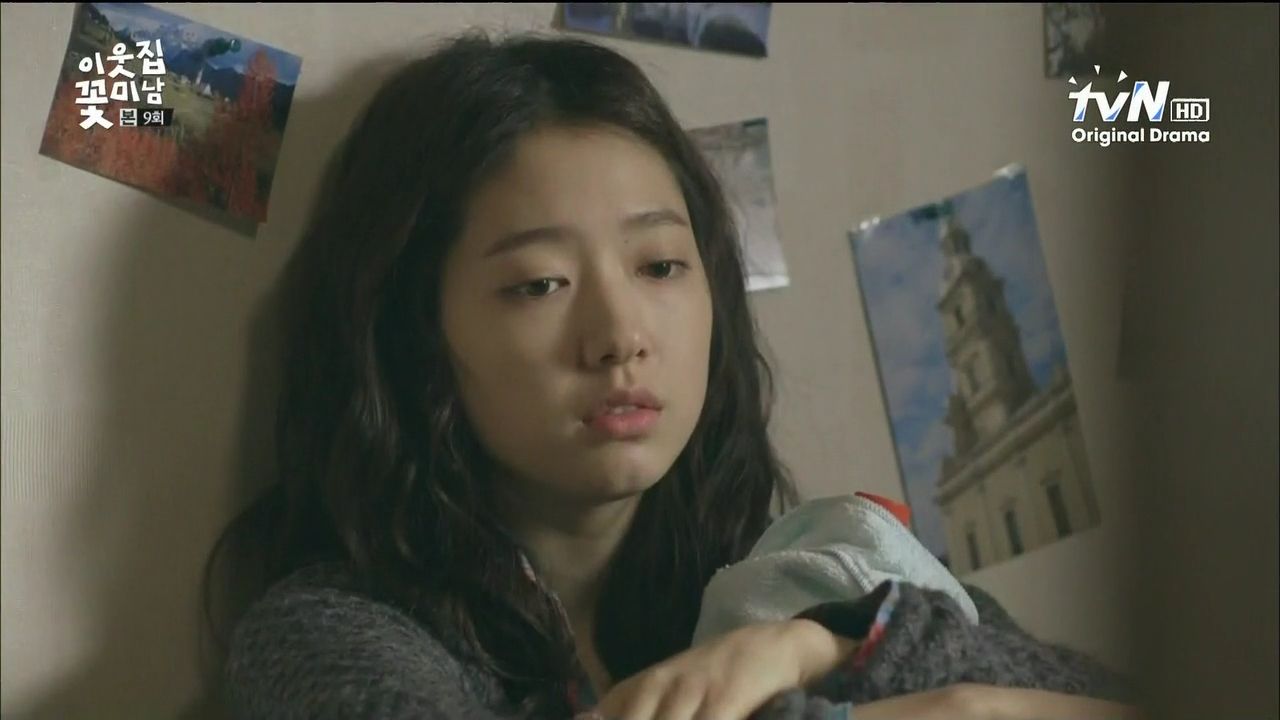 Dok Mi lounges on the bed watching TV but is distracted and turns it off. She thinks back to her conversation with Enrique.
Another cooking class rolls around and the security, the landlord lady, Do Hwi and Watanabe are the only ones showing up. The security guard goes to round up the gang.
The class is making a cheese fondue pot today and Dok Mi takes notices while Do Hwi sidles up to her and cheerily asks if this doesn't remind Dok Mi of cooking class back in high school? Enrique's absence is noted, mostly because he's the life of the party at any gathering.
Which is when Enrique arrives with bottles of wine for the cheesy dishes they are cooking today. Perfect for the winter, Enrique makes mulled wine for the gang (easy recipe – cooking red wine with oranges and cinnamon sticks).
The cooking crew sit down to eat and start with a toast. Enrique announces that he's headed back to Spain and is happy to spend this final night with everyone. He's asked why he's leaving so soon and Jin is clearly happy but also feigns sadness. Enrique tells everyone to just drink up, encouraging her to sip the mulled wine slowly lest she burn her tongue.
Enrique whips out his camera to take a picture for memories and Dok Mi looks even sadder. He puts the camera on the table set to automatic and heads over to join the picture. Jin Rok encourages Dok Mi to join the picture. Everyone smiles and hugs except for Dok Mi, who awkwardly stands off to the side.
Enrique the hug monster walks around dispensing farewell hugs, and when he tries to hug Dok Mi, Jin Rok pulls him off her and hugs him.
Enrique lets him finish the hug and then goes back to hug Dok Mi again, telling her to live well and continue venturing outside. Dok Mi blinks and appears to just let the hug envelope her.
Jin Rok pulls Enrique aside to keep drinking but Dong Hoon realizes all the wine is gone and the camera pans over to Dok Mi who is downing her glass in a gulp. Drunk Dok Mi is chill and even lets Do Hwi snap a picture of them. The security guard offers to pay for a group noraebang outing, to make up for accusing Enrique of being a pervert the first time they met.
The gang heads to the noraebang and drunk Dok Mi can barely walk allowing Jin Rok to assist her. At the noraebang, the security guard gets the party going by belting out a song.
Jin Rok pulls Do Hwi aside and cuts to the chase – asking how she knew who he really was? She tries to feign ignorance and claim it was because she heard the law enforcement call his real name. Jin Rok calls bullshit since she's called him Oh Jae Won many times. Jin Rok dug in his memory and can recall Do Hwi's voice from somewhere, but he doesn't recognize her face so perhaps she lost a lot of weight or changed her face? He demands to know how she knew where to find him?
Do Hwi keeps trying to act dumb but Jin Rok isn't buying her excuses. She claims that her confession of love made him confused but he remind her that his confession is what she's forgetting. He clearly told her that he likes someone else! Do Hwi tries to kiss (heh, I wrote kill by accident though it was probably a subconscious reaction) him again and he fights her off.
Enrique walks by and from his vantage point it looks like Jin Rok and Do Hwi are kissing. Back in the room of singing, Watanabe and Dong Hoon are serenading the landlord lady which riles up the security guard.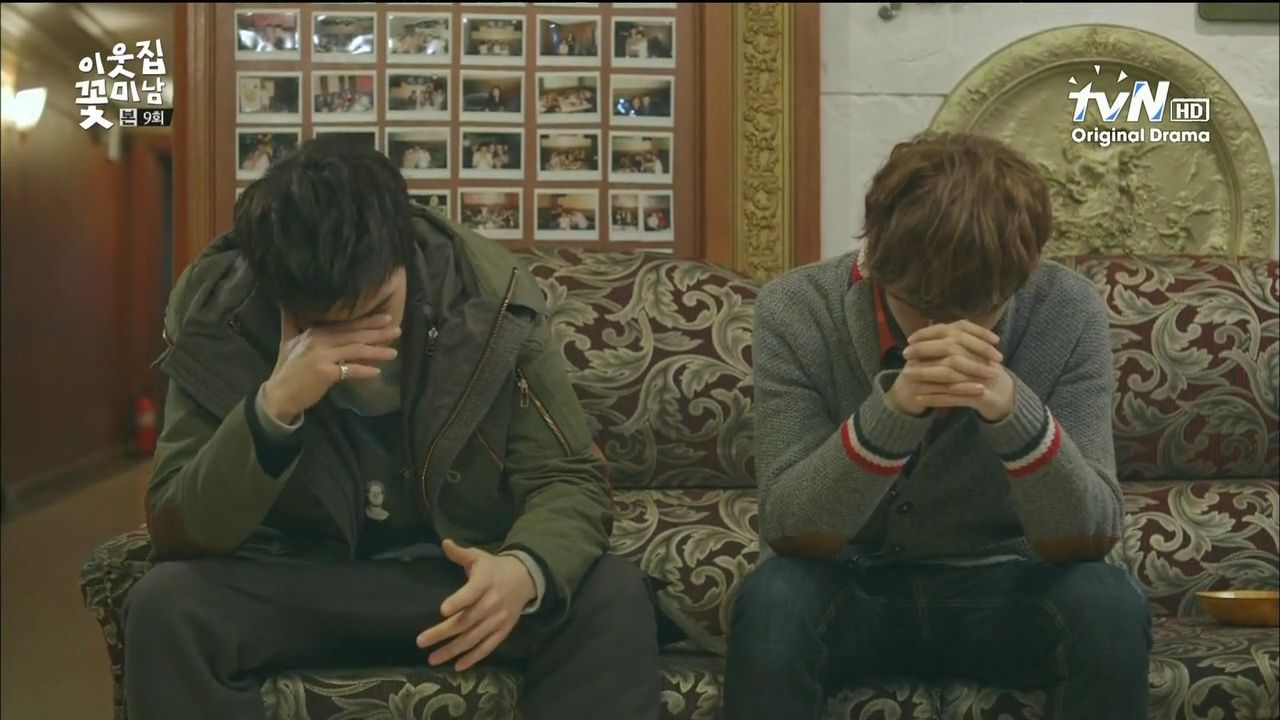 Enrique is confused by Jin Rok confessing his feelings for Dok Mi and turning around to kiss Do Hwi. Poor Jin Rok is always trying to explain and says he was NOT kissing her but instead covered his mouth and fought her off. Enrique warns him not to play the two girls which will further destroy their tenuous friendship. Jin Rok can only emphatically announce that the only girl he wants is Dok Mi.
Enrique tells him to settle matters with Do Hwi then but Jin Rok says there is nothing to settle since nothing went on in the first place! Enrique goes back to the kissing back there and Jin Rok is so frustrated in trying to explain there WAS NO KISSING back there. He then huffs that Enrique is headed back to Spain so why does he need to explain to him.
Enrique asks Jin Rok to continue pulling Dok Mi out of her closed world. Today she came to cooking class and came out singing with everyone. Yes, she's rather buzzed but this is still a giant step forward for her and shows how much she's changed. He asks Jin Rok as a favor to take care of Dok Mi. This pisses Jin Rok off sine he was the one who was always looking out for Dok Mi fron the beginning so why does he need Enrique to ask him for a favor to take care of her? He'll continue to watch out for her because of how he feels for her. Jin Rok tells Enrique to leave for Spain and don't appear before Dok Mi again.
The two rivals head back to the room and proceed to have a sing off. Jin Rok sings and then Enrique butts in and sings even more earnestly leading Jin Rok to try and one-up him and back-and-forth they go. Both of them directly their singing to a drunk Dok Mi who just sits there and claps. Do Hwi notices Jin Rok's serenading of Dok Mi and her ugly anger bubbles forth.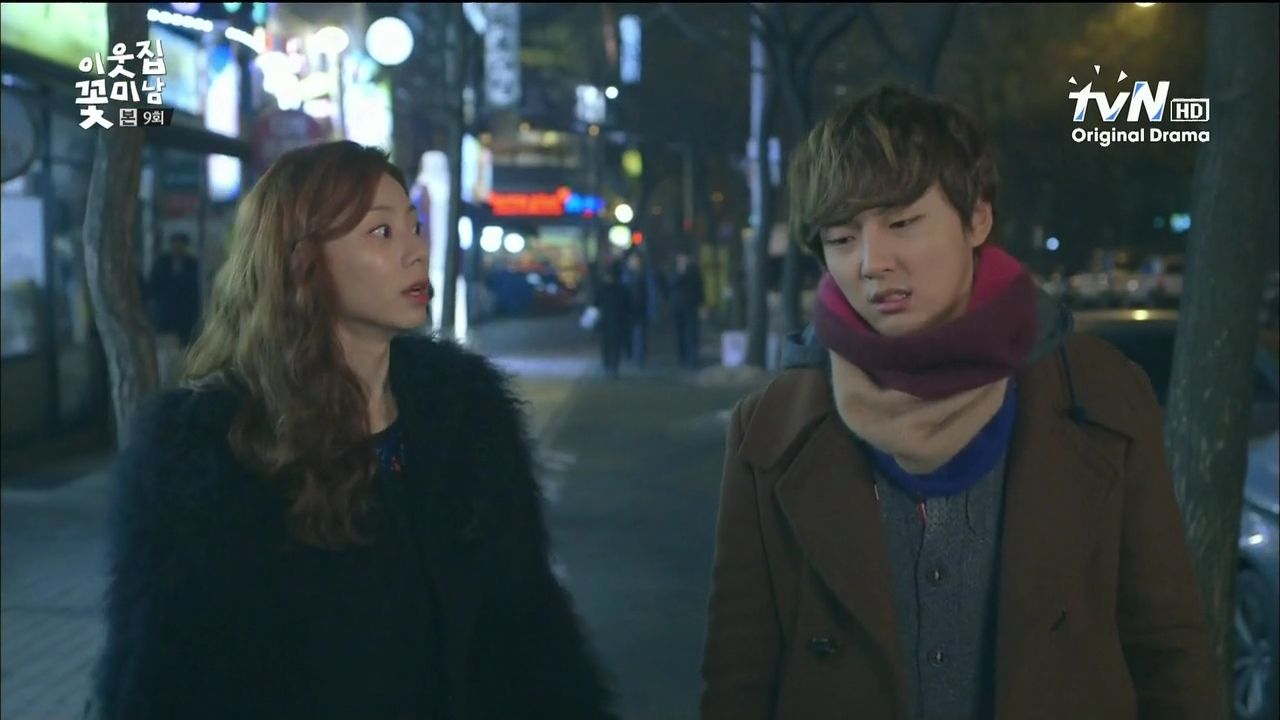 As the gang walk back to the apartment, Enrique lets Jin Rok and Dok Mi walk ahead and holds Do Hwi back. Enrique tells Do Hwi to give up on Jin Rok, this situation is different than what happened back in high school. He explains that Jin Rok has liked Dok Mi for a long time. Do Hwi claims Dok Mi likes Enrique and she told her.
Dok Mi almost stumbles and Jin Rok helps hold her up. They stare at each other.
When Do Hwi tries again to interject herself, Enrique holds her back and says he's not going to get involved anymore so she needs to give up as well. He reminds Do Hwi that she wants to reconcile with Dok Mi and doing this is wrong. This only motivates Do Hwi to use another method.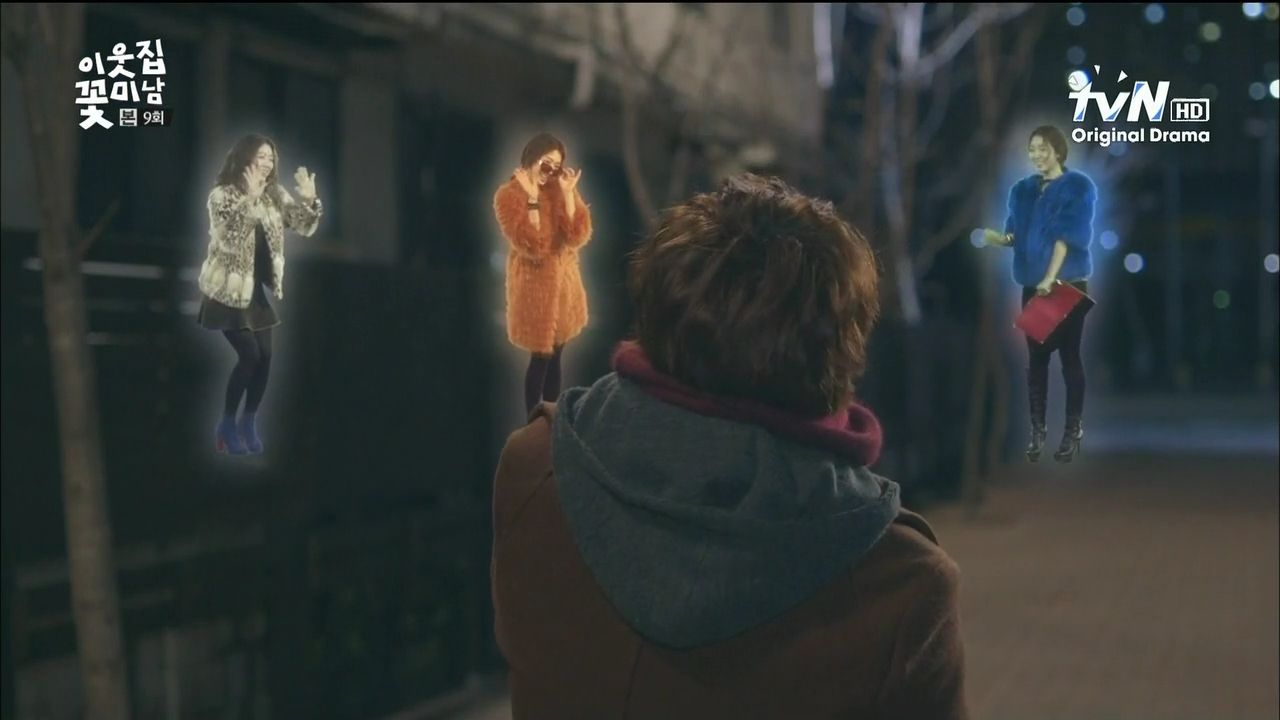 Seo Young finds Enrique and is introduced to Do Hwi. The two witches bond immediately, with Seo Young admiring Do Hwi's sartorial style. LOL, oh how birds of a feather flock together. Do Hwi wants Seo Young to model her clothes and Enrique imagines how Dok Mi will look in the same furry ensembles.
Jin Rok and Dok Mi walk past the guard's office outside the building and Dok Mi shares her first time at this building. She was checking it out and noticed that the guard's hat left an impression on the wall from the years it's hung there. She decided then to live here, knowing that this was a place where someone has left a part of him always.
Jin Rok wonders if all of them are leaving their imprints on this little corner of the world. Before they each head into their respective apartments, Jin Rok reveals that he dislikes the Winter because in the other three seasons, Dok Mi opens her window and the scent from her unit wafts into his. Those are the days he feels her right beside him, and he wants to continue to be by her side for a long time to come. If he continues to stay beside her, would he leave an imprint in her life? Jin Rok asks her to continue to stay beside him as she's always done.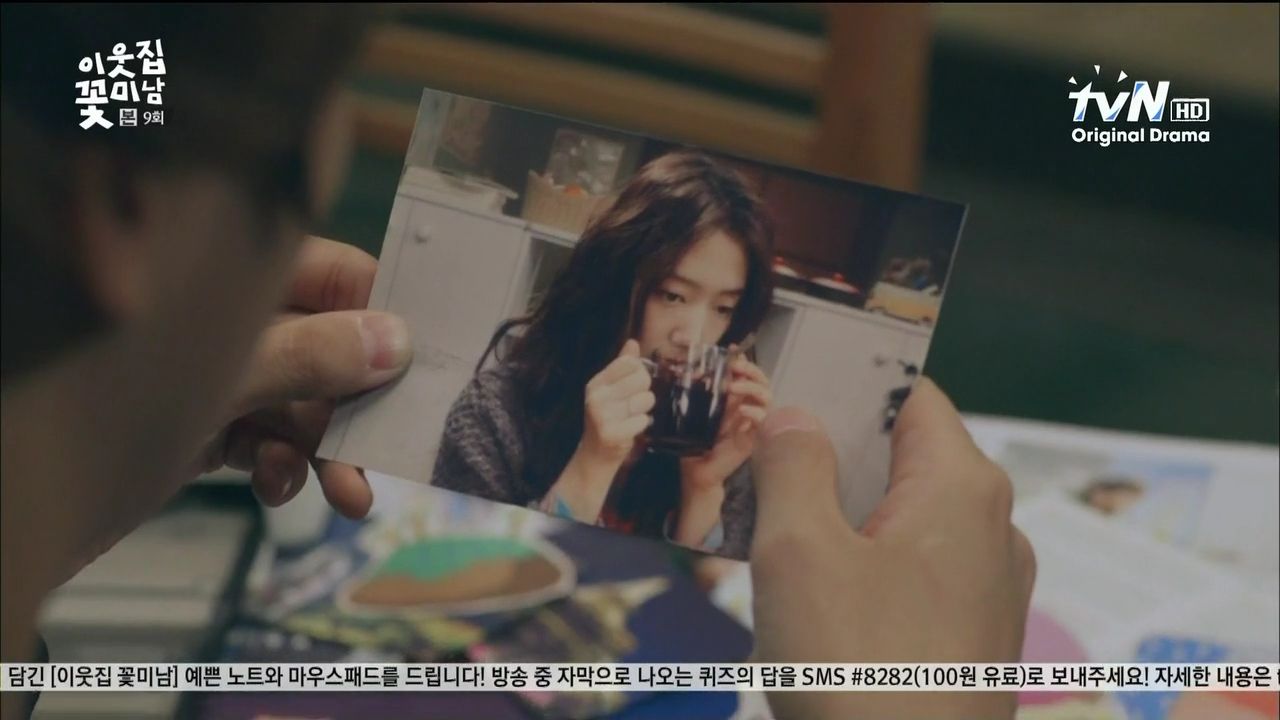 Enrique is at home and working on a craft project. He's cutting and pasting pictures on a board to make a board game. Dok Mi is at home working but is distracted by the tree Enrique painted on her ceiling. Enrique looks at a picture of Dok Mi sipping the mulled wine and smiles at how much she drank that night. Jin Rok draws his webtoon and adds the image of the hat against the wall and narrates that he also wants to leave an impression.
Enrique is wrapping up his work and heads to a game development meeting. He's clearly loathe to leave and hopes for an excuse to stay because of work but the team assure him that development will be fine without him.
Do Hwi is at her office and planning with her minions to throw a party for Dok Mi to "send her off". Seo Young arrives for the modeling gig and Do Hwi immediately changes into her sweet fake self and greets her warmly. Ugh.
Enrique is outside Dok Mi's apartment and leaves a note for her through her mail slow. He tries to get Dok Mi's attention by loudly calling out that he's here to say goodbye to his hyung Jin Rok. The two guys head out to eat and Jin Rok offers to treat because its Enrique's last meal with them.
Enrique is getting ready to order when a girl wearing the same panda hat as him cuts in line and orders the same dish he was planning to order. Can we say "stalker".
he guys all get a video text from Do Hwi and it's her inviting them all to a party. In her separate text to Dok Mi, she sweetly promises to explain what happened back in high school from her point of view.
Enrique continues to play the matchmaker for Jin Rok and styles him like Tae Joon for the party. LOL, I lub this guy so so much. Jin Rok is offended his usual style isn't cutting it but Enrique just suggests Jin Rok change it up and smile more. He also suggests giving Dok Mi space and occasionally inviting her out. What he's doing to understanding what she needs is space, and then showing her that he cares and is there for her.
Dong Hoon wonders why Enrique is so involved when he's about to leave, suggesting he just say bye and head off. Jin Rok hands Enrique a present to open only when he's back in Spain. It's an USB drive.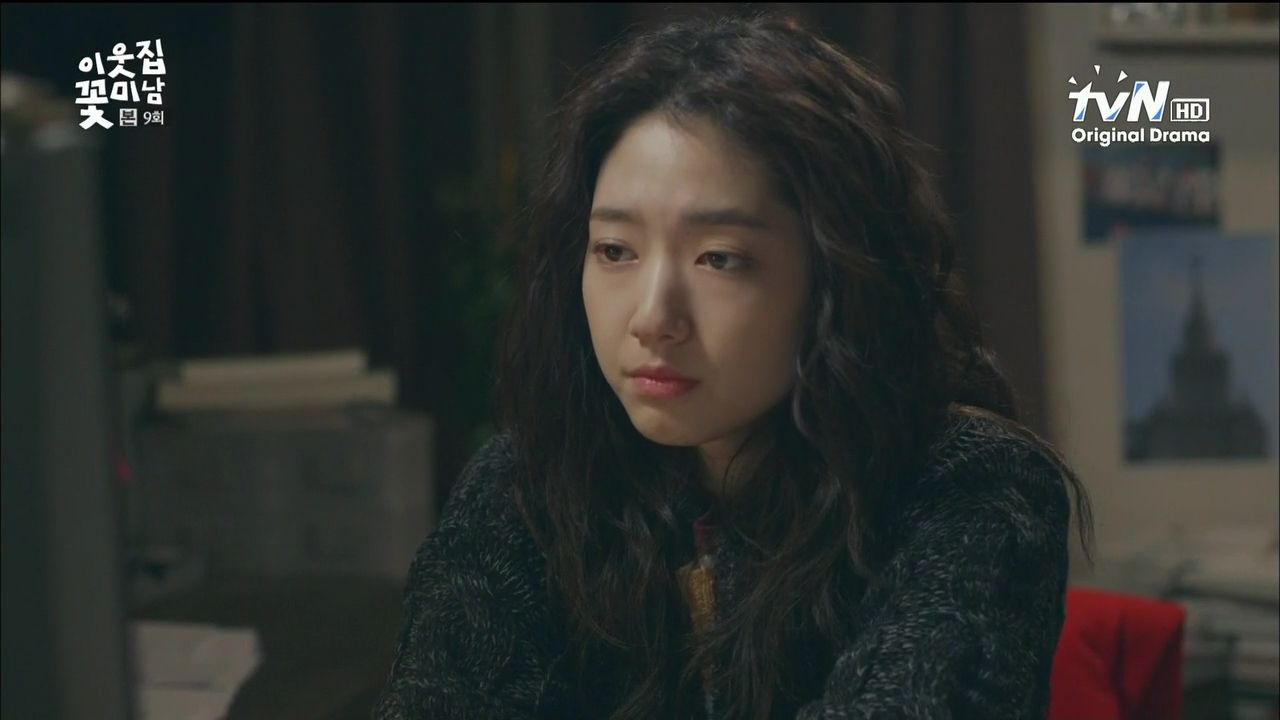 Dok Mi writes some more in her journal, wondering why fate passes by and leaves a mark on the heart, but only afterwards can it be appreciated.
It's morning time and Enrique wakes up and looks out the window at Dok Mi's unit. He looks at her pictures and is sad. Jin Rok replaces the post-it on Dok Mi's milk carton and we see Enrique's note is still unread. Enrique is still looking sadly at Dok Mi's window which still has her curtains pulled shut. We see Dok Mi sleeping inside.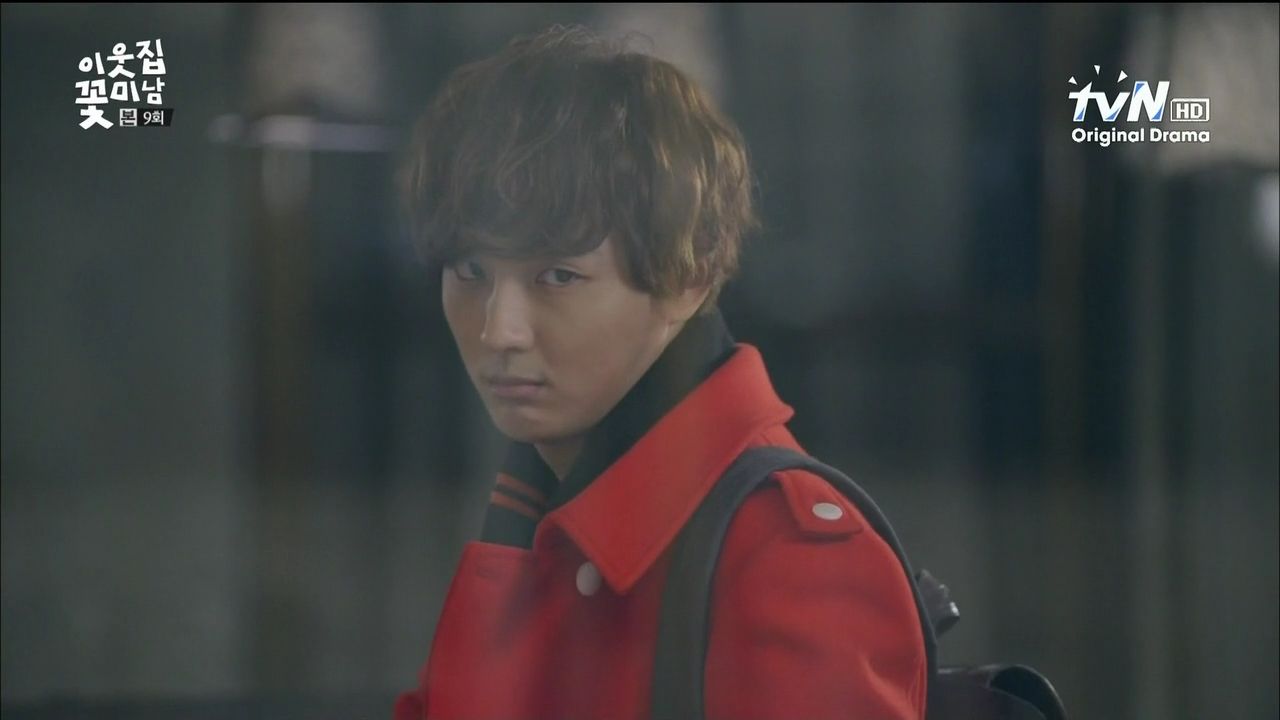 Enrique finishes packing and heads out, but not before staring at Dok Mi's window one final time. Seo Young comes to get Enrique and they head out.
Dok Mi wakes up and sees Enrique's note. She reads the note from Enrique which he asks her to wave goodbye to him at 9 am this morning from the window.
Dok Mi runs to the window and pulls the curtains open but its empty in Tae Joon's apartment. Enrique is in the street between the two buildings and looking around. Dok Mi flashes back to all her interactions with Enrique. He looks up at her window while she looks towards Tae Joon's apartment sadly. Seo Young calls and he gets into the cab with her.
Dok Mi opens her door and finds a bag on the outside and brings it in along with her milk carton. She opens the bag and inside is a board game he made for her. She takes out two dice and roll, moving her little game piece along the board game which has a series of things Enrique wants Dok Mi to do. She then sees Jin Rok's note on the milk carton, which is of a man holding up flowers to a woman. Jin Rok writes that he will meet her at the party tonight.
Jin Rok is dressed to the nines getting reading for the party. The editor calls and demands Jin Rok show up immediately. Jin Rok is worried he'll be late but decides to go.
Enrique is at the airport and finally comments on Seo Young's furry new outfit. Seo Young reveals she got it from Do Hwi, who used to be friends with Dok Mi and likely will be friends again in the future. Do Hwi claimed to be planning a send off party for Dok Mi but Seo Young sensed something odd in her undertone.
It was like when they were kids and planned a send off party which was really a party to torment the person they disliked. Enrique remembers Do Hwi planning another way to get Jin Rok and he demands Seo Young tell him exactly what Do Hwi said.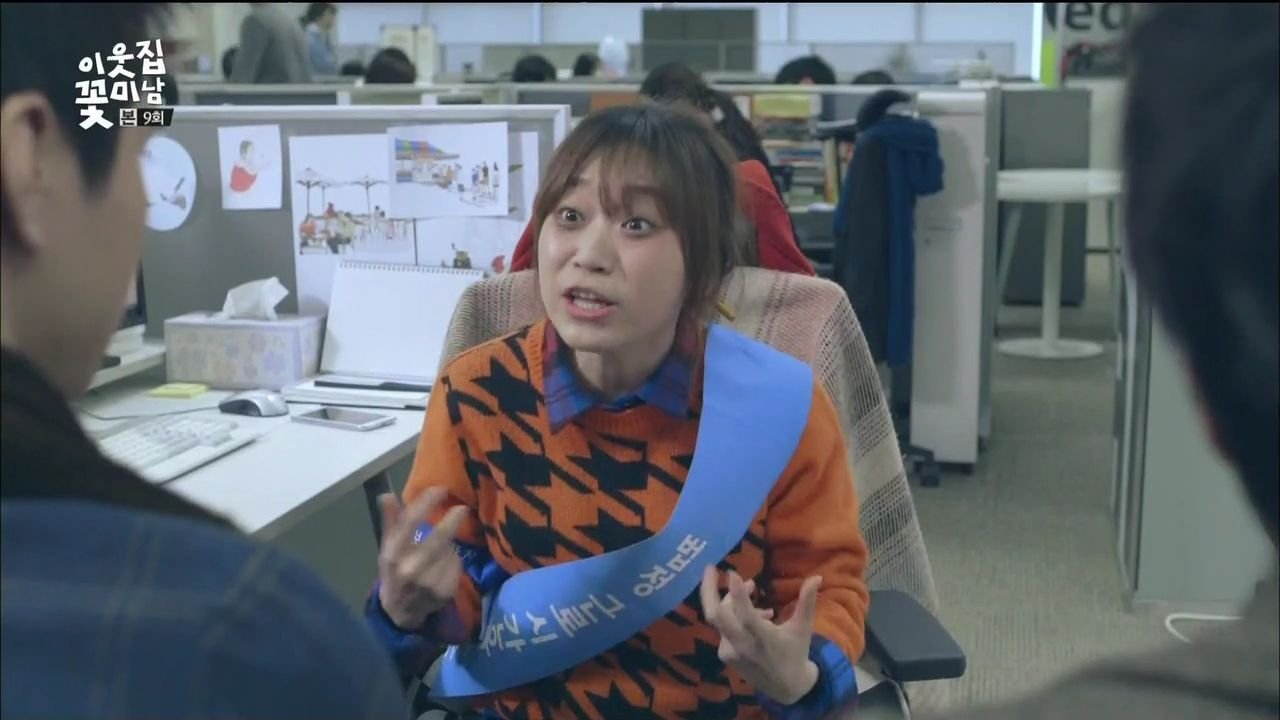 Jin Rok is being chewed out by the editor for the way the story is developing but he's just impatient and worried about being late. The editor also seems to grow enamored of Dong Hoon. Ha, that's a cute potential love line. It would be awesome if the editor, fixed up after getting some sleep, turns out to be a total cutie pie.
A fan comes by to give a box to Enrique, and he recognizes her as the panda-hat girl from the restaurant the night before. She claims to be a fan and inside the box is kimchee for him to eat if he misses Korea. She compliments Seo Young and Enrique as looking good together. Enrique asks for her name and she gives it, and also revealing that online chatter about the Flower Boy Next Door webtoon is that it's a ripoff of Enrique himself, borrowing his likeness.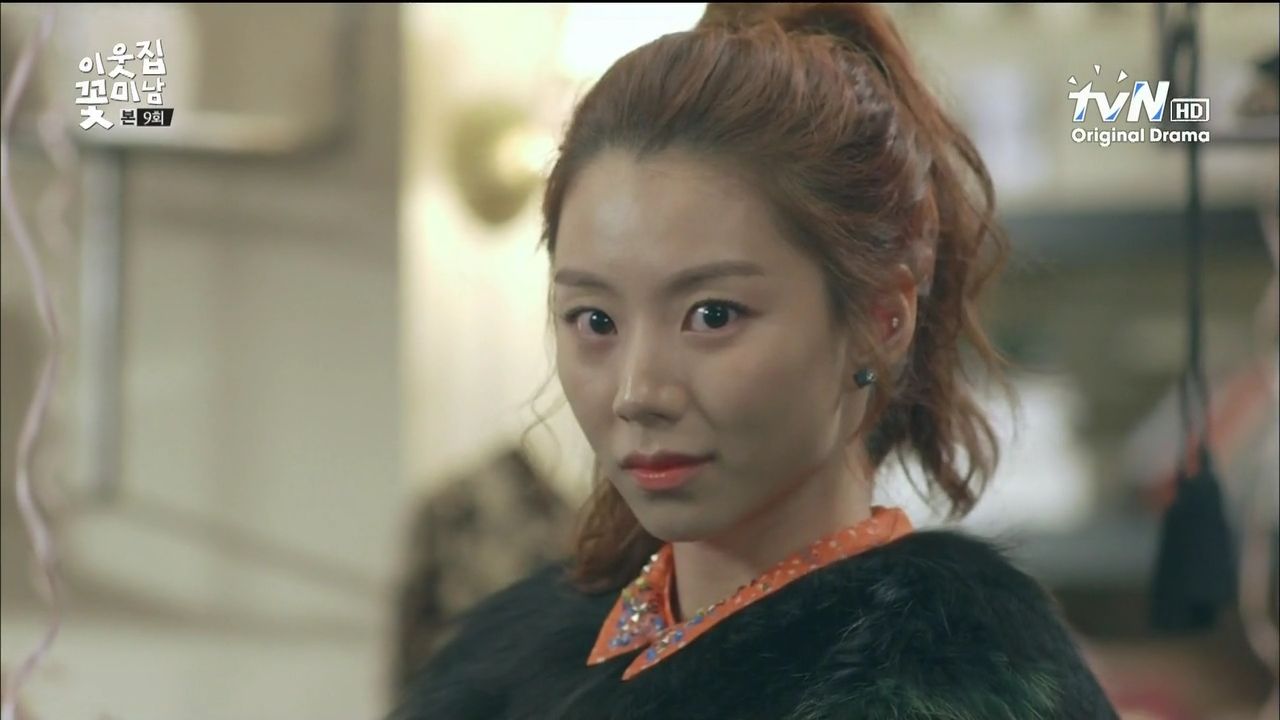 Dok Mi gets ready for the party while Enrique looks very worried but Seo Young tells him its time to board. Dok Mi brings some flowers to the party and rings the doorbell. Inside Do Hwi flashes an evil grin.
Do Hwi opens the door and surprises Dok Mi with a guest – it's their old high school teacher! He greets Dok Mi and says he was hoping to see her again. Dok Mi drops the bouquet of flowers and stares in shock.
Thoughts of Mine:
If viewers could inflict real pain on a character, Do Hwi would be black and blue and reduced to mincemeat by now. What the hell is she doing? How could she go to such lengths to win Jin Rok (or Jae Won), and appear to relish every moment of pain inflicted on Dok Mi? I seriously DO NOT GET. I often wondered how Do Hwi went all evil the moment she saw Dok Mi and the teacher being chummy, because mere jealousy isn't enough to render someone so utterly devoid of empathy that she would destroy the life of a best friend over a guy. This leads me to no other conclusion than Do Hwi is made out of pure sociopathic evil and that makes me worried for Dok Mi's wellbeing. It's beyond vile that Do Hwi continues to seek out Dok Mi as this object for her to manipulate and take down. I know Jin Rok and Enrique are going to try and protect her, and perhaps good will come of this new twist in that Dok Mi can confront her past and move beyond it, but I still have this all-consuming desire to fillet Do Hwi and feed her to the fishes.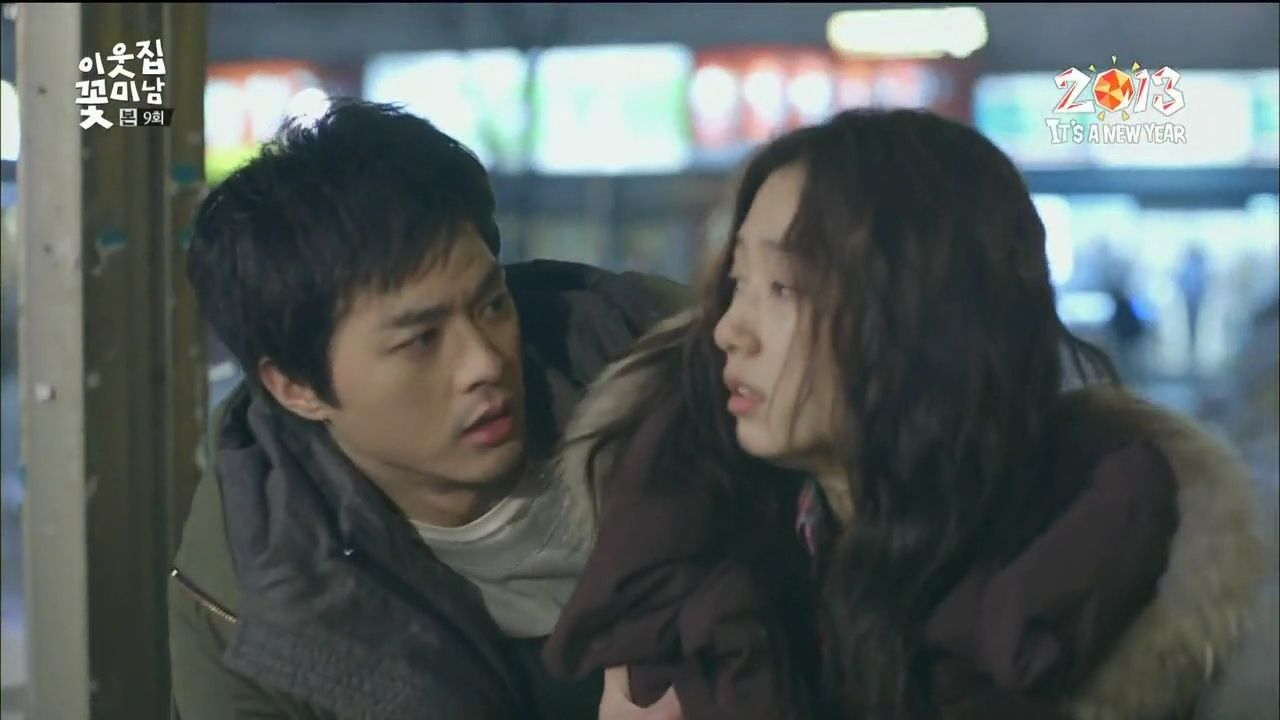 I cannot get enough of Enrique and Dok Mi's growing feelings for each other. His gift of the board game was epic, so Enrique and so perfect for Dok Mi. It allows her the imagination to travel outside but doesn't push her to do it like sending her tickets or activity passes to force her to leave. Our KaeGeum may be pushy, but he's starting to really absorb everything about Dok Mi and his parting gift to her incorporated the essence of both of them. Also – a handmade gift? So swoonworthy, as if this sweet guy needed to do anything more to make me love him. I also loved how he continues to support Jin Rok and give him chances to be with Dok Mi. The walk home when he held Do Hwi at bay so that Jin Rok and Dok Mi could have space to interact was the nicest thing ever. It's so refreshing to see a male lead not only realize his own feelings but not act as if he's feelings are the only thing that matters.
Jin Rok is a wonderful guy as well, and his conversation with Dok Mi in the hallway about wanting to leave an imprint of himself in her life really encapsulated everything he's done for her over the years. But like the hat that leaves a mark on the wall, ultimately that doesn't matter if someone moves away from that location. He may have made his own memories of Dok Mi, but she hasn't made any memories of him. With Enrique, all his memories on Seoul involve Dok Mi and he realizes that and absorbs its significance. His reluctance to leave speaks volumes about how she's affected him in the short time he's known her, with their relationship developing with equal parts push and pull. There is something about the possibility of separation that forces us to distill emotions and experiences into the essence of what it means. Dok Mi is not unaware of how Enrique has changed her, but she doesn't have the courage to do anything about it. Enrique is not unaware of how Dok Mi has moved him, but he doesn't have the courage to interject himself into her emotional world if it means hurting Jin Rok.
Click here to watch Flower Boy Next Door.