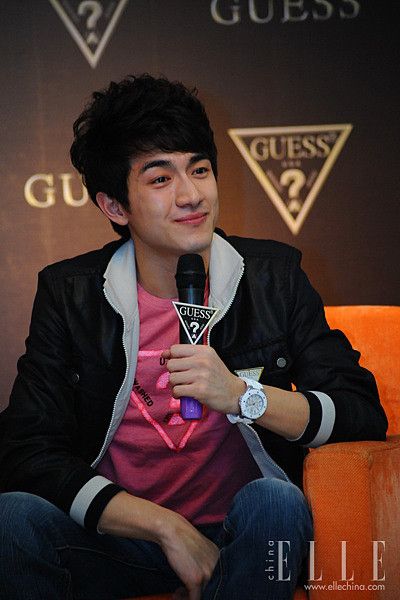 This isn't just a potential train wreck, the pre-filming histrionics is approaching flaming wreckage strewn everywhere levels of destruction for the upcoming Bu Bu Jing Xin 2. Somewhere Yu Zheng must be cackling like a madman, likely getting kicks out of watching his rival Tangren's ladyboss Karen Tsai literally turn into a vengeful beyotch and melting down in public. January 2013 came confirmation that Tangren had a script and submitted it for SARFT approval on a modern so-called sequel to BBJX, this one called Startling Love with Each Step. Ladyboss claimed for months that the entire cast was onboard but her assertions started getting chipped away little by little. First came Kevin Cheng (8th Prince) and Yuan Hong (13th Prince) getting cast in the period fantasy drama adaptation of Hua Xu Yin, which started filming and would conflict with BBJX 2's supposed mid-February filming start date. But ladyboss managed to get Nicky Wu (4th Prince) to say on record that he got a script and was considering it, and Liu Shi Shi also said the same thing (which isn't surprising since Tangren is her agency), so at least this sucker wasn't fully derailed yet. This week comes the utter collapse of civility – Lin Geng Xin (14th Prince), who has been putzing around Shanghai not working on any project (lending credence to rumors Tangren is icing him for wanting out of his contract), told reporters at a Guess endorsement event that he hasn't been invited to join BBJX 2 nor seen a script. Look at him at the event, doesn't he look absolutely godawful, tired and sad? Poor baby. Ladyboss then went NUCLEAR on his ass, posting via weixin a beyond virtriolic rebuke of his pretty innocuous statements, which then got leaked and posted all over the weibo. This smells and feels like the mudslinging ladyboss did to Yang Mi four years ago when she was trying to land Yang Mi to her agency and work on more of her projects and Yang Mi wasn't interested. Shortly after ladyboss posted her takedown of Lin Geng Xin, he went on record as saying he was definitely not doing BBJX 2 because he wanted to try out different characters.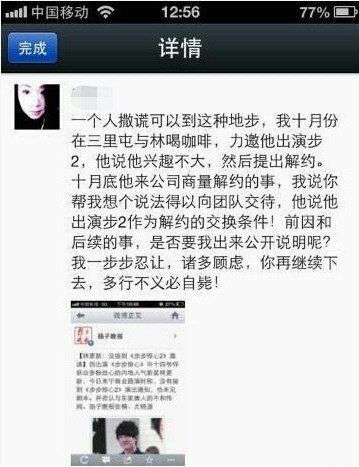 The rumors that Ling Geng Xin was being frozen by his agency started late last year . The agency held its end of the year party and even other entertainers from other agencies attended but Lin Geng Xin was conspicuously missing. He was also missing from the official agency picture posted online of all the entertainers as the Drama Awards. Ladyboss frequently chats online with her stars on weibo but recently has not had any interaction with Ling Geng Xin. Word on the street is that he's frustrated that ladyboss is throwing all her effort and resources into promoting Liu Shi Shi to top star at the detriment of focusing on her other entertainers. So true. He wants out and even has a supposed next agency lined up, Huayi Brothers. What set off this firestorm is a weixin post from ladyboss to only her close friends group on that network bashing Ling Geng Xin's statements to pieces. She claims in October she sat down with him for coffee and invited him to join BBJX 2. He expressed no interest. He then asked out of his contract, and said he was willing to do BBJX 2 on condition that he was let out of his contract afterwards. Ladyboss claims she has been enduring his lies but if he continues to go down this disloyal and ruthless route he'll just be digging how own grave. W.O.W. I cannot believe she wrote that in a forum where it could easily be leaked. Obviously ladyboss didn't agree to his request, but the timing totally fits when she started icing him.
I think its safe to say that BBJX 2 with even a majority of the same cast is definitely not happening. Both Han Dong (9th Prince) and Ye Zhu Xin (10th) are also doing very well in their careers now and I don't see the need for them to join this project purely to fanservice the viewers. Ladyboss' approach is also shooting herself in the foot – the BBJX actors are very chummy and close to this day and after her mudslinging of Ling Geng Xin I can't imagine anyone being happy to work with her again. And for the record, I love Liu Shi Shi but Tangren definitely devotes all their time to her and that's a fact. Ling Geng Xin was apparently getting interesting projects that ladyboss turned down because she was too busy with other matters (such as producing her now-mostly-crappy dramas) to focus on growing this talented young man's career. I can't believe what a circus BBJX 2 is turning into and the cameras haven't even begun to roll. Take a look at the princely brothers above, that is forever and always the only time these 6 guys will be together.