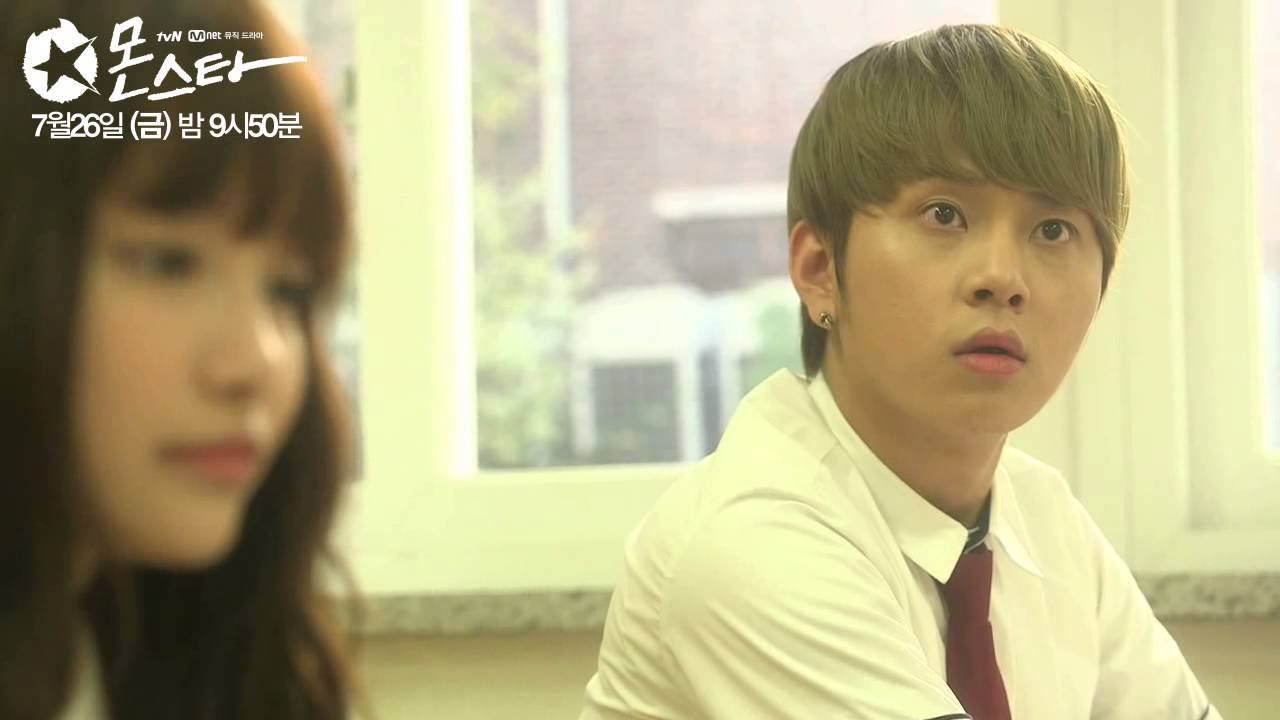 I seriously can't get enough of Seol Chan's shocked-jealous face in Monstar. Yong Jun Hyung is doing such a fantastic job of selling emotionally stunted but growing like a snail Seol Chan. I feel like Monstar has lost a bit of its sizzle heading towards the final stretch. Not a lot, just a tiny bit, and its all due to the drama hanging on with the Seol Chan-Se Yi-Sun Woo love triangle still. But then the latest preview dropped for episode 11 showing Seol Chan singing the song "I Fell in Love with a Friend's Friend", and I realized there is a reason this love triangle hasn't been disposed of sooner. Because Seol Chan and Sun Woo's past conflict appears to be one of the final issues to be resolved, then the love triangle matters greatly because Seol Chan has effectively stolen the girl his former best friend called dibs on. That is a no-no in bromance-land, where the ye olde adage "bros before hos" will hold true if Seol Chan and Sun Woo kiss and make up. And yes, I want to actually see some kissing with the making up part, LOL. I've never been particularly swept up by the Na Na-Sun Woo alterna-ship so I don't feel shafted the drama hasn't left enough time to properly develop any possible romance between them.
I'm expecting a time jump at the very end so if they get together years down the road then that's good enough for me. Episode 11 looks to be a Seol Chan driven episode and finally we get some Star angst to be resolved. I feel like Seol Chan's issues have been on the backburner for so long when really he's got as many demons in the closet as the rest of the kids. Looks like Colorbar v. All for One round deux is coming up, and I'm waiting for someone to actually bitch slap smarmy Joon Hee and smirky Hyo Rin with a musical smack down. While the sizzle may be losing steam, the heart in this drama hasn't diminished one whit and I always leave each episode feeling warm and fuzzy inside. Monstar has given me more than I expected or wanted, great music in each episode, lots of laughter in expected and surprising ways, and a really funny and sweet OTP romance to anchor it all in some stakes. Thank god there are so many interesting dramas premiering in August otherwise the thought of no more Monstar after next Friday will be so depressing.
Seol Chan "I fell in love with a friend's friend":
I love hearing Seol Chan croon ballads. He is an amazing rapper but when he goes soft and mellow his voice is that perfect timbre of sweet and shaky.
Eun Ha tells Se Yi that two other guys in class like her:
Written preview for episode 11:
Seol Chan and Se Yi try to confirm each other's feelings, but they are both awkward around Sun Woo. On the other hand, the entertainment program PD focuses his attack on Seol Chan, and Color Bar gets a surprise opportunity….
Preview for episode 11:
Sun Woo: Why have you been avoiding me lately?
Eun Ha: Falling in love with a friend's friend….
Sun Woo: Look's like you're coming with me.
Hyo Rin: Hand it over, the secret love story of S&S.
Voice: This time won't be like last time.
Joon Hee: Having the right beat is the true purpose.
Voice: It's not Yoon Seol Chan?
PD: My hard work is finally paying off.
Seol Chan: It's hard for me….
The unfinished business between Color Bar and All for One
Seol Chan: So there was an accident back then? You don't know what is the most confusing thing between us right now is?