Paging doctor doctor, come save me because I've got a bad case of loving you. The more absurd Dr. Stranger gets, the more it works as Park Hoon anchors the five-ring circus in the warm embrace of his kind and caring arms. This drama can also be renamed parents-in-peril as we see a parental figure die or almost die in each episode so far. Jae Hee's dad bites it in episode 1, Park Hoon's pater dearest gets executed in episode 2, the little playground girl's dad nearly dies of hospital incompetence before straight up medical ethics gets tossed out the window by Hoon to save him, and finally by episode 4 even Soo Hyun gets in on the cesspool of familial misery as it's her mom's turn to bite the dust. Judging by how Chang Yi's just liberated from North Korea mom had a headache in the last episode and is checked into the hospital by this episode, chances are high that she's going to need surgery soon that only the magic surgical genius hands of Park Hoon can save her. The improbable spy scenes have been replaced by improbable surgery scenes filmed with such free flowing energy it's just fun to watch.
Park Hoon goes from North Korean defector to having admitting privileges at Myung Woo Hospital in the blink of an eye, with barely anyone wondering WTF is happening other than Soo Hyun ineffectively raising an objection mostly because she can't stand the guy. The drama continues to deliver the first love Song Jae Hee is also Seoul doctor Han Seung Hee reveal like a battering ram, this time showing evil North Korean Comrade Cha secretly in South Korea to meet with her. That's just short of a neon flashing sign over her head flashing "I AM JAE HEE" for all to see. Hoon even finds the special Jae Hee braided bracelet on Soo Hyun's mom's wrist which nicely dovetails his first love search with Soo Hyun's desire to save her mom. This drama is firing on all cylinders and it either works for you or it doesn't. It's working marvelously for me and I can't get enough of Hoon being snarky with Soo Hyun and pining for Jae Hee all in the blink of an eye. Playing fast and loose with medical logic and reality, this drama is clearly going to drive medical viewers nuts but for the casual drama fan it sure does pack a great emotional punch. 
Episode 4 recap:
Park Hoon runs into the Jae Hee-lookalike Dr. Han Seung Hee at Myung Woo hospital. He chases after her as she buys two iced coffees and walks through the hospital. Dr. Han exits the hospital and gets into a waiting ambulance outside. The driver asks what took so long and Dr. Han explains she spent some time with the patient. The ambulance drives off right as Hoon runs outside and he just misses her.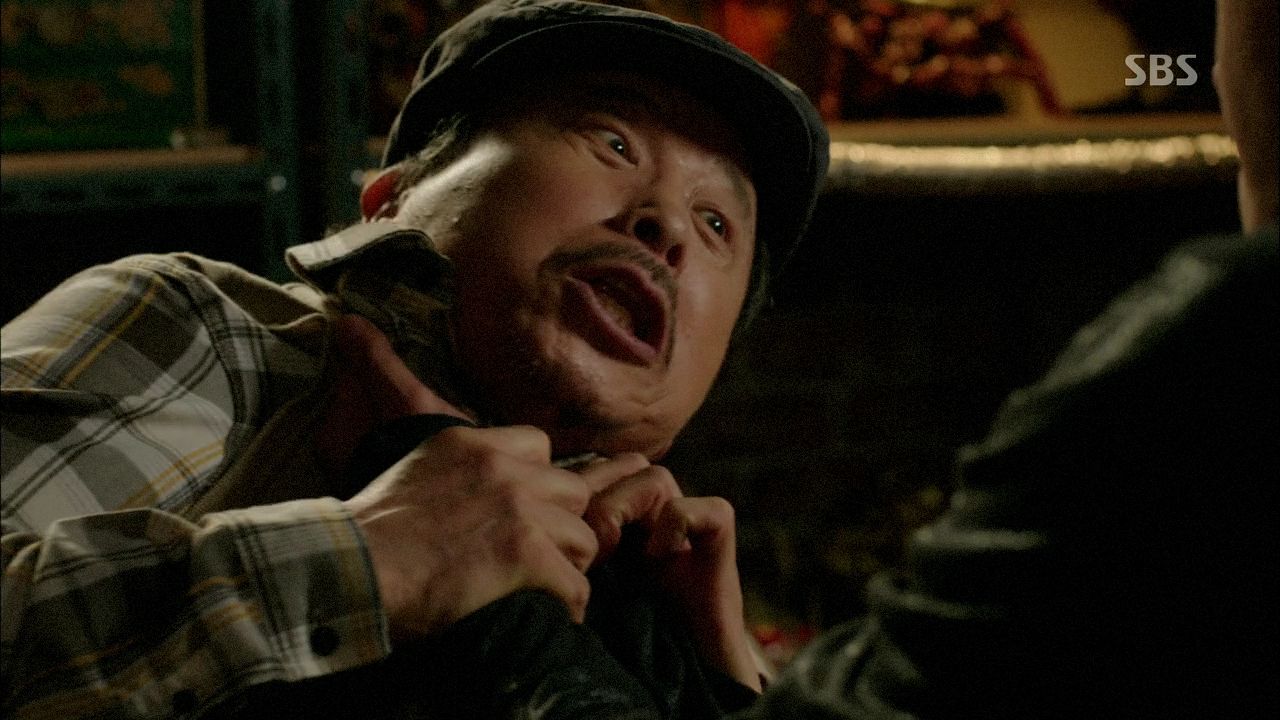 Hoon is certain that the girl is Jae Hee and takes off. Chang Yi and Dr. Moon run out behind him and continue following. Hoon goes to confront Mr. Lim about trying to swindle money from him when Jae Hee is already out of North Korea. He accuses him of doctoring the video of Jae Hee. Mr. Lim yells back that Hoon was mistaken and even he's having a hard time finding Jae Hee now when he can make a call and find anyone.
Hoon's calmed down and listens to Mr. Lim rushing him to quickly earn the money needed to buy her freedom. He heard Jae Hee is being kept in a special detention center which is very scary so she needs to be extricated as soon as possible. Hoon asks how much and hears $50K US dollars.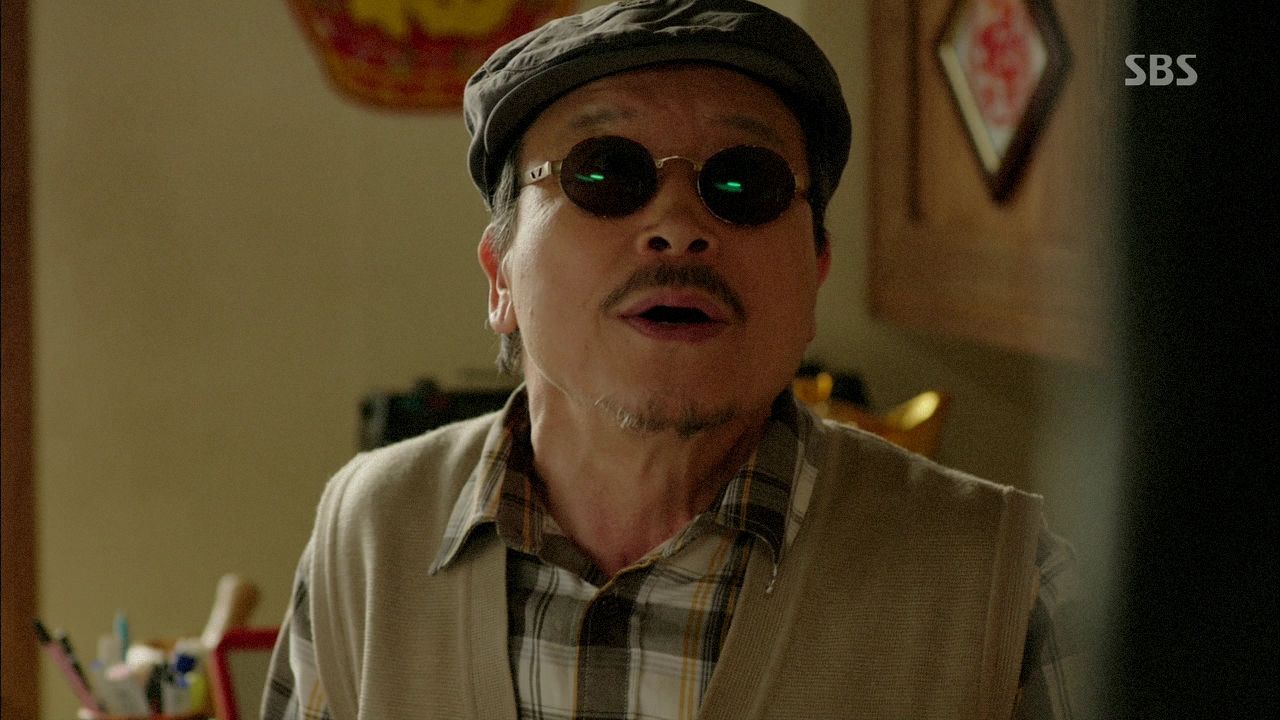 Hoon storms off when an unidentified man walks into the room and tosses a bundle of money at Mr. Lim and tells him that he did well. Oooh, so Mr. Lim is lying to Hoon! Mr. Lim takes the money and wants to ask if that girl is still in North Korea? The unseen man is willing to tell Mr. Lim but only if he wants to die. Mr. Lim swallows and looks away.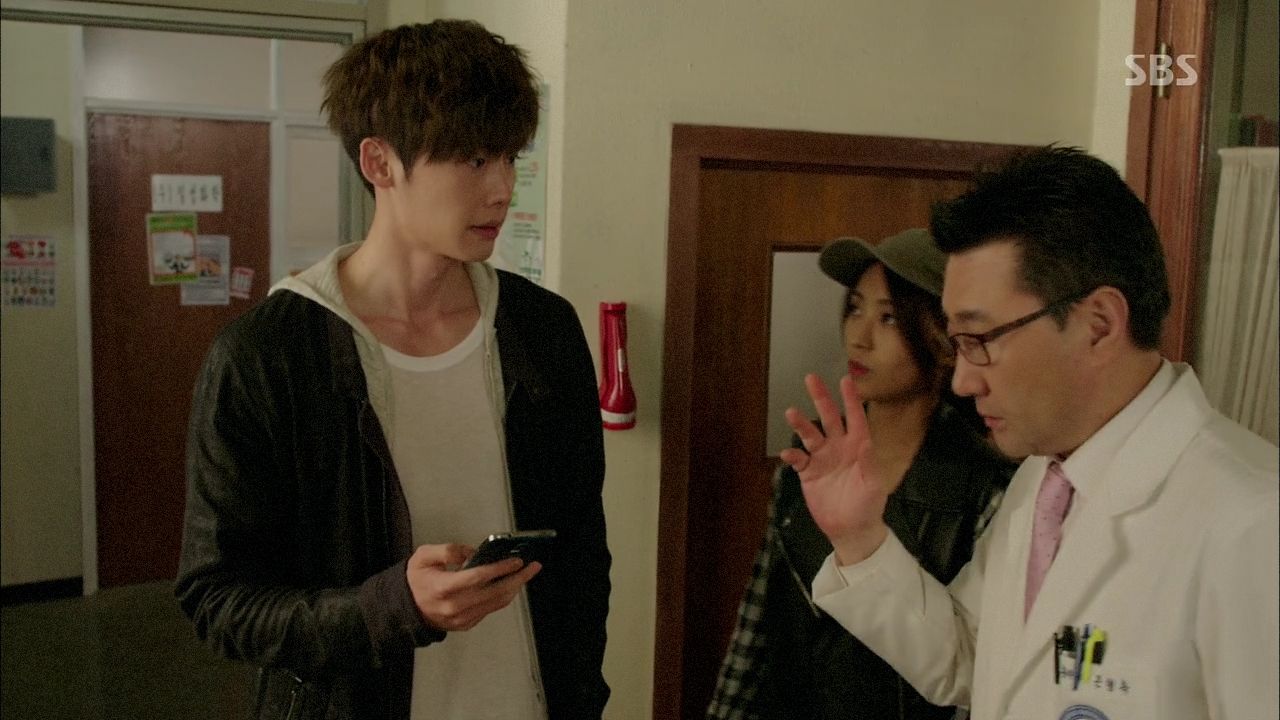 Hoon goes back to the little hospital where he finds Chang Yi and Dr. Moon waiting for him. Dr. Moon immediately talks money and is willing to pay for Hoon's medical skills since he knows Hoon is saving up money to save his beloved. He finds it very romantic and lovely. Hoon kicks him out which is when Dr. Moon pulls out a wad of cash equal to $50K US dollars and waves it right in front of Hoon. He's willing to hand it over if Hoon works for him at Myung Woo Hospital in the cardiothoracic surgery department.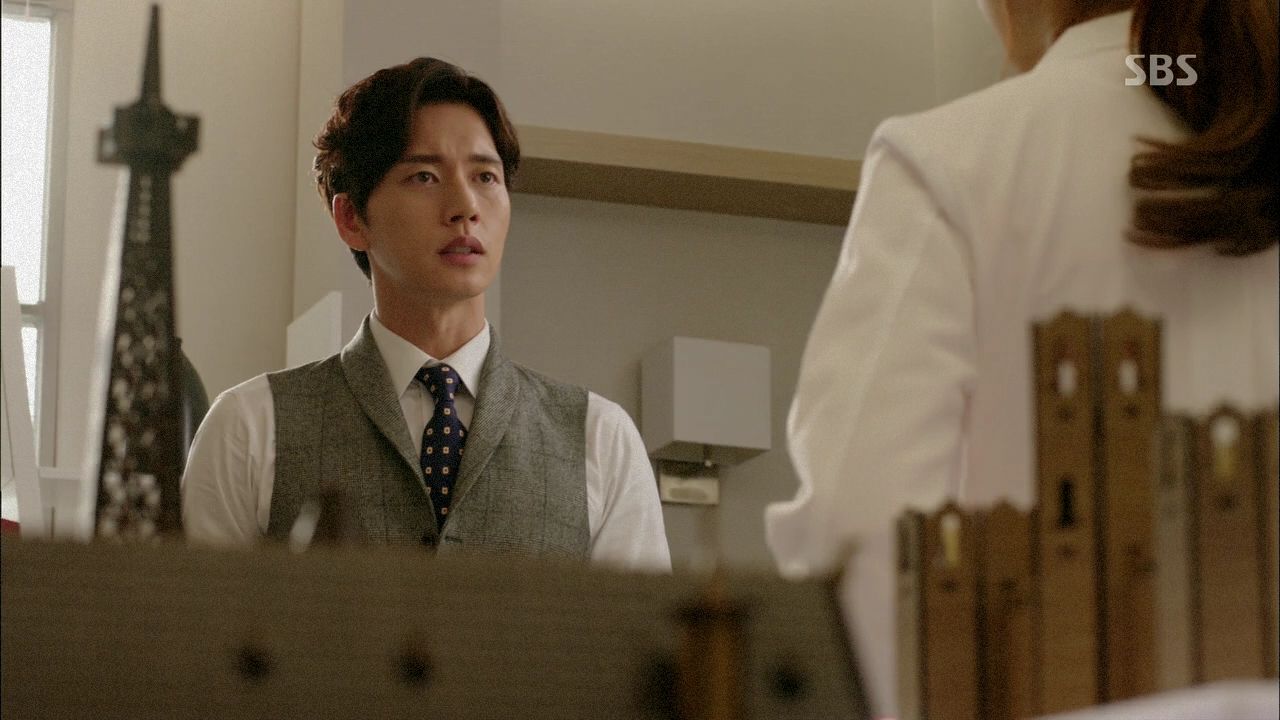 Jae Joon is angry at Soo Hyun for asking to transfer out of the cardiothoracic surgery department since she didn't tell him beforehand. He wants to know why but Dr. Moon runs in without knocking and interrupts their conversation. They head to a meeting to vet candidates to bring in as new surgeons for the cardiothoracic surgery department.
Dr. Han goes first and profiles a doctor from the US with sterling pedigree and recommendations. Dr. Moon raises his hand and wants to recommend a doctor of his own to recruit. His belief is practical surgical skill over pedigree. Dr. Moon plays the video of Park Hoon's surgery for the little girl's dad and everyone marvels at how good Park Hoon is.
Jae Joon concurs and is happy to work with such a skilld doctor but wants to know more about who he is. Dr. Moon didn't come with a profile and just calls Dr. Park to come inside. Park Hoon walks in and winks at Soo Hyun and bows to the gathered doctors.
The former hospital president comes back and Chairman Oh greets him warmly. Conversation turns to the hospital looking to bring in new cardiothoracic surgeons and he appears to have an opinion on that.
Jae Joon reminds Park Hoon that he didn't want to see his face around here ever again and Hoon sighs that he has a good reason to be here. Another doctor wants to know which medical school Park Hoon graduated from but Dr. Moon interjects that education doesn't matter and experience and ability is what matters most. Jae Joon presses for the medical school anyway and Hoon takes a deep breath before announcing that he graduated from Pyongyang Medical School. Everyone gasps and then files out grumbling about Hoon being from North Korea.
Dr. Moon wants Jae Joon to accept that a North Korean doctor is still a doctor but Jae Joon points out that PM Jang's heart surgery can't be handed to a defector. Jae Joon leaves and Soo Hyun follows behind and exchanges a look with Hoon. Dr. Moon takes back the money from Hoon and grumbles about why Hoon didn't reveal he's from the North. He tosses a few small bills on the ground as payment for Hoon coming all this way with him and then derides Hoon for wanting to earn money to save the girl he loves. He thinks that's just an excuse and really Hoon loves money.
Hoon picks up the money and confronts Dr Moon, announcing that he loves and needs money so badly right now and what's wrong with that?
Hoon storms out of the room and finds Soo Hyun waiting for him outside. She tells him to go start a business if he needs to earn money so badly. Doesn't he have a doctor's pride? Hoon grabs her by collar and points out that wearing a white doctor doesn't equal having self-respect. He keeps calling Soo Hyun a useless doctor and that pisses her off.
Hoon goes to the cafeteria and sees a female doctor buying a cup of coffee which reminds him of seeing the Jae Hee-lookalike there. Chang Yi comes with a pair of athletic shoes as a birthday present for him and he tosses it aside. She gets down to pick it up and Hoon turns back and takes it from her and puts it on with a smile which makes Chang Yi happy.
Dr. Moon is having a hissy fit in his office when he's called to a meeting with Chairman Oh and Dr. Han. Chairman Oh is impressed with Park Hoon's ability and asks if Dr. Han is willing to take him into his team? If not then how about Dr. Moon? He suggests the two surgeons form teams to compete for the right to do PM Jang's heart surgery. The winning team gets a reward and the losing team will be punished.
Dr. Moon leaves the meeting and is wondering what to do when the former hospital president walks over to greet him.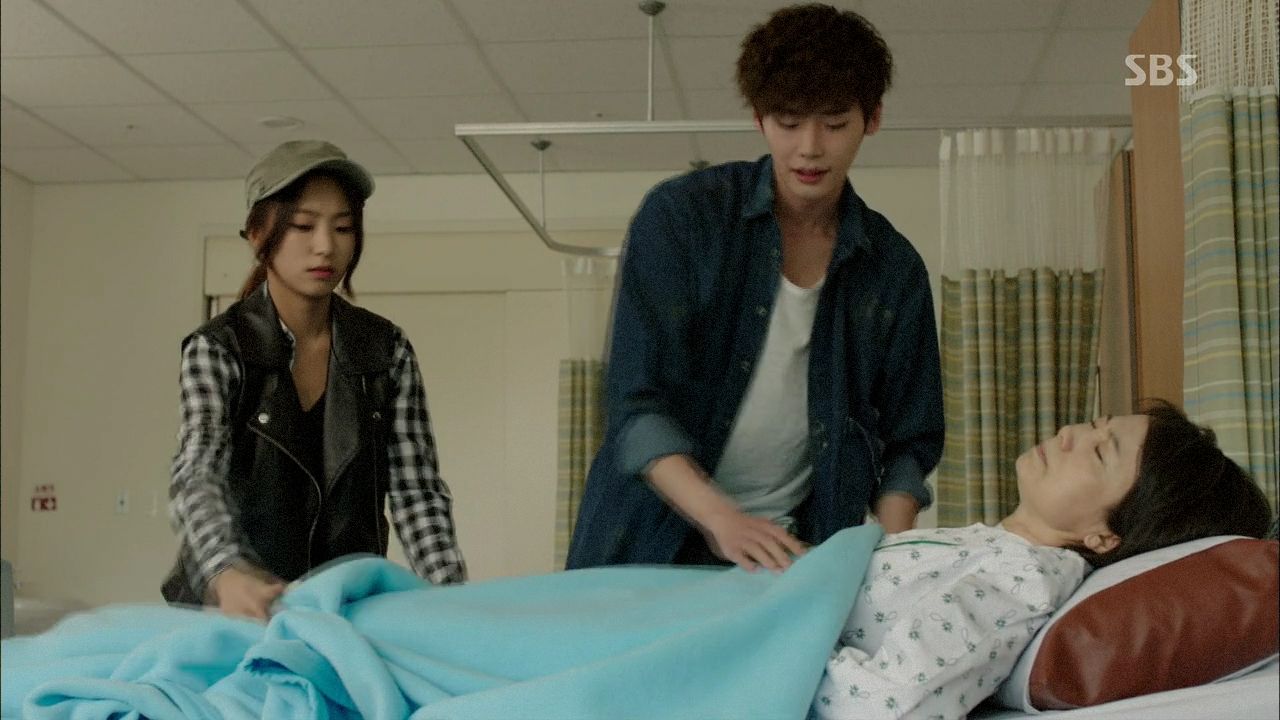 Hoon and Chang Yi put her mom to rest in a hospital room at Myung Woo but she wants to transfer her mom back to their little hospital. Hoon wants her to stay put here and even took out the deposit on their hospital to pay her bills here. Chang Yi doesn't want to use the money on her mom since he is saving it to save Jae Hee. Hoon knows Chang Yi needs it more urgently now and wants her to let him do this.
Dr. Moon walks up to them and pulls Hoon aside to flash all the money before him again. Hoon wonders why the sudden change of mind? Turns out Dr. Moon heard that PM Jang owes a debt to Park Hoon so the former hospital president urges Dr. Moon to work with Park Hoon. Money convinces Hoon to accept but he wonders what he'll be doing here? Dr. Moon wants Park Hoon to prepare for a big battle with Jae Joon coming up.
Jae Joon is getting all the young doctors together for a dinner and when talk turns to inviting Dr. Yang. Jae Joon picks up the knight figure and smirks before suggesting Dr. Yang is busy. Dr Moon brings Dr. Yang to meet Park Hoon but finds Hoon's new office empty.
Hoon's run off to hand over the payment to Mr. Choi but then he tears the money orders in half and will only hand it over when Jae Hee is out of North Korea and he has proof.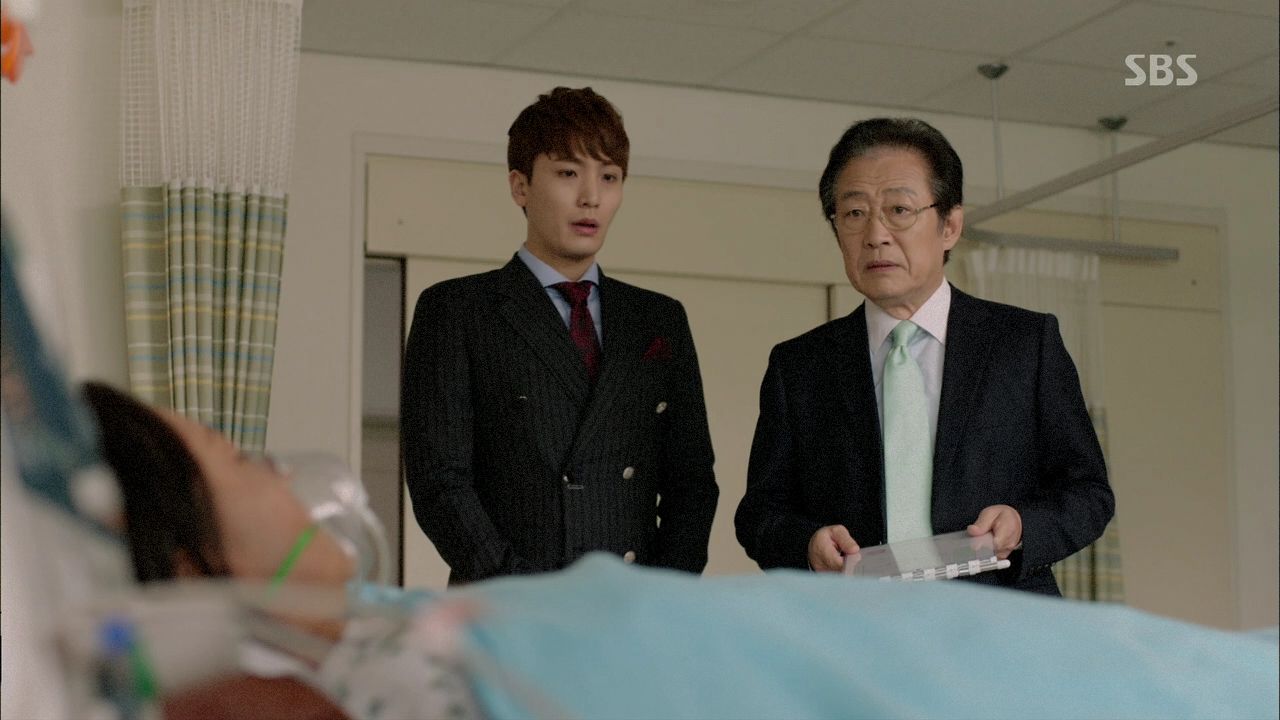 Chairman Oh is informed by his useless son Sang Jin that Soo Hyun's birth mother is in the hospital. He doesn't look happy and asks if Soo Hyun knows yet?
Soo Hyun is headed for her rounds when she runs into Hoon at the nurses station. She demands to know why he's here and he sasses back that the big boss approved it. Hoon calls from his cell to the land line right next to Soo Hyun and tells her "useless doctor, answer it" when it rings. Soo Hyun actually picks it up which makes all the nurses giggle. Hoon puts his hands on his cheeks to preemptively protect himself from Soo Hyun slapping him and walks up to her with a smile. He asks if her hands itch now and she smiles back and says her legs itch before kicking Hoon right in the groin.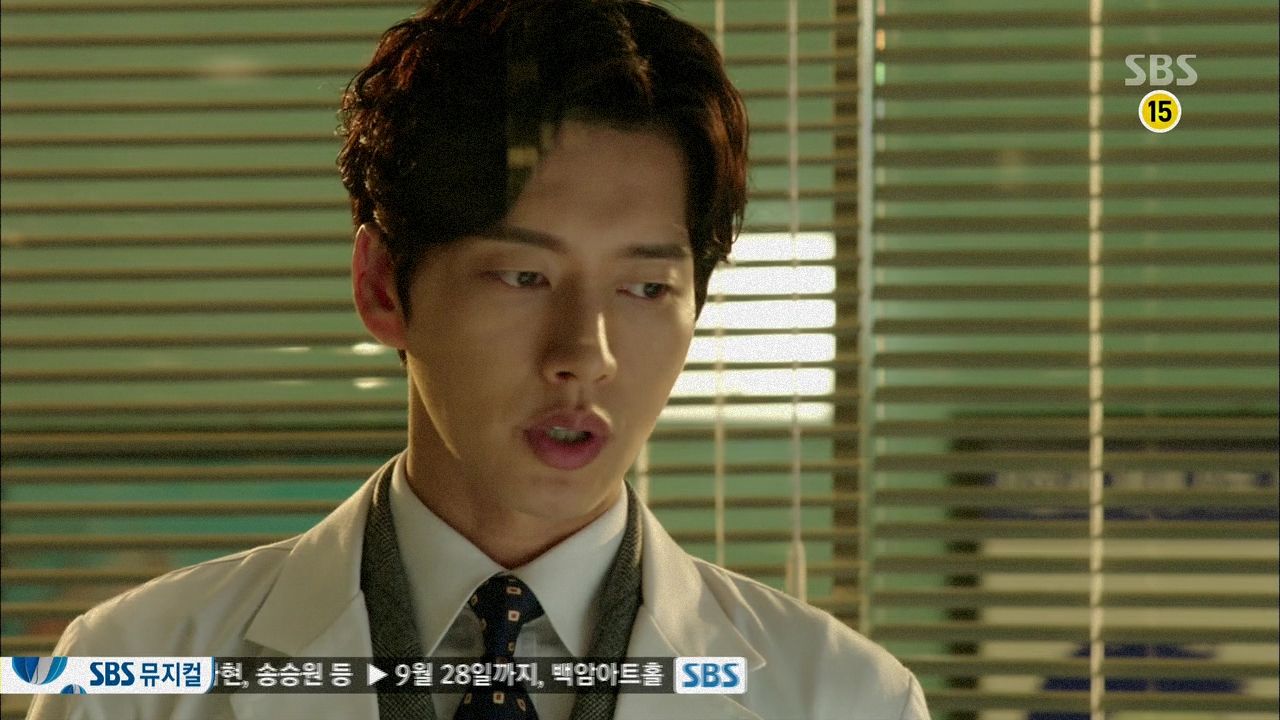 Chairman Oh has Jae Joon analyze Soo Hyun's mom's medical condition and he concludes that her heart is failing with a high risk of bleeding out during surgery.
Soo Hyun tries to ask her dad to reconsider hiring Park Hoon but he's made up his mind and she wisely knows when to stop. Sang Jin walks into his dad's office and is happy to see Soo Hyun there. He drags her to see her mom laying in the hospital room and calls it his present. Sang Jin happily wants to know if she's all sad because her mom had late stage lung cancer with only one week to live. Soo Hyun acts nonchalant and says her mom is lunching with friends right now and Sang Jin yells back that she's his mom! Soo Hyun refuses to acknowledge her birth mom and give Sang Jin the satisfaction of seeing her sad.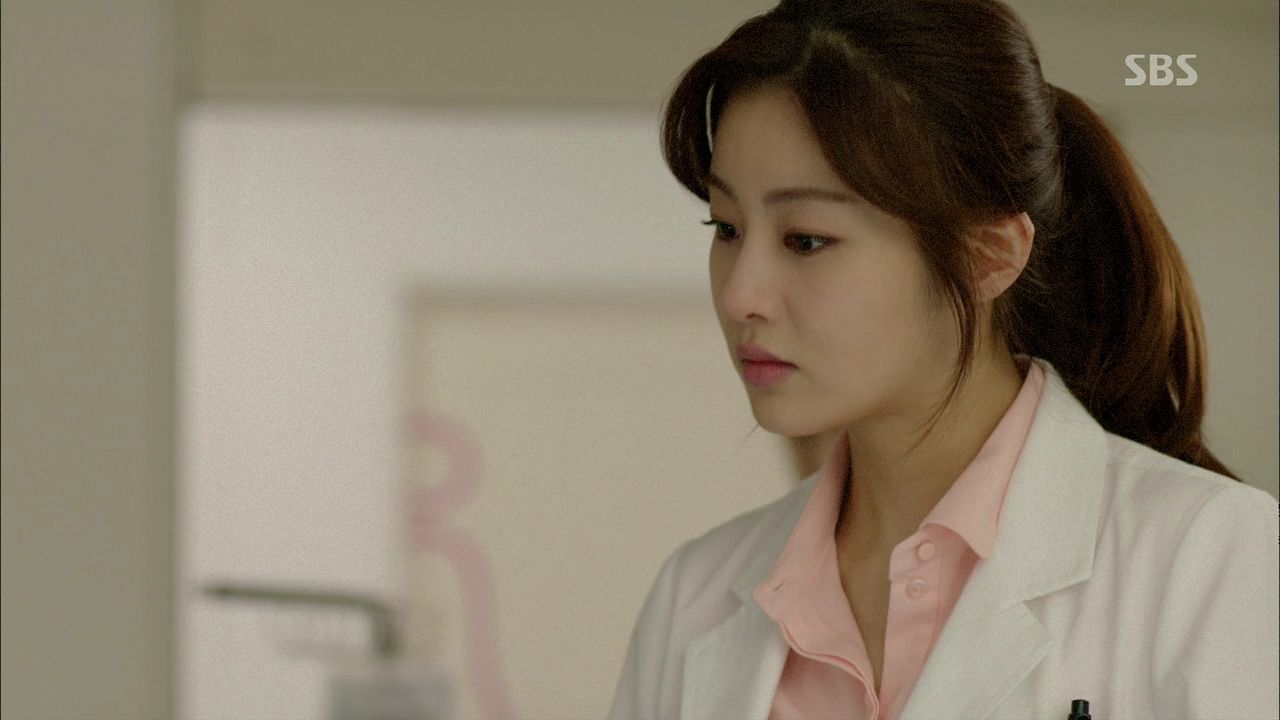 Soo Hyun walks over to the nurses station and asks when the patient was admitted and hears she came in this morning. Park Hoon asks if Soo Hyun is the legal guardian of that patient because she has a DNR request attached to her file. It's from a long time ago so if Soo Hyun is the legal guardian she can change it now. Soo Hyun says no need and walks off. Soo Hyun watches a nurse tend to her birth mom and hears she's been unconscious this entire time. She wants the nurse to wake her up because she has something to ask her.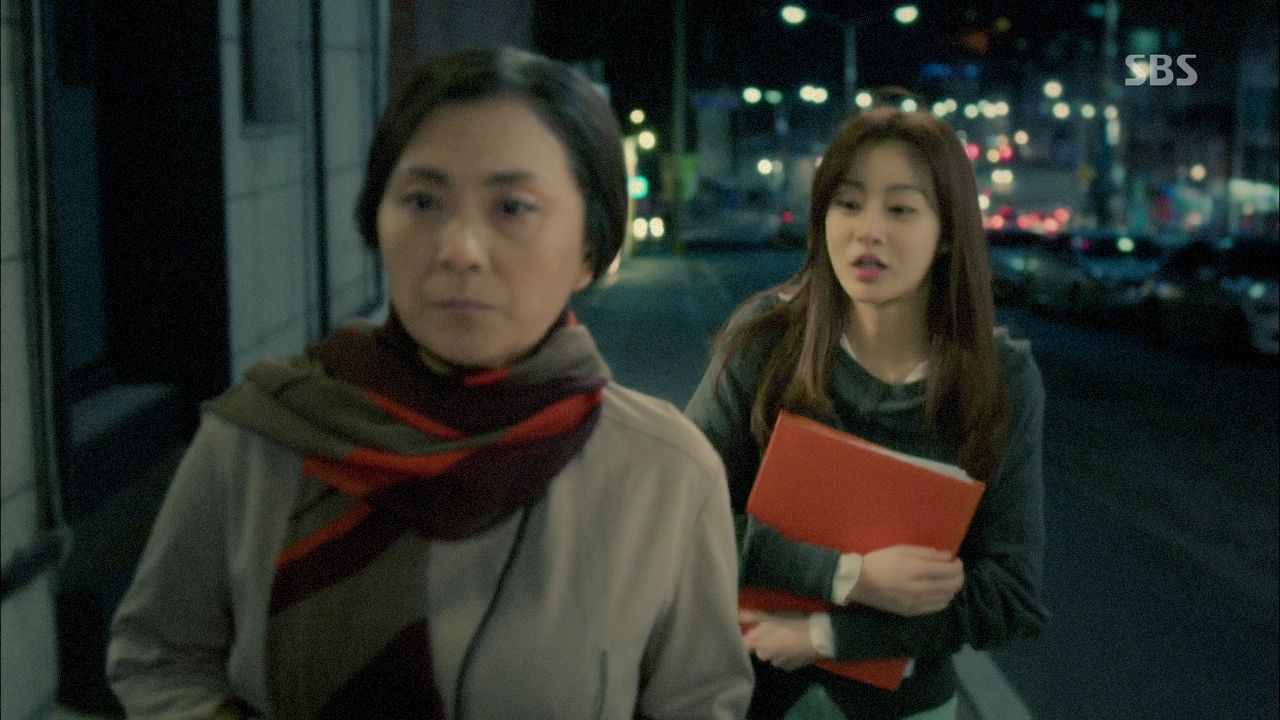 Flashback to Soo Hyun when she took art lessons from her mom. She waits for her mom after class and begs her mom to take her back so they can live together again. She graduated from university and has her doctor's license now so she wants to live with her mom again because it's too tiring to live in that house. Her mom coldly tells her to go back and the exhaustion will pass soon.
Soo Hyun is in a daze during the doctor dinner organized by Jae Joon. He gets up for a friendly greeting to the entire table and asks that they become one big family at work. Soo Hyun is so out of it she has to be reminded to join the toast. Jae Joon can tell her mind is elsewhere. Soo Hyun checks her phone and looks alarmed.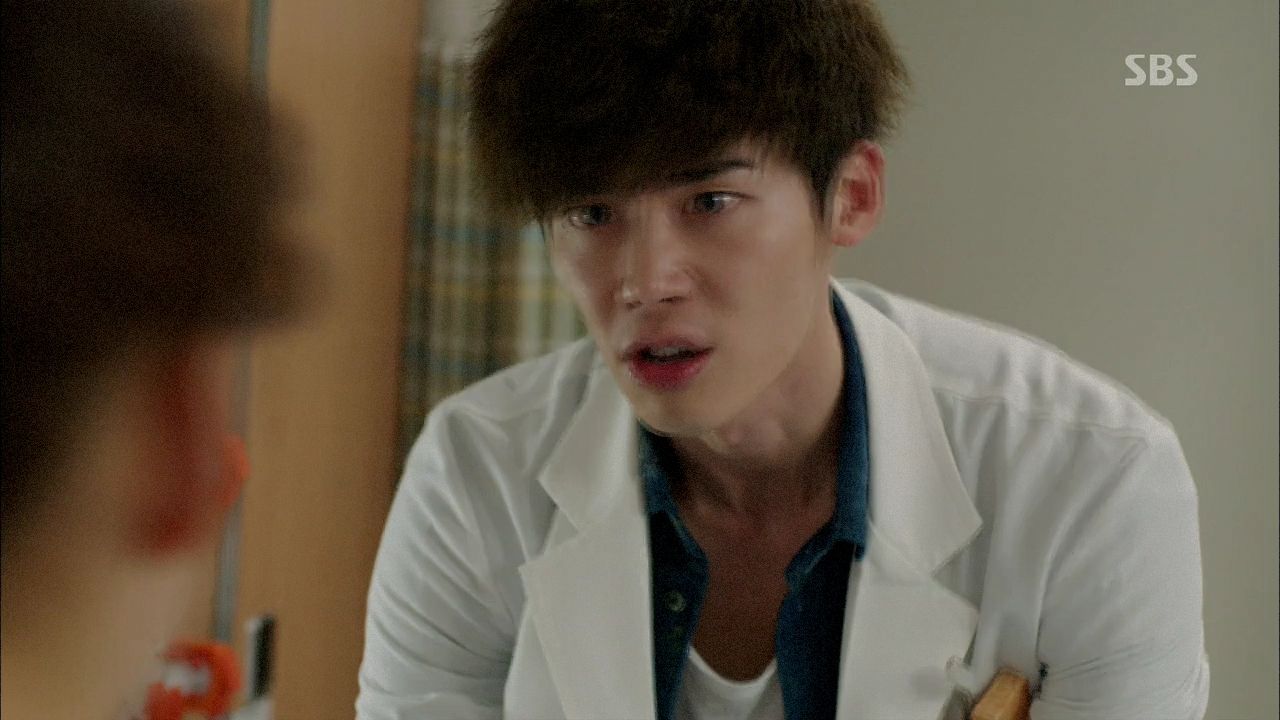 Soo Hyun's mom is coding and Park Hoon runs into her hospital room to find all the nurses standing around not saving her because of the DNR. Hoon immediately starts resuscitation procedures and manages to bring back Soo Hyun's mom. Soo Hyun leaves the dinner immediately and goes back to the hospital. Jae Joon tries to ask her what's going on but she doesn't say anything other than she needs to go somewhere.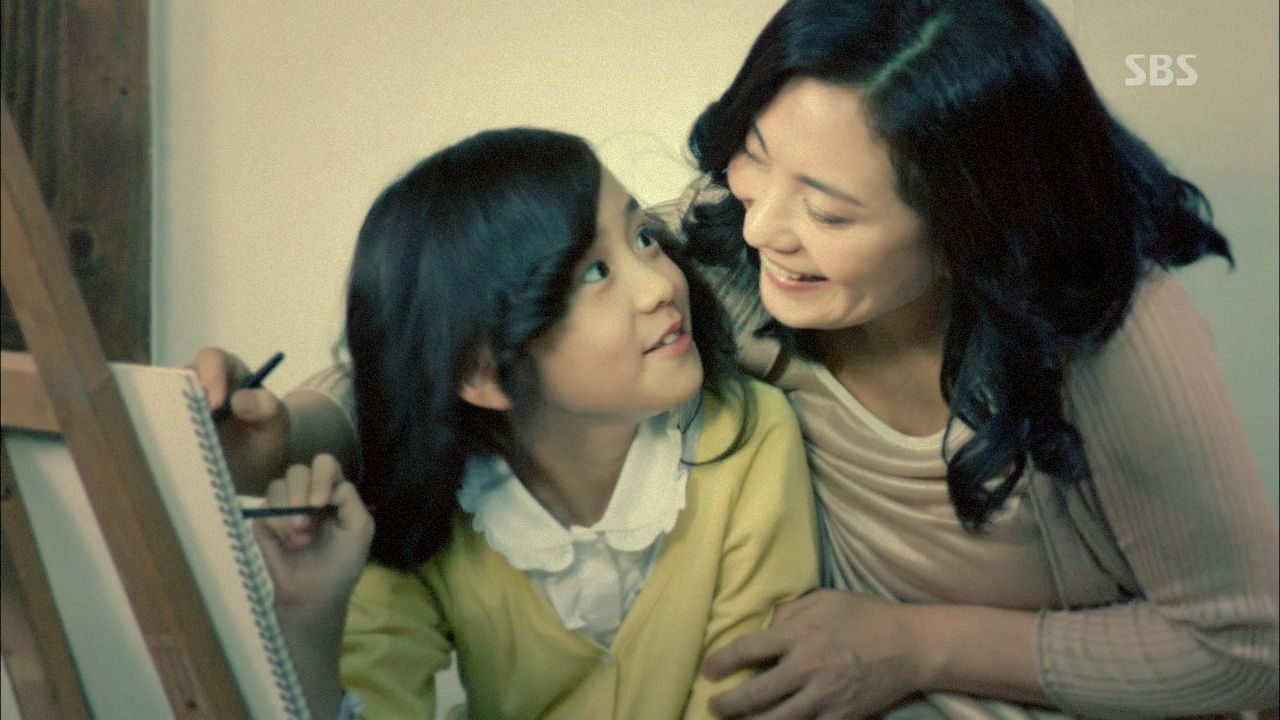 Soo Hyun gets into the elevator in the hospital and remembers happier days when she was a little girl with her mom. She walks into the hospital room and finds her mom is still alive and in stable condition. She looks relieved and angry at the same time.
Hoon arrives to check on the patient and Soo Hyun drags him aside to chew him out for not abiding by the DNR request. The patient wants to die because she doesn't want to endure the pain of late stage cancer. Hoon says if the patient wants to die then he couldn't resuscitate her but he brought her back because she doesn't want to die yet. Soo Hyun storms out and Hoon tries to ask a nurse what Soo Hyun's relationship with this patient is?
Hoon goes back to check on Soo Hyun's mom and finds Jae Hee's bracelet tied around her wrist. He grabs the patient's file and sees the signature of a Dr. Han Seung Hee who transferred her over. He calls that hospital and Dr. Han answers the phone so he hears her voice. She then hands the phone off to a nurse and heads to the ER. Hoon finds out from the nurse that the patient doesn't have family and arrived at the hospital alone but also didn't have any accessories on her like a braided bracelet.
Dr. Han walks outside and meets with a black-clad Comrade Cha who gets out of a car to meet her. Mr. Lim is spying on Comrade Cha and is shocked to see him meeting with the Jae Hee-lookalike.
PM Jang is having a dinner with other politicians and media when he's called aside by Secretary Kim to brief him about the current investigation into his election funds. PM Jang tears up the investigation update and sneers at the attempt to bring him down. Secretary Kim arrives to meet with the investigators and is surrounded by media asking him about the investigation. He says there was no impropriety with the election funds and the PM will cooperate with the investigation fully.
Dr. Moon angrily pulls Park Hoon aside to demand why he's doing a surgery for a woman who is about to die. Hoon has to save her because he needs to ask that patient something. He leaves Dr. Moon sputtering about Hoon never listening to him. Soo Hyun is standing by her mom's beside when Jae Joon walks over and says this patient can't be saved because the surgery is too difficult and high risk. Soo Hyun still wants him to operate on her and reveals that this patient is her birth mom.
Hoon stares at Soo Hyun's mom's chest x-ray and then starts performing the surgery in his mind. He fails the first time as he bursts an artery and angrily re-starts the simulation again.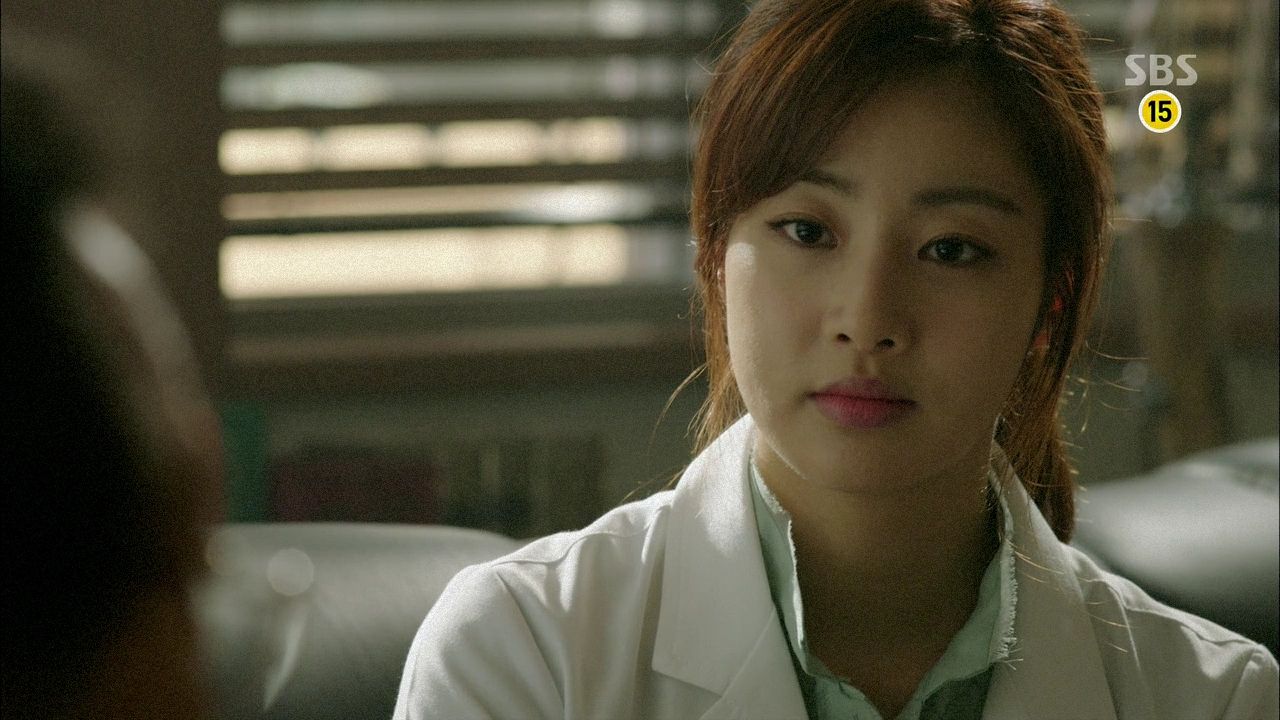 Soo Hyun asks Chairman Oh about her mom, he wants to keep her alive for the week she has left. Soo Hyun has the opposite idea, she wants to end her mom's pain and be the who sends her mom off.
She goes back to her mom's beside and remembers when her mom coldly gave her up to go live with her dad Chairman Oh. Little Soo Hyun cries because she wants her mom but her mom slaps her hand away and tells her to leave and never come back!
Soo Hyun turns off her mom's monitor and takes off her mom's ventilator. She is about to leave when her mom's hand moves and grabs her hand. She looks back and her mom's eyes open and she smiles at Soo Hyun who cries and calls her mom.
Jae Joon asks Chairman Oh for permission to operate on Soo Hyun's mom but he refuses. If the patient dies on the operating table then it's a embarrassment to the doctor and right now he's in a competition with Dr. Moon. Hoon continues with his operation simulation but this time the heart codes. Jae Joon leaves Chairman Oh's office without getting permission to operate on Soo Hyun's mom. He sees her calling him but purposely doesn't answer his phone. Soo Hyun doesn't know what to do when she finds Park Hoon's 500 won coin in her white coat pocket.
Hoon is resting on the table after all the surgery simulations and remembers Jae Hee falling off the bridge in Budapest. He wakes up despondent and exhausted. Soo Hyun walks in and he doesn't have energy to talk with her.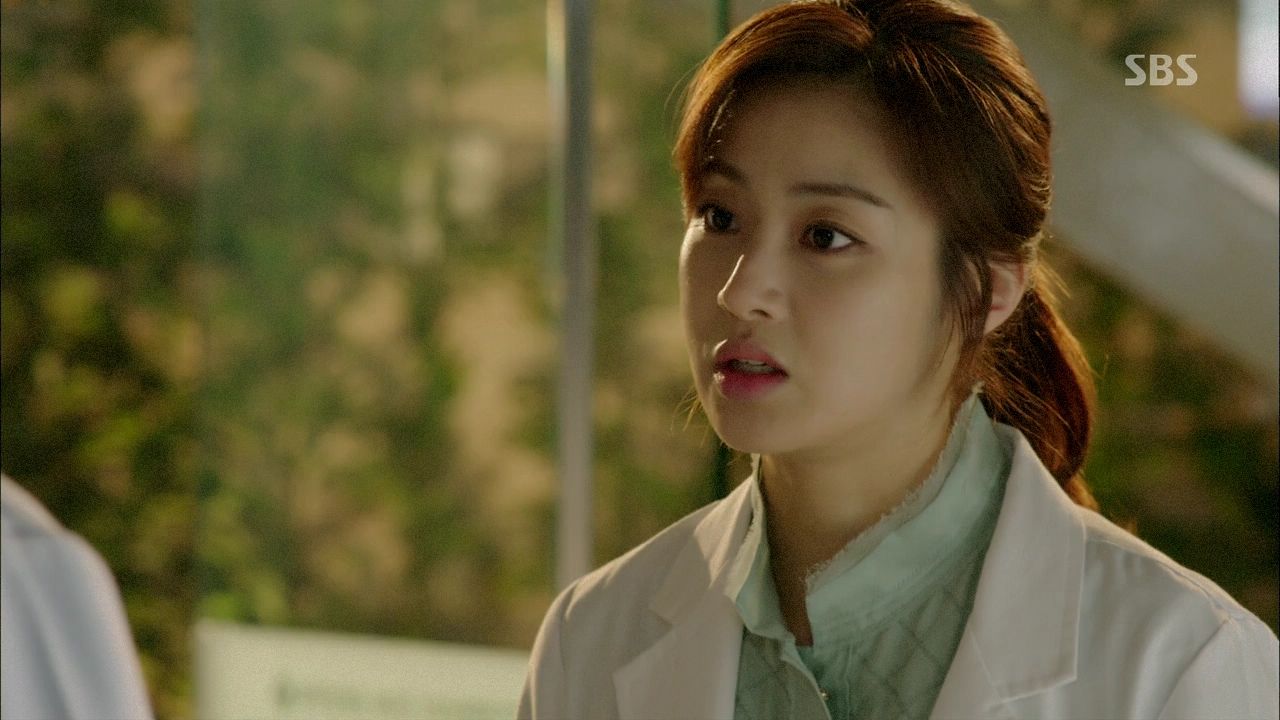 Soo Hyun wants him to operate on the patient but Hoon says it can't be done. The risk is too high and even if the surgery is a success the patient will be left in severe pain. He wanted to operate on her because he had something to ask her but it can't be done. Even someone like Hoon can't do it. Soo Hyun cries that he told her he could do it so he has to keep that promise! She takes out the coin and puts it in his hand, begging him to operate and she will do whatever he asks of her. Hoon asks who the patient is and Soo Hyun reveals the patient is her mom and she wants to ask her mom something. Soo Hyun begs Hoon to save her mom.
Chairman Oh arrives at the OR viewing room as the prep is underway for Soo Hyun's mom's operation. He calls down to the OR and tells Soo Hyun this is pointless. He even told Dr. Han not to do the surgery and Soo Hyun says she wants to try and found another surgeon to do it. Chairman Oh asks to talk with Park Hoon and orders him to stop the surgery. Hoon says he got family permission to do it and Chairman Oh yells back that he's also family!
Soo Hyun reveals the man on the phone is the chairman of this hospital and if Hoon does this surgery then he will be kicked out afterwards. Hoon pauses before telling Chairman Oh that he will do the surgery because he accepted payment already.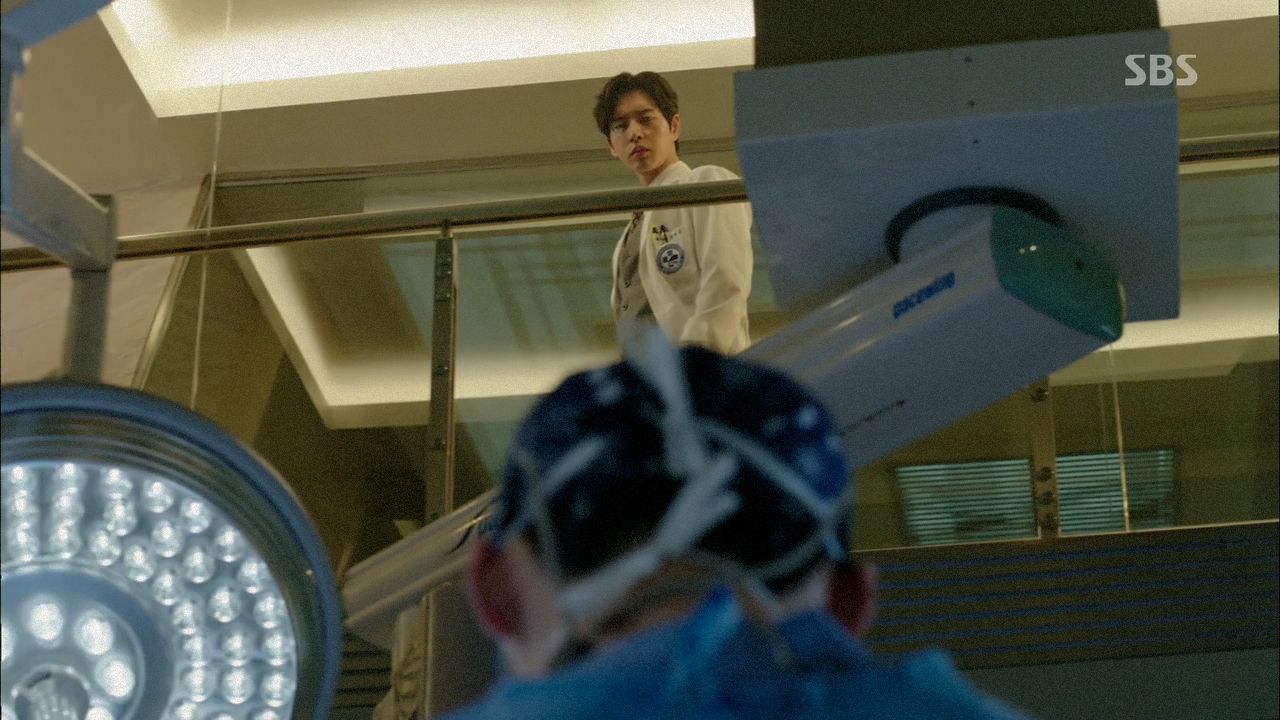 Chairman Oh storms out of the viewing room and runs into Dr. Moon coming in. Dr. Moon chases after the Chairman to assure him that he told Park Hoon explicitly not to operate on that patient. Chairman Oh glares at him before going back to his office. Jae Joon arrives at the viewing room and exchanges a look with Soo Hyun below. The operation starts with Jae Joon and Dr. Moon watching from the viewing room and Chairman Oh watching on video feed back in his office.
The operation goes on so long that many of the doctors in the OR are slumped over in exhaustion. Suddenly a vessel burst like it did during Hoon's simulation and he immediately tries to resuscitate the patient but to no avail. Soo Hyun's mom dies on the operating table like Hoon predicted.
Hoon stops resuscitation and Soo Hyun's mom flat lines. Soo Hyun yells at why Hoon is stopping when he hasn't restarted the heart yet. Hoon thanks everyone present in the OR for their hard work and tells them to leave now and he'll clean up. Soo Hyun tries to restart the heart herself but Hoon says it's over and apologizes to her.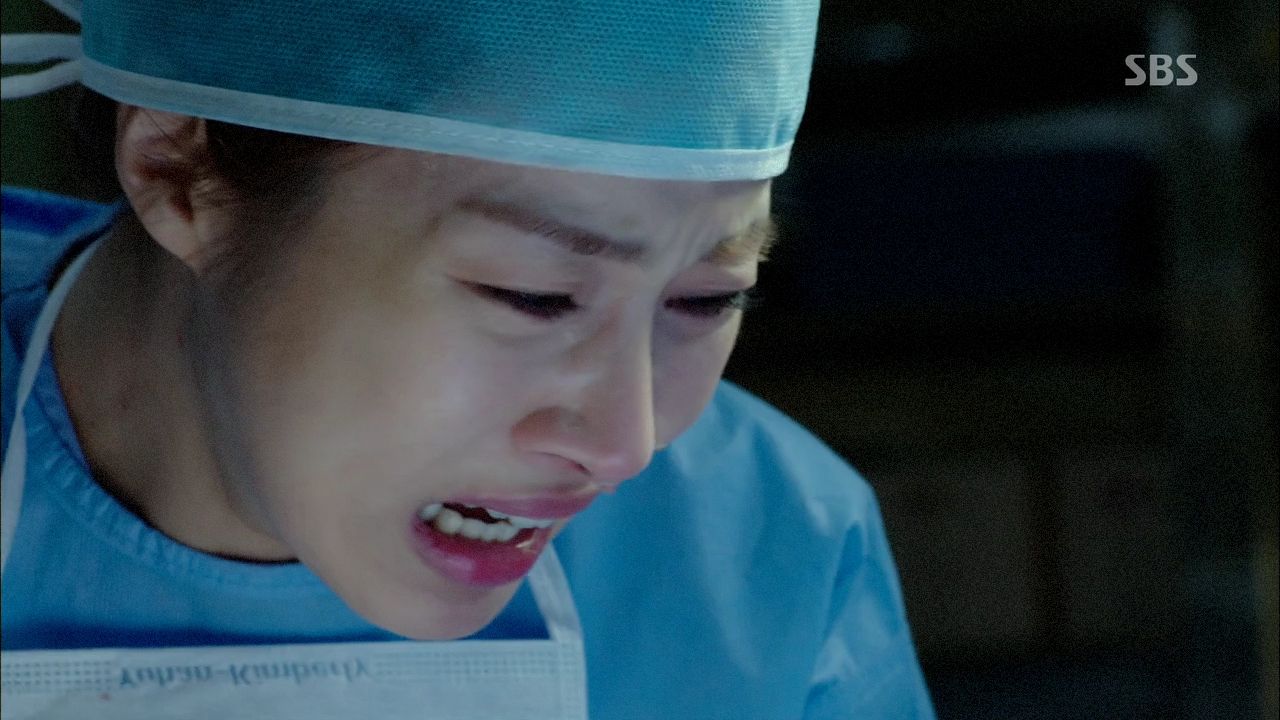 Hoon asksher to stop while she continues massaging the heart and muttering about the things she still wants to say to her mom. Soo Hyun finally stops and starts sobbing as she asks why her mom left her like this? Hoon pulls the sheet off Soo Hyun's mom and officially announces time of death.
Soo Hyun starts struggling with him until he pulls her in for a comforting embrace. He keeps apologizing and repeating that she's gone, tears falling down his face as well because he's been right where she is right now. Soo Hyun cries and finally embraces Hoon back. Which is when Jae Joon walks into the OR and finds the two of them hugging. His face hardens imperceptibly and oh lord is the rivalry on big time.
Thoughts of Mine:
Can I first ask the comments section to cut it out with the unending "Jin Se Yeon is sooo horrible, why isn't Kang Sora the female lead" comments. It's a broken record by now so either watch and have a substantive comment on the story or check out of this show. I don't care much for Jin Se Yeon myself but find she's serviceable enough here and the rest is buoyed by how much I like Jae Hee as a character and how much I love her love story with Hoon. The same thing happened with her in Age of Feeling, I loved her way more than the female lead in that drama because she had the better character and was easier to watch onscreen. She's kinda like a blank slate, she works if I like her character and she falters when she is asked to make an annoying character likable. Normally I need lots of exposition and romance build-up to really buy into the central romance but DS has managed to masterfully sell me on Hoon-Jae Hee without needing to pile on the fanservice scenes between. It's mainly due to Hoon's meaty character set up, the fact that he's been torn from South Korea to grow up in the North, how he has nothing to dream about other than a future with Jae Hee, and now she's all that he has left in his floating life with could easily be cut loose but for his sole connection to her. She is literally his only hope to keep on living and that is just the stuff to build drama romance dreams on. I can see that he'll also grow more into his role as a doctor, saving lives when no one else can and generally fulfilling the destiny his father passed on to him.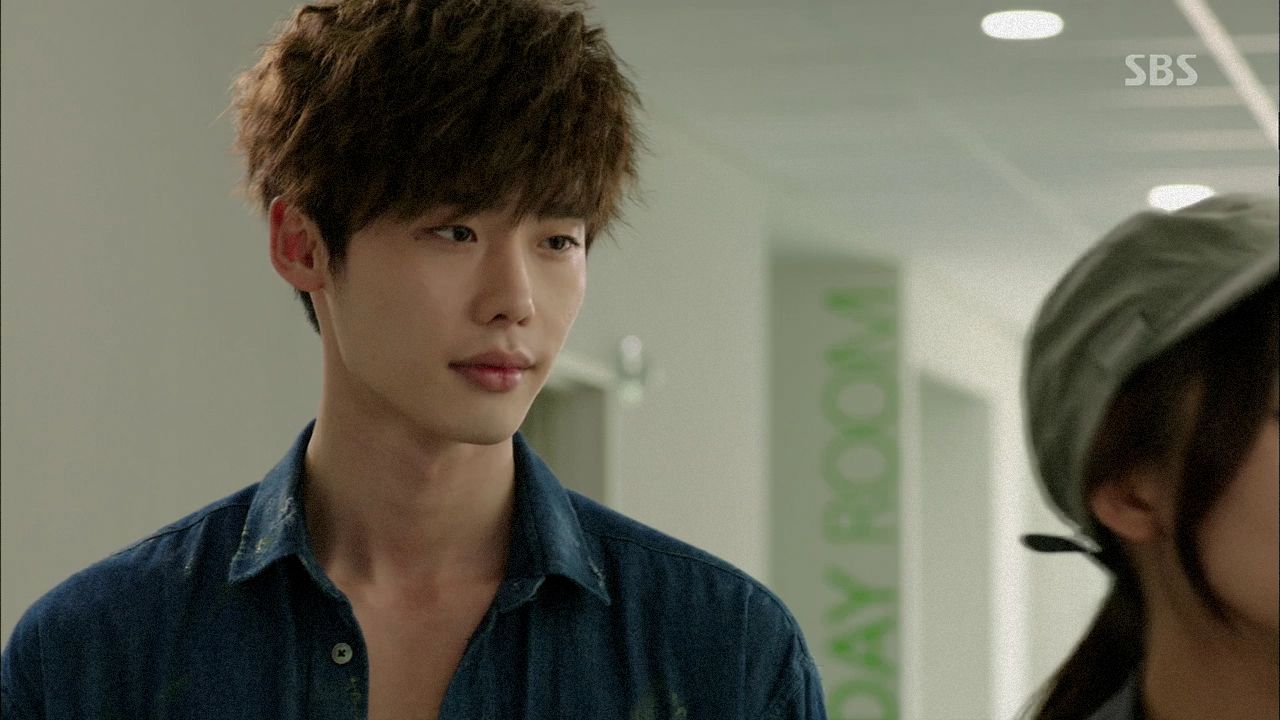 To say Hoon is the ultimate male lead package is putting a lot of faith on his shoulders but so far he's everything I want in my tortured heroes and then some. Soo Hyun got her episode to shine and boy did she step up to the plate. I love Kang Sora's acting for Soo Hyun, a combination of prickly and vulnerable but mostly just a long simmering desire to find solace somewhere. Too bad for Jae Joon to have her find genuine support and comfort in Hoon's arm and not his arms. Jae Joon as a character only works because he's played by Park Hae Jin, all gorgeous in suits and calculating under the devastating eye stares. I'm willing to give him time to show me his layers when I'd have written him off as destined to always be one step behind Hoon. Jae Hee is similarly underdeveloped but she feels more alive because of how she's living and breathing in Hoon's fantasies and memories all the time. THAT is how important she is to him, how anyone can ship Hoon with Soo Hyun boggles the mind. Unless the real Jae Hee is dead, hell will freeze over before Hoon will fall for another woman. I love that Soo Hyun is affected by Hoon and find their chemistry adorable and super fun. But flirting and having stirrings of the heart is one thing, Hoon and Jae Hee have the kind of epic star-crossed love that is destined for happiness that defies all odds or epic flame out of the both dies in each other's arms variety. Hoon falling for Soo Hyun is about as likely as Dr. Moon revealing himself to be a North Korean crack spy master stationed in a Myung Woo hospital all this time.
I loved every moment of this episode, from the Dr. Moon ridiculousness that he would find some random surgeon to bring into the hospital to Hoon once again exhibiting genius surgical abilities such as conjuring up mental simulations in his brain, all the way to poor Soo Hyun's mom needing to go to the Heaven for Dr. Stranger Parents just so her character can crack the tough angry facade and reveal the sad little girl underneath. Bonus points for Hoon once again being there for her when Jae Joon wasn't. I can't quite figure out how Jae Joon and Soo Hyun got together, is he using her to get closer to Chairman Oh or is there genuine feelings for each other underneath their professional scrubs at work? The kiss in episode 3 now feels like out-of-the-blue fanservice since there hasn't been any additional signs of romantic attachment between them, but that could be how they interact as the less affectionate type. On the other hand Jae Hee and Hoon give viewers cavities but I can't get enough of their sweetness. The drama continues to bop along nicely and I'm looking forward to Jae Joon and Hoon fighting over more than top dog status as surgeon of the century at the hospital. So far Hoon's PWNing Jae Joon in every department from being a good supporting shoulder for Soo Hyun to rely on and for stepping up to his medical responsibilities.  Now all I need is for Jae Hee/Seung Hee is get integrated into the crazy loony toons world of Myung Woo hospital and watch the fireworks fly.
Click here to watch Dr. Stranger.