What else can be said about Dr. Stranger as it wraps up the first 10-episodes of its run other than "hang in there everyone, we need the energy and strength because there is 10 more episodes of this out-of-control cat to wrangle!" This drama really has turned into a howling, seething, crazy cat on uppers that refuses to settle down and do cat things like purr and nuzzle happily. I want to pet it but the wildness freaks me out so I have to stand a distance away for the time being until it hopefully returns to normal. This episode closed the ratings gap between Dr. Stranger and Big Man which isn't much of a surprise. The former took a loony toons detour in the last two episodes while the latter keeps building rationally on its own equally as absurd narrative. I still enjoy DS but the mental screw tightening is exhausting. I want to cheer for the good guys, swoon over the romantic stirrings, rage against the bad guys until they get their comeuppance, in general it's time to show hand and give me something to ground the proceedings on a tangible outcome.
Instead the drama continues to play tricks with keeping the big heart surgery conspiracy under wraps from the audience and the fall in ratings is likely the result of everyone getting fed up. I was honestly tired from this episode which at least wasn't as circular as last episode's running around a hospital merry-go-around. There is not enough answers and nothing left of a big conspiracy that is interesting enough for me to want to wait for the answers to arrive. The Seung Hee/Jae Hee identity reveal remains frustratingly back-and-forth, leaving the icky feeling like it doesn't even matter anymore whether she is or she isn't. I believe she is but the drama continues to toss in red herrings like her working still with Comrade Cha to manipulate Hoon. There's a possibility that she is an agent from the very beginning, her childhood meeting with Hoon was all orchestrated by North Korea and she was there to keep him tied to the regime and keep tabs on him. But they genuinely fell in love and thus the first plan was junked for tossing her in a prison and turning Hoon into a medical genius at a torture facility. I'm sure I can come up with other theories but frankly the last two episodes sorta stopped my heart beating happily for this drama. Whether it gets resuscitated in the next episode remains to be seen.
Episode 10 recap:
Hoon returns to his residence and finds Seung Hee there. She smiles at him and runs into his arms while calling him "Hoon-ah" the way Jae Hee did. They hug and then break apart to gingerly touch each other's faces as if to confirm this isn't a dream. Hoon smiles and kisses Seung Hee with all the pent up passion and longing for Jae Hee. She kisses him back just as eagerly and desperately as the camera pans around them.
Comrade Cha sits outside in his vehicle of doom and who pulls up right next to him and rolls down the windows than Secretary Kim. He wonders why Comrade Cha is spying on Hoon and Seung Hee but Comrade Cha declines to explain. Secretary Kim reminds him that part 2 of their plan is now underway and Comrade Cha assures him that the North has already started their part in the plan. Can you tell me what the damn plan is! Comrade Cha smirks that when morning comes, the South Korean folks will be quaking in fear.
PM Jang arrives at his office while the press gathers around him to ask if it's true that North Korea is about to conduct nuclear tests? PM Jang ignores the reporters and goes to a hastily gathered meeting where a news report plays of a North Korean anchor bombastically announcing that nuclear tests are going to take place so the North can protect itself.
The South Korean President phones PM Jang and orders his ass to come see him immediately about this latest situation. The President grumbles about how the North wants to hold talks while still conducting nuclear tests.
Secretary Kim drives PM Jang to see the President and talk turns to how the North is jumping the gun and being too anxious. Secretary Kim thinks it's just saber rattling and PM Jang suggests a better threat would be to do the nuclear tests without announcing it beforehand. Secretary Kim reminds PM Jang of the tense situation 20 years ago when the North threatened nuclear tests but PM Jang brushes it off as nothing will happen. The US did nothing back then either and all it'll do now is cause a temporary ruckus.
Seung Hee drives through the streets and turns to stare at a TV broadcasting the news about North Korea holding nuclear tests and telling the citizens to remain calm. She drives off without any reaction.
Hoon sits with Seung Hee and feeds her curry rice with seaweed like he imagined once. He flashes back to her falling over the bridge in Budapest and that nightmare wakes him up from his dream. He looks around and can't find Seung Hee anywhere. He runs outside screaming "Jae Hee-ah!"
Seung Hee's yellow car pulls up and Hoon anxiously pulls her in for a hug happy to find her still there and it wasn't all just a dream. Hoon picks Seung Hee up in his arms and twirls her around happily and she is equally as happy to be back with him.
Hoon sits with Seung Hee at a cafe and she asks when he knew she was Jae Hee? Hoon knew the first time he saw her. Hoon asks where to now and Seung Hee wants to go back to the hospital to check on the baby. Hoon agrees since she needs to go back otherwise if she doesn't show up people will suspect she is Jae Hee.
Hoon calls Dr. Moon saying he'll go in later today and Dr. Moon is fine with that since Hoon won the surgery battle for him. Dr. Moon tells Hoon to come to the party he's throwing tonight. Hoon hangs up and wants to spend more time with Seung Hee. She smiles and agrees to go wherever as long as it's the two of them.
Hoon and Seung Hee go on a bike riding date just like they did back in North Korea. They wander around like a normal couple, playing the piano outdoors, posing dorkily against an outdoor mural, scribbling a heart message on a lover's wall that says "Hoon-ah hearts Jae Hee".
They stand before a pair of wings painted on a staircase and snap a picture together. Seung Hee looks out over the bay as Hoon makes a call and smiles at her. She asks why he still hasn't asked her why she's here as Han Seung Hee and not as Song Jae Hee? That doesn't matter to him since she's here with him. Seung Hee says it matters to her but he tells her he doesn't care. Hoon deposits her in the car and tells her to trust him as he drives off.
Dr. Moon is sitting in Jae Joon's office like it's his office with his legs up on the desk and making calls. Jae Joon walks in and tells Dr. Moon to leave since it's currently still his office. Dr. Moon gets up and invites Jae Joon to attend the party tonight and treat it like a farewell party since Dr. Moon heard Jae Joon is being transferred to the secondary hospital soon. Jae Joon sits down and looks at the castle model when he spots Chairman Oh walking past. He sighs and then storms into Chairman Oh's office and barges in.
Chairman Oh yells at Jae Joon to leave now, he has nothing he wants to hear from him. Jae Joon wants to explain but Chairman Oh won't listen to him. Chairman Oh's secretary brings the hospital guards over but they find the door locked. Jae Joon glances out the window and sees the guards which triggers his memory.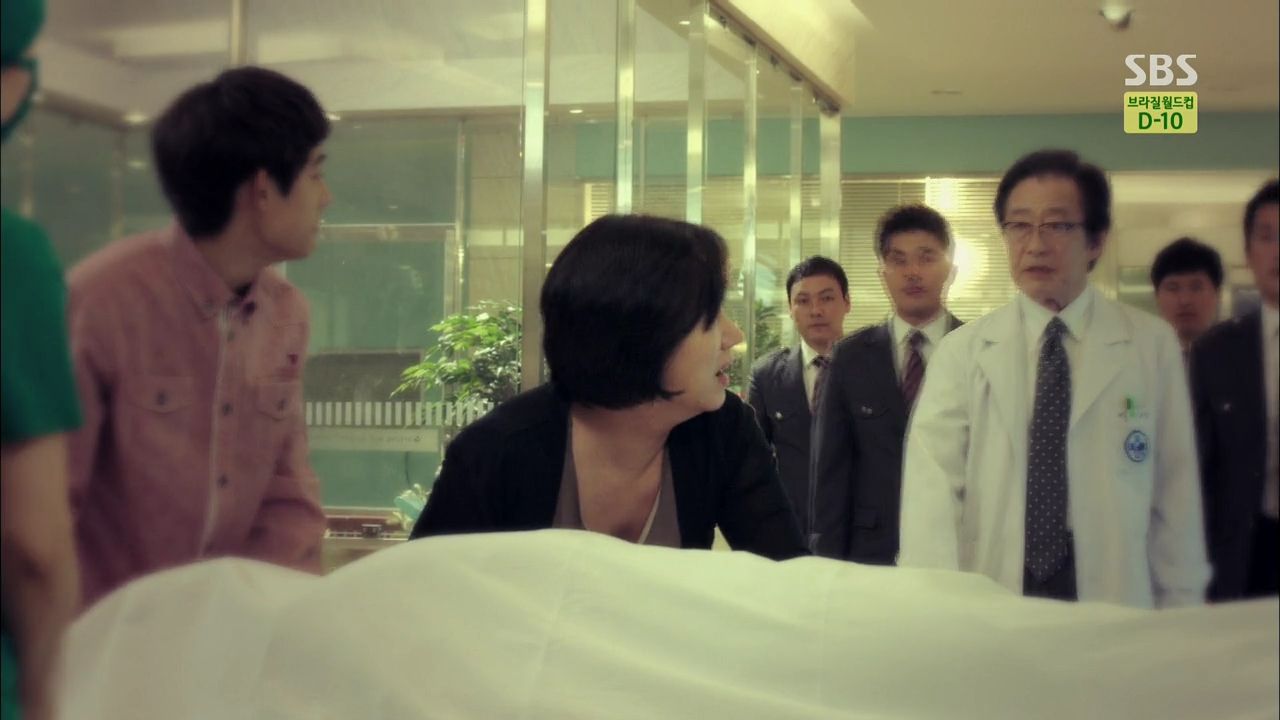 Flashback to Jae Joon's mom crying over his dead dad who is wheeled out of the OR. Mom demands to know how the surgery went wrong and her husband died! Chairman Oh walks over and declares that the patient came too late to seek treatment but Jae Joon's mom wails that her husband walked into the hospital just fine. Dr. Choi looks very chastened but Chairman Oh sticks with the story that they tried their best.
Little Jae Joon grabs Chairman Oh's arm and screams for him to save his dad, to give him back his dad. The hospital guards grab him and allow Chairman Oh and Dr. Choi to walk away. Jae Joon screams and cries and wants his dad back.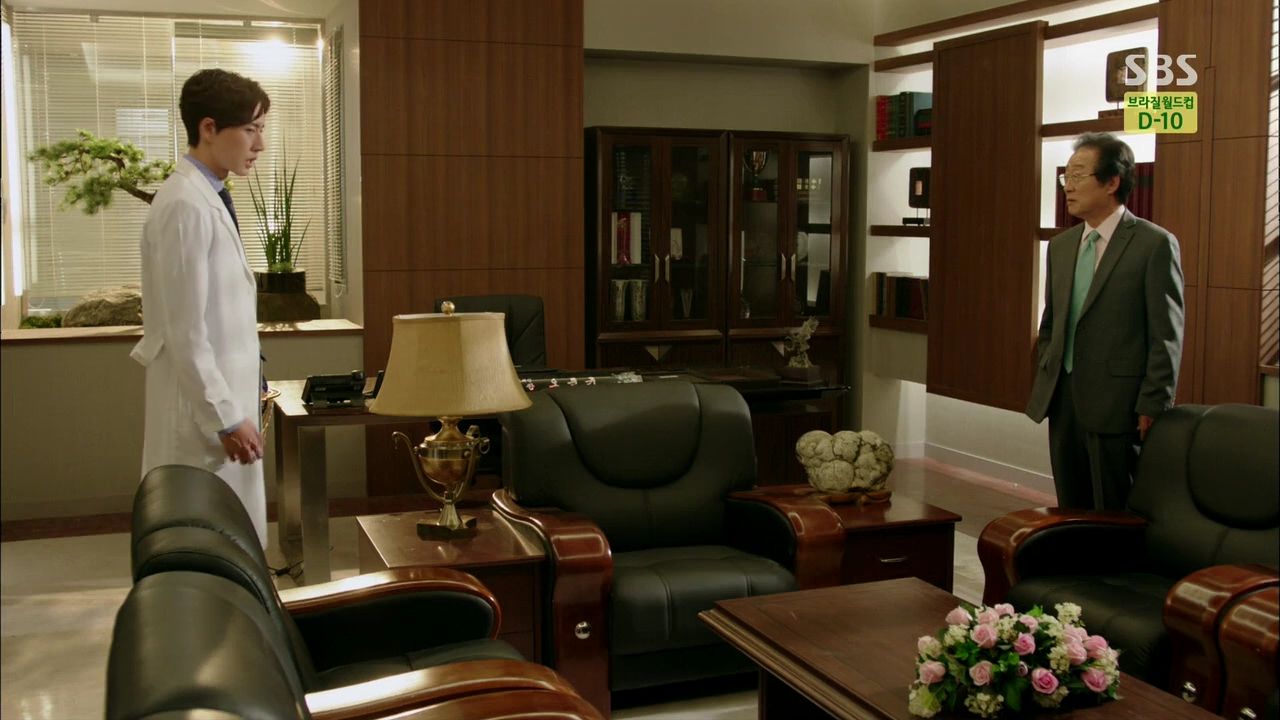 Jae Joon begs Chairman Oh to reconsider despite the battle determining the outcome. This is about Myung Woo Hospital's future and he can't leave it to someone like Park Hoon. Chairman Oh doesn't want to give this chance to Jae Joon either. He wants to send Jae Joon to the secondary hospital and whether or not Jae Joon wants to go is up to him. Jae Joon glares at Chairman Oh and shakes of the guards before storming off.
Dr. Moon is giggling to watch this scene unfold and Dr. Choi tells him to stop being immature and come with him to convince Chairman Oh not to transfer Jae Joon to the secondary hospital. Jae Joon would never agree to it and would leave Myung Woo and that can't happen because the hospital needs someone like him.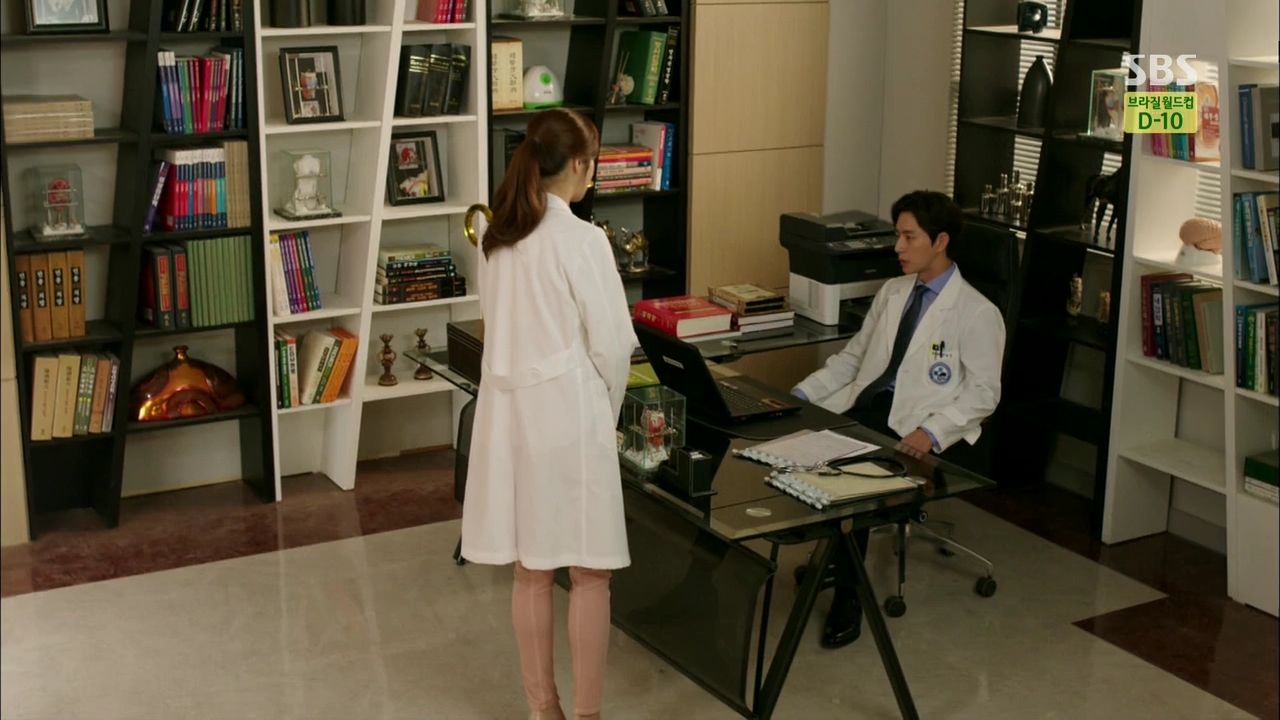 Jae Joon storms back to his office and finds Soo Hyun waiting for him. She assures him not to worry because her dad is just pissed right now. And even if he goes to the secondary hospital for the time being it's not that bad. Jae Joon refuses to go anywhere because his place is here. He has to stay here to do what he wants to do. Soo Hyun knows he wants to make Myung Woo the best hospital but Jae Joon stares at the castle and remembers him telling his friend that he wants the castle to destroy it. Jae Joon tells Soo Hyun that he wanted to make Myung Woo the best but that idea has changed now with the arrival of Park Hoon.
Soo Hyun tries to argue that Jae Joon's predicament isn't because of Park Hoon but Jae Joon accuses her of helping Hoon to ruin him. Wasn't she moving over to hospital management but why is she pretending to be a doctor now by doing the surgery for Hoon's team? Soo Hyun is taken aback at Jae Joon calling her being a doctor just playing around and tries to explain she did it because she wants to save the baby. Jae Joon doesn't accept that reason, she did it to prove to Jae Joon she could and that is why she was willing to join Park Hoon. Soo Hyun steels herself and asks "is there something wrong with that?"
Jae Joon stands up and rails at Soo Hyun for her stupid reason which caused him to lose to a bastard like Park Hoon. Does that seem right to her? Soo Hyun is speechless in front of such assholery because she knows the reason why Jae Joon lost. He lost because he wanted to win and not because he wanted to save the baby's life. He saw the surgery as a game he had to win which is why he lost. The person pretending to be a doctor is Jae Joon and not her, and Jae Joon lost to a real doctor who is Park Hoon. Soo Hyun storms out leaving Jae Joon seething.
Soo Hyun ignores calls on her cell and thinks back to all her past good and bad interactions with Jae Joon. I don't think some kisses and hugs are enough to overlook the rest of his glaring personality flaws. Sang Jin comes to find Soo Hyun to go meet with their dad but she delivers a kick to his groin and leaves. Sang Jin chases her out of the hospital but Soo Hyun gets into her shiny red convertible and books it.
Soo Hyun arrives at Hoon's little clinic and walks inside to find it empty. She slowly walks over to his living quarters and looks around before sitting down at the table. She looks so vulnerable and lonely and finally starts to cry.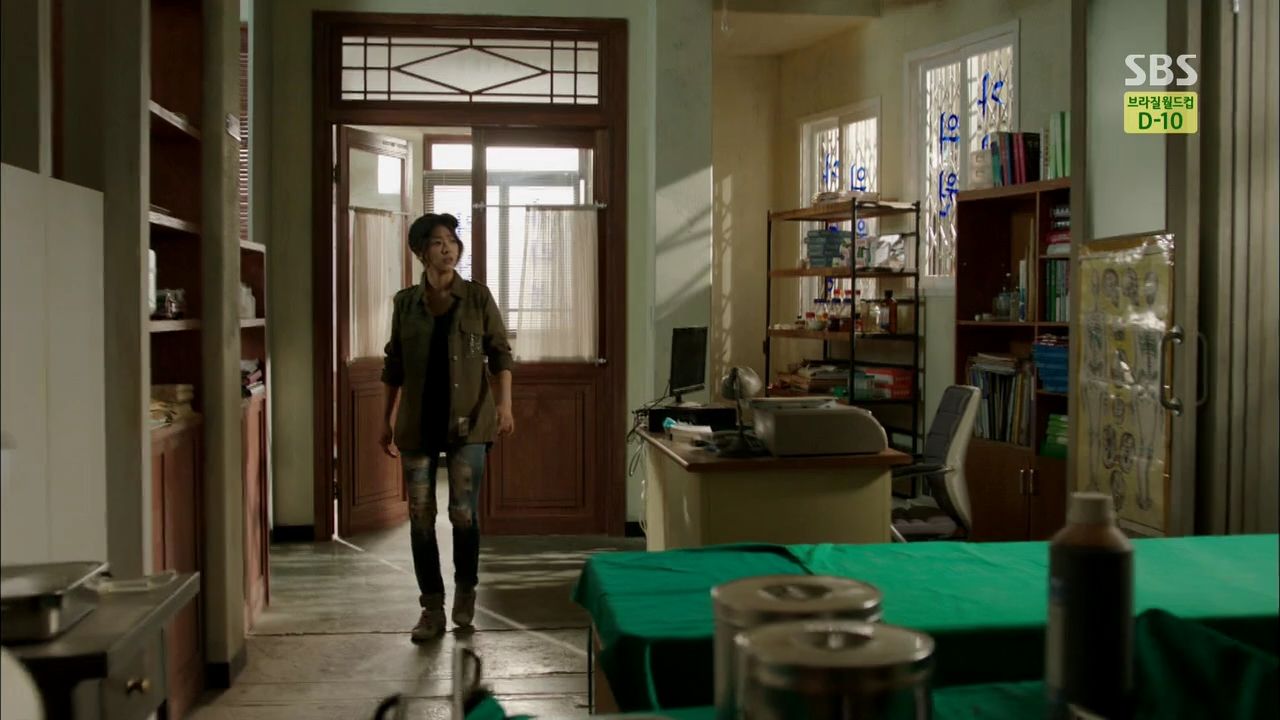 Chang Yi receives a text from Hoon thanking her for everything and saying he's leaving. She rushes to the little hospital and finds Soo Hyun inside also looking for Hoon. Chang Yi is frustrated with Hoon and wonders where the heck he's going?
Hoon arrives at the shipping dock with Seung Hee and she asks why they are here? Hoon declares that he doesn't care or need to know why she is here, all he knows is that she is in danger and it can't be avoided. Hoon promises to protect Seung Hee. He explains that he once secretly took a freighter out of South Korea and today he made a call and learned a freighter is departing.
Seung Hee begs Hoon to not try and leave because they can't successfully escape. Hoon confidently tells her to trust him and he'll protect her. Hoon assures her that the person he asked for help from is very trustworthy. The guy walks over and tells Hoon to follow because the freighter is leaving shortly. Seung Hee keeps saying no but Hoon strokes her face and asks her to just look at him. They walk off to take the freighter.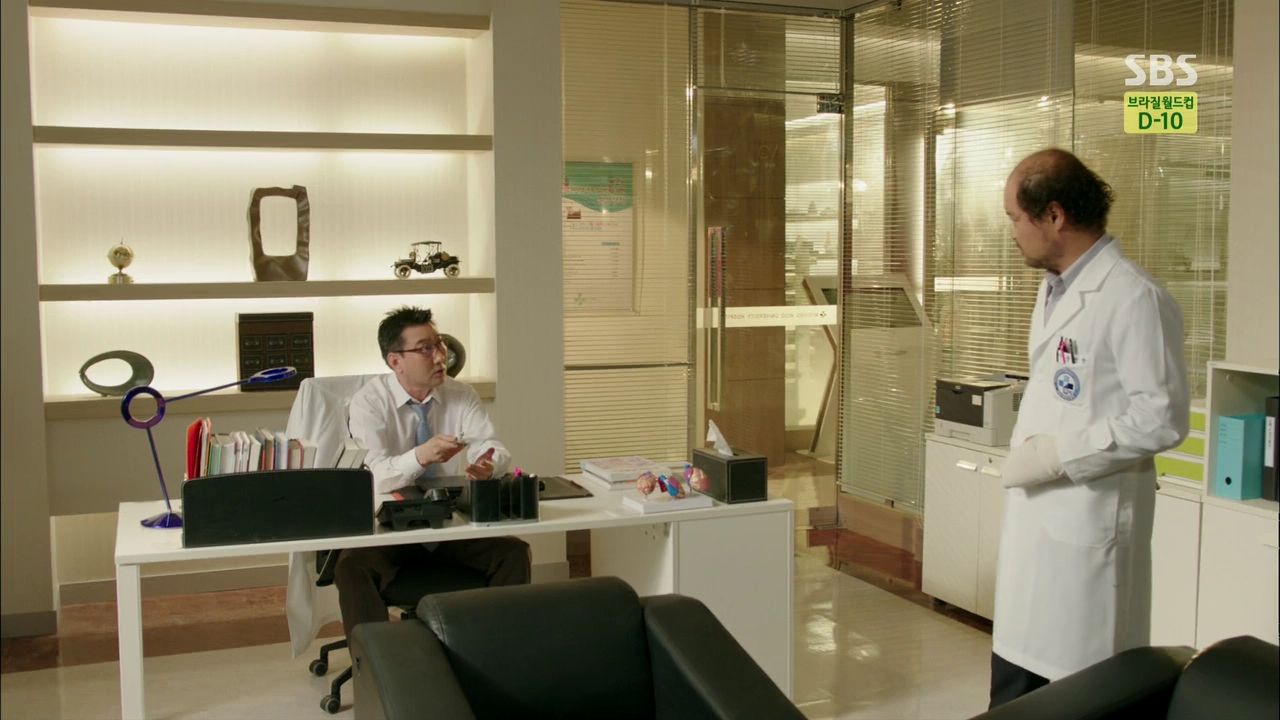 Dr. Moon can't reach Park Hoon and Dr. Eun comes by asking if anyone has seen Dr. Han Seung Hee because she's also not answering her calls and can't be found. Dr. Yang is in the room and hears both Hoon and Seung Hee are MIA. Secretary Kim informs PM Jang that Park Hoon has gone missing. PM Jang wonders where Han Seung Hee is and hears that they are likely together right now.
Hoon and Seung Hee run towards the freighter when a black van pulls up and men pop out to grab the guy arranging their departure. He waves at them to run for it and they book it until suddenly Comrade Cha screams out "Hey Park Hoon!" Hoon stops and looks up to see Comrade Cha standing on top of a freight container. Comrade Cha says "Long time no see". He asks if they are trying to leave? Seung Hee turns to look desperately up at him.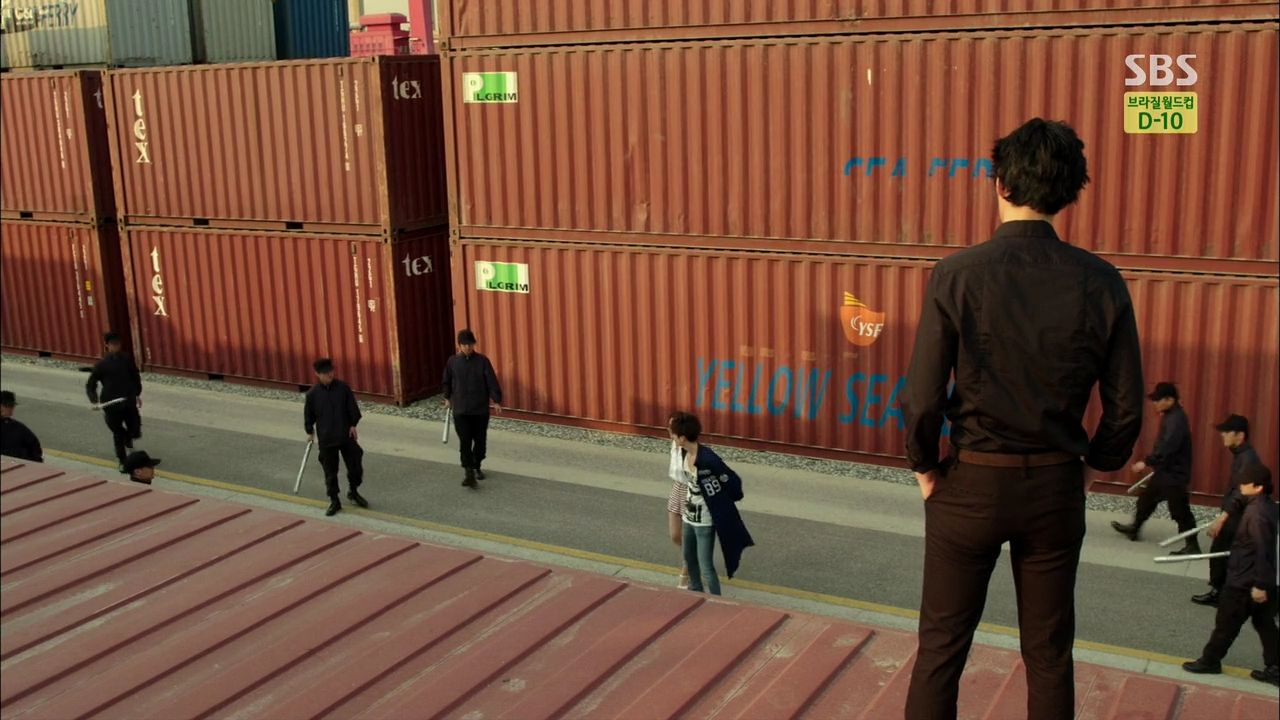 Men surround Hoon and Seung Hee and Hoon is promptly rendered unconscious. Seung Hee watches in worry and keeps looking up at Comrade Cha angrily.
Dr. Moon has summoned Dr. Keom and Dr. Kim to attend his party today but neither look very happy about it. He tells them to pick the right side of the team since the head of the department is about to be changed. Chang Yi barges into Dr. Moon's office asking if Hoon is here but Dr. Moon reveals he can't find him either.
Chang Yi's mom watches news of the impending North Korean nuclear tests and sighs. Chang Yi goes to cry to her mom that Hoon is missing and what if he's been taken by the North Koreans? She sobs in worry for Hoon and her Mom just hugs her reassuringly.
Hoon wakes up in a windowless room with his arms tied behind his back. He looks around and sees instruments of torture and North Korean signs and pictures hung up on the wall. Comrade Cha walks in dressed in his uniform and asks how it feels to be back in his homeland? Hoon screams "Where is Jae Hee!" and Seung Hee is led in blindfolded.
Comrade Cha immediately punches Seung Hee in the face and then drags her up to punch her a second time. Hoon keep screaming that he'll kill Comrade Cha! Seung Hee is dragged back up again and Comrade Cha smirks before pulling her shirt down. Hoon screams in horror and promises to do whatever is asked of him. Seung Hee is dragged back out and Hoon stares at her and thinks "don't worry, Jae Hee-ah."
Comrade Cha walks over and tells Park Hoon that he has to do PM Jang's surgery. He also can't tell anyone that Han Seung Hee is Song Jae Hee. And lastly he'll always be watching them. Hoon glares in rage at Comrade Cha who orders him to say "Yes sir, I understand." Hoon spits those words out and Comrade Cha stabs him with a needle to render him unconscious again.
Comrade Cha, who remains fashionably conscious and has changed out of his NK military uniform and back to being cool in all-black, has Hoon dragged out. He walks past the blindfolded Seung Hee and pulls her blindfold off and helps pull her shirt up. She pushes him off and pulls her own shirt on and coldly says "I want to go back." Comrade Cha allows her to follow Hoon out.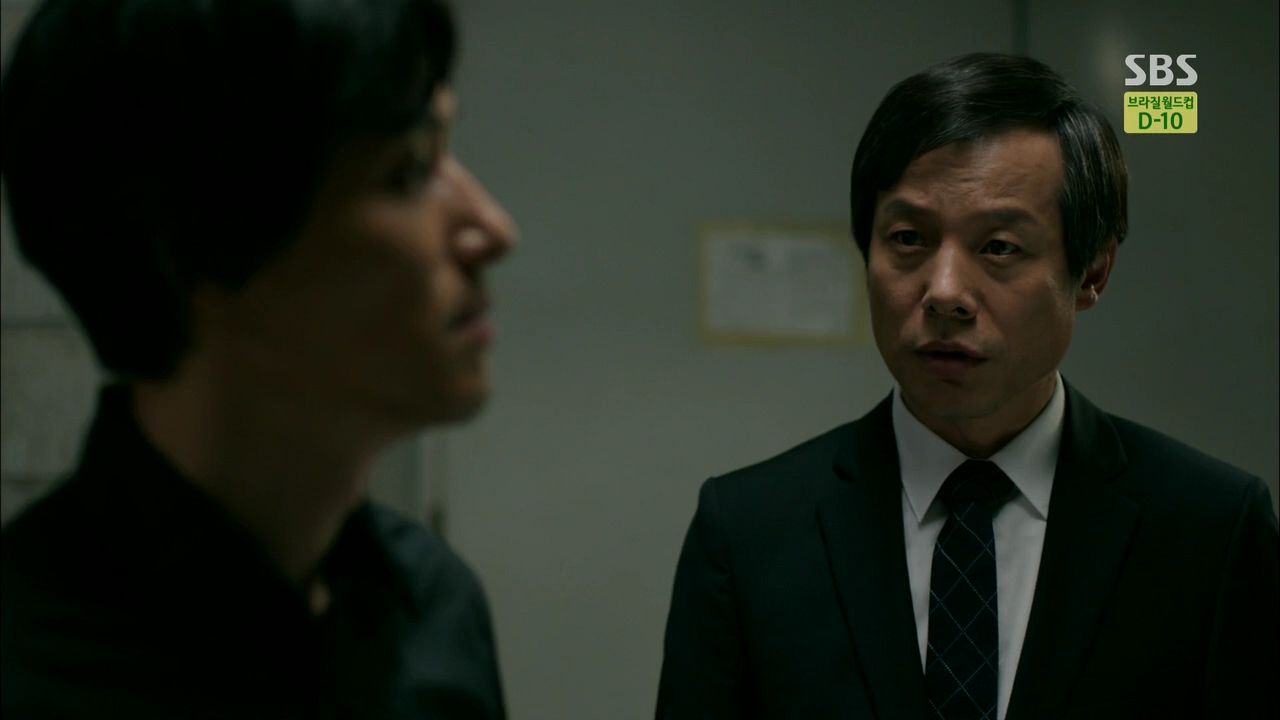 Afterwards Secretary Kim shows up and tells Comrade Cha why the delay in sending them back because it'll cause major problems if people found out they disappeared together. Comrade Cha thinks this delay was worthwhile because he confirmed what Song Jae Hee means to Park Hoon. If it's him doing the surgery, then they can hand the heart over without any worries.
The President asks why the North wants to have high level talks and still plan to do nuclear tests. The President heard the North want to use the talks to ask for economic aid upwards of 20 billion. PM Jang thinks it's worth keeping the peace in the peninsula if it costs just 5% of their national defense budget. The President refuses to be led by the nose. PM Jang wants to release this demand to the public and let the public decide. The President refuses because to do so will cause public confusion.
PM Jang tsk tsks at the President for being so stingy, how did he become the President of South Korea? PM Jang says everything can be bought, a war can be bought just like peace can be bought. He also wants the public made aware of who solved this crisis. Secretary Kim assures PM Jang that Park Hoon has gone back to the hospital and he'll keep a close eye on him. PM Jang can't have Hoon act out otherwise their plans will be disrupted. Secretary Kim gets a call and announces that Han Jae Joon is here to see PM Jang.
Hoon is deposited back outside his little clinic and Chang Yi finds him still passed out in the car. Her worried pounding wakes him up and he looks around to find himself alone. Hoon gets out of the car looking for Jae Hee while Chang Yi wants to know why he turned off his phone. Hoon only has Jae Hee on his mind but Chang Yi angrily asks if he knew how worried she was? Hoon gets a call from Soo Hyun and he's about to hang up on her when he hears that everyone is at the doctor's gathering right now. He asks if Dr. Han Seung Hee is there and Soo Hyun looks around and confirms she's there. We see Seung Hee sitting like a depressed log in the corner of the room.
Hoon rushes to the gathering while Chang Yi pesters him with a million question that he's not willing to answer. Chang Yi asks if Jae Hee noona is a spy otherwise why is she here? Chang Yi yells at her to stop this line of questions, didn't she see Seung Hee with PM Jang and if so then she couldn't have been a spy. Chang Yi suggests PM Jang could be a spy as well and that pushes Hoon to the limit. He pulls over and drags Chang Yi out of the truck and tells her not to show up before him anymore. She asks why and he claims he doesn't want to see her anymore. Hoon drives off leaving Chang Yi screaming angrily from the side of the road.
Jae Joon goes to beg PM Jang for another chance but PM Jang doesn't understand why Jae Joon with his stellar credentials insists on staying at Myung Woo. Jae Joon claims he just wants to win and asks again for another chance. PM Jang claims he can't interfere with Myung Woo personnel decisions but Jae Joon brings up how PM Jang did just that in getting the kicked out Park Hoon back at Myung Woo. Jae Joon knows Chairman Oh is not the type of person to bring back someone he kicked out so he must have been influenced by a higher power. He asks PM Jang to do the same for him and give him another chance. Jae Joon bows his head low to the smirking PM Jang.
Jae Joon leaves PM Jang's office and passes Secretary Kim in the hallway. PM Jang is angry that the arrogant Han Jae Joon dared to just threaten him. Secretary Kim hands over to PM Jang the file on Han Jae Joon. PM Jang has no interest in reading it until Secretary Kim reveals that Han Jae Joon is not his real name.
Hoon arrives at the increasingly drunken party and walks right up to Seung Hee and drags her out of there behind him.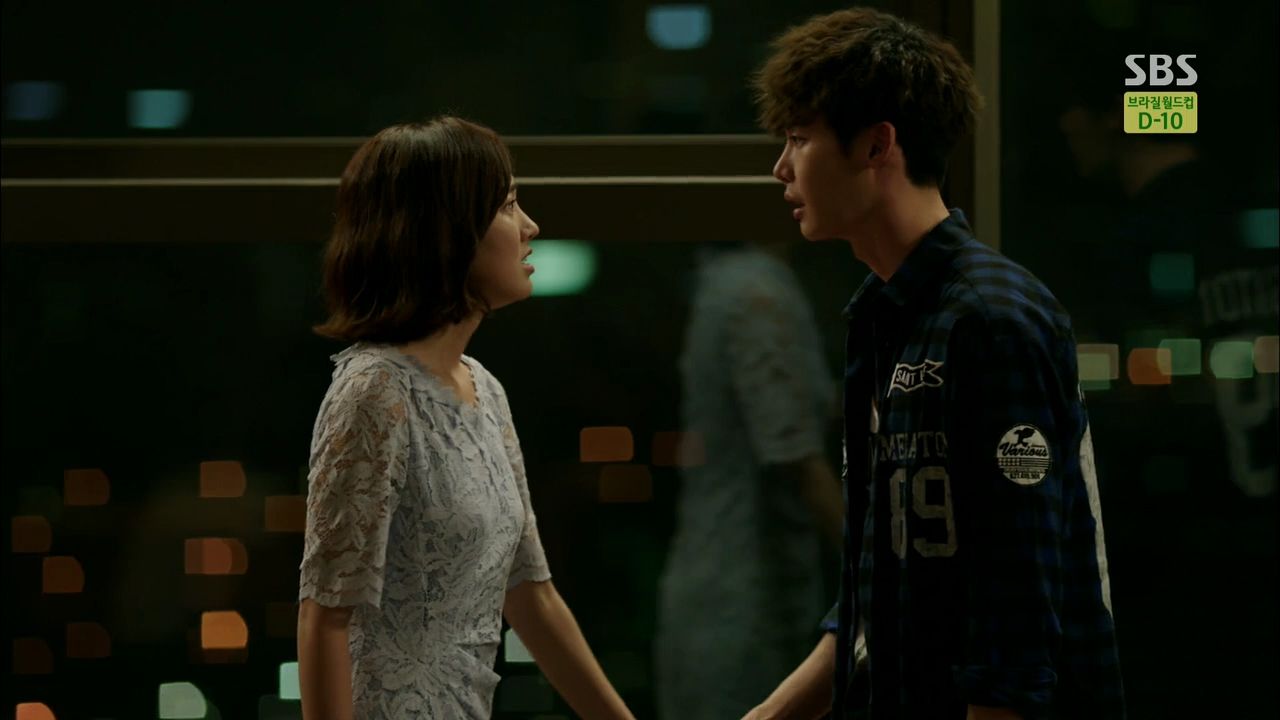 They talk in private in private and Hoon insists on leaving again or hiding. Seung Hee tells him it's no use, they will be found no matter where they run. Hoon suggests going to the cops and finding jail a safe place from their reach. Seung Hee screams that the South Korean Prime Minister is in on it as well! There is no place in this world that is safe for them. She pleads with Hoon to go back before anyone sees them.
Hoon asks if she's worried about him and Seung Hee says she is! She keeps begging him to go back but Hoon keeps insisting on running away and promising to protect her. Finally Seung Hee slaps him across the face and asks if he knows how much she missed him and longed to see him. How long she endured before they could see each other. Why won't he listen to her now? She doesn't want to be separated from him and she doesn't want him in danger. She starts to cry and calls him an idiot. Hoon agrees to listen to her from now on? He smiles and asks what they need to do now? Go back inside and have a good time at the party?
Seung Hee walks into Hoon's arms and hugs him tightly while crying.
Jae Joon takes his pity party pleading case all the way to Chairman Oh's home. Lightning flashes because of course it has to rain to make him suffer more. PM Jang reads Jae Joon's file and asks if this is true? Secretary Kim confirms it's true, Jae Joon lost his father 20 years ago during surgery at Myung Woo hospital. It was that malpractice case which led to Park Chul filing the lawsuit against the hospital. Everything started because of Jae Joon's father's death.
Jae Joon kneels in the rain begging Chairman Oh for another chance while the Chairman barks at him to leave now!
Little Jae Joon did the same thing 20 years ago tracking Chairman Oh to his house and demanding an answer for why his dad died. Back then Chairman Oh claimed he did nothing to hurt Jae Joon's dad and he did everything as a doctor to save a life. Chairman Oh goes back inside and leaves Jae Joon kneeling out in the rain. Sang Jin tries to blame Soo Hyun for causing this all when she took Park Hoon's side.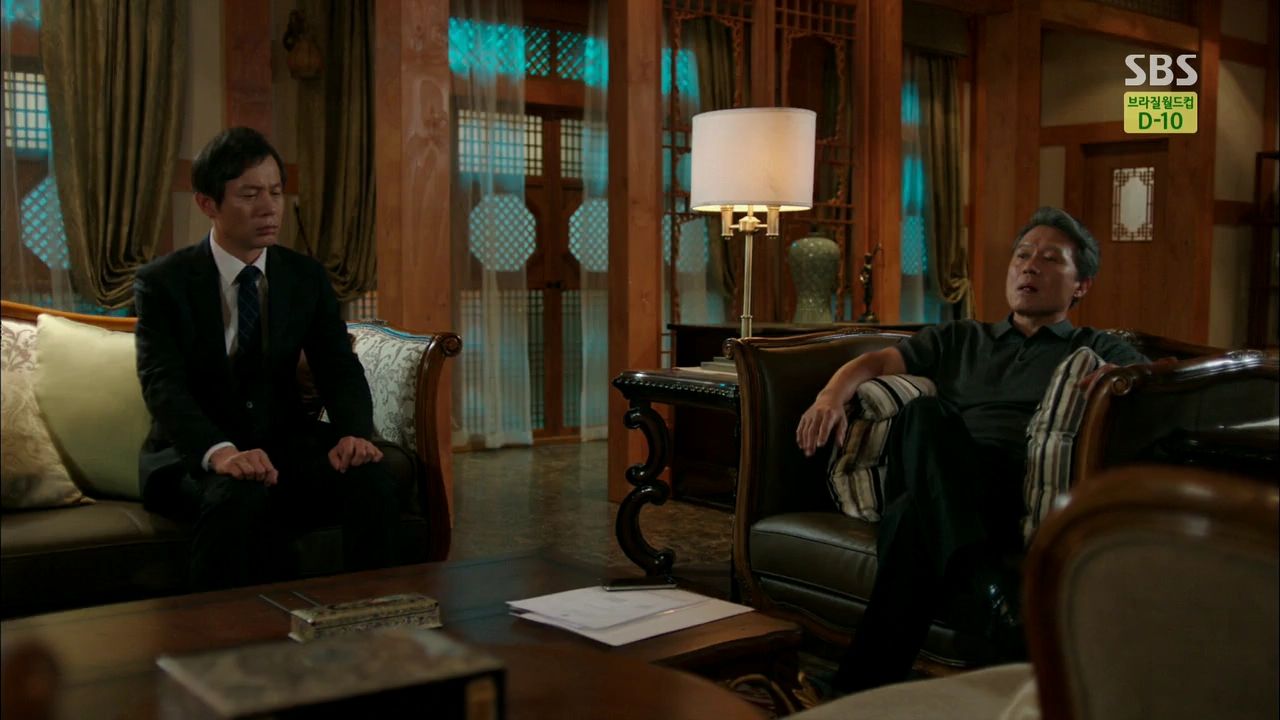 Sang Jin suddenly gets a call from PM Jang's office and hands the phone over to his dad. PM Jang tells Chairman Oh to give him another chance. Chairman Oh asks him not to interfere with their hospital personnel matters but PM Jang insists it involves his heart surgery so he cares. Chairman Oh claims he's not a politician and doesn't change his mind. PM Jang tells Chairman Oh to think about it because he could get himself a loyal dog this way. If he changes his mind, PM Jang will help him come up with a suitable excuse so as to not lose face.
The hospital human resources guy arrives and reports to Chairman Oh that Dr. Moon viewed Seung Hee's medical records but Seung Hee agreed not to press charges. Chairman Oh looks really angry to hear this.
Chairman Oh goes to look outside at the kneeling Jae Joon and Sang Jin suggests bringing him inside. He might be good to use against Dr. Moon and Park Hoon. Chairman Oh worried that Jae Joon appeared like the type to bite his owner one day which is why he's teaching him a lesson today. Sang Jin asks how PM Jang knew about Park Hoon and them looking at the medical records?
Dr Yang sneaks off from the party to make a shady call. He goes back to his seat and Nurse Min asks who he called and he lies that it was the hospital. Nurse Min wearily says she's going home. Other than Dr. Moon, everyone looks sad at this party.
Soo Hyun and Park Hoon are having a very fake happy boisterous noraebang session on stage. Dr. Yang looks around and indeed everyone looks unhappy deep inside. Seung Hee sits at her seat and stares sadly as Soo Hyun and Hoon sing together on stage. Back at the evil lair, Secretary Kim wonders if Chairman Oh will change his mind? PM Jang knows he will. What about Hoon and Jae Joon? PM Jang smirks that currently the score is 1 to 0.
Chairman Oh goes outside and Jae Joon keeps apologizing and begging for another chance. Chairman Oh asks why he's doing this and Jae Joon remembers how Chairman Oh coldly told him that nothing will bring his father back. Adult Jae Joon claims he still has unfinished business at turning Myung Woo into the best hospital and he doesn't want to lose Soo Hyun.
Jae Joon crawls on his knees over to Chairman Oh and begs him for another chance with the scene intercut with the flashback of little Jae Joon furiously yelling that he will get revenge on Chairman Oh one day!
Thoughts of Mine:
Ugh, is anyone not annoyed or exhausted with this drama? Please speak up and assure me it'll get better again because in the span of two quick episodes the momentum took a nose dive. I like Hoon and Jae Hee's love story, which may be the treacly first love but is given deeper purpose because of their North Korean danger and greater importance because of how desperately Hoon needs Jae Hee to want to keep on living. The last two episodes provide tons of shippy moments but nothing felt satisfying because the drama insists on keeping Seung Hee's identity under wraps. I don't believe Hoon can ever be lied to about who she is, so she has to be Jae Hee and none of Seung Hee's weird about-turn coldness around Comrade Cha makes me doubt she is Jae Hee. The problem is the drama seems to find perverse pleasure in playing the who-is-she-game along with the what-is-the-heart-surgery-plan, stringing the audience along when we don't need to be kept in the dark. This drama can coast on wonky plot points and crazy unbelievable abilities but shouldn't toy with audience interest. I'd be out for good if I wasn't recapping and also if I didn't like Hoon's character so much in the beginning. Right now I don't quite like any character in this drama and that's a terrible conundrum as a viewer.
Jae Joon might have gotten a pass from me had his devastation as a child losing his father been shown earlier, but it's too late now to really endear him when we see him being jealous of Hoon as well as taking out his frustrations on Soo Hyun. Both are unrelated to his revenge but part of his personality that I don't like one whit. Jae Joon's revenge plan also seems so nebulous? Destroy Myung Woo Hospital? Sure, but why does he first need to be designated as heir apparent in order to make that happen? Is it worth groveling to Chairman Oh? I have a hard time believing someone with his smarts can come up with a plan B, or at least doesn't already have one handy. Soo Hyun's lost her spunk entirely but remains the only not wholly fucked up lead in the drama if what tips her wallowing in misery is being put down on Jae Joon. ae Joon finally gets his backstory and it was both too late and also came along with showing he is a major asshole regardless of whether he has a daddy death to avenge. Soo Hyun is so marginalized as a character it's a waste of her great early development to shunt her to the role of feeling good or bad depending on guys in her life either supporting her or putting her own. Why have great second leads but give them such little screen time and make me wallow in too much time spent on PM Jang and Comrade Cha's smirky faces.
I've seen way toooooo much of all the villains in this piece, especially at the expense of characters I want to see more of such as Jae Joon, Soo Hyun, and Chang Yi. Smirking PM Jang viscerally makes me want to punch the screen, condescending patronizing Chairman Oh needs to be taken down 10 pegs, Sang Jin is good for lame comic relief, Secretary Kim remains rather vague in his intentions but aside from the shooting on the bridge to help Hoon he's done nothing to make me think he's a good guy, and lastly Comrade Cha needs to be gutted and then tossed to the fishes to finish up. I think the story overreaches by having so many people involved in this big plot, and make them all so one-dimensionally bad. I don't feel anything for them nor do I understand what they are after. Oh yes, PM Jang wants more power and Chairman Oh wants more prestige, but what they are seeking is already at their finger tips and anything more is incrementally centimeters in value add and doesn't warrant so much backdoor mongering.
This story makes everything feel like hamsters running in a giant circle but it's all still within a big cage. Nothing quite reaches out to capture a greater significance despite all the pain and suffering. Initially Jae Hee and Hoon's love was star-crossed enough to make me ache for them, but now all the skulduggery on Seung Hee's part leaves me cold to whatever is motivating her and causing her to keep on playing both sides. I found Hoon's Jae Hee's fixation really romantic in the beginning but now it's puttering in his way of dealing with her reappearance. He is all reactive and prone to jumping to whatever easy solution without actually figuring out what the danger is that he's facing. The whole "I don't care why" attitude he has with Seung Hee/Jae Hee is like sticking his head in the sand. How can he outwit his enemies unless he knows what their big plan is? I need answers and I needed them like yesterday, but if it arrives next week then maybe I can be coaxed back on the DS loony train once again.
Click here to watch Dr. Stranger.