Now that the Kim Hyun Joong domestic violence allegations are entering into the police sorting through statements and evidence phase, the news will likely ebb until its time for the police to make a recommendation to the prosecutor's office and/or there is a settlement and the matter is resolved that way. This post will serve as a suitable capper for the whole messy saga since it erupted two weeks ago and understandably garnered a lot of attention. I've had a soft spot for Kim Hyun Joong since Playful Kiss and even if his acting has or hasn't improved, he was always my cool Baek Seung Jo. Having assault allegations lobbed against him was very disappointing for me, especially since his agency Keyeast released a statement that admitted to one physical fight while trying to downplay or unconvincingly refute the other claims raised by the victim. Once is enough when it comes to violence and abuse.
Kim Hyun Joong's police interview on the evening of September 2nd didn't last all night as the police thought it might, instead lasting for four hours and ending after 1 am in the morning. The media was still stationed outside waiting for him to leave and as he departed he shared a simple statement with the media apologizing and promising to cooperate fully with the investigation. The police have announced that Kim Hyun Joong admitted to one of the charges against him, the fight in May which resulted in the victim's bruises that required two weeks to heal, but denied that the abuse was habitual which was another charge. He also denied the fight in July which the victim claimed resulted in a crack rib, admitting that the couple fooled around which led to the fracture but denied he was violent then nor was he even aware that she was injured. The police indicate that Kim Hyun Joong's interview did not change from the outline of the initial statement released by Keyeast. Now the case goes into the deliberation phase to sort through the conflicting evidence.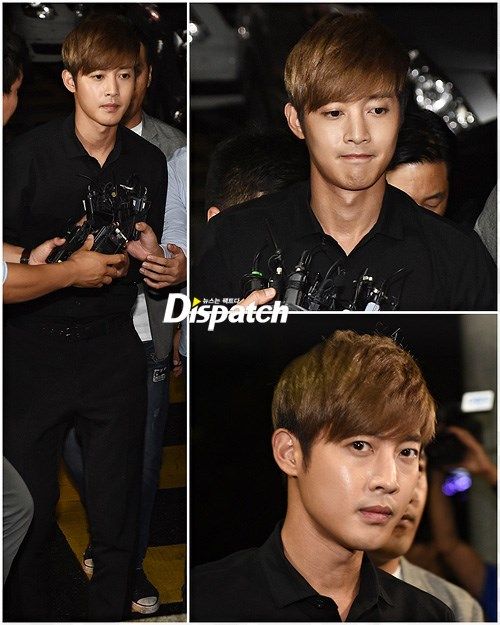 Taking the one admitted allegation that he injured his then girlfriend "A" in a verbal fight that escalated into physical, reportedly over breaking up, that's enough for me to ask that Kim Hyun Joong take anger management classes, get extensive probation if not jail time (for a first time offender he probably won't get jail), and really reflect on why a person has any excuse for losing one's temper to the degree of expressing it through physical violence. I'm disappointed if his fans continue to harp on what the victim did or didn't do in the fight in question, or what her motives are for pressing charges now. That doesn't matter because there only excuse for physical violence is to defend from bodily harm, and seeing that he's an extremely muscular and fight male specimen, I find it hard to believe that even if he was trying to neutralize her first physical aggression that it didn't end with one blow to stop her if she got physical first but continued on with multiple strikes as if she was on some major uppers and was coming at him over and over again.