Oh boy is this uncomfortable to look at. Perhaps the jarring reaction is mostly due to unexpectedly seeing the first movie still from the upcoming Korean-Chinese romance movie After Love starring Park Shi Hoo and Yoon Eun Hye. I was hoping to ease myself into this movie, try to test out the waters to see if I can get over my perception of Park Shi Hoo and just watch the movie for Yoon Eun Hye. The first still of the two leads in bridal attire filming a wedding presented to me is akin to making a toddler who can barely walk run down the block to find mommy.
The movie has been filming in picturesque Jeju for the last month and Park Shi Hoo arrived first as his character has more scenes there than Yoon Eun Hye who joined him only recently. They play a married couple who discovers what true love is after one spouse dies. What a total downer storyboard. I dislike everything about Yoon Eun Hye's dowdy bridal look for this movie from the wrapped off-the-shoulder heavy fabric dress to her twenties flapper hairdo, but I have to say the two leads look like they are genuinely enjoying the filming process.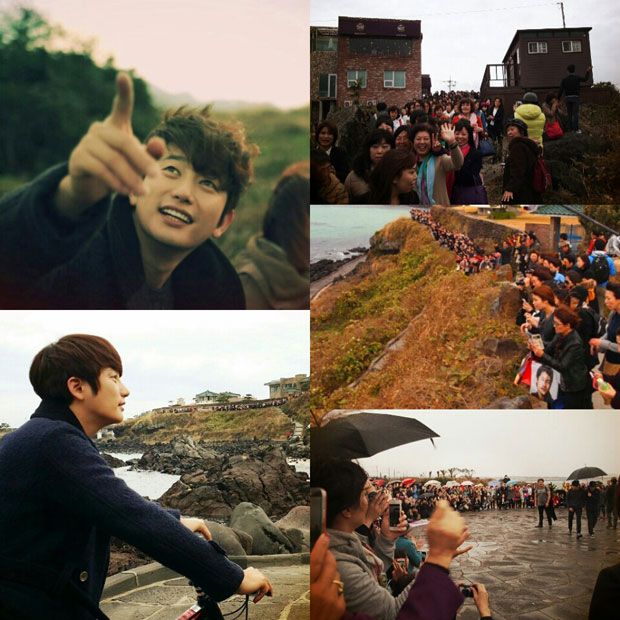 Park Shi Hoo also invited his dedicated fans from across Asia to visit and attend a fan meeting at a nearby hotel with further access to the filming sites. That's….a lot of Park Shi Hoo fans who made the trek. I'm impressed, and I don't mean that sarcastically. His fans are clearly very very devoted to him and willing to spend both the time and money to support him.