With my Yoo Seung Ho safely out of the army and back in my virtual drama land embrace, that leaves only Song Joong Ki left that I'm waiting to return triumphant from his military service stint. He's still got four more months left so I haven't been dialing up my anticipation too much yet but he was back in the news in a big way this week courtesy of his last drama Nice Guy leading lady Moon Chae Won. She's been out promoting the rom-com movie Today's Love costarring Lee Seung Gi and naturally got a reporter asking the typical question about which of her previous leading men she thought had the best acting chemistry with her.
The typical answer is the pick the current one but Moon Chae Won first apologized for not picking Seung Gi before revealing that Song Joong Ki was the leading man she had the best chemistry and synergy. Awwwww, Eun Gi and Maru ah! Chae Won explained that Song Joong Ki has an amazing voice to do scenes with and is such a good actor that he doesn't need to make any expression yet can still convey oceans of emotions. She found Joong Ki very warm to work with and he takes good care of others around him while acting. I don't think any fan of NG thinks these two had anything going on in real life but their acting synergy really was intensely off-the-charts so hearing Moon Chae Won felt the same herself brings me back all my NG feels big time.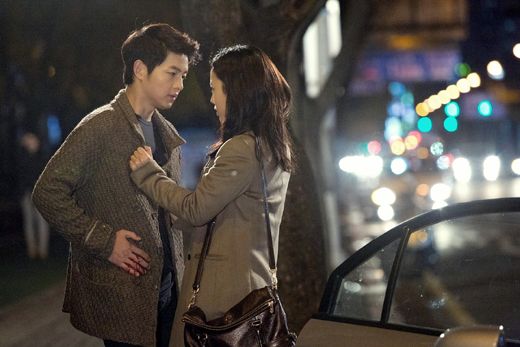 Song Joong Ki basically couldn't have asked for a better one-two acting punch to head off to the army on – both The Werewolf Boy and Nice Guy were bona fide hits and his acting in both garnered across-the-board raves. He also lucked out with two great leading ladies, Park Bo Young in Werewolf Boy and of course Moon Chae Won in Nice Guy. I especially found NG one of those super sticky dramas, it was impossible not to seep into the bones when watching and I had a hard time letting go afterwards.
Speaking of NG, famed screenwriter Lee Kyung Hee really ought to stick with her bread and butter which is the shorter prime time melodrama as her foray into the long weekend family fare in Wonderful Days had her trademark feel but was just too long and the intensity really seeped out like a water container with a tiny crack. NG remains of one faves of all the dramas she's written and I think it's the perfect time to share some of my fave Nice Guy MVs and maybe go rewatch some of the best scenes from the drama. I still immediately think of NG anytime I hear Scott Mckenzie's "San Francisco".
Nice Guy "Without You" Eun Gi and Maru:
Nice Guy MV – Instrumental "River Flows in You":