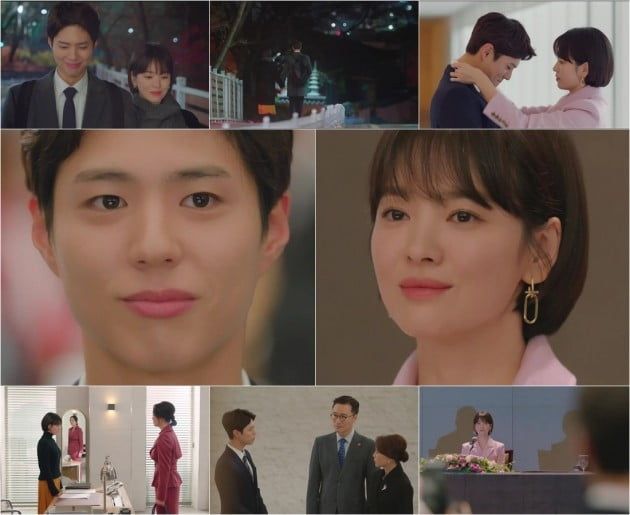 Watching tvN Wed-Thurs drama Encounter (Boyfriend) actually makes my heart hurt, in good ways of course but there is genuine palpitations and constrictions elicited by the softest of gestures and emotions. This isn't a drama of action, totally the opposite of Song Hye Kyo's last blockbuster Descendants of the Sun, and her chemistry with Park Bo Gum as as good but totally different than her chemistry with Song Joong Ki, who ended up being her husband in real life. She had sparks in DotS because that's what the drama called for, war and disease and life and death. Here she has ripples, Soo Hyun and Jin Hyuk are like the softest touches on a still pond and we marvel at the cascading effects.
Episode 6 was yet another substantive feast of moments, watching Soo Hyun blossom is like a flower blooming after an eternal winter and how can we not want to protect and nurture her much like Jin Hyuk feels. He's a natural protector and radiating all the qualities that would make ANY woman fall for him, no wonder Soo Hyun finally has her "some" relationship she's willing to reveal to the public. I'm glad ratings for this episode remained steady at 8.594%, still a super successful cable drama but I don't want it to go past 10% and have so much pressure. Let this gem bloom quietly for the viewers who appreciate it's subtlety and depth.
Encounter is the first drama in three years that makes me wish I still had time and was writing recaps. I stopped as real life intruded on my time to the point I couldn't even recap one drama much less multiple ones as I did during my heyday. But the quality also slipped so there was less and less truly addicting fare to tickle my recap urges. Encounter brings it all back in a whoosh of feelings, like Jin Hyuk's openness in expressing himself to Soo Hyun I just want to dissect this drama to explain why it's so amazing.
I hate the two moms to death but they are not one-dimensional harridans. I think Woo Seok's mom has two reasons for still interfering in Soo Hyun's life – she actually knows her son legit loves Soo Hyun and divorced her to set her free and she agreed believing that eventually Soo Hyuk will see the light of day of how awful the world is outside and come back to him except the opposite happened so now she has to manipulate it so her plans work. Soo Hyun's mom is actually way worse in my mind, ambitious and selfish to the nth degree but she's transparent so it's really on Soo Hyun to tell her mom to bugger off and yet she hasn't.
I really like Woo Seok and feel so so so bad for the guy. He fell in love with his arranged bride and then let her go because he could see that she was dying bit by bit living in his constricting family. His decency continues as he tries to help Soo Hyun behind the scene but he can't help but wish that she could fall in love with him now and they could have a second chance. I don't know why he thinks that's possible since Soo Hyun would never be happy in his family but it sucks that he can't love the woman he married because his family is so toxic. At this point the only viable option is for Soo Hyun to just give herself a chance, Jin Hyuk is waiting for her with the most brave and naive of shoulders to lean on.