Kim Ji Hoon is a very easy to like actor. I don't know a single drama friend who hates him or finds him annoying. And the ones who adore him all admit that he's not the best actor in the shed, but there is just something about him that is lovely to watch onscreen.
Maybe it's his winsome smile, his gasp-worthy physique (which he keeps covered up way too often), or his calm and collected demeanor. I can make a list, but ultimately it's a subjective opinion, which I have found that most folks share.
I really enjoy watching Kim Ji Hoon on screen. I won't watch every drama he's in, but if the drama sounds interesting, I will definitely check it out because he's in it. Kim Ji Hoon tips the scales in his favor all things considering.
What I wanted to talk about today isn't why I like Kim Ji Hoon. I want to talk about the travesty which befell him during the filming of Wish Upon A Star. And to a certain extent, the travesty that keeps insisting on casting him as a lawyer with a stick up his arse.
I recently just watched Flowers for My Life (which I loved, btw, and if you want more information about this drama, check out javabean's recaps). Putting aside a mountain of words one can write about that drama, I simply want to present screencaps of the cutest version of Kim Ji Hoon I have ever seen onscreen. He's mussed, he's casual, and he alternates between hotheaded jerk and coldhearted basketcase.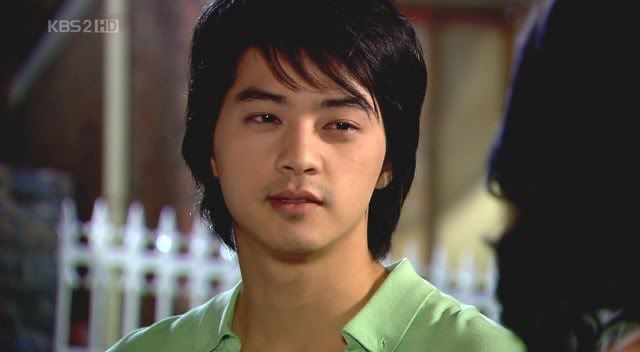 I spent the entire drama drooling over him, and then I spent some time afterwards inwardly cringing over what they did to him in Wish Upon a Star. He went from scruffy hunk to aging ahjusshi in a simple hairstyle. I hereby dub this hairstyle: The Receding Oil Poof. It's heinous, and I am appalled (see ROP below, contrasted with his adorable style in Flowers for My Life).
For that alone, I hereby devote a post to delicious screencaps of Kim Ji Hoon in Flowers for My Life, to counter the bitterness in my mouth. To think that newly minted Kim Ji Hoon lovers think he's cute in Wish Upon a Star. They have not seen anything yet until they watch him in Flowers for My Life (which, in addition to looking hot as hell, he also played a wonderful character).