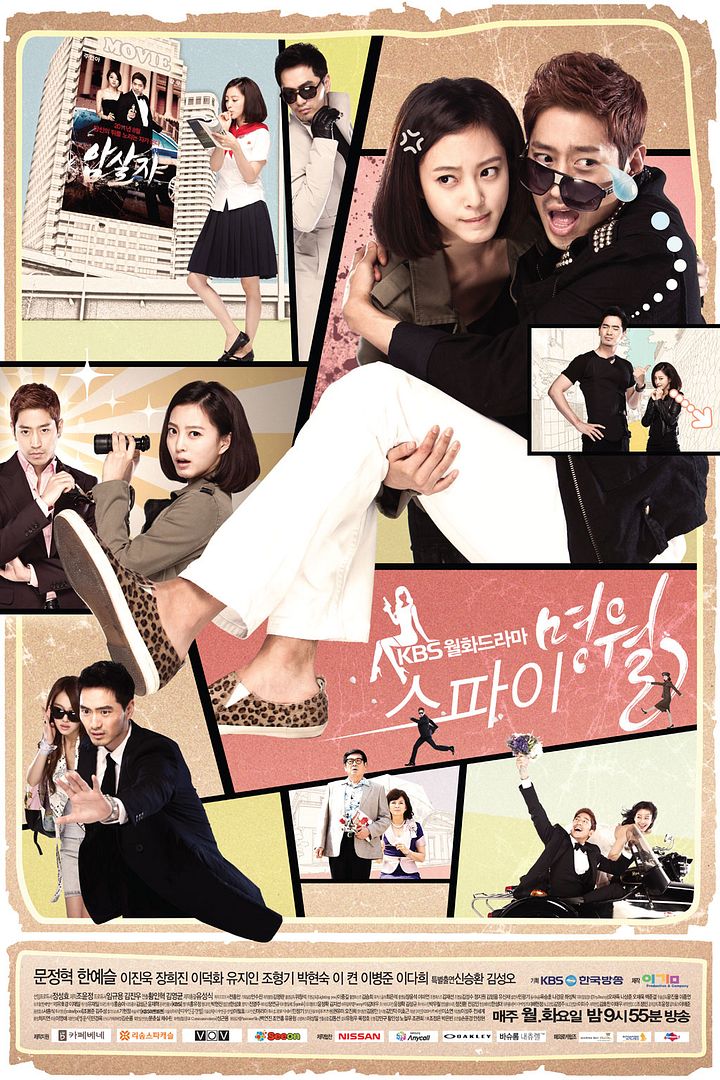 Spy Myung Wol with Eric and Han Ye Seul premieres next week and I'm thrilled to have something that straddles multiple genres – a comedy screwball romance with spy hijinks. The only thing I worry about is execution, since everything else really strikes my fancy. Looking forward to Monday and a new K-drama to spazz about if it turns out to be a winner. Have a look at the character descriptions and watch the four-minute trailer below.
Eric as Hallyu star Kang Woo
"Who are you really?!"
A world famous Hallyu star who endured grueling training as a newbie and has finally established himself in the industry. Because he went through so much to achieve his success, he expects perfection in everything. Initially he's simply curious about Myung Wol, a person whose real identity is unclear, but quickly his emotions are inexplicably engaged and increasing rapidly.
Han Ye Seul as a Member of the Hallyu Attack Group Han Myung Wol
"Execute this man……NO, marry him!"
A beautiful spy who has pure muscle from training and combat. Someone whose heart will beat faster when she encounters something that she is curious about, even her blood will boil. Has the duel weakness of curiousity and impetuousness.
When engaging in a covert operation in Singapore, she accidentally encounters Hallyu star Kang Woo. To regain her honor she infiltrates South Korea, but then finds herself embroiled in an absurd mission to marry a top Hallyu star.
Lee Jin Wook as Spy and Lieutenant Choi Ryu
"If Comrade Han Myung Wol's deadly weakness is the tendency to act first without thinking, then my weakness is her."
As Myung Wol's surpervising officer, he knows her desire to succeed, but has always taken a firm approach with her. He arrives in South Korea with Myung Wol, armed with different missions. Even in his dedication to his mission, he still wants to protect Myung Wol. He handles every matter with efficiency and confidence, except when matters concern Myung Wol, and then he finds himself unable to be objective. Watching Myung Wol constantly hovering around Kang Woo hits a raw nerve in him.
Jang Hee Jin as Heiress to a Hotel Fortune Joo In Ah
"To possess that man, how much will it cost?"
Raised in a life of luxury without monetary worries, everything she wants she can have, except when it comes to love. She has the same star power as Hallyu star Kang Woo, but Kang Woo only treats her with coldness, and she works hard to gain his esteem. Regardless, she thinks that only she understands the real Kang Woo. Except when the unknown entity that is Myung Wol suddenly appears in their world….
Four minute trailer for Spy Myung Wol: