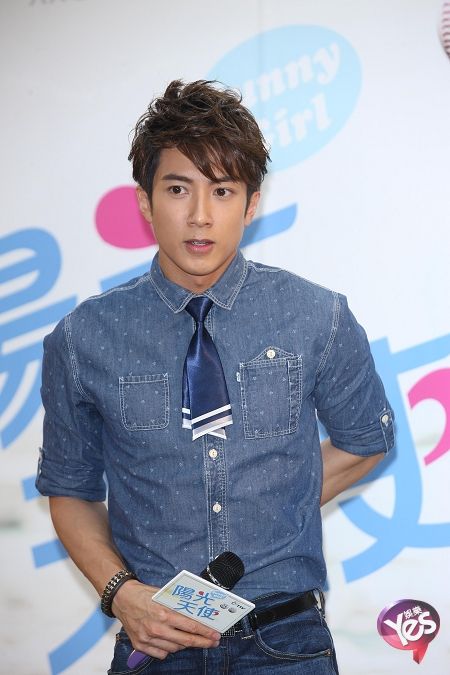 The TW-drama airings are really driving me insane. I just wrote that Sunshine Angel will be following Drunken to Love You in September on TTV, but suddenly it's announced that SA will premiere next week on August 4th. Buh? With zero promotion and fanfare, TTV is just dumping SA in a Thursday night time slot. I don't understand. This drama is cute, and likely Wu Zun's last idol drama. And with Rainie Yang so hot right now, why not give it some more attention.
Wu Zun made a whirlwind trip to Taiwan to attend the press conference for SA by himself, since leading lady Rainie Yang did not show up with the reason attributed to a scheduling conflict. Supposedly Rainie and Zun had a falling out since she heard the rumors that he might have been married when they filmed SA, because apparently she had a crush on him back then. Don't shoot the messenger, just reporting what the media is speculating. The fact that Rainie is showing up with Joseph everywhere and can't do one press conference with Zun for SA is indeed odd if you ask me.
Wu Zun looks amazing in these pictures. Can you believe he's one of the oldest of the TW-idols, with only Jerry Yan older than him. It's astonishing, Zun is four years older than Mike He and Joseph Chang, and two years older than Ming Dao and Vic Zhou. I know, it's like he's hit the fountain of youth. Or as I like to believe, he's really content and happy with his life, and that gives him the ageless glow. I can seriously just stare at him all day long.
Anyways, the China and Taiwan production partners for SA had a huge falling out (and potential lawsuit forthcoming) earlier this month when Hunan network aired SA without getting the consent of the Taiwan partners. And the Hunan airing butchered the drama by cutting almost 30% of the scenes so the result really didn't made much sense. I stopped watching because of that, and was waiting to watch the TW-airing. I'll definitely be watching SA again to enjoy it properly this time.
[Credit: all pictures from Baidu Sunshine Angel bar]