The cast of the upcoming mega-period war movie Saving General Yang has been in the outskirts of Beijing filming for the past month or so, with very little leaking from the set. I really must congratulate Wu Zun (who plays Sixth Brother) on his 32nd birthday, which feels like he has been celebrating for the better part of the entire week in various locales, but has become the reason for the media to get it's first look at the cast in costume for this hotly anticipated movie (by me). Daddy Yang (Adam Cheng himself) led his sons from the movie to prepare a surprise birthday cake for Zun on the set.
I would drool but I appear to have overused my salivary glands recently. Oh well, squealing will have to do. The older dude with the facial hair on the left is probably some elder general, but the rest from left-to-right are Yu Bo (Second Brother), Ekin Cheng (First Brother), Fu Xin Bo (Seventh Brother), Zun holding the cake, Daddy Yang with the beard, Li Chen (Four Brother), Raymond Lam (Fifth Brother), and lastly my Vic Zhou (Third Brother). I think it's hilarious that Zai Zai plays Third Brother, but is younger than all the guys playing his younger brothers except for baby brother Fu Xin Bo, which may explain why Zai Zai is sporting facial hair to look older.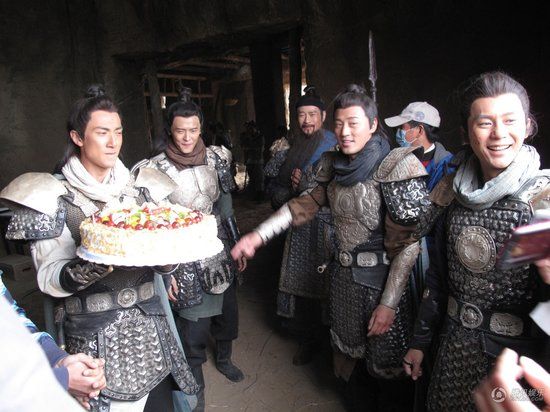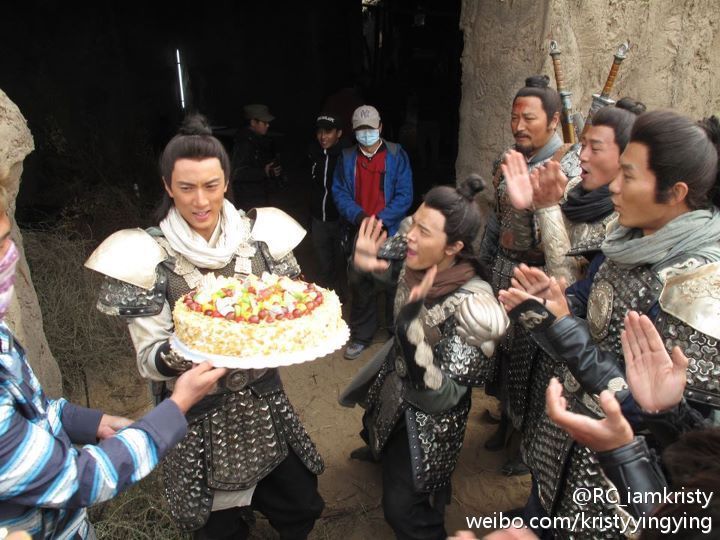 The movie is tentatively scheduled for a Fall 2012 release. I'm beyond super excited in case anyone can't tell. I love the costuming, where you can tell all the brothers have slightly different breast plate designs and shoulder pads, so each armor is tweaked to be unique yet still look uniform when they line up. Below is a picture of some of them on horses, carrying their trademark Yang family spear. After seeing Ekin in costume, I'm totally like "who's Louis Koo?", haha, I'm so mean, but Ekin seriously looks great and ready to lead his brothers into battle.
Everyone has been wondering if there will be any Yang wives in this movie, and I'm hearing murmuring there will be but with such limited screen time it might as well be a cameo for all of them. All I've heard is Ady An will be playing Sixth Wife, i.e. Zun's lady love and a princess of the Song royal family. I'm not caring which ladies get cast, cuz who needs wives when we are all watching for the bromance, right?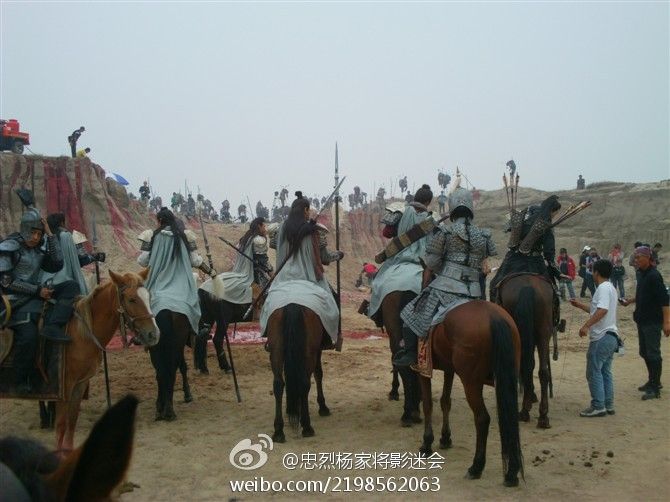 [Credit: all pictures as marked via Baidu Wu Zun bar]