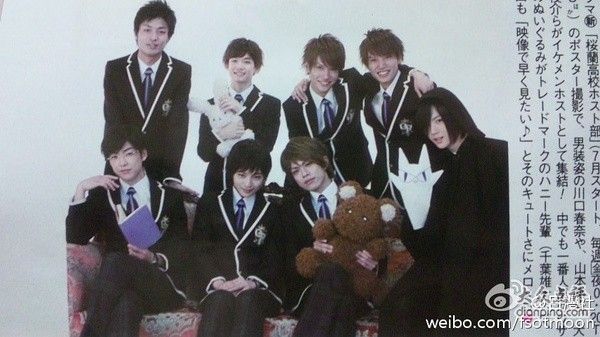 Wow, this movie must've been filmed in 10 days or something, because it felt like the cast of Ouran High School Host Club just wrapped it's drama and started filming the movie, and already we have a first teaser trailer dropped. The movie is coming out in March of 2012, and looks to continue the wacky and good-hearted Ouran hijinks on an even bigger scale. My only complaint is a lack of my Kyoya in the teaser, but other than that, watching the teaser feels like sitting down with an old friend.
Joining the original television cast for the Ouran movie will be AKB48's Shinoda Mariko (playing a interloping love interest for Tamaki) and 2PM's Nichkhun, playing a business man older brother of Mariko's character. I'm dying for the pirate-themed cosplay, because I wonder what they will dress Kyoya up as? Tamaki looks fabulous, but I totally wanted him to play Jack Sparrow, complete with dreads and gold teeth. But seeing Tamaki dressed like a cross between Napoleon and Horatio Hornblower and prancing down the hallways of Ouran High is pretty much priceless.
Teaser preview for the Ouran High School Host Club movie:
If you can't watch it on Youtube because it's blocked in your country, click here for the Tudou version.