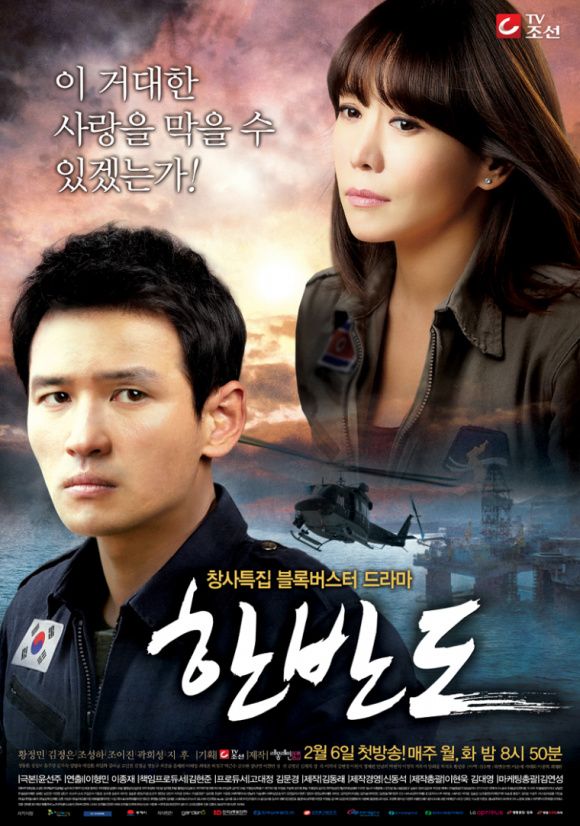 Next week sees the premiere of a seemingly big-budgeted political thriller melodrama on the cable network Chosun TV. Starring Hwang Jung Min and Kim Jung Eun, the drama Hanbando (The Korean Peninsula) has been flying under the bloggy radar for the most part, probably because the two leads don't amass the fangirl swooning some other actors come armed with. Nevertheless, he's a damn fine actor and she's redeemed herself in my eyes with her heartfelt and non-OTT performance in I Am Legend.
It's unfortunate that the drama poster is plain dreadful, poorly photoshopped with nary an artistic style to render it memorable or distinctive in any way. But that doesn't detract for my interest for this drama since the trailers have been uniformly intriguing. I like the fantasy conceit of a unified Korea, but I hope the writer doesn't dumb down the politics or turn it into a weepy love fest more than keeping the love story within the greater context of the political thriller elements.
Second Trailer for Hanbando:
Looks like Hwang Jung Min and Kim Jung Eun had a great time filming this drama, as evidenced by their supremely cute BTS pictures. Just because they are older than the average youngster lead doesn't mean they can't have fun and goof around like kids. This might just be the next winning onscreen coupling.