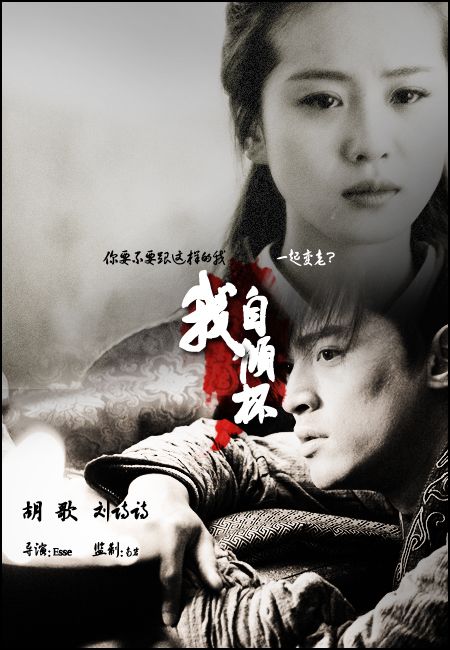 Da Mo Yao rewards the patient by taking its time to develop the characters and their interactions. One moment I am touched by a Yu Er and Jiu Ye scene, and the next I'm gushing over a Yu Er and Qu Bing interaction. It's crazy to think that neither guy knows about the other guy at this point (though Huo Qu Bing is about to find out there is someone in Yu Er's heart before him at this time), and I can't wait for the jealously flag to start flying all over this drama. Clearly Jiu Ye must have a reason for behaving all hot and cold towards Yu Er, but having a reason doesn't make it any easier to watch her getting emotionally whiplashed because of him. One reason why I love Huo Qu Bing (and there are a million and one reasons) is how forthright he is in everything he does. I love characters who remain sure of what they want and never second guess themselves. Jiu Ye can be nice to Yu Er all he wants, but he's got to either tell her directly that he doesn't like her, or else stop treating her like she's his special pet. We're headed into a stretch where Jin Yu pines after Jiu Ye, while Huo Qu Bing pines after Jin Yu, and then he has to clean up the mess Jiu Ye wrought.
Chapter 9: Heart Song
"Is your hand hurt?" Huo Qu Bing asks me. I shake my head and put my left hand behind my back.
Huo Qu Bing shakes out his ermine cloak and sighs "What a shame. I just got this a few days ago from the Emperor, and wore it for the first time today." I had wanted to say I would buy him a new one, but knowing its a reward from the Emperor, I closed my mouth. He gave me a few looks and draped the cloak on me "Even though it's ruined, it's still better than your skirt filled with holes left and right."
I startled "What are you doing on the street?"
He explained "I went to wish uncle and the Princess a happy new year. Why are you on the street by yourself. And from the looks of it, you've been here quite a long time. Your hair has flecks of icy frost on the tips." He used his hands his lightly brush my hair tips and carefully removed the icy frost.
I didn't answer and looked around, where was I? How did I end up walking around half of Chang An? He studied me carefully "Why are you so forlorn during the New Year? Come with me!"
Before I can object, he's pulled me on the carriage, and since my energy is spent and right now I don't care anymore, I let him pull me along. He sees me sitting there in silence and he doesn't talk either, only the sound of the carriage wheels crunching over the street surround us.
A while later, he says "I know what tune you played. I hummed a few bars and the Emperor overheard me, asking me which girl played "Yue Ren Ge" (The Song of the Yue Person) for me. I stupidly asked why a man couldn't play it?"
I tempered a smile from the corner of my mouth.
He continued "The Chu and the Yue kingdoms were close but did not speak the same language. When the Chu king passed through Yue on a boat, the Yue girl who was rowing his boat fancied him. But since they couldn't communicate, she sang this song. The Chu king understood her intentions and happily took her home with him." explaining a story that happened over a hundred years ago.
Because it was a beautiful encounter that had a happy ending, a lot of girls want to emulate the Yue girl, seeking one's own happiness. But not everyone succeeds. I don't want to hear this story so I cut him off "Where are you taking me?"
He looked at me before smiling brilliantly "Taking you to hear men sing."
Huo Qu Bing takes me to the Yu Lin Army base outside the city. When Liu Che first assumed the throne, he assembled the Yue Lin Army with the best young men warriors from all regions. He was not allowed to use power, so he pretended to be a useless playboy and had the Yu Lin solders split into the Han and the Xiong Nu teams ostensibly to play pretend war games, but really it was to train them. Now the Yu Lin Army is the Han dynasty's most elite fighting unit. Even though it is the New Year, the base has an aura of danger and fighting essence. Until we enter the mess hall does it feel like the New Year. The door is open and men are inside roasting meat over the fire and drinking merrily.
Huo Qu Bing came from the Yu Lin Army, so of course he is still very close to everyone inside. A well-dressed man saw Huo Qu Bing "You have a great nose, the venison is just done roasting and you show up." I look over and recognize Li Gan.
Huo Qu Bing just takes me to sit down at a spot that has been opened up for us. No one blinks an eye to see me, as if my presence is perfectly normal, or perhaps its that anything Huo Qu Bing does is perfectly normal. A bowl is placed before me and wine poured.
Hup Qu Bing picks up his bowl and toasts everyone, who laughs and Li Gan says "At least you don't hem and haw, knowing that you are late so you take your punishment" and pours him another bowl. In moments Huo Qu Bing has downed three bowls of wine.
Everyone stares at me, their faces healthy and warm in the fire, and I sense my heart warm up. I take a deep breath and smile widely, mimicking Huo Qu Bing and toasting everyone, before closing my eyes and downing the bowl of wine.
Everyone hollers and claps and I wipe the residue from my lips. My bowl is filled again but before I can pick it up, Huo Qu Bing picked it up "I brought her here, so the remaining two bowls I will take on her behalf" and gulps the wine down.
Li Gan smiles at me "It's clear she can't drink, but she is a good sport. I am impressed. My name is Li Gan." He gives me a bow and I return it.
Huo Qu Bing and Li Gan clearly have a good relationship. Normally Huo Qu Bing is silent and cold in front of people, with a look of icy arrogance, so people leave him alone. With Li Gan warm and Huo Qu Bing cold, yet their interactions are normal and easygoing with each other.
Li Gan drinks more with Huo Qu Bing and then cuts us some venison. Huo Qu Bing spears a piece with a knife and hands it to me, speaking lowly "Eat some meat to help soak up the alcohol."
Everyone is tearing into the meat and playing drinking games. The alcohol is hitting my head and all I know is Huo Qu Bing handing me piece after piece of meat and I would eat it. In the drunken haze, I can hear the men singing merrily, and I decide to emulate them and join in the song. In shouting and singing, I feel the sadness in my heart slowly released. This is the first time I understand how the hot blooded young men can be so vibrant and animated.
In the morning, I wake up moaning and Hong Gu stands next to me muttering about why I drank so much since I don't like to drink.
I hold my throbbing head while Hong Gu feeds me spoonfuls of soup. I ask how I got home, and her mouth has this odd smile. She seductively tells me "You were completely wasted, so how could you come home by yourself? Young master Huo brought you home. I wanted to have someone carry you inside but he just scooped you up and carried you to your room.
I give an "ah" which makes my head hurt like crazy, while Hong Gu explains there is more that will make my head hurt. I weakly ask "What?"
She explains "Young master Huo wanted to leave but you grabbed his sleeve with a deathly grip and wouldn't let him leave. You keep nattering that he had to explain himself, something about why "why are you so good to me? can't you treat me less well. if you treat me not as well perhaps I won't feel so in pain right now". Young master Huo just sat there with you, coaxing you until you fell asleep."
I give a shriek as hazy memories return. I sadly remind myself that I can't get so upset and drink anymore.
I hold out my bandaged hand and confirm Hong Gu wrapped it. She nodded "I did wrap it, but young Huo master Huo watched me and wanted me to cut your nails, His face was dark as he said "so she doesn't hurt herself or others." Pity all the effort I spent on your nails. But seeing the expression on his face, I didn't argue with him." I looked at my nails, which were shorn clean, and I put my hand on my face with a sigh.
……………………………
"Why is no one singing?" I'm dangling out of the carriage window gulping down the cold Winter air. Huo Qu Bing wrenches me back inside the carriage with an exasperated expression "You can't drink and your drunken behavior is also a mess?" I laugh and shake off his hands, sticking my head back out the window and singing on top of my lungs. He jerks me inside again, telling me I will have a splitting headache tomorrow if I get drunk and catch a cold.
I push him away and he grabs my hand, right at the place where the cut is. I swallow with gritted teeth and he gently holds my hand "What happened here? Did you get in another sleeve battle with someone?" I laugh "I poked myself." He softly asked "Does it hurt?" I shake my head, pointing to my heart and pouting, half crying and half laughing "It hurts right here." His face is somber and he doesn't answer. I can see the hurt flash through his eyes as he stares at me. Even though I'm completely drunk, it still makes me feel bad and I don't dare to look at him, only averting my eyes quickly.
………………………………………………
Xiao Qian and Xiao Tao love eating egg yolks. Xiao Qian is better, only cooing a few times when I feed him indicating he wants it. Xiao Tao is mischievous to the extreme. Wherever I walk, she follows. She twirls around my skirts and play a game of startling with each step (bu bu jing xin) with me. I wavered between "death by stepping on her" or "fattening her to death", and decide to let her commit suicide.
I look at Xiao Tao and Xiao Qian from time to time, wanting to forget what Jiu Ye said to me. That "the tune is nice, but you didn't play it well", every time I remember it, my heart feels like a knife cutting. It's been over a month since we had any communication. I sometimes wonder if we'll never have any ties again?
The moon is low and I stand by the window looking at the stars. Xiao Qian and Xiao Tao stare at me in the dark, letting me know the moonlight is different tonight. I ask myself if I did something wrong, maybe I should never have played that tune. At least then we'll still have our nightly pigeon communications. I'm too greedy, wanting too much, but it's impossible for me not to be greedy.
I walk to the edge of the garden and peer down, those Lover's Vines appeared to have sprouted overnight. They worked hard to struggle through the thick hard soil, looking for a chance to live, seeking sunlight. Last Fall they were underground in the dark, and from the Fall to the Winter until the Spring, over a hundred days has passed.
I gently touch their leaves and my heart flutters. I ask the maid to get a bamboo cover from the gardener, and I carefully place it over the budding flowers to protect it from Xiao Qian and Xiao Tao. It's so weak it can't withstand Xiao Tao's damage.
I walk back and forth outside of the Shi Estate for a long time but am too afraid of vaulting over the wall. I always thought I was a courageous person, but now I realize that for the things which really matter to me, my courage appears to have deserted me.
I'm afraid to enter yet loathe to leave. Feeling conflicted, I jump up on the roof of another house, standing at the tallest point to look at the Bamboo Residence from far away. In the dark night, I can see a light in there. What are you doing under the lamplight?
Tonight there is no moon, and only a few stars dotting the sky. A sound of a rooster crowing indicates it will be morning soon. My heart jerks in sadness, but not for myself. One lone lamp, a long long night, all alone. Why could you not sleep tonight? Why are you all lonely?
There are early risers on the street and I'm afraid to tarry. I hurry and leap off the roof, taking a few steps before I stop. Huo Qu Bing is standing right in the middle of the street. Under the dim morning light, his head is lightly raised as he stares at the roof where I stayed all night. A cold wind blows past and his fluttering sleeves seem to impart a chill as well.
How long has he been standing there?
He lowered his head and looked at me. In his dark eyes, it is hard to distinguish anger or happiness, it's like he has no emotion. Even if there was thousands of miles and millions of mountains between us, I can never avoid that piercing gaze. I heart constricted and I don't dare to meet his eyes. I quickly turn away. The two of us stand there, he doesn't talk, I don't move. Only silence.
The passerbys all stare at him and then at me, curiosity in their faces. But because Huo Qu Bing has an extraordinary aura, no longer dares linger and quickly scurries past. The sunlight turns from weak to strong and the bright light illuminates the entire ground. He suddenly smiles, and it's a happy smile. "Staying out all night, what was the matter?" I shift but my throat feels hoarse, making it hard to answer his question. I pick up my feet and run right past him, not daring to turn around.
Under the lamplight, the ink in the ink pad has already dried but I can't find the words. What can I say? From morning until night, I didn't write a single word. Finally I grit my teeth "I spend time with Xiao Tao and Xian Qian eating eggs. I think I ate too much and now I have indigestion. I don't like medicine, so do you have any recommendations?"
I quickly tie it to Xiao Qian before I lose my courage, sending him flying to the Shi Estate. After Xiao Qian leaves, I pace around, deciding to go check out the Lover's Vines. It's growing fast, reminding me that if I work as hard as them, maybe one day I can also see the sunlight? Will he write back to me? Yes? No?
The sound of a bird flapping makes me jump, and Xiao Qian gracefully lands on my shoulder. I was too scared to look at Xiao Qian's leg for a moment, but when I opened my eyes, I see a different cloth note. I untie the note, which is a recommendation on the herbs to brew to help indigestion. I pretended nothing had happened, so he is also pretending nothing had happened. We made one big circle and returned to the same spot. In the note he suggests I can add honey to sweeten it, which will also be good for my throat. He remembered my complaints about bitterness, and that I had a sore throat before. It's like there is something more, but it's always going to be far from me.
………………………………
The bursting Spring sun shines unabashedly on the Lover's Vines. When the lights shines on the older leaves, it's like a fish entering the water. While the new leaves are like silk worms in the sun. The old and the new intertwine, twisting in a complicated array around the vine.
"When did you plant a vine patch?" Huo Qu Bing asks from right behind me. His words are casual, like the all night encounter never happened.
I haven't seen him in a month, so suddenly hearing his voice my heart lurches, with some happiness. My body is scared to move, so I stare at the Lover's Vines and pretend nothing ever happened "Can you not suddenly show up right behind me in the future?"
He stands next to me and touches the vines "Even you didn't sense me, clearly my martial arts prowess is indeed not bad. What is this called? Will flowers bloom from it?" I reply "It's called Gold Silver Flowers, and not only will flowers bloom, it'll be beautiful. But it blooms in the Summer, so now is not yet the time." He stood beside me for awhile when he suddenly asked "Do you want to go back to Xi Yu?"
His question was weird so it took me a moment to figure it out "Are you going to Xi Yu?" He replies "Yes, after the Emperor approves, but it's most likely going to happen."
"Oh, I forgot to congratulate you. Heard the Emperor bestowed a new honor on you as the Crown Prince's companion." He laughs at himself "It's nothing worth congratulating, Supposedly it's all my Aunt's connections elevating me, if rumors are to be believed."
I laugh "I didn't hear any rumors, plus I just hear what I want to hear. How old are you this year?"
His eyebrows raise and he teases "Why are you asking my age? I am 18 years old, right at the peak of being a young man. I am handsome and have not yet gotten married. I have an estate and arable land, plus lots of servants. Marrying me is probably a good idea."
I glare at him "Being so young and having so much will surely arouse jealousy. Plus right now you….." , I stick my tongue out at him and didn't finish my sentence. He coldly humphed "I will let them have nothing to say about me."
I laugh, knowing that the Great General Wei just returned victorious from yet another tussle with the Xiong Nu. Looks like Huo Qu Bing is finally unable to endure living the life of a privileged young man in Chang An and wants to emulate his uncle to make something of himself.
I respond "Didn't you familiarize yourself with the Xi Yu territory last time? You are well prepared, plus there is bound to be someone in the army who knows the territory. I doubt I will be of any use."
He quietly looked at me for a few moments before raising his hands "These days all I hear are whispered criticism behind my back. Other than the Emperor, finally someone else has complimented me. No one can be more familiar with Xi Yu than you. The Xiong Nu know that territory intimately because they constantly travel there."
I tell him that I currently don't want to go back to Xi Yu. He says that is fine. I ask him for a favor, to treat any guides they use with kindness. He tells me that as long as they are not conspiring, he treats everyone who works for him well. I bow and thank him. He tells me "From now on I likely have no time to come see you. If you have any need, go straight to my estate to find Housekeeper Chen, who you met in Xi Yu before. He will send someone to let me know."
I nod my head and look at him "When you return victorious and earn the Emperor's favor, you have to treat me to a huge feast at Yi Ping Ju." His face clouds a little "You can go reserve the feast now, so they can start collecting the exotic dish ingredients."
I laugh and shake my head "Okay, tomorrow I'll go." He starts laughing too and striding out, but he stops by the door "Will you come send me off when I set off to war?" I tease him "Who am I to you, and where would a place be reserved for me to stand?"
He just stares at me without speaking, so I ask "When are you setting off?" He smiled "Another month." So I smile and tell him we'll see each other in a month's time then.
He nods and briskly walks away. Under the Spring sun, his majestic figure slowly grows distant. Behind him the ground shines with the brilliant sunlight.
The leaves of the Lover's Vines are slowly swaying in the wind. I squint as I looked up at the sky. On a beautiful March day, the trees are green, the flowers are red, and we are standing right at the peak of youth.