I think my motto now should be "ask and you shall receive", or maybe "have faith". I'm a huge ArGe shipper, and in the midst of promotions for the upcoming Tangren fantasy RPG wuxia drama Xuan Yuan Jian, the cast was on the variety show Happy Camp and a big bombshell was dropped that just made my year. Since Tang Yan is getting all sorts of attention for maybe dating Roy Qiu (she still denies it), when she was asked to play a game, she sold out Hu Ge to save her hide. And OMG was it a doozy, thank you Tang Tang! Hu Ge was asked if he ever had a real relationship with a co-star while filming and he admitted it but wouldn't reveal who. Tang Tang, to avoid her punishment of calling a male friend to say "I love you", chose to out that good friend Hu Ge and Ariel Lin was "reel acting, real feelings" when they made Legend of the Condor Heroes 2008. I KNEW IT! *does happy Koala dance*
Anyways, now this stupid drama XYZ actually is worth watching to support Tang Tang and Hu Ge for going on the promotional circuit and finally confirming for me I wasn't seeing things. If anyone is interested in XYZ, the official MV has been released with a title song sung by Hu Ge. The only person who is actually acting like she cares in this drama is Tang Tang. Hu Ge looks like he's mailing in it (I don't blame him), Liu Shi Shi is barely there in terms of screen presence, Gu Li Ne Zha is gorgeous but screams "vase" all over, and Lin Geng Xin's get up makes me LOL forever. And I saved the best for last, the so-called lead Jiang Jing Fu is absolutely horrid in everything I've seen – stills, posters, and all the previews. He has one constipated look in everything. Probably a nice kid, but needs to pay his dues first.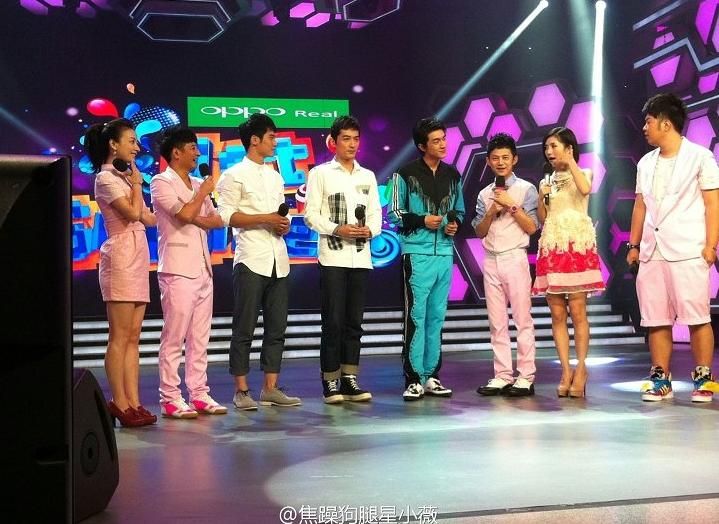 Hu Ge is soooo cute in real life. When host Xie Na asked him why he didn't attend her wedding last year, he joked that he was worried he might disrupt the ceremony if he attended. For those of you who watched LoCH2008, Xie Na played Princess Huazheng, who of course we all know was totally in lurve in Hu Ge's Guo Jing throughout the drama.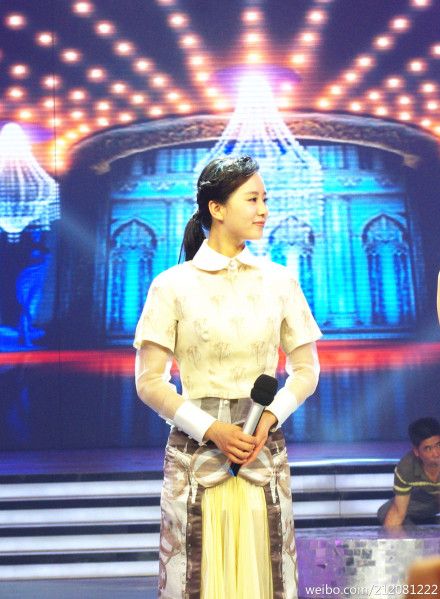 I don't know why Shi Shi is dressed like she's visiting the Vatican. Her other two co-stars are glamming it up, and she's dressed like a school marm.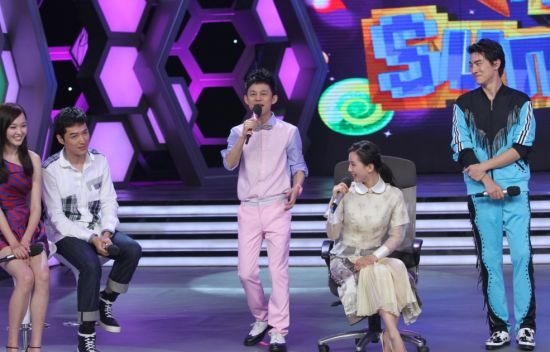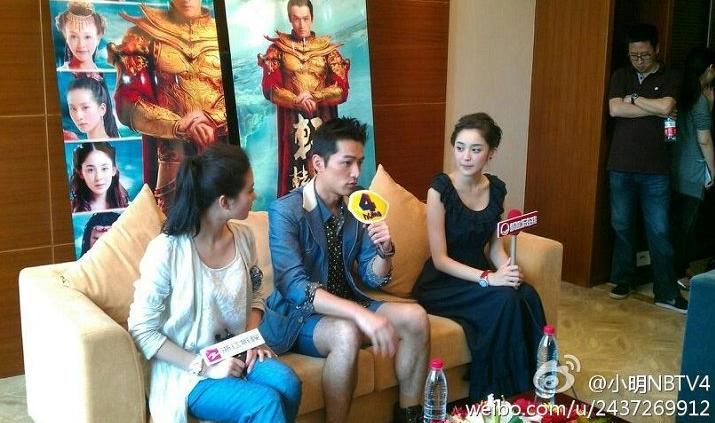 The Happy Camp appearance looks AWESOME. You'll even see a preview of Tang Tang outing ArGe. I love how cute all six of them are when interacting. The three guys are so dorky its not even funny, and yes, the hosts did make fun of Ling Geng Xin's hideous tassel-ridden track suit. When Tang Tang was asked about which male character Roy was suitable to play in XYZ, she asked Shi Shi, who looked at her and said "You know better than me!" Ahahahaha, oh imma going to love this.
Preview of the XYZ cast on Happy Camp:
The official poster for Xuan Yuan Sword. When I say Jiang Jing Fu looks constipated, you can see for yourself. Imma watching this solely for Tang Tang and Hu Ge, because their characters also appear to have all the angst and not make me want to headdesk with stupidity.
Official MV for Xuen Yuen Sword:
And for my ArGe shippy heart, have a cute picture of them from way back when in 2007. Could they be anymore perfect? The answer is "impossible."