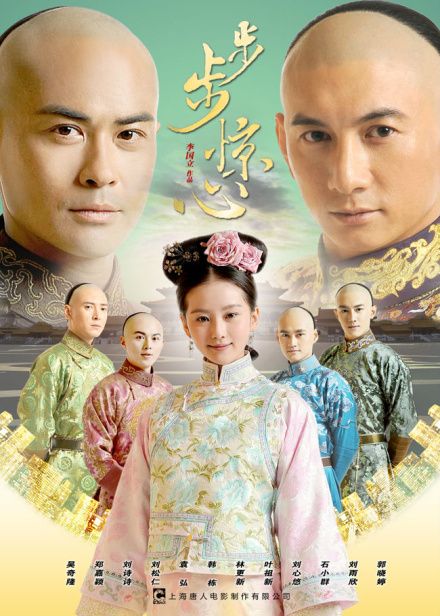 How did this happen? One minute I was drinking a nice Red and the next minute I was sobbing like a loony after watching one (1!) measly Bu Bu Jing Xin MV. What the hell? Seriously? After all this time BBJX still manages to tap into a visceral id inside me that the mere hearing of a theme song, or a flashing image of a smiling Ruo Xi frolicking with 8th Prince or a blushing Ruo Xi staring at 4th Prince, turns me into a quivering mess. I realized that it's almost exactly a year since BBJX ended its initial airing, a time-travel period C-drama that was neither about the hook of time-travel or the period setting. It was about ambition, about fraternal love and rivalry, about a woman's journey from first love to forever love. It was all those things that transcend genres and regions, which accounts for why BBJX was a rousing success all around Asia and beyond. This drama was fricking AMAZING. I said it then and I can still say it now.
Granted that I haven't rewatched it since I finished my last scene recap and realized that crying so much was very very bad for my eyes (it took me weeks to recover from the prolonged puffiness), so I can't say that a full rewatch will stand up to the test of time. But I can say that watching MVs swept me back up into the world of a 20th century girl transported back to early Qing dynasty imperial politics and reminded me of just how incredible dramas can be when the production, cast, and crew treat it like a labor of love. It is by far the best performance I've ever seen from Nicky Wu, Kevin Cheng, Liu Shi Shi, and Lin Geng Xin. My loverboy Yuan Hong nailed it but he nails everything so this was a cakewalk. I don't know when (and if) the purported BBJX 2 set in modern times is ever getting made, but check out some MVs to walk down memory lane with me, plus a special treat of a fanmade modern BBJX MV that has me salivating for a modern sequel even if deep down I know it'll likely suck. Watching Korea struggle with time-travel dramas (Dr. Jin, Rooftop Prince, Faith) makes me appreciate BBJX all the more. Be warned – watching the MVs below might send you down a rabbit hole.
What more can I say about BBJX? I think with time and distance I see more of its limitations, but conversely appreciate more of its accomplishments as well. In the year since then, I haven't watched another C-drama from start to finish, much less recommend one. BBJX remains the outlier in a time when dramas are mass produced with scripts written by chipmunks or hired hands who care more about the bottom line then narrative cohesion. Taking a novel from writer Tong Hua, the production company Tangren was able to silence every critic (myself included) who howled when the initial cast was announced and derided every pre-release tidbit that came out. The truth is – BBJX is everything a great love story aims to be, and the drama manages to take the essence of the novel and transform it into live-action format.
What I would give to have a happy ending for every single character in this drama. Yes, even for 9th Prince! In my happy Koala land, 4th Prince and Ruo Xi are happy, 8th Prince and Ruo Lan love each other, 13th Prince and Lu Wu are traveling China together, 9th Prince and Yu Tan are far away and content, and 14th Prince never gets embroiled in it all and wages one successful military expedition after another. To think that only 10th Prince and Ming Yu got their happy ending in the drama still makes me weep uncontrollably. Because ultimately everyone wanted to be happy, except life never allowed them. Looking back, I think I forced myself to move on from BBJX, because I was so deeply immersed in it that the ending almost incapacitated me. I needed to let it go so that I could recover. But in truth this drama will forever reside inside my heart, a true masterpiece.
BBJX MV set to side theme song "A Season of Waiting" – Ruo Xi and 4th Prince
This is an OTP for the ages. I swear I spent the last 10 episodes of the drama crying almost exclusively because of them. Nicky and Shi Shi made their love eternal, unforgettable, and utterly gutwrenching. The modern ending scene at the museum left me sobbing out loud making inhuman gasping sounds, that was how incredible it was to watch BBJX from beginning all the way to the end. I can still remember key lines of dialogue between them from memory a year later – "She cares about everyone else, but I only care about her." The arrow, the cape, the hair pin, every little thing between them is etched in my memory.
BBJX MV set to "Almost Lover": Ruo Xi and 8th Prince
It's my fault for not featuring more Ruo Xi-8th Prince in my scene recaps of BBJX. This was one love triangle where I loved the heroine with both guys, and actually thought the guy she didn't pick was the better choice for her. 8th Prince (and Kevin Cheng's performance) was mesmerizing to the Nth degree. The final scene between 8th Prince and Ruo Xi, when she is leaving the Imperial Palace and he waits outside for her to say farewell, I might have cried harder there then anywhere else because of what could have been but could never be. It was only because Nicky's 4th Prince was the OTP that gave him the edge, because otherwise I would say it would be impossible to pick between the two. The snow walk remains to this day THE single most perfect man-woman walk I've ever seen onscreen in any medium.
Fanmade MV of the Modern BBJX Sequel set to Adam Cheng's classic HK ballad "Laughing at the Wind":
Whoever made this is a GENIUS. That is all.