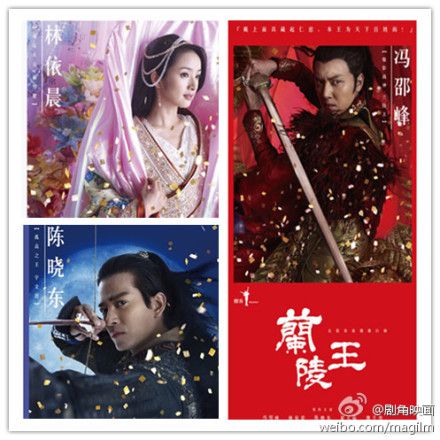 You won't believe the numbers of emails and comments I've gotten in the last week asking me to (1) recap King of Lan Ling, or (2) share my first impressions of it. I've been meaning to write about it but strangely there have been quite a few C-dramas that have turned out really watcheable recently in addition to King of Lan Ling (in particular the witty sitcomy Longmen Express and the cheeky re-imagining of the Justice Bao legend Detective Alliance) so I confess spending more of my time watching rather than writing. I want to cut to the chase and just go with a stream of consciousness like review of the first fourteen episodes of this highly anticipated C-drama starring some of the current It-names in greater Chinese entertainment ranging from Feng Shao Feng, Ariel Lin, Daniel Chan, George Hu, Zhai Tian Ling, Wei Qian Xiang, and Mao Lin Lin. This one promised to have luxe beautiful visuals seeing as it came from producer Chen Yu Shan who did Autumn's Concerto and Material Queen. So what do I think of this drama having watched 1/3 of its episode count? It's laughably easy to watch, and I say this as a compliment and in all earnestness. There isn't a single truly horrendous actor to be found, the story barrels along at breakneck speed, and the visuals have a simplistic prettiness about it that doesn't hurt the eyes.
So yes, this is a C-drama that is as easy to watch as one would find it easy to eat to well-decorated homemade cupcake. But at the end of the day, no matter how you dress a cupcake and try to increase it's allure by jacking up the prices, it's still a very sweet dessert with humble ingredients and an ordinariness about it that asks the taster not to over think it. King of Lan Ling is essentially a giant rip-off of two major classic mangas with a twist. It takes the soothsaying goddess with two rulers in love with and fighting over her straight from Hosokawa Chieko's long running Crest of the Royal Family (Oke no Monsho and also known as Daughter of the Nile) crossed with many scenes lifted directly from Tamura Yumi's Basara featuring powerful potential heir battling internal jealousy and external conflicts. I don't know if the writers of this drama are as big a manga fanatic as I am and have read as many sets as I have, but these are just two of the most glaring similarities that jump out at me but in general the entire drama feels as full of rose petals falling from the sky type of syrupy romance and battle as in a shoujo manga. Is that a good or bad thing? For the drama viewer in me, it's such a slap in the face of intelligent mature writing, but for the shoujo manga reader in me, it's like a homage to all that makes the genre as sweet as cotton candy.
This is going to be a bullet point discussion of King of Lan Ling because my thoughts are all scattered as the wind and as this script is.
1. Feng Shao Feng as Gao Chang Gong, the King of Lan Ling. I don't agree with criticism that he's not handsome enough to play the character. He's good looking enough but unfortunately he's saddled with a horrific hairstyle here. Dreads? Really? C'mon guys, forget historical accuracy, this is historical fugly.
2. To make up for the fugly hair, call me shallow but I really love Gao Chang Gong's Saint Seiya inspired armor. The shonen fan in me approves! Very Pheonix, yes? Or maybe one of the Zodiac Gold Saints. But that battle mask? Totally cheesy and ruins the effect of all that "look at me" armor.
3. Ariel Lin as Yang Xue Wu. She's pretty but not drop dead gorgeous. Looks suitable in character and pretty with her long hair and various styles that are all well-designed for her face. Her outfits are overall serviceable. Very feminine, cotton simplicity when she's out of the Palace and all sorts of embroidered frippery when she needs to get decked out.
4. Daniel Chan as Yu Wen Yong the Emperor of the Kingdom of Zhou. Hands down the best character and performance in this drama. By a margin as wide as the Grand Canyon.
5. I don't know if Feng Shao Feng is trying to (1) erase everyone's image of his mugging and over-acting his way through Gong (Jade Palace Lock Heart with Yang Mi), or (2) transplanting his exact same dead-eyed performance as Xiang Yu in the movie White Vengeance (Hong Men Yen with Leon Lai as Liu Bang and Crystal Liu as Lu Zhi), but the first few episodes he was like a zombie walking through the scenes. Only later did he start to come to life, around the time Chang Gong got pissed at Xue Wu for stupidly saving the life and taking the side of Yu Wen Yong, and later when the two of them discover the art of cute banter and flirting. I expect more of Feng Shao Feng because I actually quite like his acting, but in this drama it's neither here nor there.
6. George Hu as the King of An De. His look is beyond ridiculous. The permed long hair brings shame to the House of Gao. On the upside, I also discovered I really like George more in C-dramas than in TW-dramas. He was adorable in Love at First Fight and Detective Alliance, and is really quite a nice addition to this supporting cast.
7. Yang Xue Wu is the Mary Sue of all Mary Sues, with a side of the stupidity of Yuan Xiang Qin from It Started with a Kiss. In fact, c-netizens have been wondering how the hell Xiang Qin time-traveled back to unleash her imbecility on the ancient world. I get that she is sheltered, but HOMG her naivete and sheer numb-skull dialogue irritates me to no end. But I still love Ariel, but can do without Xue Wu. In construct and execution, she really is the ancient Chinese goddess equivalent of the main character Carol in the manga Crest of the Royal Family. And Carol is such a wet blanket passive character. Ugh, using her to model Xue Wu is choosing to make your female lead a damsel in distress.
8. Speaking of Crest of the Royal Family, I wish this drama didn't so blatantly rip off so many iconic scenes and set up from that drama. The water purifying scene. The constantly getting saved and stolen between Gao Chang Gong and Yu Wen Yong. I get that they modeled Gao Chang Gong after Memphis and Yu Wen Yong after Prince Ishmin, but I think they went overboard making Gao Chang Gong so perfect that I'm suddenly team The Other Guy. And that is saying a lot because I thought The Other Guy (i.e. always number 2 Prince Ishmin) was a complete loser. Oh, and let's not forget that second female lead Zheng Er in this drama is totally modeled after Isis!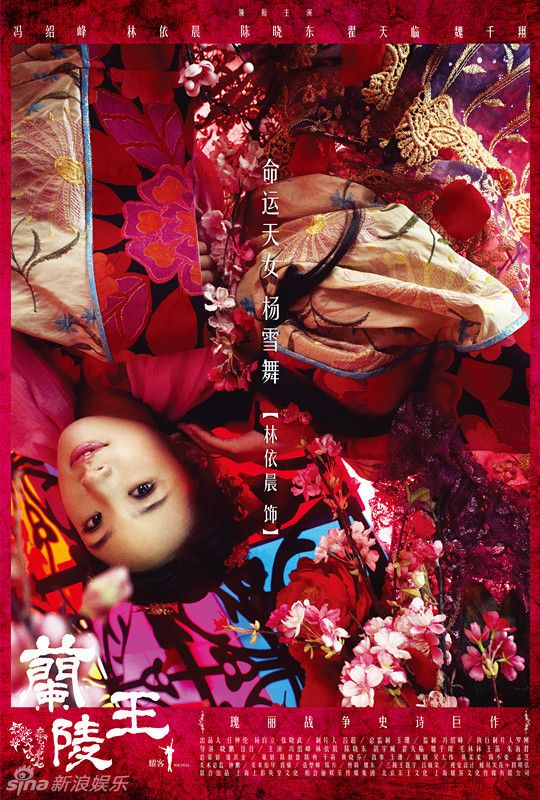 9. The music. Holy lord do I hate the music for this drama, and I can't believe the entire drama is being scored to 3 OST themes. Which constantly repeat over and over again.
10. But the original voice dubbing for half of the main cast is awesome. Ariel's enunciation is exquisite and she makes hearing campy and syrupy lame dialogue out of her mouth bearable. The other original voice dubs in addition to Ariel's Xue Yu is: Zhao Tian Lin who plays the Crown Prince Gao Wei and Wei Tian Xian who plays Han Xiao Dong. The other leads from Feng Shao Feng, Daniel Chan, George Hu, and Mao Lin Lin who plays Zheng Er are all dubbed by professional voice dubbers. I think Feng Shao Feng's dubber is all wrong for his character, IMO. Too deadly dull. He sounds like he's peddling male virility medicine on one of those late night infomercials.I wish the dubber who did Nicky Wu's voice as 4th Prince in Bu Bu Jing Xin could have done the dubbing for Feng Shao Feng here.
11. The cinematography. It's very pretty but too obviously CGI. I don't mind though because its really just a romance novel masquerading as a period drama about a historical figure. I do wish it weren't so chintzy with the set pieces and attention to detail.
12. I'm already rooting for the Kingdom of Zhou to conquer the Kingdom of Qi. Aside from the King of Lan Ling and An De, the entire royal family of the Kingdom of Qi are losers that deserve to have their Kingdom trampled on. The snippy in-fighting is so poorly thought out and so obvious I wonder how this royal family survived until now.
13. I find myself laughing in the wrong places because a serious scene becomes ridiculous because of the giant plot holes and clumsy execution. Like the scene when Xue Wu tries to clear her name and save Gao Chang Gong in front of the entire Qi court over the voodoo satchel. The villain sputtering his way to implicating himself is the cheap ass writing I loathe. I wish overall this drama would eschew writing villains as EVIL and just write them as antagonists who have their own agenda and is smart about it.
14. The main OTP of Chang Gong and Xue Wu get bogged down by the drama hammering home on the F.A.T.E. between them and blah blah blah. I got so annoyed each time Xue Wu insisted she can't marry him because he's supposed to marry a Consort Zheng. And then the whole thing got resolved in a deux et machina when she was made Consort Zheng by the Dowager Empress. Seriously? *headdesk*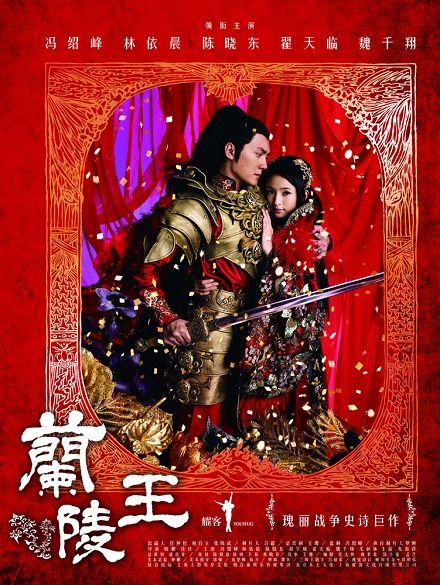 15. I'm not a big fan of the OTP chemistry here. Both Ariel and Feng Shao Feng have better chemistry with former co-stars and are barely serviceable here. They don't suck and sometimes when Feng Shao Feng wakes up and Gao Chang Gong actually has a personality, then they can be quite cute together. But its few and far between.
16. What really makes the two leads hard to love as characters is that both are written in broad strokes of being smart (yet lacking common sense), righteous (but stubbornly unbending), and loyal (but blindly sticking to a path and getting saved by lucky breaks). It makes me roll my eyes are the over-kill in trying to make them nearly perfect, so instead I quite like the quick thinking and realistic Yu Wen Yong, who has a heart but his own agenda and flaws. He's the only multi-faceted character in the entire drama.
17. The narrative is really very fast paced which goes a long way in smoothing over all its bumps. Like the Chinese saying goes "One smile can cover one hundred flaws." By releasing 3 episodes a day, this drama also gives enough the tide people over while quickly giving the next dose. No complaints here.
18. Overall King of Lan Ling is everything I expected – a hodge podge period-ridiculous but narratively-entertaining romance drama with pretty actors mostly doing a good job. There isn't a single actor of the horrific variety (all-plastic looks, screechy OTT acting) to mar the proceedings so I always end each episode ready to push play on the next one. Don't worry about watching this without subs. The plot is so elementary you won't need subs to understand it, and without subs you will have the added bonus of missing out on truly cheestastic dialogue that will sear itself into your brain and cause you to laugh in your sleep. The first scene when the OTP meet at the hot springs has already been immortalized by the c-netizens for being one of THE most laughable moments of romance lore. It's about as romantic as a scene when one of the Three Stooges mistakes the other for a woman and falls in love. It's unintentional slapstick at its finest. But don't worry, erase that from your memory and there are plenty of actual swoony interactions between the OTP.
19. Will I recap King of Lan Ling? Possible, but only if I'm allowed to snark to my heart's content.
20. And just to end on a nice even twenty, if I had to sum up this drama in one sentence it would be: A very pretty man falls in love with a very logically-impaired sheltered young woman and they tumble into destiny's love trap while destiny cackles "Yeah, I'm just a bitch" and one stupid kingdom falls while the smarter one rises. The end.
…………………………………
Now for some non sequitur natterings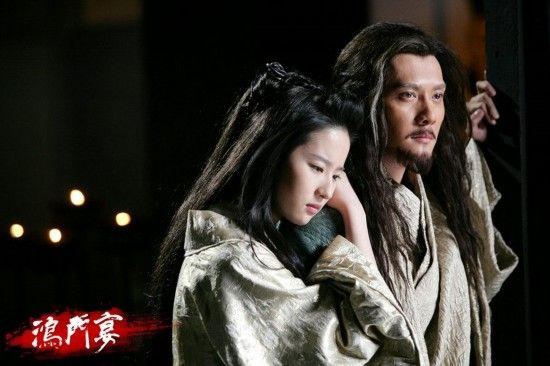 Feng Shao Feng's King of Lan Ling get up, as much as I approve the Saint Seiya cribbed armor, is so antiseptic and wholly unable to capture even a 1/10th of his hotness. White Vengeance was a dumb as rocks movie, but his Xiang Yu had a penchant for fur, the prettiest woman in the land, and lots and lots of seksi facial hair. Now that is what I call a very hot man. His chemistry with Ariel here is like grade school when kids pass notes to each other and worry about catching cooties. Put him on a movie screen, he goes for chemistry of the high school variety where the couple sneaks off to make out in the car in the parking lot. But I suppose the image of the King of Lan Ling as a very "pretty" man is what this drama was going for so I'll let this one slide. Still, what a waste of Feng Shao Feng.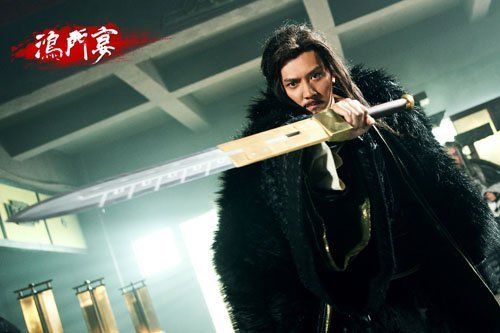 But his Xiang Yu does have by far the bigger sword. And we all know what they say about a man with the biggest sword.
As much as I am relatively enjoying watching this drama, the majority of time this is my expression. See, even Rong Er is not amused by how annoying Xue Wu is 99% of the time.  I can imagine the hilarity that Ariel goes through every time she reads a script and then thinks to herself "I have to say this dialogue tomorrow?" It's beyond a step down when she's played Rong Er before, i.e. the wuxia world's smartest person – not female, just person, she outsmarts men, women, sly animals, and likely gods and goddesses if they existed. Rong Er, smarter in one hair follicle and never overthinks and sticks by her man (even if he's engaged to another, hells no that is NOT stopping her just cuz some stupid old fogey parents want it), thinks the same way I do. Can Xue Wu be shipped off to the Kingdom of Chen (the third kingdom in this dog fight) where she can cause chaos there?
George Hu must've pissed off the costume designer on fitting day. His battle attire includes wearing an iron underwear with a protective shield upside down on his head as a helmet. Forget people being stunned by the pretty of the King of Lan Ling's pretty visage, the enemy ought to be dying of laughter when they lay eyes on the King of An De. Plus while his hyung the King of Lan Ling gets expensive looking Saint Seiya armor, his looks like the reject first generation Iron Man suit.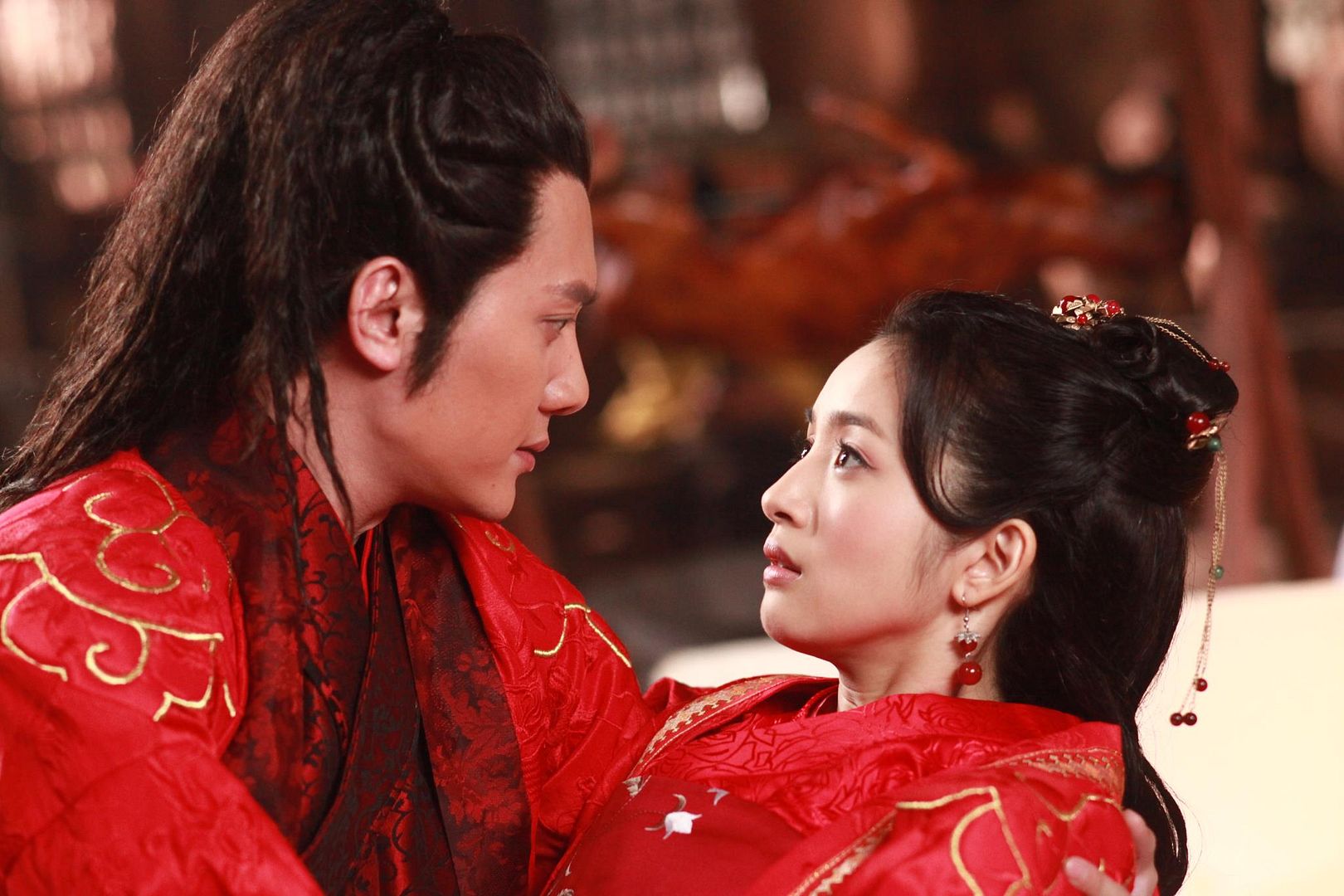 But occasionally I like romance as fluffy as rainbows, and this drama does deliver that here and there, and in those moments when it hits, I smile like a loon and sigh with pleasure.