It's a couples shirt, people! Dead Hyun Joon's ever present blue shirt is a couple's shirt! Ahhhhhh, the tears, they be coming like a spigot that won't turn off. Episode 10 of Who Are You just flipped the switch for me from love to rabid insane whirlpool of emotion. The remembrance and reunion of torn apart lovers Si On and Hyun Joon was better than anything I could have scripted, included a final flashback to the fateful evening in 2007 when all Hell broke lose. I swear I was crying through my attempts to screen cap the heck out of all the perfect Hyun Joon scenes in this episode, because I don't recall any drama where a first love relationship is shown with such simple beauty and affection. I love that the story continues to do little reveals that add more angst to the mix, such as the discovery that Si On was at the port that day to bring Hyun Joon a couple's shirt as a present. So not only is the blue shirt he's been wearing as a ghost a present from Si On, it matches the same shirt she owns! And the painful irony is that he likely died because he took off his bullet proof vest to put on the shirt, and was called away before donning the vest again. Poor Si On, all these memories are killing me watching it, I can't imagine how much agony she must be feeling.
And then Si On opened the box from Hyun Joon's belongings and discovered the engagement ring glistening inside. When she took it out and said to Hyun Joon with a smile that it's beautiful, and he smiled back, I was sobbing so hard I was making incoherent gasping noises. Even a transition scene when Hyun Joon and Si On quietly walked back to her house made me double over in pain, because it's like time stopped for them even in this in-between state where she's alive and he's not, but she can see him so it's almost like they can pretend to still be with each other. Honestly, at this point I don't care if this drama turns into a SciFi or fantasy one where dead people can be resurrected, or if Si On dies at the end – at long as these two torn apart love birds can be together in the end in any way, shape, or form, then that must happen. I do like Gun Woo but how can he win Si On's heart when the entire love story of Si On and Hyun Joon is pretty much perfect?
The puppy pulls up to Si On's house all excited and anxious to confess his feelings to her.
But she's back in her own love story with Hyun Joon, finally remembering who he is and what he means to her. *sobs* He's her oppa, her Hyun Joon oppa.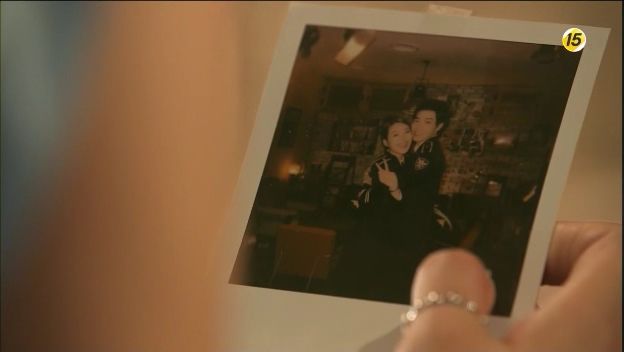 Poor puppy is sad and disappointed and tries calling Si On, who has moved the ghostly reunion to the Lost and Found department. She picks up the box that was left behind by Hyun Joon. Flashback to the night of 2007 and the ship raid.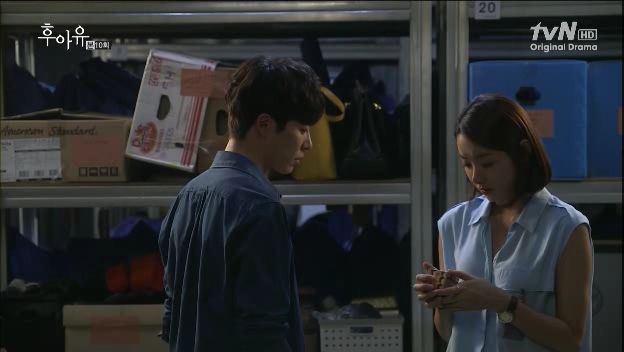 Hyun Joon is looking at the box and sitting in surveillance with Detective Choi. He tells Detective Choi that he's planning to propose to his girlfriend tonight.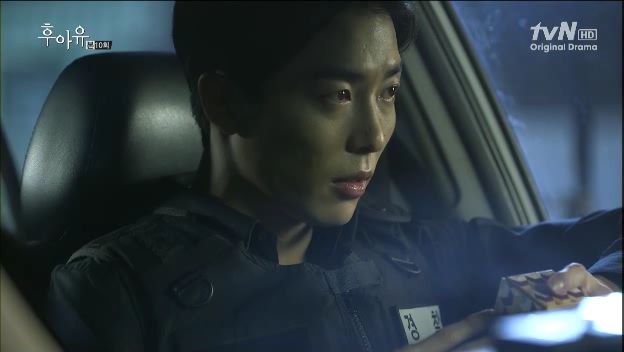 He calls Si On and goes to meet her, getting into her car.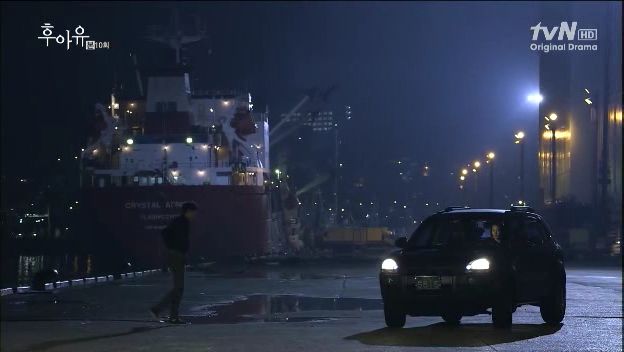 I'm not sure why this couldn't wait until he got home, but she brings him a present of a blue shirt just like the one she's wearing. She aegyos him put on the couple shirt. And he does. He takes off his bullet proof vest first and then his black shirt and dons the couple shirt she bought him.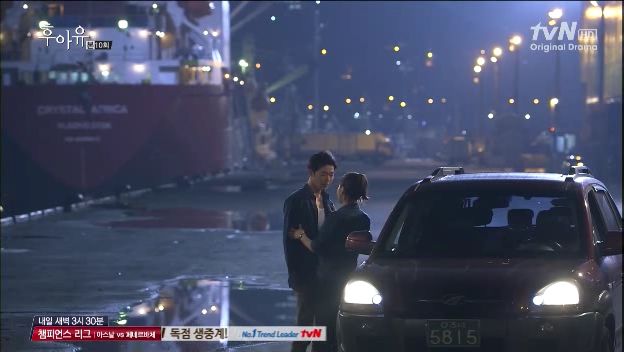 He hugs her and starts to propose, but he gets a call over the walkie talkie from Detective Choi.
He heads back to the surveillance and she pouts as he walks away, when he suddenly turns back around and pulls her in for a kiss. Swoon.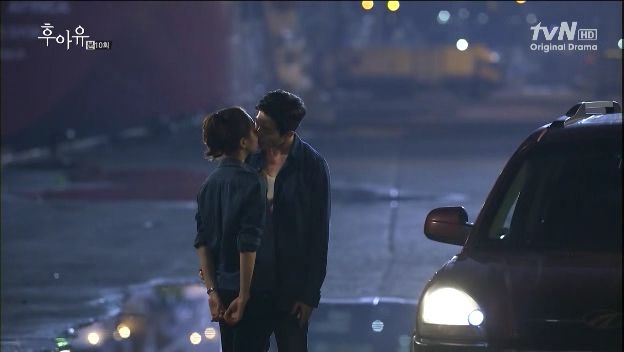 He tells her wait for him because he'll be back to finish what he was saying to her and she nods. He walks off with a bright giant smile and that's the last time she talks to him alive. She realizes as she's about to drive off that he didn't put his bullet proof vest back on and heads back to give it to him.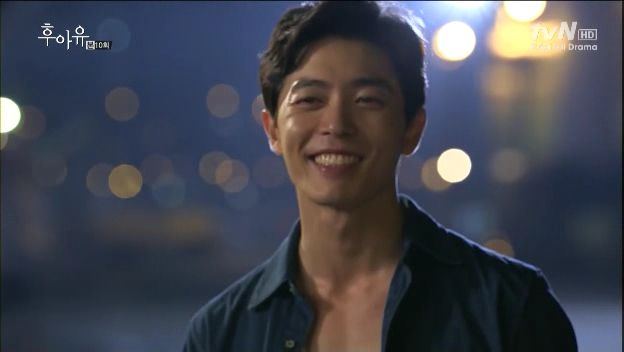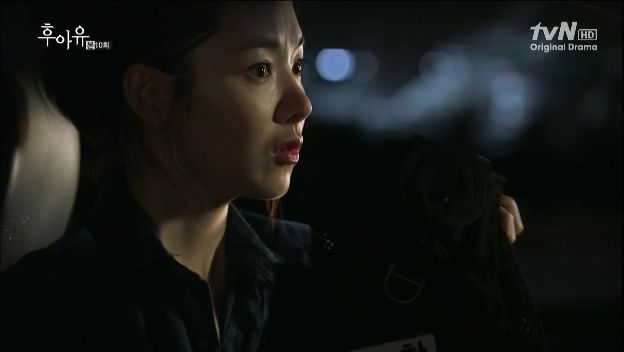 He discovers Detective Choi missing and goes on the smuggling ship and discovers he's part of the bad guys.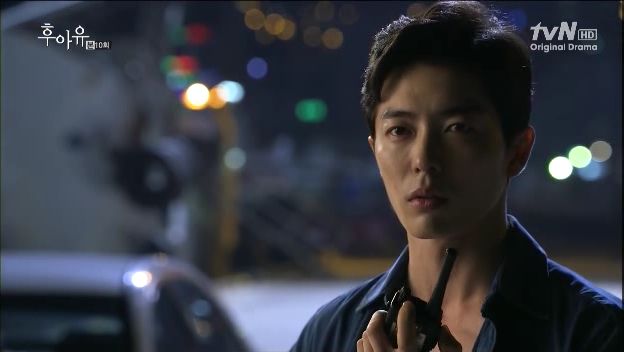 Hyun Joon confronts Detective Choi and Si On arrives on the ship just in time to see Hyun Joon get shot. She catches a glimpse of Detective Choi's face as the shooter.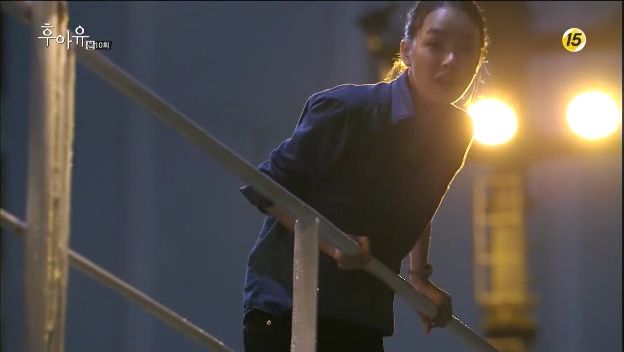 Si On remembers everything from that night and realizes that Detective Choi was the killer. Si On also realizes that Hyun Joon died because he wasn't wearing a bullet proof vest and she was the reason he took it off to put on the shirt she bought him. She cries.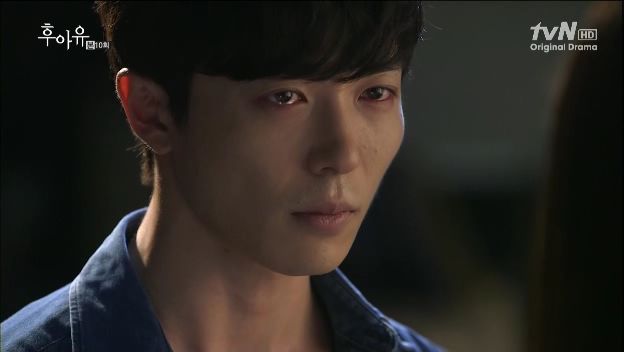 Si On opens the box and sees an engagement ring nestled inside.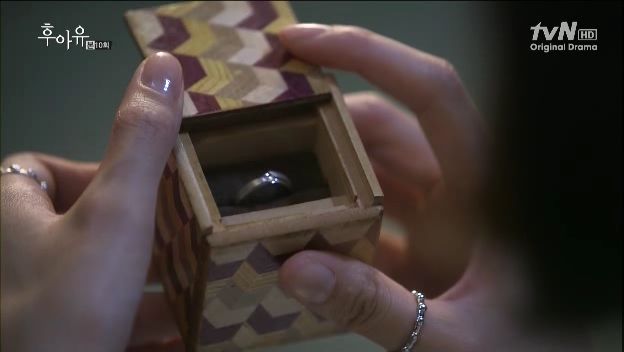 She smiles through her tears and tells Hyun Joon that it's beautiful. He smiles and every single heart shatters in pain in that moment. She takes the ring out of the box and holds it next to her heart.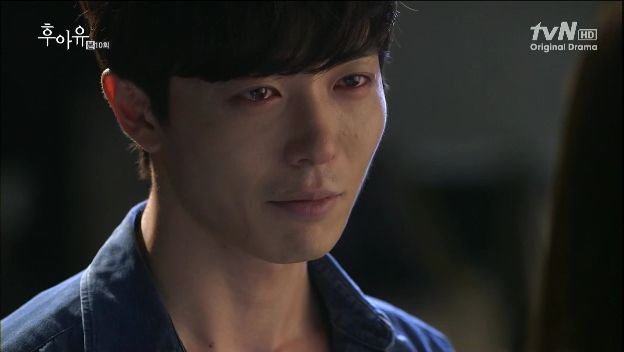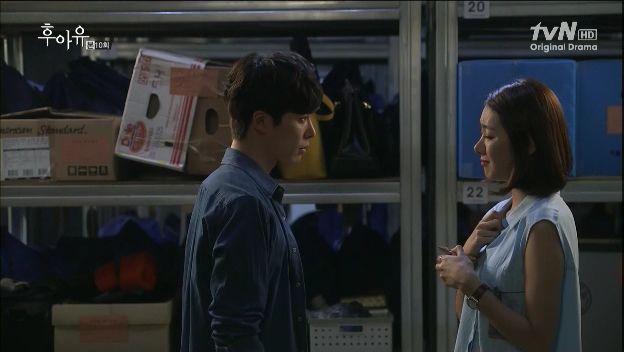 Hyun Joon walks Si On home, and they have only eyes for each other. This quiet little moment when its just the two of them again, even if she can't touch him and he can't touch her.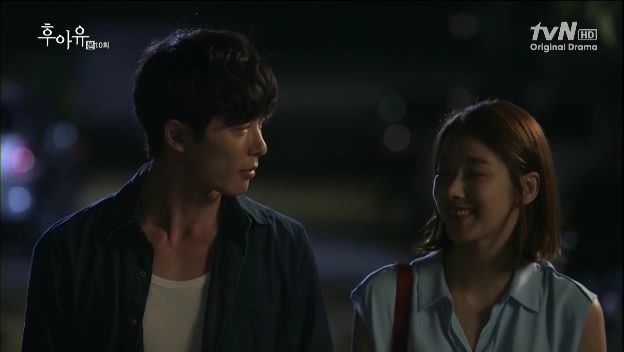 Both look up in surprise as they arrive at her house, because who else but puppy Gun Woo has been waiting outside, apparently from sun-up to sun-down. Si On shoots Hyun Joon a quick glance and then walks up to Gun Woo.
Gun Woo immediately asks where she went all day? She wonders what his problem is and he finally stammers out the truth, that he was worried about her because he likes her. Awwww, if only his confession didn't come on the heels of Si On finding out the love of her life was DEAD and she was likely a contributing factor in his demise. And that he was back in ghostly form. Si On tells Gun Woo that she got all her memories back, including remembering who Detective Lee Hyun Joon was. He was the man she loved, and she's going to make it her mission to find out who killed him. She's totally like "boy, I have no time for your puppy crush, go back to the sandbox and play like a good puppy."
I honestly adore Gun Woo's character because he's exactly what this drama and Si On needs around her right now – such a refreshingly simple and straight forward good man. All sunshine and strength, nothing complicated. But that's also why Hyun Joon's character and personality is the soul of this drama, because he's the one who had it all and got it viciously taken away. A brilliant police career, a beautiful girlfriend who loved him as much as he loved her. It's the stories that don't have endings that linger in the emotional vortex.
I don't see Kim Jae Wook as playing the second male lead – he's the most fascinating and complicated character and story in this drama, and I would have him play Hyun Joon over Gun Woo in a heartbeat. He gets significantly less screen time but easily triple the impact. I also think Taec is perfect as Gun Woo, and ultimately this drama love triangle is working marvelously for me. I unexpectedly love love WAY so much! Of course the ending will surely be bittersweet for my pitiful Hyun Joon.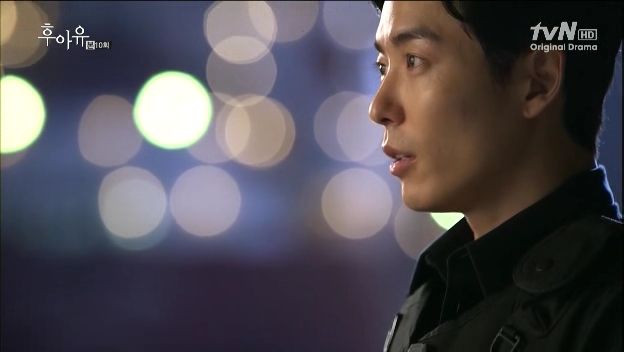 Kim Jae Wook – singlehandedly making the mediocre into the magnificent all on the power of his gorgeous visage paired with his marvelous understated acting. We are not worthy. *bows down*