Oh. My. God. I confess to never thinking this could even be possible, and rather laughed that so many 4th Prince-Ruo Xi shippers in Bu Bu Jing Xin transferred their romance to the lead actors Nicky Wu (Wu Qi Long) and Liu Shi Shi. I may be a HongShi shipper but the LongShi fans always seemed a ship far off the shore of possibility despite how much I loved 4th Prince-Ruo Xi in the drama BBJX. Today I eat my words (onomnomnom) and congratulate the newly confirmed real life couple of Nicky and Shi Shi! Congrats are also due the LongShi shippers, though I still think the reel-to-real happened way after BBJX wrapped filming nearly three years ago. Rumors have been flying all Summer while Shi Shi and Nicky filmed back-to-back dramas Bu Bu Jing Qing (the modern sequel to BBJX) and the period school yard rom-com The Incisive Great Teacher. Tabloids claimed they were spotted on dates or hanging out at her place overnight but neither addressed those rumors. This week came some pictures showing Nicky supposedly outside Shi Shi's place in Shanghai, and instead of ignoring it, both went public on Weibo the exact same day.
Bear in mind a Weibo confirmation is the way to go these days, another famous couple Yang Mi and Hawick Lau did it as they took their onscreen romance in Ru Yi to real life and were snapped together by the paparazzi. Nicky went first, posting a picture of him and Shi Shi and said this "Thank you all for your concern and well-wishes, we treasure this very precious relationship, we hope everyone can give us freedom and space in our personal lives, thank you for your understanding @LiuShiShi". Shi Shi followed up with a post on her own Weibo "Thank you all for your concern, I believe destiny will provide the best arrangement @NickyWu". So there you have it, another power couple is born and this might be the biggest dating news reveal in C-ent this year with how popular both have become since BBJX. I actually thought the age difference would be a deciding factor since Nicky is 43 years old (born in '70) while Shi Shi is just 26 (born in '87), but looks like the over two years since they went from co-stars to friends have allowed a romance to blossom and I am so happy for them and wish them all the best!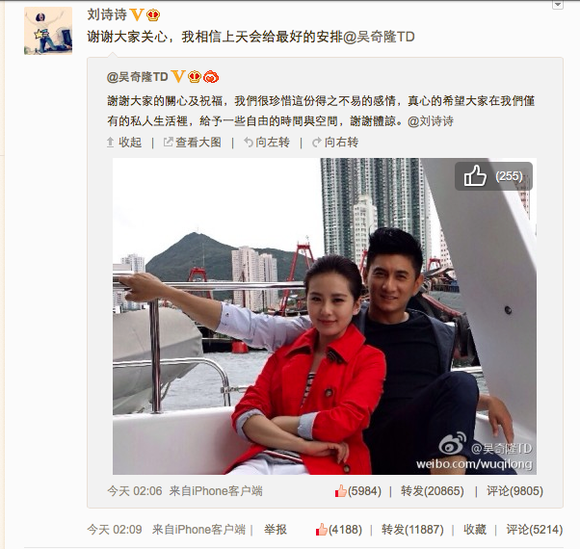 What did I say about tragic onscreen romances getting happy endings in real life? First Moon Geun Young and Kim Bum from Goddess of Fire and now Nicky Wu and Liu Shi Shi from BBJX. It really is a major consolation for the drama fan in me. Some think this could be a publicity stunt but I doubt it. For starters, BBJQ isn't being released until mid-2014 and no word on when The Great Incisive Teacher is coming out. I think they finally got tired of all the dodging and decided to heck with it since everyone is outing their dating status in C-drama land. At least they didn't take as long as Hans Zhang and Zheng Shuan who took 4 years from when Let's Go Watch the Meteor Shower aired before confirming their relationship.
As much as I'm trying to remain objective in writing this post, I still paused to pinch myself that Ruo Xi and her 4th Prince are together in real life. *___* So may drama shippy dreams coming true lately. Since the news broke hours ago, congrats have been pouring in on Weibo for both of them, especially from their close-knit BBJX family. Frequent co-star 10th Prince Ye Zhu Xin adorably said this is when true love finds true love. Awwwww.
Watch Shi Shi and Nicky duet on the BBJX OST song "A Season of Waiting":
[youtube id="qRo2RgIqwjk" w="650″ h="450″]