Another entertainment-related romance news hit the wires this week and this one is the reverse of last month's announcement that Korean actress Chae Rim was marrying her Chinese actor boyfriend Gao Zi Qi. Chinese actress Tang Wei is engaged to critically acclaimed Korean movie director Kim Tae Young who directed her and Hyun Bin in the art house movie Late Autumn. The two have long been rumored to be dating but both have repeatedly denied it…..until now. Why bother denying was my opinion when the news first broke years ago that they were dating, neither are idols and going public doesn't seem to have any negative repercussions on their careers IMO. Tang Wei has been a frequent visitor to Korea, and even bought a house there last year in Seoul, spurring even more speculations that she would marry Kim Tae Young. Even if they never admitted to dating, of course.
In the beginning there was even the cover up rumor that Tang Wei was dating her co-star Hyun Bin, which we now know was just using dimpled Binnie as a third wheel distraction for the medial. The Korean netizens are thrilled with the lovely and talented Tang Wei marrying one of their talented successful director, whereas the Chinese netizens reactions are more mixed, with some shipping fans wondering why she couldn't have married Binnie (hahahaha) and others bemoaning the loss of Tang Wei over to Korea. Not sure why her marrying a Korean director means she now belongs to Korea, but I will never ever understand netizen logic or lack thereof. There is a general consensus of Chae Rim marrying into China and Tang Wei marrying into Korea as some sort of karmic swap. I'm just content to report some happy wedding bell news and good luck to the happy couple. They're ten years apart in age with Tang Wei being 34 years old while Kim Tae Young is 44 years old and this will be a first marriage for her and the second for him.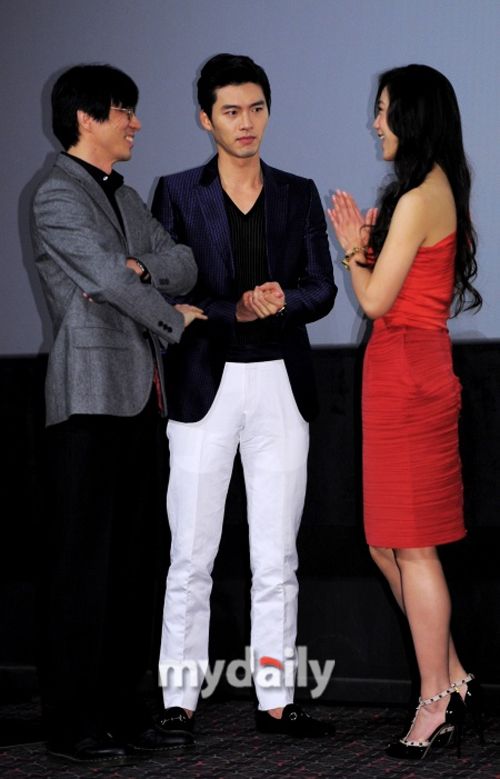 Binne is totally like "Don't mind me, I'm just the third wheel here" in this picture LOL.