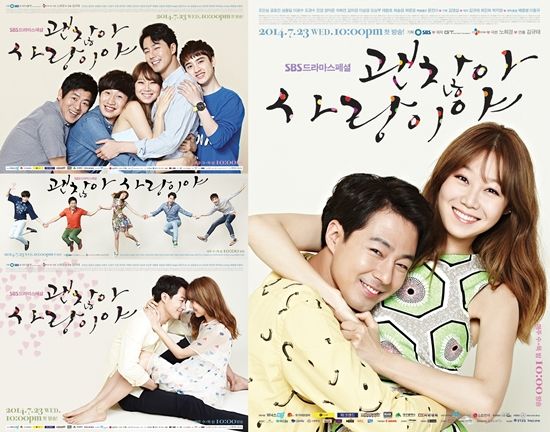 It's love at first sight for me and It's Okay, It's Love. Episode 1 was everything I love about screenwriter Noh Hee Kyung's work without the artificial overwrought packaging of her last dramas Padam Padam: The Sound of His and Her Heartbeat and That Winter, The Wind Blows. It's quirky and intelligent wrapped in some pretty serious dark subject matter, but presented within the normalcy of daily life happening all around these characters. The drama opens with a shocking act of violence and then quite abruptly jumps to points in the future where many questions wait to be revealed. Leads Gong Hyo Jin playing an attractive and serious psychiatrist ignites seamlessly with Jo In Sung's flirty and glib famous writer of murder mysteries. All roads in this drama lead to mental illness and it's clear all the characters suffer from some form or another of mental health issues of varying degrees of seriousness.
The supporting cast is excellent with Sung Dong Il having loads of fun as a fellow psychiatrist, Kwang Soo as a guy who suffers from Tourette Syndrome, and D. O. playing a character that was immediately clear to me was more than meets the eye. I really don't think it a spoiler for me to discuss who I think he is in this drama but I'll save it for after the jump. The highlights are an excellent ear for music selection which starts off with the amazing first track "Best Luck" by D.O.'s EXO group mate Chen and plenty of great use of background music to liven up many scenes subtly. PD Kim Kyu Tae also returns to fine form after doing a visual stillness overkill in TWTWB and here lets his actors move with the scenes rather than pose prettily in it. The ratings for the Wed-Thurs dramas are neck and neck right now with Joseon Gunman at 11.6%, Fated to Love You with 9.7% and IOIL right behind with 9.3% I think all three dramas are excellent in their own unique ways and I wouldn't be sad for the two that don't end up winning the ratings race since the quality speaks for itself and will last longer than eking out ratings wins. I'm so mesmerized and fascinated with this drama already and can't wait to get a better sense of the full set up.
Everyone can take it to the bank now – Jo In Sung and Gong Hyo Jin's chemistry is sultry and simmering and totally adult sexy. These two follow in their respective costars who have mixed up the pairings and also done wonderfully. Gong Hyo Jin and So Jin Sub was exceptional in The Master's Sun and there was Ha Ji Won rocking with both Jo In Sung and So Ji Sub in What Happened in Bali. At this point all of these established A-listers are just money in bringing it and we're so lucky they keep on reshuffling the couplings to create new and unique pairings.
I like that this drama is tackling a lot of different mental illnesses, and even very modern conundrums like gender identity choices and societal pressures leading to depression and even suicidal tendencies.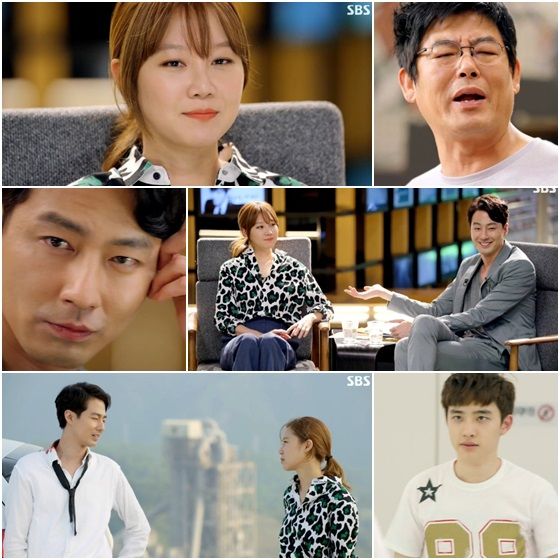 I think Jo In Sung's character of DJ-novelist-talk show veteran Jang Jae Yeol is poised to be an incredible psychological treat to mine. It's so clear from the very moment D.O.'s high school student character Han Gang Woo shows up in the club after Jae Yeol has been attacked by his older brother Jae Beom that he's not simply a book fan worried about Jae Yeol. Gang Woo is obviously younger Jae Yeol and only he can see him. Gang Woo wore a white NY cap in the club attack scene and after the time jump we see a blue NY cap in Jae Yeol's apartment table. Gang Woo also shows up in random places and only Jae Yeol has interacted with him before. Jae Yeol likely suffers from high functioning schizophrenia and may have something to do with Jae Beom attack on him and the death of their father. My gut tells me Jae Yeol might have been the one to kill their abusive dad and then had a mental breakdown and spun out his high school self to remain at that age forever.
I don't think this is meant to be a narrative twist or mystery but obviously I probably glommed on too quickly, but at the same time with mental illness it's not just why but using that why to figure out what to do about it that matters the most. Jae Yeol's fascination with Gong Hyo Jin's Dr. Ji Hae Soo is probably all linked to his mental health issues, why he writes murder mysteries with people acting horribly, and somehow remains so aloof and glib about it. It's incredibly daring for the story to be anchored by a male lead with schizophrenia, if indeed Jae Yeol has it, and somehow make it compelling to watch him live his life and fall in love. No wonder Noh Hee Kyung said this drama was about mental illness but in a way not to stigmatize it but to make people see that it's all around us. Great cast, great first episode, my expectations are dialed up so high now please don't let me down later on IOIL! Have a listen to the excellent first OST track below.
EXO's Chen "Best Luck" for It's Okay, It's Love OST: