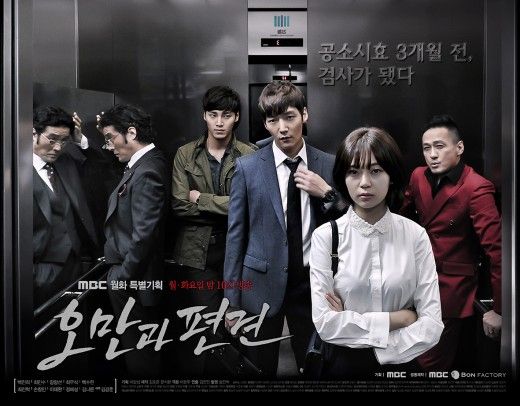 The first two episodes of K-drama Pride and Prejudice are so much win I can't even. It's like MBC finally got its act together and did something right from casting to writing to directing. It's not perfect but all the working elements have aligned to create a drama that's watchable either as a legal procedural or a character building team narrative story. How bad P&P's predecessor Records of a Night Watchman was right off the bat is conversely how good P&P is. The drama retains the big network prime time flair, this is definitely not a cable drama, but I say this as a compliment for how P&P does justice to its big budget origins.
P&P is a legal drama centering around one team of prosecutors working in a department assigned to the small and oddball cases that the more high profile teams disdain. Watching episode 1 immediately made me think that the story is basically K-dramas doing the famous Kimura Takuya dorama Hero (which spawned a sequel this year) where the main cast interacts while processing and investigating legal cases. I'm loving this drama so much including the firing on all cylinders cast led by Choi Jin Hyuk and Baek Jin Hee admirably showing off their chemistry and acting charisma that proclaims both ready to headline their first major K-drama.
I loved P&P's cold open for episode 1 as we're dropped right into the moment when Han Yeol Moo encounters Gu Dong Chi for the first time outside the offices of the Seoul prosecutorial departments. Her shocked and tense reaction implies some shared past that hints it was unpleasant with the way Yeol Moo ignores Dong Chi and just walks into the offices. Dong Chi also spots Yeol Moo and his reaction is different, directly approaching her to talk (and flirt), all with an underlying sense of something unresolved. It's been four years since they've last seen each other and Dong Chi is surprised Yeol Moo has passed her legal exams and become a prosecutor. Even more surprising is that Yeol Moo knew which department Dong Chi works at and purposely selected to come work with him. Interesting. She claims it's for "revenge", whatever that means. Dong Chi is neither upset nor happy that she's back in his life, his muted reaction pretty professional even if he keeps bantering with her.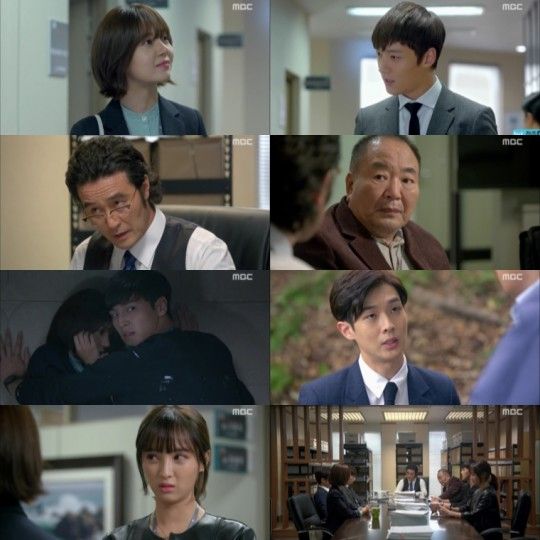 Their department is led by Department Head Moon Hee Man, played by a delightfully restrained Choi Min Soo. Dong Chi is his right hand man as the Chief Prosecutor while second-in-command is Prosecutor Lee Jang Won. Yeol Moo makes three as she becomes the most junior Prosecutor and this is her training period. The prosecutors are assisted by the prosecutorial assistants who help with the administrative work. Dong Chi and Yeol Moo end up sharing the office with assistant Kang Soo while Kwang Mi backs up Jang Won. Department Head Hee Man gets his own seasoned assistant in former cop Yoo Dae Gi. Everyone on the team is interesting while remaining professional which is such a relief to watch.
Yeol Moo's first case is a neighborhood flasher who has been pulling his pants down to the ladies for the last three months. It seems relatively minor and the flasher suspect even has an alibi – a teacher customer was buying hula hoops in his convenience store at the time of the flashing so he couldn't have been in two places at once. Yeol Moo, Dong Chi, and Kang Soo go to the crime scene to retrace the flashers steps back to the convenience store to see if the suspect could have run back in the short time between the flashing and the hula hoop sale. Commence more thinly veiled banter between the leads during the investigation, and then Dong Chi gets the upper hand when he reveals to Kang Soo that he and Yeol Moo know each other because they dated in the past. Dun Dun Dun!
The investigation takes a serious turn when Yeol Moo finds a little girl hiding in the convenience store who exhibits the behavior of someone who has been sexually abused. Her teacher turns out to be the eyewitness for the flasher suspect as he was buying a hula hoop at that time, which happened to be during school hours. The little girl disappears after she's returned home and an all out search commences for a missing child. Dong Chi and Yeol Moo figure out that the two men may be giving each other alibis, the flasher and the teacher sexual abuser, and both are guilty of their respective crimes. Both suspects are arrested and separately interrogated but neither breaks. The child is located and IDs the teacher as her abuser while Dong Chi's independent investigation unearths more evidence that implicates the flasher without needing to break his alibi. Done and done, episode 1 flew by in a breeze and some fantastic dialogue that made up for the clunkier aspects of the legal investigation.
Having a cold open works so well in this drama because the writer lets the characters behave like human beings. Dong Chi and Yeol Moo clearly have unresolved issues with each other but it doesn't overflow into their professional roles. That also allows the audience not to bemoan the lack of context in episode 1, which is swiftly addressed in episode 2 when we witness first hand the meet cute between Dong Chi and Yeol Moo. She's running away from her distraught mother while clutching a duffel bag and gets in his car as an escape route. Dong Chi takes one look at this pretty sad thing and is smitten, driving away Yeol Moo and bringing her into his life. He plays it cool by not asking for her number when she asks to borrow money for a meal, instead leaving her a note on where to met him to repay it. Then Dong Chi wanders around refusing to accept the money back, and ends up boarding a tour bus with Yeol Moo and paying her bus fare, leaving her owing him even more money.
Dong Chi gets Yeol Moo to repay him through one date a month for ten months, a pretty ballsy move on his part. He can't exactly track her down since she refuses to give him her name so this is his only way to keep her in his life until he convinces her to give him a chance. Fast forward ten months and on their late date at a bar, Yeol Moo is almost about to tell Dong Chi her name when he steps aside to take a work call and his bag falls on the floor. He indicates for Yeol Moo to help him pick it up and as she's putting the folders back into the bag, she finds a torn slip of document that makes her freak out. She runs out of the bar leaving Dong Chi clueless and devastated as to what just happened. That was their last meeting until the beginning of episode 1 when Yeol Moo arrives to join the prosecutors office. Yeol Moo appears to be there both to fight for justice for the victims as well as do some investigation of her own as she sneaks back to the office one night and rifles through Dong Chi's drawers.
Episode 2 has a more investigative heavy case that also brings in neighborhood thug Jung Chang Gi who is currently in jail for eating and not paying. Chang Gi knows both Kang Soo and Dong Chi, and appears to recognize Department Head Moon. Dong Chi takes Chang Gi's case from Yeol Moo and then has him released, leading to Yeol Moo tattling to Department Head Moon that Dong Chi is corrupt and released a criminal he is close with. Department Head Moon tells Yeol Moo to stop throwing accusations around and go do her own job properly, before calling Dong Chi in to hear that Chang Gi is going to be the bait connection for a drug deal that is going down. The prosecutors set up the drug bust themselves and Yeol Moo almost gets hurt in the raid but luckily the team pulls through and the perps are apprehended. Bonus points for Dong Chi being so utterly stricken with worry when he fears Yeol Moo is in danger.
At the end of the episode, Yeol Moo moves into the same share house that Dong Chi and Kang Soo live in, after Dong Chi offers it to her when he realizes she has no place to live and sleeps in the night office at work. The chemistry between the two are already ridiculous at work, I can't wait to see more sparks fly when they are living under the same roof. What makes P&P work is that it takes the Hero format and corrects adds the K-flavor for more romance and secrets backdrop for the characters. Even better is that it does so without the ham-fisted approach that made You're All Surrounded such an exaggerated narrative parody.
Basically P&P is what YAAS should have been except we trade cops for prosecutors is all. It's nice to see professionally trained characters behaving with intelligence and common sense even if there are the occasional overreaches that thankfully don't cross the line for me. The per-episode cases aren't intense or interesting enough as standalone fodder but wrapped into this drama which is more about character interactions and subtle cues, the legal matters serve its purpose nicely enough. What seals the deal is the fantastic romance set up between the OTP with enough background for layered conflict but nothing that is traumatic enough to beat the love/hate each other dead horse that so common in exes reuniting stories. I'm pleased with another Mon-Tues drama to follow again and hopefully the promising first two episodes will explode soon into full-blown crack drama potential.