I caution drama fans not to get too involved with reel to real shipping since the odds are forever against anything happening off screen. It's like being selected for the Hunger Games, expect to die but at least give it your best shot. With that said, the recent C-ent wave-making marriage of Bu Bu Jing Xin costars Nicky Wu and Liu Shi Shi is the stuff to fuel another long dream of drama couples making it work in real life. It's beyond romantic, satisfies the sad ending from the drama, and is as unexpected as any fictional tale due to their 17 year age difference in real life and all the naysayers predicting doom and gloom.
The couple has only registered their marriage legally but didn't hold a wedding ceremony or banquet to celebrate with their friends and family. But that hasn't stopped the torrent of congrats to pour in on weibo from their BBJX family and countless other big name C-stars. Check out the sweet thoughts for the low key couple, especially from the BBJX stars that proves how close the friendships are that developed on set, and maybe for the next few months folks will engage in some drama shipping with an extra bounce in your step.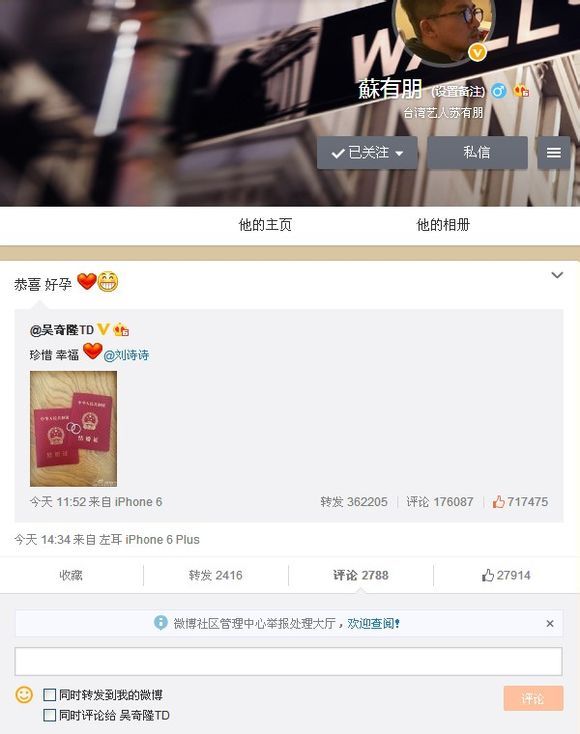 Alec Su (Nicky's Little Tiger groupmate): "Congrats, Good luck/getting pregnant!" Alec used the Chinese word for getting pregnant in lieu of the Chinese word for luck because it's a homonym.
Julian Chen (Nicky's Little Tiger groupmate): "Congrats!"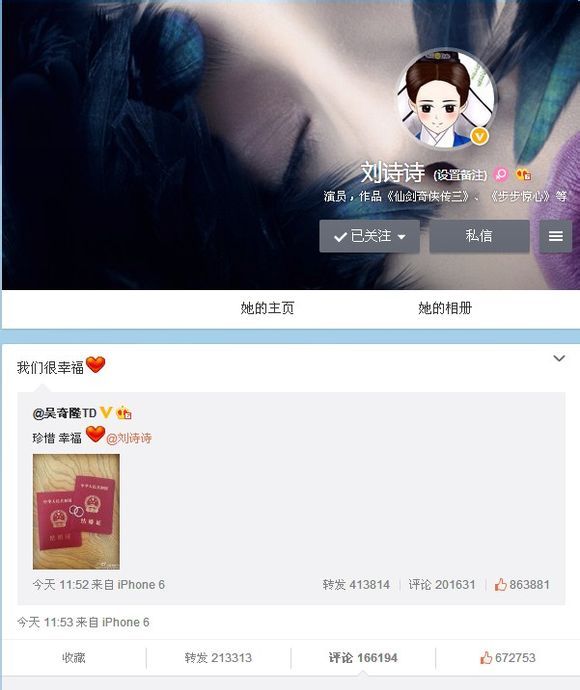 Liu Shi Shi (in response to Nicky's post): "We are very happy."
Tong Hua (writer of Bu Bu Jing Xin): "Congrats, congrats! Going to find Big Boss Wu to ask for some wedding candy to eat!
Han Dong (9th Prince): "Wish, forever very happy!!!"
Kevin Cheng (8th Prince): "You have to be forever happy with 4! Best wishes"
Lin Geng Xin (14th Prince): "You still ended up with 4 in the end. Haha, best wishes."
Yuan Hong (13th Prince): "I'm so happy I'm almost crying, okay."
Ye Zhu Xin (10th Prince): "You guys have to be happy! Love you two!"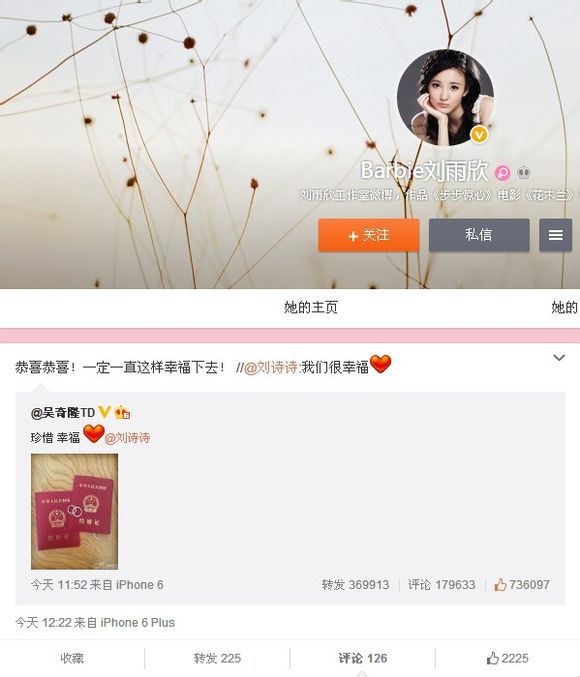 Barbie Liu (Ming Yu): "Congrats, congrats! You guys have to continue being this happy!"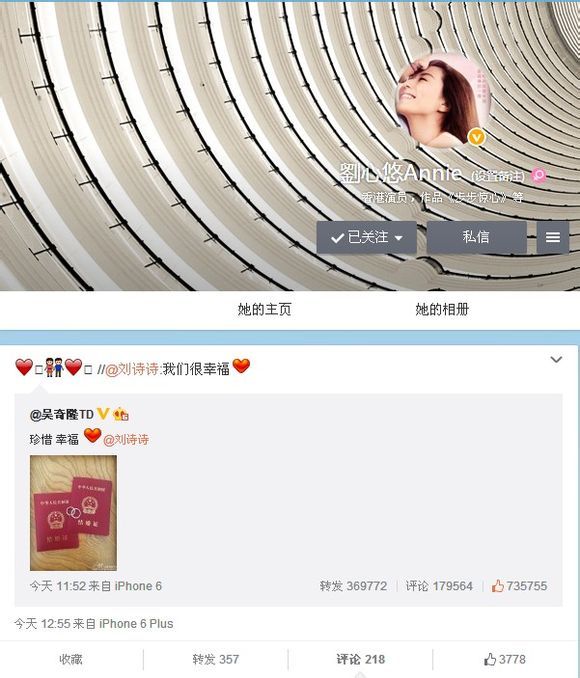 Annie Liu (Ruo Lan): Emoticon hearts with two people inside.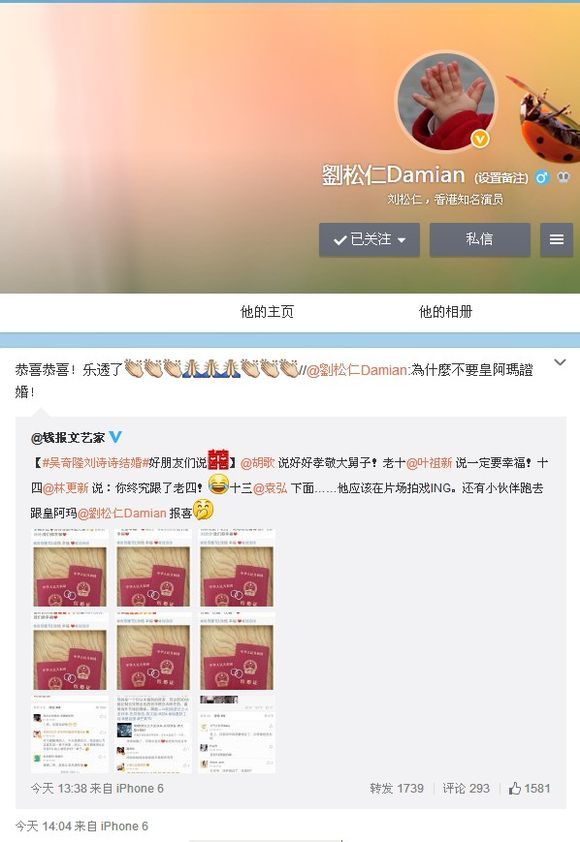 Damian Lau (Emperor Kangxi): "Congrats, so happy! But why didn't you two ask Your Majesty Daddy to officiate the wedding?"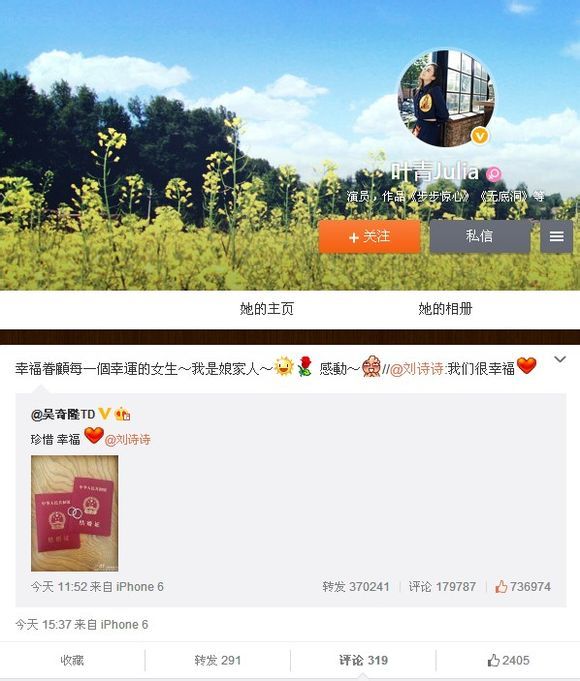 Ye Qing (Yu Tan): "Happiness belongs to the very lucky woman. I'm from the bride's side!"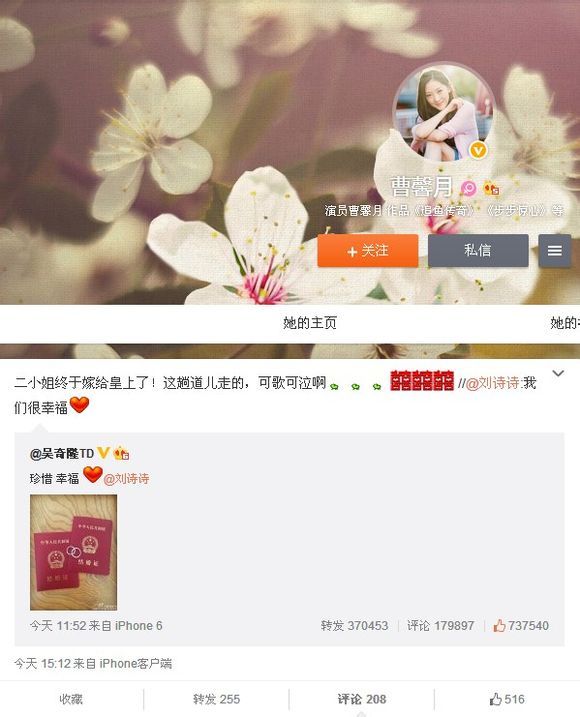 Cao Xin Yue (Ruo Xi's maid Qiao Hui): "Second sister finally married His Majesty the Emperor. This journey traveled so many tears and smiles. Congrats!"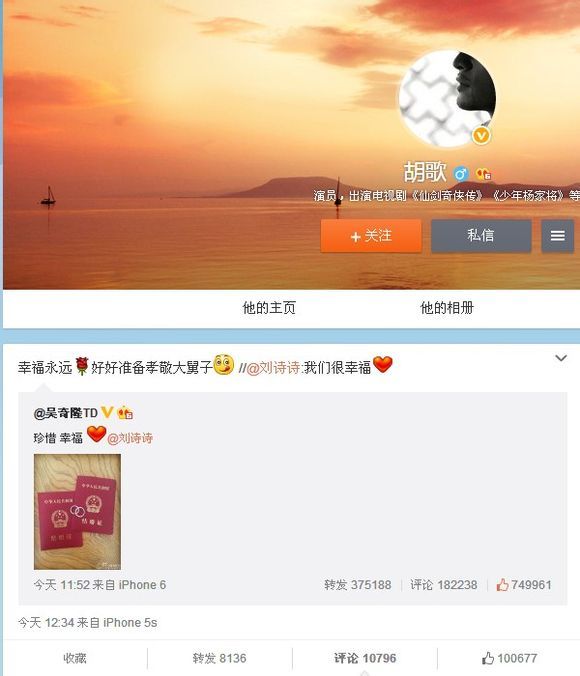 Hu Ge: "Be happy forever. Get ready to be nice to the older brother of the wife!"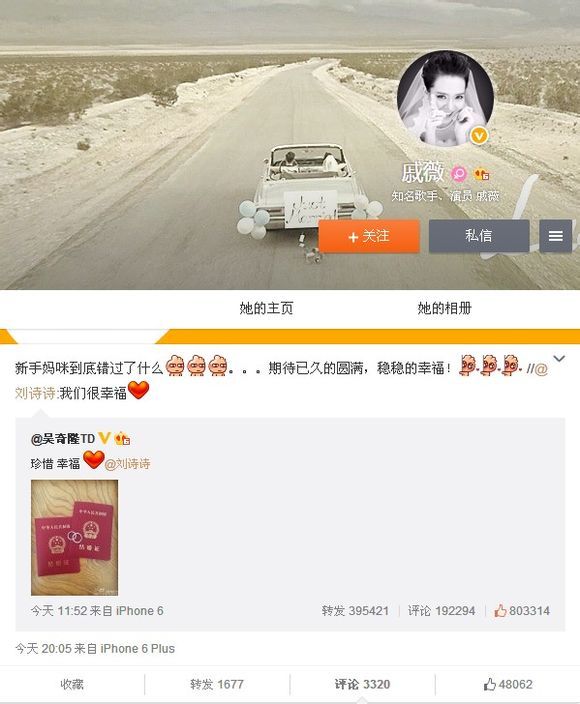 Qi Wei: "What did I miss as a new mommy? The long awaited happy ending. A stable happiness!"
Jiang Jing Fu: "Congrats, congrats!"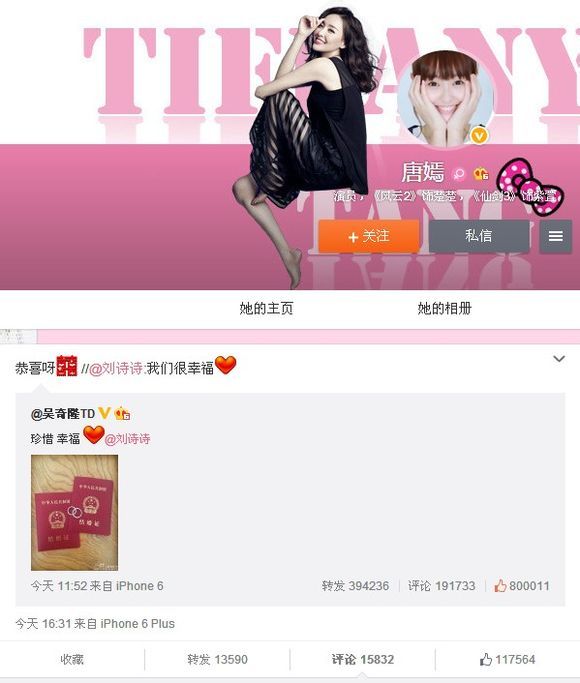 Tang Yan: "Congratulations!"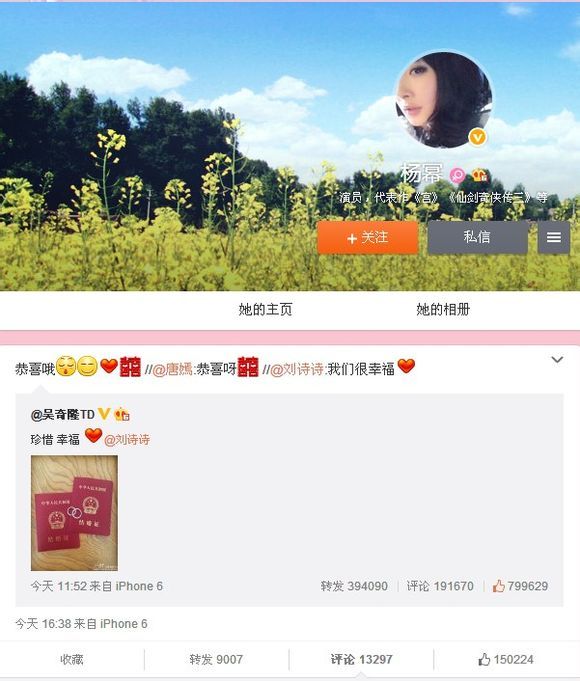 Yang Mi: "Congratulations!"

And that was just a sampling of the overwhelming public well wishes sent to the newlyweds from their colleagues and friends in the C-ent industry. Now that Shi Shi and Nicky have tied the knot, up next for the Chinese media and fans on famous couple marriage watch is the gorgeous movie star pairing of Feng Shao Feng and Ni Ni, going strong two years now. Also possible for tying the knot soon is the couple of Huang Xiaoming and Angelababy.