I've noticed that over the years I've been writing about C-dramas, and C-entertainment more and more due to the rise of both the quality as well as the increase in cross-border collaborations. Some folks new to C-dramas, or haven't even dipped a toe in, sometimes enjoy my posts without a clue of who's popular and why certain stars seem to be pairing up all the time. It'll take a while to get used to the breadth and depth of acting projects, both dramas and movies, coming out of the huge market that is China, and it's one market that the Korean stars have been diving into one after another.
The C-entertainment industry monitoring company Vlinkage recently released a ranking report for listing the most buzzed about entertainers in China for all of 2014. The top 100 includes Mainland Chinese, Taiwanese, Hong Kong, and Korean stars, basically any star that got popularity exposure in China was then tabulated by the firm based on online searches, news articles written, weibo followers and reblogs, and online chatter. Topping the one-two position are two good friend actresses Yang Mi and Liu Shi Shi while the third and fourth rank crossed a short strait and landed in the laps of Kim Soo Hyun and Lee Min Ho. Check out the full list below and get a feel for who the C-audience made/kept popular last year.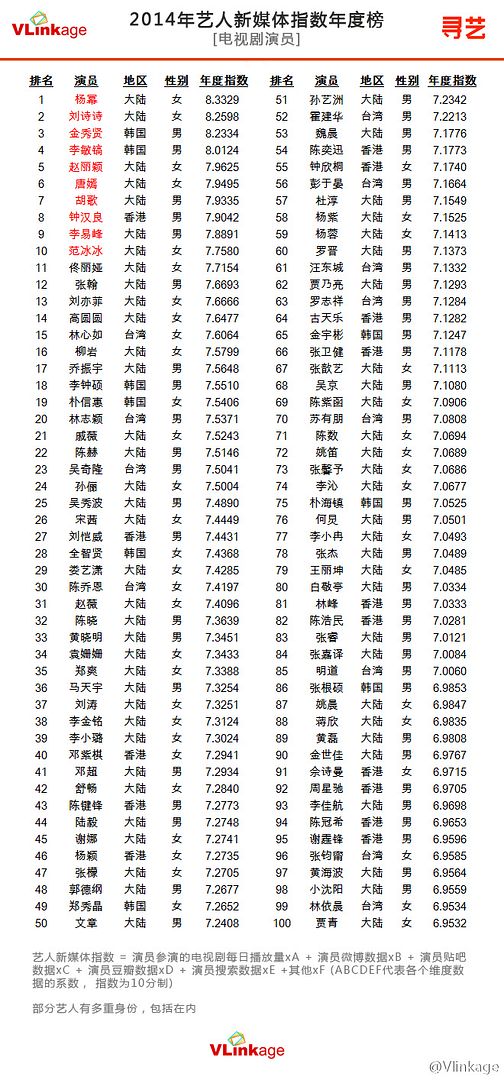 2014's Top 100 most buzzed about stars in China, the first half list as ranked:
1. Yang Mi
2. Liu Shi Shi
3. Kim Soo Hyun
4. Lee Min Ho
5. Zhao Li Ying
6. Tang Yan
7. Hu Ge
8. Wallace Chung
9. LI Yi Feng
10. Fan Bing Bing
11. Tong Li Ya
12. Hans Zhang
13. Crystal Liu
14. Gao Yuan Yuan
15. Ruby Lin
16 Lu Yen
17. Qiao Zhen Yu
18. Lee Jong Seok
19. Park Shin Hye
20. Jimmy Lin
21. Qi Wei
22. Chen He
23. Nicky Wu
24. Sun Li
25. Wu Xiu Po
26. Victoria Song (Song Qian)
27. Hawick Lau
28. Jeon Ji Hyun
29. Luo Yi Xiao
30. Chen Qiao En
31. Zhao Wei
32. Chen Xiao
33. Huang Xiaoming
34. Yuan Shan Shan
35. Zheng Shuang
36. Ma Tian Yu
37. Liu Tao
38. Li Jing Ming
39. Li Xiao Lu
40. Gloria Tang
41. Deng Cao
42. Shu Cang
43. Sammul Chan
44. Lu Yi
45. Xie Na
46. Angelababy
47. Zhang Meng
48. Guo De Gang
49. Jung Soo Jung (Krystal Jung)
50. Wen Zhang
Some notables in the second half of the list:
52. Wallace Huo
55. Gillian Chung
56. Eddie Peng
61. Jiro Wang
63. Show Luo
65. Kim Woo Bin
75. Park Hae Jin
85. Ming Dao
86. Jang Geun Seok
92. Stephen Chow
94. Edison Chen
95. Nicolas Tse
96. Janine Chang
99. Ariel Lin
* Random aside: I find the numbers 94 and 95, in that order, to be insanely ironic.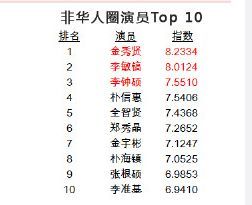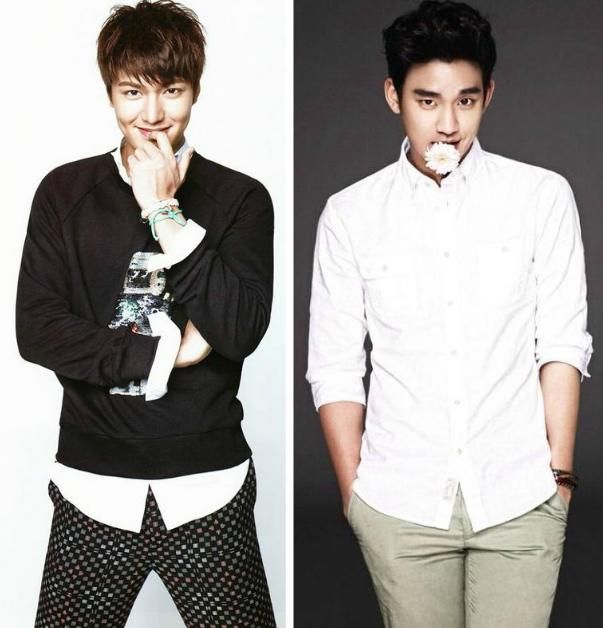 The sub-list ranking of just the Top 10 non-Chinese speaking stars within the greater Top 100 list:
1. Kim Soo Hyun
2. Lee Min Ho
3. Lee Jong Seok
4. Park Shin Hye
5. Jeon Ji Hyun
6. Jung Soo Jung (Krystal Jung)
7. Kim Woo Bin
8. Park Hae Jin
9. Jang Geun Seok
10. Lee Jun KI

The Top 100 sliced into various sub-groups, such as top actresses and top actors and so on, so read on at your leisure.