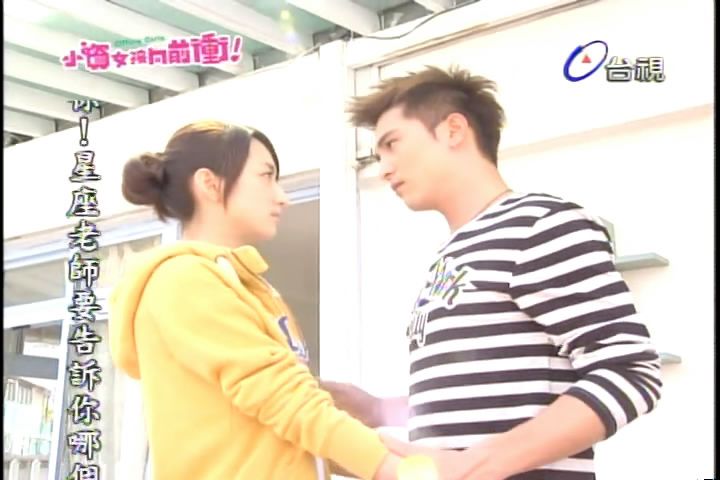 So Stallone has officially turned quad-lingual on me in episode 10 of Office Girls, forcing me to use of four languages just to fully appreciate his snerk. The man drops Mandarin, English, Taiwanese, and now even Japanese into his dialogue seamlessly, killing me each time with his delivery and intonation. OG continues to move along nicely, taking its time to bring Xing Ren and Zi Qi closer to their mutual epiphany about their feelings for each other, yet allowing us to enjoy the ride because the rest of the stuff is entertaining as all out. This drama is just fun, with such a joie de vivre that it is the antithesis of angst and melodrama. I hope to god it continues to stay this way, because I crave simple happiness in my dramas these days.
Day 10 – More Love, More Hate, What an Emotional World:
Xing Ren explains to Zi Qi that a department store's anniversary is like the Oscar's of the shopping world, so he needs to just work hard and don't goof off. Zi Qi is silent and looks out of it, leading Xing Ren to ask if something happened between him and Kai Er? Zi Qi explains Kai Er had a headache and he took her to see the doctor and she's all better now. Zi Qi tuns the tables and asks how Xing Ren's doing, what with her making headline gossip news. Did her mom call to ask for an explanation?
Xing Ren says her mom did call and she explained clearly already. Zi Qi wonders if Xing Ren's mom didn't ask how Zi Qi felt about all this? XIng Ren doesn't think her mom ought to care about how Zi Qi feels. Who does he think he is? Zi Qi reminds Xing Ren that he is "Mama Shen's Zi Qi", to which Xing Ren says that was just her mom being nice. She can't believe Zi Qi is taking it so seriously. Zi Qi doesn't think Mama Shen called him that just to be nice.
Suddenly their colleague runs over to tell them that Yu Cheng Feng is holding a press conference right now to explain the scandal. When Xing Ren wants to go, Qi Zi stops her, reminding her that her presence will just fan the flames. He heads over to see how Lao Yu plans to handle this.
Zi Qi walks up to join Stallone, who is standing at the outskirts of the media gathered at the press conference. Stallone offers to take Zi Qi to his seat, and when Zi Qi says sure, Stallone yells at them for not working and goofing off here.
Zi Qi glibly replies that Master Yu is holding a spiritual soul passing buddhist ceremony here and he's here to get some ancillary good mojo. Stallone says through clenched teeth that he says one word, Zi Qi responds with ten quips. Why yes, sir, that he does. He allows them to stay and watch how a Master conducts himself in these situations.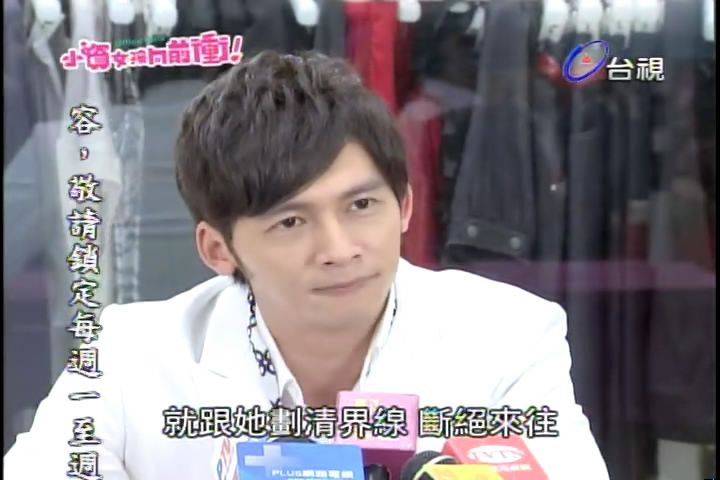 Yu Cheng Feng sits down and tells the media that he is just good friends with Ms. Shen, and this scandal is just a misunderstanding. He hopes that the media will leave Ms. Shen alone from now on. Their colleague notes that Master Yu appears to be trying to protect Xing Ren, but this makes it seem even fishier. Zi Qi hears this and his face freezes. He stands behind a camera and pretends to be the media to ask a question, wondering if Yu Cheng Feng still intends to go out with Shen Xing Ren in the future?
Yu Cheng Feng confirms he will, because they are just friends, and he doesn't want any potential scandal to affect how he interacts with his friends. Zi Qi hears his response and flips his camera on its stand before pouting away. LOL, his jealousy is just so darn cute. Stallone whispers to Zi Qi that this is real love at work here. Yu Cheng Feng also confirms that he's taken over as the director of the brand PB, while his partner Mina remains with the Yu Cheng Feng brand.
When asked if Wei Mina agrees to his leaving, she speaks up and says of course not. Mina walks past Stallone and Zi Qi and up to the front, where she greets the media warmly. Stallone stares at her and drools, calling her the real deal hottie with a tight ass and a great figure. Mina says she believes in Yu Cheng Feng's explanation and ends the press conference. She drags Yu Cheng Feng away.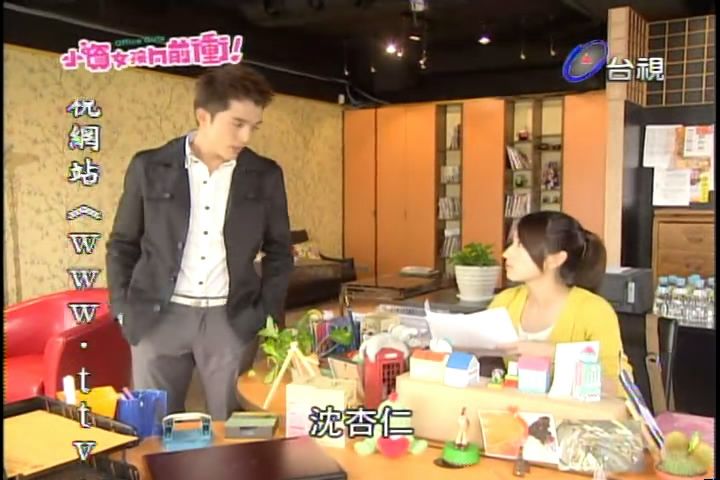 The boys return to the office where Xing Ren has been working by herself. Zi Qi tells her that her Master Yu held a demon repelling ceremony, but his powers were not enough, so he found himself cornered by evil forces, with his life at stake. XIng Ren asks him to explain what really happened at the press conference? Zi Qi says the real girlfriend Mina showed up and dragged Yu Cheng Feng off, leaving the situation chaotic. But he managed to hold down the fort.
Xing Ren wonders why Mina showed up, wasn't she supposed to be in Paris? Zi Qi says this is called marking one's territory. If he had a girlfriend who went out with another man and got photographed, forget about Paris, he'd fly back from Mars! I'm sure you would, Zi Qi. Xing Ren didn't consider this could happen. Zi Qi says she doesn't know quite a lot of stuff, and if she wants to help Master Yu, she needs to stay away from him from now on.
Mina and Yu Cheng Feng are driving and she's throwing a little temper tantrum about how he's embarrassed her in front of the Paris fashion industry. Everyone thinks she's been dumped! He apologizes, but asked why she returned and showed up. She wonders what else she can do but come back? First he left his namesake design brand, then became the director for PB, and how he has these scandalous picture for her to see.
Yu Cheng Feng says this is just the media and people stirring up news. Mina thinks that where there is smoke, there is a fire, though she wonders why he couldn't find a hottie and picked a barely grown little girl. Yu Cheng Feng says the girl's name is Shen Xing Ren, and she is just a friend. Yu Cheng Feng says he feels bad to Xing Ren for getting embroiled in his mess. Mina says he ought to apologize to her for leaving her in a lurch.
Yu Cheng Feng reminds her that her parents don't like him much. She says they spent all that money nurturing his talent, can't he accept their prejudices? Yu Cheng Feng reminds Mina that they've discussed this before, they simply don't see eye-to-eye on fundamental issues. So why do they need to work together and create more problems. Mina doesn't care and wants him back at the fashion house. He thinks it's best if they can keep work and their personal relationship separate.
Xing Ren calls Yu Cheng Feng and asks if everything is fine between him and Mina. He says it is, but says he can't talk right now. Mina wonders if that was his little girlfriend calling to check in with him? Yu Cheng Feng says he doesn't have any little girlfriend. Xing Ren finishes the conversation and walks out to find Zi Qi pretending to read a magazine. He asks if Mina unleashed a can of whoop ass on Yu Cheng Feng? Xing Ren tells him that those two are having a mature relationship, not everyone is as immature as he is.
They walk back to their desks, with Zi Qi saying that emotional maturity has nothing to do with age. Xing Ren wonders how many relationships Zi Qi has had? She can't imagined such a mature man as Master Yu will be like Zi Qi, sees a pretty girl and turns into a blubbering idiot.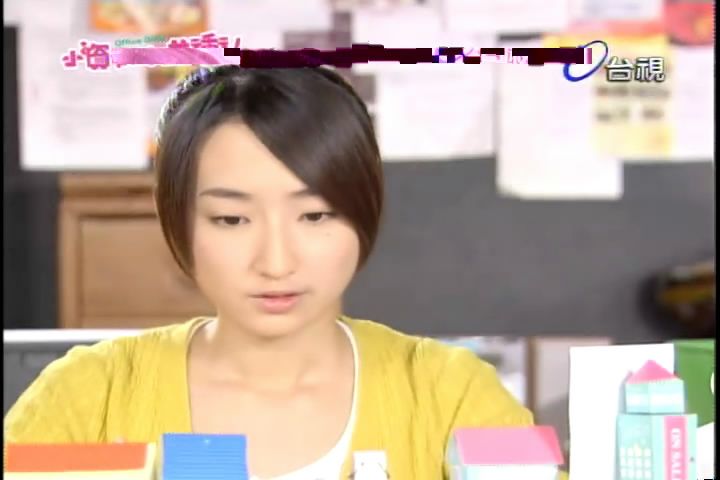 Zi Qi says love is using the heart not the head. Zi Qi says a person can just control their feelings using a switch, something as easy an on or off button. When you fall for someone, you can't stop the feelings. Xing Ren doesn't think that's an issue. It's just dating, what's so hard about liking someone or stop liking someone? Zi Qi sits back and says she makes it sound so easy. But it's hard to be candid with someone if that person thinks of him as an annoying nuisance. Xing Ren and Zi Qi both realize the potential hidden meaning of what he just said. They sit and stare at each other.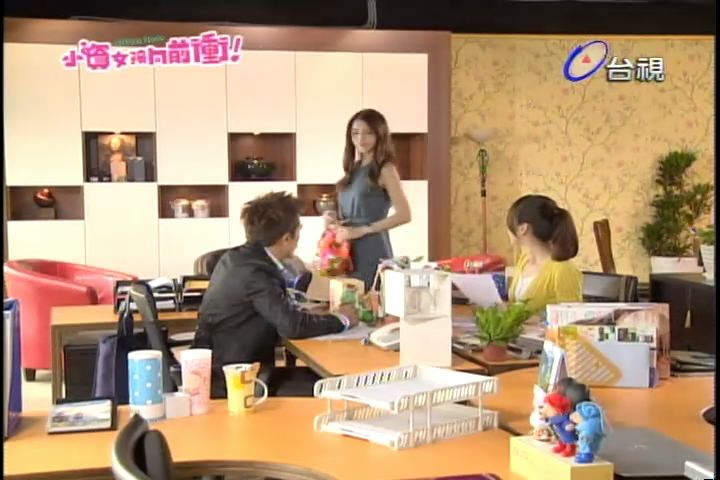 Which is when Kai Er walks in and notices the odd mood between them. Zi Qi leans forward and starts saying something, but then Kai Er calls out his name and makes her annoying presence known. She walks over and says she made a lunch for him and he thanks her. Kai Er asks Xing Ren if everything is fine with Master Yu. She confirms it's all good. Kai Er asks Zi Qi to go have lunch with her now. He says yes and gets up, but stops next to Xing Ren's desk and looks at her for a few moments before walking away.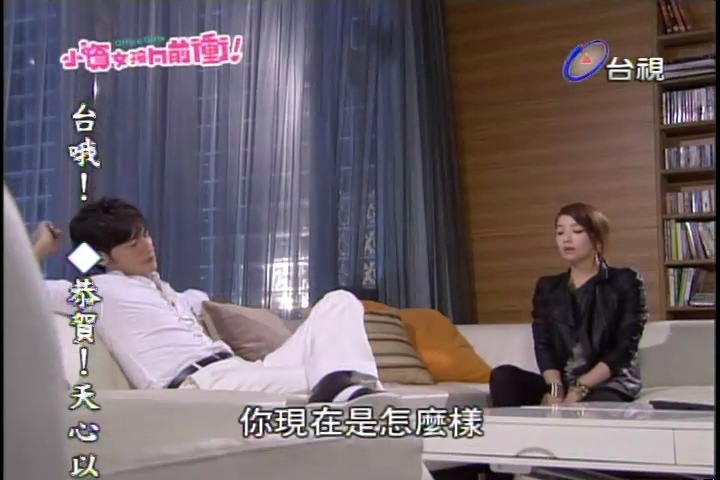 Yu Cheng Feng and Mina are back at their place. She starts to get touchy feely with him but he's not interested and pulls her off him. He sits down on the sofa and she asks him what he's doing to her now by being so stone-faced. They haven't see each other in awhile, doesn't he miss her? He hasn't even said that he loves her. He reminds her that just because he doesn't say it doesn't mean he doesn't love her. She asks him to say it but he won't.
Mina accuses him of staying at PB for that girl and pushing her away. She doesn't understand why he could give up what he has accomplished and how hard he worked to get to where he is today. Yu Cheng Feng says he remembers vividly. Mina reminds him that when he had nothing, she supported him without any reservation. If she can give it to him, she can take it away as well.
He's grateful to her and her family for their support. But he became a designer who is not allowed to set his design level and price points, that is not what he wants. He wants to stay at PB and design an affordable collection. Mina tells him to accept the consequences of what follows if he insists on doing this.
Zi Qi arrives at work with a sandwich and juice in his hand. He stops before turning back around and putting it on Xing Ren's desk. She looks at him, and he tells her to eat it. He noticed she's been working hard lately and not taking good care of herself. He tells her not to misunderstand, her mom asked him to take care of her. Riiiiiight. Zi Qi takes the juice box and inserts the straw for her. Stallone walks in and call out "nani?" (which means what's going on in Japanese), wondering why these two bickering exes are suddenly doing a sickening lovebird feeding show this early in the morning.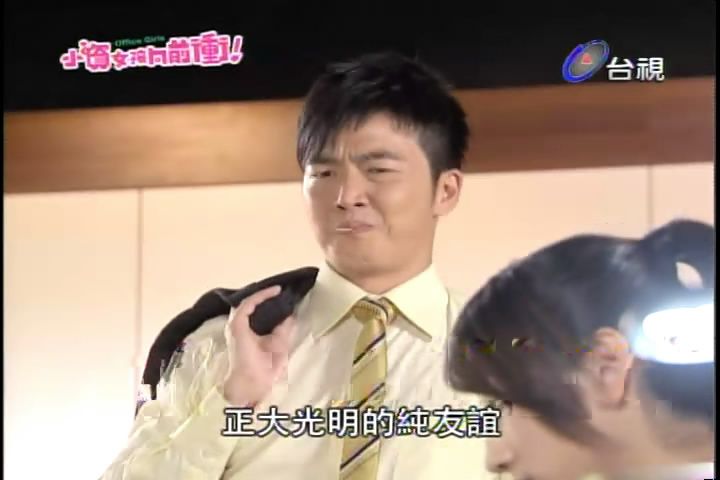 Stallone asks what Zi Qi is doing buying delicious juice for Xing Ren. What about Kai Er? Qi Zi says he's really just platonic friends with Kai Er. Stallone says in English "yeah, yeah, I know, you guys like crystal clear, pure and innocent" friendship. But the way he sees it, only a ghost will buy the bullshit he just spewed.
Stallone asks Xing Ren if she believes Zi Qi, to which Zi Qi pipes up and says he believes it. Xing Ren flashes back to Kai Er walking up to borrow medicine, and quietly says this has nothing to do with. her. Stallone laughs that even the most gullible Shen Xing Ren doesn't believe Zi Qi. Who does he think he's fooling? Too bad Mama Shen treats Zi Qi so well.
The other two employees walk in complaining about how short the lunch break is. Stallone tells them to stop putzing around and extols everyone to get back to work. Their annual bonuses depend on this anniversary period. After Stallone walks back to his desk, Zi Qi quietly tells Xing Ren that even if she doesn't want to know and it doesn't matter to her, he still wants to say once again that nothing is going on between him and Kai Er.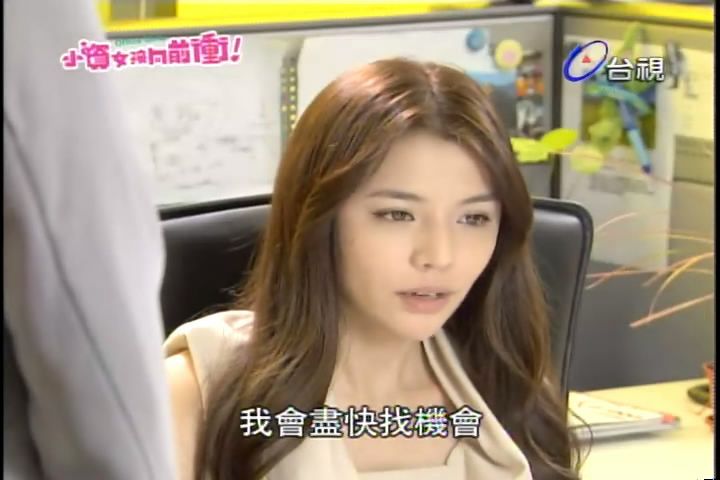 Xing Ren says she and Master Yu also have nothing going on. Both of them realize there are so many coincidences for both of them with respect to Kai Er and Yu Cheng Feng. Kai Er is told about Mina returning to Taiwan, and decides to try and meet with her to persuade her to set up the Yu Cheng Feng namesake brand at the department store.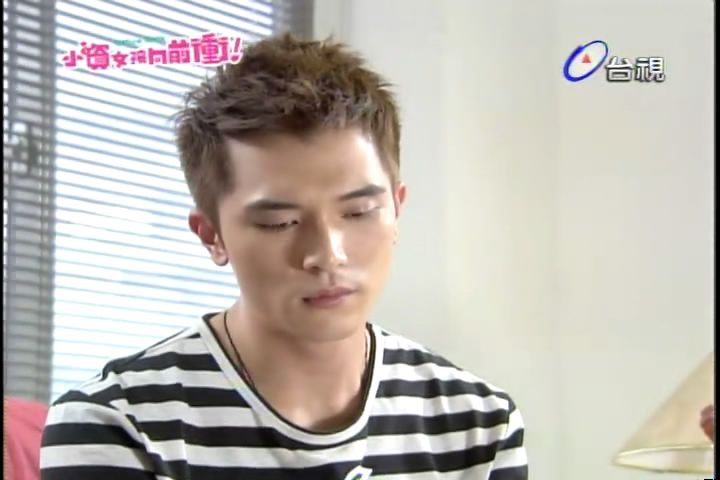 Zi Qi continues making his dollhouse for Xing Ren, though he goofs off here and there. He gets a call from Kai Er, telling her that he's off for today so they can't have lunch together. He tells her to work hard. After hanging up, Zi Qi flashes back to him explaining to his friend that he can't possibly like Shen Xing Ren. He takes a big sigh and leans back on his sofa to stare at the ceiling. He looks frustrated and goes back to dollhouse building, this time with renewed vigor. Of course he slices his finger again and gives a yelp of pain.
Le Le is happy she has the day off with Xing Ren, especially since that annoying bug hasn't come to bother them. Xing Ren wonders how such a poor guy like Zi Qi can afford to wear such an expensive watch, selling it to repay the broken red wine. Le Le says he probably charged it on his card and bought it, he looks like a credit card slave type. Xing Ren goes back to feeding the fish and notices that the electricity suddenly went off. Le Le thinks that idiot downstairs must've done something.
Zi Qi sits in front of the completed dollhouse where he cosplays little paper doll figures of himself and Xing Ren. Paper doll Zi Qi is super shuai and has his smirky pose on, while paper doll Xing Ren has hearts for her eyes and looks totally ditzy. Doll Zi Qi offers to buy Xing Ren a luxury mansion for free, so doll Xing Ren cuddles up and thanks him. Doll Zi Qi replies "baby, don't sweat it." Hahahaha.
Doll Zi Qi asks who is sexier and more manly between him and Yi Cheng Feng? Doll Xing Ren says of course it's him, Master Yu is just a fart! As to who is more mature, doll Xing Ren says it's Zi Qi again, Master Yu is just kitchen scrap. Who is nicer and more considerate? Doll Xing Ren says "you" again. Finally as to who is handsomest man around, before doll Xing Ren can answer, suddenly Zi Qi hears his name being screamed out from upstairs.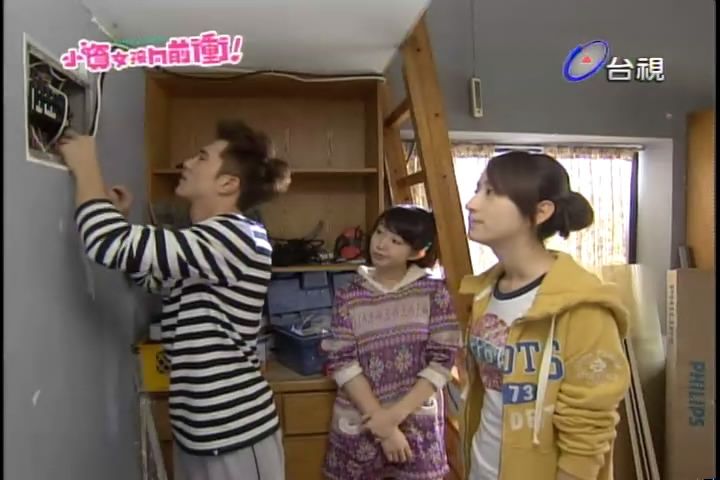 Zi Qi quickly hides the dollhouse, but when the girls come inside they find doll Zi Qi and Xing Ren on the table. Xing Ren picks them up and wonders what he's doing on his day off. LOL, she really doesn't recognize that it's her, does she? Zi Qi goes upstairs to help them with their electricity problem. Le Le doesn't think he knows what he's doing, but he says this is just child's play to him, Suddenly Zi Qi gets shocked by an electric current and falls back on the ground in a faint, jerking a few times for extra effect.
Zi Qi is moved to the sofa where he's still passed out. Xing Ren comes to check on him, calling his name but there is not response. She wipes his face with a cold towel. She looks at him sleeping there, candidly noting that he's really shaui (handsome) and cute when he's still like this. Suddenly Lao Yu comes to see Xing Ren and confesses that he likes her. He leans in for a kiss, which is when Zi Qi runs up and pushes him off Xing Ren, warning that Shen Xing Ren is his woman!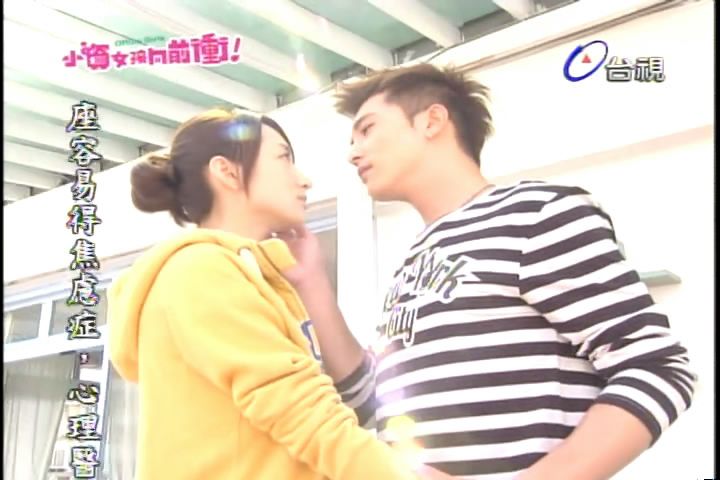 Zi Qi throws a few more dirty looks towards Lao Yu before grabbing Xing Ren's hand and turning towards her. He slowly leans in for a kiss as the camera fades into the sunlight. The scene switches to Zi Qi laying on the sofa making kissy faces and hand movements, with Le Le and Xing Ren staring down at him in confusion.
They finally wake him up, asking what the heck he's doing? Zi Qi keeps looking around, asking where Master Yu is? The girls are clueless so Zi Qi quickly hurries out. He stops outside where he had the dream kiss with Xing Ren and re-enacts it one more time.
Zi Qi has coffee with Kai Er at work. When she asks what he did on his day off, he says that he was doing arts and crafts again. He shakes his hand a few times, explaining that he helped Xing Ren with her electricity problem yesterday and got zapped. Kai Er wonder why he did it, but Zi Qi explains he wanted to help.
Kai Er tells Zi Qi to take better care of himself, because other than her mom, he's the most important person to her. She tries to make him promise her not to do anything dangerous again. He reluctantly says yes. Kai Er does not look pleased.
Kai Er finds Xing Ren in the break room. She asks Xing Ren to stop asking Zi Qi to do anything dangerous in the future. Xing Ren apologizes, but Kai Er tells Xing Ren that even if Zi Qi offers, Xing Ren should decline. Kai Er says that even if Zi Qi and Xing Ren are just colleagues, he's more than that to her. He's very important to her, and Kai Er asks Xing Ren to not have any deeper interaction with Zi Qi other than word related matters. Xing Ren has no choice but to say she understands. Kai Er thanks her and leaves. Shit, this beyotch makes my blood boil.
Yu Cheng Feng is touring the future PB booth at the department store. Mina arrives to greet him, leading him to ask why she's here? Which is when Kai Er arrives and introduces herself, then leaving Mina away to meet with her boss.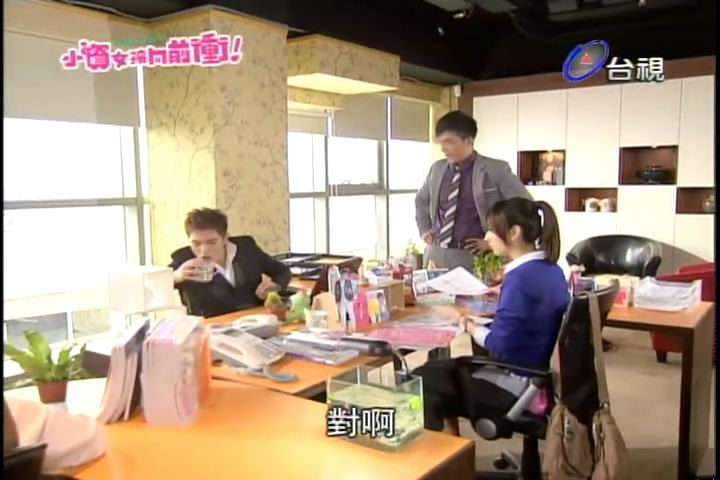 Stallone walks up to Zi Qi and starts making fun of him getting electrocuted yesterday. Zi Qi pretends his hands are shaking wildly from the shock still, and asks Stallone not to be so mean to him today. Stallone tells Zi Qi to stop pretending and get all his work done. Zi Qi asks Xing Ren to explain for him, saying he got electrocuted because of her. Xing Ren remembers what Kai Er just asked of her and refuses to discuss this further.
Suddenly news that Mina is here and discussing setting up the exclusive boutique for the Yu Cheng Feng brand at the department store and going through Kai Er's department. Kai Er promises to do whatever Mina wants. She asks for the same contract as everyone else, but has one stipulation, which is that she wants the current booth position given to PB.
Mina calls Yu Cheng Feng out to have coffee. He sits down but isn't pleased, asking why she is doing this? She reminds him that she's been gone for two days, yet he's not even worried about her well being. He knows she'll not mistreat herself, so obviously she landed at a 5-star hotel. Mina is pleased that he knows her so well. But Yu Cheng Feng doesn't think he knows her at all. His namesake brand is not suitable for setting up a boutique at a department store, so what is she thinking?
Mina wonders why he looks so serious, and why all they can talk about is work? He wants her to rescind the plan and go back to Paris. He's given up all right to his self-created namesake brand to her father, so he wants them to properly manage it now. Mina pouts, saying she won't go back if he won't go with her. He fine with her staying, but asks her to stop this plan to embarrass him in public.
Mina says she's doing all this to make him give up his silly idea and go back to Paris with her. Yu Cheng Feng gets a call from Xing Ren that he doesn't answer, turning off the phone. Mina wonders who is calling, why he's suddenly so shifty in front of her. Mina insults Xing Ren but he warns her to watch what she says.
Mina reminds him that he got to this place because of her, but now he just wants to ditch her and leave. He says that he is grateful to her and her father, but they also got commensurate value from him. But he won't use his feelings and his artistic integrity to exchange for a design career. Mina says she will treat what he says today as him just being upset and not hold it against him. She gets up and leaves.
Xing Ren keeps calling Lao Yu but can't get a hold of him. Zi Qi tells her to send him a text, and offers to go with her to find him if she's so worried about Lao Yu. Stallone flounces over and suddenly old-school Japanese music stars to play (Taiwan was occupied by Japan for 50 years in the early 20th century, so old school Taiwanese dramas and music were heavily Japanese influenced). Stallone starts to give a monologue to Zi Qi about a man pursuing his love in Taiwanese as if he was singing in a karaoke. His words show on the screen akin to a karaoke scroll.
Stallone's dramatic monologues goes like this: This brother of mine, as men, the most important first step is to have pride. A man without pride will be derided by others and discarded by his loved one. Sometimes to resolve the pain of a broken heart, a depressed person may consider suicide, others may hurt the opponent. So what do you think? Everyday the newspapers only write about LOVE and HATE. News about murder, poison, and suicide. These kinds of people are really foolish……
With that, Stallone ends his dramatic monologue and resume his usual ribbing of Qi Zi, noting that he wasn't electrocuted, he was zapped by Xing Ren. Stallone starts to sing an offkey rendition of a song about a love filled with too much love and hate, walking away and cackling like the freak he is. He backs into the entering Le Le, who yells at him for causing her to drop her documents.
He crouches down to help her pick it all up, both of them annoyed with each other. As Stallone turns around to hand her the documents, their lips suddenly touch. Both freak out and start screaming their heads off.
Le Le starts hitting and kicking at him, calling him a pervert and a creep. Everyone runs over and hears how Stallone kissed Le Le. Stallone tries to explain it was just a coincidence and accident. Zi Qi thinks molesting a girl in broad daylight, the cops need to be called. Stallone whines no, but Le Le yells at the creep ought to be locked up. Stallone continues to act all afraid until he suddenly realizes that he's the boss around here. He stands up straight and says that he already explained it was just a misunderstanding.
Le Le calls him a low-class creep before running off. Xing Ren says the same thing before running after Le Le. Even Zi Qi gets in on the fun and throws the same insult at Stallone before flouncing off. Stallone wonders why even Zi Qi is insulting him, should he help Stallone explain what is going on. Zi Qi tells Stallone to get rid of the evidence and skedaddle.
The other colleague, who has a crush on Le Le, is feeling betrayed by Stallone. He yells at Stallone, who decides he's such a victim that he cries out "Ma Ma (your highness in Korean), why don't you please kill Jang Geum!" Stallone continues to bleet like a sheep and pretend to stab himself. Mwahahaha, LOL, a Dae Jang Geum reference. Priceless. Afterwards he touches his lips and looks rather….intrigued.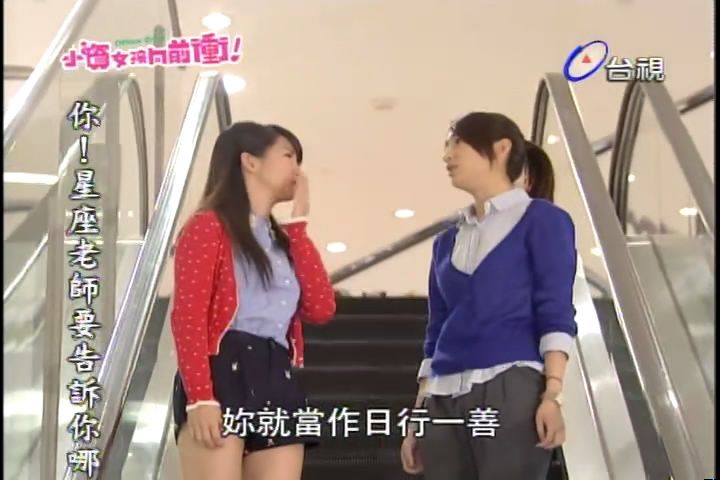 Xing Ren listens to Le Le rage and fuss about getting molested by that grody freak Stallone, telling Le Le that it's likely just an accident. Suddenly Xing Ren gets a call from Lao Yu, who is returning her earlier calls. She asks how he's doing, and he confesses that he's not doing so well.
Lao Yu sits with Xing Ren in her living room, after having unloaded his stress and worries on her over some beer. He apologizes for burdening her. Xing Ren says she's great for easing people's burdens. Lao Yu changes the subject to Mina, explaining that Mina is actually a honest and candid person, very sweet and cute. But sometimes Mina is missing a screw, just like Xing Ren at times. That is the reason why he's loved Mina for so long.
Xing Ren asks why Mina came to take away PB's booth at the department store. Lao Yu says Mina's immaturity is her way of expressing her love. She wants to take Lao Yu back to Paris with her, and that is her way of doing it. Lao Yu laughs about how immature he and Mina are at love. Xing Ren thinks back to her conversation with Zi Qi, about how she thinks Master Yu is so mature he must also be mature in love. Lao Yu says Mina is someone very important to him, and he worries that one day it may not work between them. He takes another drink of beer.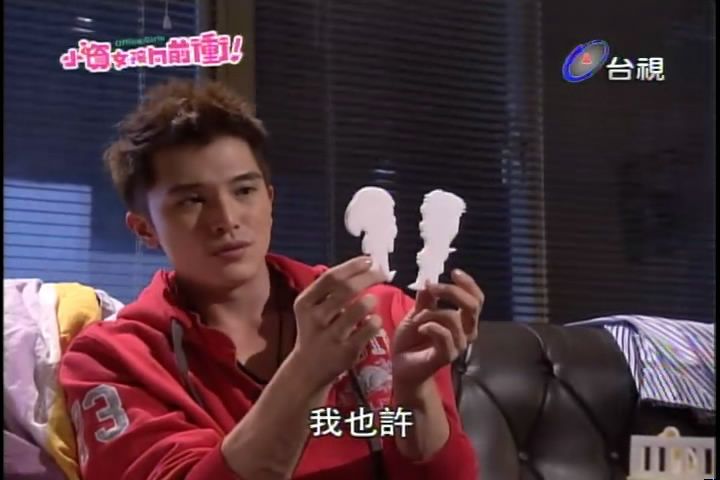 Zi Qi looks at his paper doll versions of himself and Xing Ren. Zi Qi says "Shen Xing Ren, I think I ought to like you." But that doesn't sound right. So Zi Qi changes it to "Shen Xing Ren, I think I probably like you." But that doesn't work either. So Zi Qi continues with "Shen Xing Ren, if there were no misunderstandings, I think I like you." He puts the paper dolls down and heads up to Xing Ren's apartment.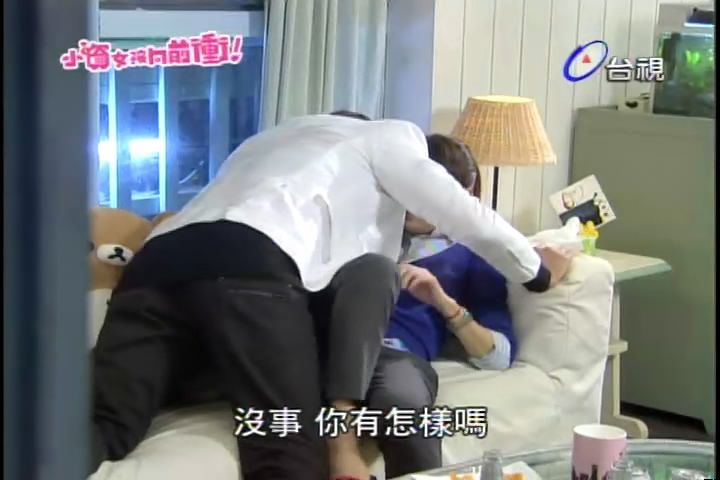 Lao Yu tells Xing Ren that Mina has supported him this entire time and she is the closest person in his life. But they are growing further and further apart. Xing Ren tells him to try communicating with Mina again, who is probably feeling bad right now as well. Lao Yu ends the conversation and gets up to leave, but he's drunk so he topples onto Xing Ren.
Zi Qi arrives and pulls Lao Yu off Xing Ren and punches the guy out. Lao Yu returns the punch before Xing Ren breaks the fight apart. She yells at Zi Qi for coming up and causing a scene. Zi Qi says he's here to protect her, but Xing Ren retorts that she didn't ask him to come assist her. Lao Yu was just drunk and accidentally fell down. Lao Yu sees this and appears to understand what is going on.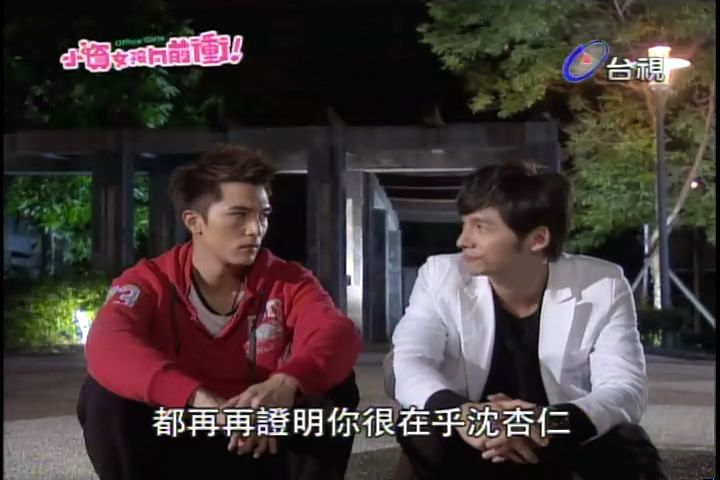 Lao Yu leaves but Zi Qi requests to walk him out so they can have a private conversation. Zi Qi and Lao Yu head outside and sit down to have a mano-a-mano chat. Zi Qi is still pissy while Lao Yu starts the conversation, asking why Zi Qi is so angry about what happened.
Zi Qi apologizes for what happened back there. Lao Yu accepts the apology and returns one of his own. Lao Yu asks Zi Qi to honestly say what Xing Ren means to him. Zi Qi says neighbor and coworker, but Lao Yu says Xing Ren appears to mean more to Zi Qi than that. He doesn't know if Zi Qi is just obtuse or purposely ignoring the obvious, that Xing Ren means a lot to him.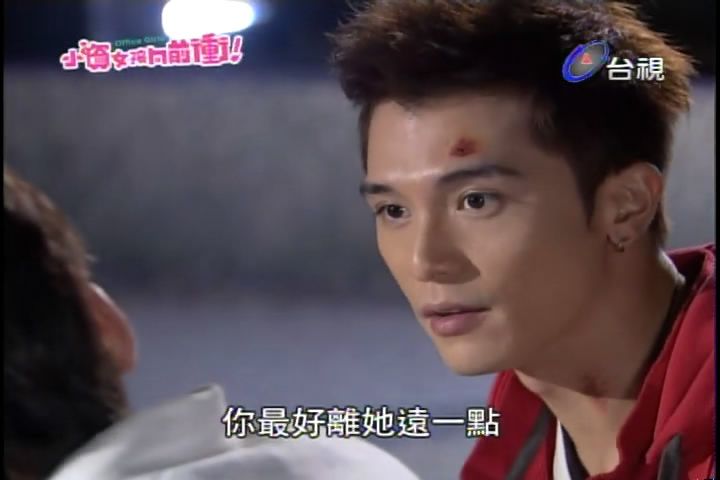 Zi Qi tells Lao Yu to just worry about his Mina and stop caring about what's going on between Zi Qi and Xing Ren. Lao Yu asks him point blank if he likes Xing Ren. Zi Qi pauses for awhile before blurting out that he likes Xing Ren, so what! Lao Yu asks if Zi Qi feels better now that he's admitted the truth? Xing Ren is a special girl who deserves to be cherished, so Lao Yu tells Zi Qi to treat her well going forward. Lao Yu leaves Zi Qi sitting there alone, pondering this new breakthrough.
Thoughts of Mine:
Just like I suspected, Lao Yu isn't interested in Xing Ren as a romantic possibility, but instead treats her genuinely as a friend who he can talk to. I like that his relationship with Mina is still full of love but complicated by the inability to communicate and see eye-to-eye on professional matters. I don't think there is any easy solution for Lao Yu and Mina's impasse, but at least they continue to try and talk, even if they are nowhere near finding a common ground. The whole couture vs. ready-to-wear is an age-old dilemma in fashion, and it's pretty entertaining to watch how OG plans to discuss this issue within the context of this story.
I don't think Zi Qi's realization of his feelings for Xing Ren is taking too long, because he's been acting like he has feelings for her for quite some time. Everyone else can see it. I don't necessarily require my OTP to verbalize their feelings all the time, I merely dislike it when they try to pretend otherwise. Zi Qi never pretends otherwise with Xing Ren, he simply couldn't quite grasp the nature of his feelings. He thinks he's just taking care of her, but really it's because she's become so important to him.
Zi Qi and Kai Er is yet another instance where he could tell her to back off, but the timing hasn't quite led up to that point yet. She's made explicit statements of her interest, but stopped right at the brink of asking Zi Qi to date her. I'm annoyed by her sheer existence in this drama, and her horrid manipulative and sneaky ways, but I'm glad the OTP continues with their delightful bickering regardless of Kai Er's attempts to insert herself where she's not welcome.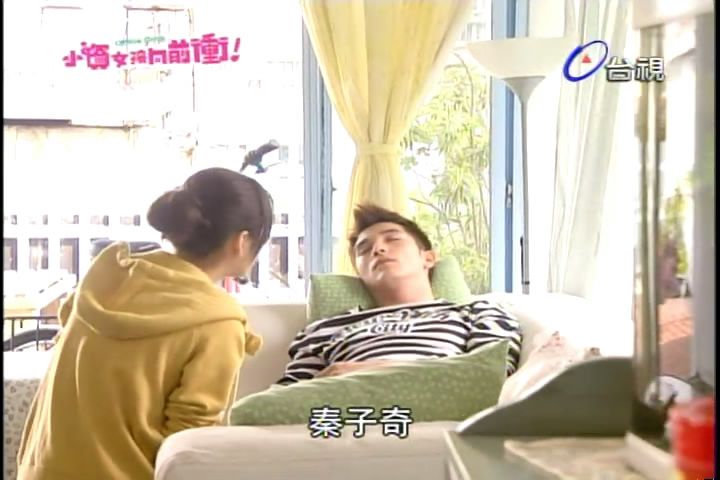 It's been a long time since a TW-drama really got the slapstick mood and execution down perfectly, with everyone nailing their split-second reaction shots and spitting out their dialogue like they are in a speed reading contest. OG is a drama not about the quiet introspective moments, but rather is all about the enjoyment garnered from the rapid fire rat-a-tat-tat of wordplay and watching the two leads emotionally tango their way to the finish line.