Things on Ethan Ruan's not-to-do list, the new number 1 has to be "do not propose to girlfriend in a joking way at a party in front of blabbermouth friends." Apple Daily has reported, courtesy of several eyewitness accounts at a party recently in Taipei, that longtime couple Ethan and Tiffany Hsu apparently put on an awkward show for their friends. Ethan, who I'm assuming must've been tipsy to pull something like this, loudly asked Tiffany in the middle of the party whether she would marry him. His exact words were "I'm going to the army soon, let's just get married now". Okay Ethan, please enroll in classes on how to be romantic, because right now you are at an epic fail. Tiffany's reaction was hilarious – she said nothing for several moments and just looked at him, and then she replied "why are you suddenly saying this, aren't things fine the way they are?" Okay Tiff, as much of a faceplant of a proposal as that was, if Ethan freaking Ruan just proposed to you, say YES.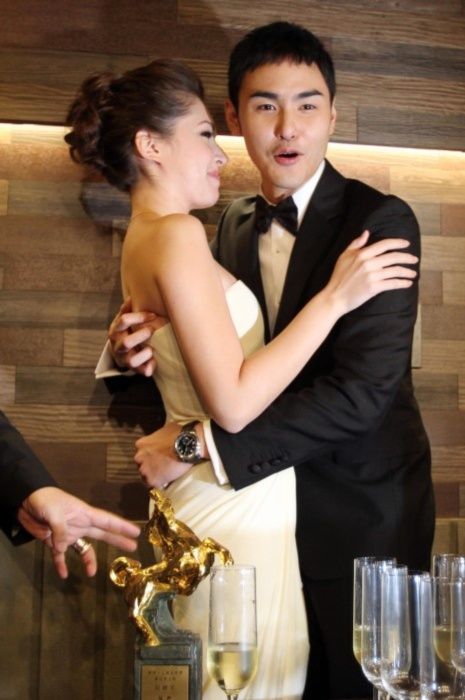 By all accounts Ethan looked crestfallen with Tiffany's response, which friends have chalked up to a few factors. Namely the fact that Ethan's proposal was so casual, he didn't even have an engagement ring with him, and last year's hotel room fiasco is still something that Tiffany hasn't gotten over. I think if the silly boy had gotten himself a honking diamond and proposed properly, he'd have a fiancee by now. You know, Ethan and Tiffany have outlasted everyone's expectations for the last 5 years, I'm totally rooting for them to get married and have gorgeous babies. The media posits that the relationship is rather strained now that Tiff didn't accept his proposal, but I think it's normal couple behavior we're seeing and they'll be fine. They've weather way way worse things. Imma go check Vegas odds on the over-under for this couple. But it's nice to know stars do stupid things as well, like proposing to one's girlfriend in the least romantic way possible while in public.
[Credit: Liberty Times]
© 2011, ockoala. All rights reserved.