Perfection, thy name is Arang and the Magistrate – also known as "When Lee Jun Ki met Shin Mina and fireworks exploded." If the long trailer for Faith was like a 7/10 in terms of generating excitement (for the story, not necessarily the splotchy acting I saw), then the long ten-minute trailer for Arang is like a 11/10 in knocking one out of the park in both acting, cinematography, and interesting story. I've been trying to moderate my excitement for this drama, which is the culmination of me waiting two long years for my beloved Jun Ki to return from military service (and his pre-MS drama Hero was really an uneven mess), but watching the long trailer leaves me quivering with excitement and raising my expectations to stratospheric levels of I NEED THIS NOW. Check out the press conference pictures below and watch the long trailer, then join me in asking "Is it next Wednesday yet?"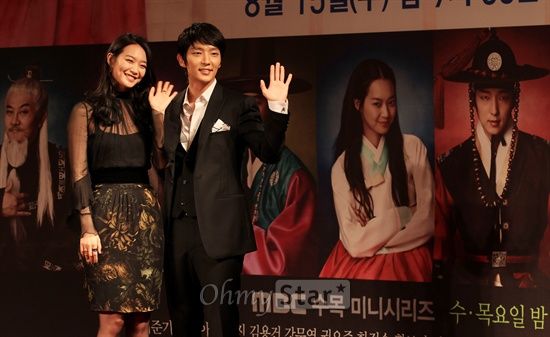 Shin Mina and Lee Jun Ki not only are rocking amazing chemistry onscreen, they are perfectly dressed at the press conference and complimenting each other marvelously. Love love love! Actors and actresses, this is how you dress for a drama press conference. Mina looks fabulously edgy but still pretty, and Jun Ki can't go wrong with a perfectly tailored suit with a vest but casually done up without a tie.
Yoo Seung Ho's matching shirt with suit jacket combo is all sorts of fashion fail (plus the red pants!), but then he somehow makes it look good on him. It's like a miracle of fashion I can't explain.
Han Jung Soo – I can't even. Your suit is missing sleeves. And you are also missing a shirt inside. I know you've got some amazing biceps, but please go find those missing sleeves. I'll sew it back on your suit for you. At least Hwang Bora and Kwang Oh Jung is equally a fashion disaster together, hence two wrongs together make a visually alright.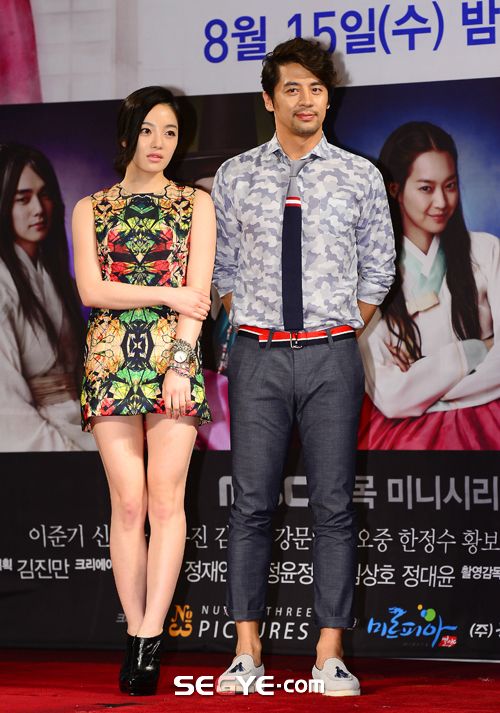 I'm so happy Lee Jun Ki chose a sageuk as his comeback vehicle because this is one man who rocks the attire and can handle the emotional gravitas and pathos with ease. He looks perfect as the magistrate Eun Oh with the unwanted ability to see ghosts, Mina is simply adorable and amazing as the wronged ghost Arang, and Yoo Seung Ho and Park Joon Kyu as otherworldly twins is a joke that might never get old.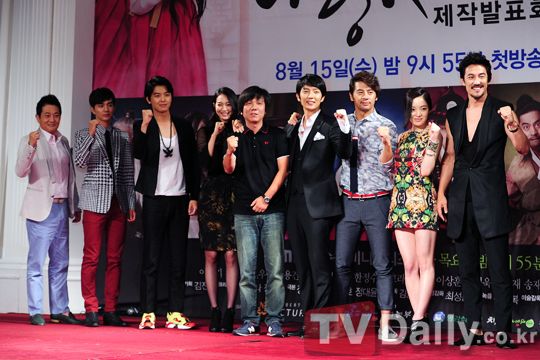 10-minute trailer for Arang and the Magistrate: